Abstract
Background
American Indian/Alaska Native (AI/AN) youth disproportionately face barriers accessing healthcare compared with non-AI/AN youth. AI/AN youth who also identify as transgender or Two-Spirit (2S) face higher rates of mental health issues and suicidality, along with increased rates of disease, due to health inequity and historical trauma.
Objectives
This project evaluated health provider knowledge of context surrounding gender and sexuality in AI/AN communities. It assessed provider perspectives of provider-side and patient-side barriers accessing care to develop suggestions for improvement.
Methods
Semi-structured interviews (SSI) and focus group discussions (FGD) were held among healthcare providers across four sites in the Pacific Northwest. Questions were developed using a community-based participatory research conceptual model, considering the impacts of context, partnerships, and community knowledge. A grounded theory approach was used to analyze transcripts. This project received exemption from the University of Washington IRB and approval from each tribal ethical/research committee.
Results
Twenty healthcare providers from varied geographic settings, provider types, and ethnic backgrounds participated in this study. Knowledge regarding contexts surrounding gender in AI/AN communities varied. Long-standing effects of settler colonialism, trauma, and systemic issues presented as overarching concepts. Participants also shared a number of patient and provider-side barriers impacting care and suggested solutions to reduce these barriers.
Conclusions
Patient and provider-side barriers inhibit AI/AN transgender and 2S youth access to healthcare. Historical trauma and community resilience play a role in health for these youth. Understanding history, the intersection of identities, and community strengths can help with the development of solutions to provide high quality care to AI/AN transgender or 2S youth.
Access options
Buy single article
Instant access to the full article PDF.
US$ 39.95
Tax calculation will be finalised during checkout.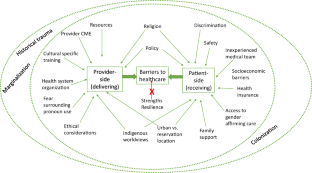 Notes
1.

LGBTQ2S: Lesbian, Gay, Bisexual, Transgender, Queer/questioning, Two-Spirit

2.

Native and AI/AN are used interchangeably throughout this work
References
1.

Jacobs S-E, Thomas W, Lang S. Two-Spirit people: Native American gender identity, sexuality, and spirituality. 1997: University of Illinois.

2.

Pruden H. Two-Spirit People: Then & Now, in LGBTQ2 Well-Being Education 2014, Indian Health Service.

3.

McLeod A. "History of Two-spirited People in Manitoba" in Alley Yapput, in Two-spirited Outreach Project. 2004, Egale Canada Human Rights Trust: Ottawa.

4.

Angelino A. "Celebrating Our Magic": Resources for American Indian/Alaska Native transgender and Two-Spirit youth, their relatives and families, and their healthcare providers. 1 ed. Vol. 1. 2019, Portland, Oregon. 100.

5.

Walters K, et al. Bodies don't just tell stories, they tell histories: embodiment of historical trauma among American Indians and Alaska Natives. Du Bois Review. 2011;8(1):179–89.

6.

Walters KL, et al. My spirit in my heart. J Lesbian Stud. 2006;10(1-2):125–49.

7.

Walters K. Critical issues and LGBT-Two Spirit populations: highlights from the HONOR Project Study. 2010, Indigenous Wellness Research Institute, University of Washington.

8.

Wilson A. N'tacimowin inna nah': our coming in stories. Vol. 26. 2008; 193-199.

9.

Tuck E, Wayne Yang K. Decolonization is not a metaphor. Vol. 1. 2012.

10.

Evans-Campbell T et al. Indian boarding school experience, substance use, and mental health among urban Two-Spirit American Indian/Alaska Natives. Vol. 38. 2012. 421-7.

11.

Veracini L. Settler colonialism and decolonisation. Borderlands e-journal, 2007; 6.

12.

Wolfe P. Settler colonialism and the elimination of the native. Journal of Genocide Research. 2006;8(4):387–409.

13.

Morgensen SL. Theorising gender, sexuality and settler colonialism: an introduction. Settl. Colon. Stud. 2012;2(2):2–22.

14.

Evans-Campbell T. Historical trauma in American Indian/Native Alaska communities:a multilevel framework for exploring impacts on individuals, families, and communities. J. Interpers. Violence 2008;23(3):316–38.

15.

Duran E et al. Healing the American Indian soul wound 1998; p. 341-354.

16.

Walters KL, Simoni JM, Evans-Campbell T. Substance use among American Indians and Alaska natives: incorporating culture in an "indigenist" stress-coping paradigm. Public health reports (Washington, D.C. : 1974), 2002; 117 Suppl 1(Suppl 1): p. S104-S117.

17.

Heart MYHB. The historical trauma response among natives and its relationship with substance abuse: a Lakota illustration. J Psychoactive Drugs. 2003;35(1):7–13.

18.

Safer JD, et al. Barriers to healthcare for transgender individuals. Curr Opin Endocrinol Diabetes Obes. 2016;23(2):168–71.

19.

Olson J, Forbes C, Belzer M. Management of the transgender adolescent. Arch Pediatr Adolesc Med. 2011;165(2):171–6.

20.

Parker CM, et al. The urgent need for research and interventions to address family-based stigma and discrimination against lesbian, gay, bisexual, transgender, and queer youth. J Adolesc Health. 2018;63(4):383–93.

21.

Ryan C, et al. Family acceptance in adolescence and the health of LGBT young adults. J Child Adolesc Psychiatr Nurs. 2010;23(4):205–13.

22.

Spack NP, et al. Children and adolescents with gender identity disorder referred to a pediatric medical center. Pediatrics. 2012;129(3):418–25.

23.

Harrison-Quintana J, Fitzgerald E, Grant J. Injustice at every turn:National Center for Transgender Equality, Editor. 2015, National Center for Transgender Equality: Washington DC.

24.

Jernigan VBB, et al. Beyond health equity: achieving wellness within American Indian and Alaska Native communities. Am J Public Health. 2015;105(S3):S376–9.

25.

Harrison-Quintana J, Fitzgerald E, Grant J. Injustice at every turn: a look at American Indian and Alaskan Native respondents in the National Transgender Discrimination Survey, N.G.a.L.T.F. National Center for Transgender Equality, Editor. 2015, National Center for Transgender Equality: Washington DC.

26.

James S et al. The Report of the 2015 U.S. Transgender Survey. 2016, National Center for Transgender Equality: Washington, DC.

27.

Gridley SJ, et al. Youth and caregiver perspectives on barriers to gender-affirming health care for transgender youth. J Adolesc Health. 2016;59(3):254–61.

28.

Banerjee S et al. Knowledge, beliefs, and communication behavior of oncology health-care providers (HCPs) regarding lesbian, gay, bisexual, and transgender (LGBT) patient health care. Vol. 23. 2018; 1-11.

29.

Snyder BK, Burack GD, Petrova A. LGBTQ youth's perceptions of primary care. Clin Pediatr. 2016;56(5):443–50.

30.

Walters KL, Horwath PF, Simoni JM. Sexual orientation bias experiences and service needs of gay, lesbian, bisexual, transgendered, and Two-Spirited American Indians. J Gay Lesbian Soc Serv. 2001;13(1-2):133–49.

31.

Wallerstein N, Duran B. Community-based participatory research contributions to intervention research: the intersection of science and practice to improve health equity. Am J Public Health. 2010;100 Suppl 1(Suppl 1):S40–6.

32.

Wallerstein N et al. Community-based participatory research for health : advancing social and health equity. Third edition. ed. 2018, San Francisco, CA: San Francisco, CA : Jossey-Bass, a Wiley Brand.

33.

Miles M, Huberman M, Saldana J. Qualitative data analysis: a methods sourcebook. 3 ed. 2013: SAGE. 408.

34.

Bernard HR, Wutich A, Ryan G. Analyzing qualitative data: systematic approaches 2ed. 2016: SAGE. 576.

35.

Corbin J, Strauss A. Basics of qualitative research: techniques and procedures for developing grounded theory 3ed. 2007: SAGE. 400.

36.

Snelgrove JW, et al. "Completely out-at-sea" with "two-gender medicine": a qualitative analysis of physician-side barriers to providing healthcare for transgender patients. BMC Health Serv Res. 2012;12(1):110.

37.

Katz-Wise SL, Rosario M, Tsappis M. Lesbian, gay, bisexual, and transgender youth and family acceptance. Pediatr Clin N Am. 2016;63(6):1011–25.

38.

Katz-Wise S et al. Family functioning and mental health of transgender and gender-nonconforming youth in the trans teen and family narratives project. Vol. 55. 2018; 1-9.

39.

Russell ST, et al. Chosen name use is linked to reduced depressive symptoms, suicidal ideation, and suicidal behavior among transgender youth. J Adolesc Health. 2018;63(4):503–5.

40.

Norwood K. Grieving gender: trans-identities, transition, and ambiguous loss. Commun Monogr. 2013;80(1):24–45.

41.

Marrone S. Understanding barriers to health care: a review of disparities in health care services among indigenous populations. Int J Circumpolar Health. 2007;66(3):188–98.

42.

Campbell CD, Evans-Campbell T. Historical Trauma and Native American Child Development and Mental Health: An Overview, in American Indian and Alaska Native Children and Mental Health: Development, Context, Prevention, and Treatment, ABC-CLIO, Editor. 2011, Praeger. p. 408.

43.

Wilkerson JM, et al. Social support, depression, self-esteem, and coping among LGBTQ adolescents participating in hatch youth. Health Promot Pract. 2016;18(3):358–65.

44.

Chen D, et al. Multidisciplinary care for gender-diverse youth: a narrative review and unique model of gender-affirming care. Transgend Health. 2016;1(1):117–23.

45.

Salehi P, et al. Review of current care models for transgender youth and application to the development of a multidisciplinary clinic - the Seattle Children's Hospital experience. Pediatr Endocrinol Rev. 2018;15(4):280–90.
Acknowledgments
I would like to thank the Coast Salish peoples, the traditional owners of the land on which this project was completed, a resilient group of people who honor and bring light to their ancestral heritage. Thank you to all the individuals who participated in this project with enthusiasm. Your dedication to your patients and the American Indian and Alaska Native transgender and Two-Spirit community inspire me. This project would not be possible without the support of my thesis committee members, Dr. Tessa Evans-Campbell and Dr. Duran, my faculty advisor, Dr. Alison Roxby, and the Department of Global Health at the University of Washington.
Ethics declarations
Conflict of Interest
The authors declare that they have no conflict of interest.
Ethical Approval
This study received exemption through the University of Washington IRB, Human Subjects Committee D (STUDY00006752). All procedures performed involving human participants were in accordance with the ethical standards of the University of Washington and each participating tribal clinic, and with the 1964 Helsinki declaration and its later amendments and comparable ethical standards.
Additional information
Publisher's Note
Springer Nature remains neutral with regard to jurisdictional claims in published maps and institutional affiliations.
About this article
Cite this article
Angelino, A., Evans-Campbell, T. & Duran, B. Assessing Health Provider Perspectives Regarding Barriers American Indian/Alaska Native Transgender and Two-Spirit Youth Face Accessing Healthcare. J. Racial and Ethnic Health Disparities 7, 630–642 (2020). https://doi.org/10.1007/s40615-019-00693-7
Received:

Revised:

Accepted:

Published:

Issue Date:
Keywords
Health disparities

American Indian/Alaska Native health

Community based participatory research

Resilience

Gender identity

Historical trauma