Abstract
While the identification of autism spectrum disorder (ASD) has stabilized at 1 in 59 children in the USA, and children can now be diagnosed reliably with ASD at 2 years old, African-American children are less likely to be diagnosed with ASD. Once African-American children with ASD are identified, there is a latency between diagnosis and access to services when compared to European American children. In an effort to investigate these disparities, this qualitative study explored the experiences and perceptions of African-American parents of children with ASD. This study also explored the experiences and perceptions of professionals who support African-American children with ASD and their families. Findings indicate that (a) participants identified few facilitators to service access, and (b) both parents and healthcare providers perceived similar barriers and facilitators to early diagnoses and service access. Implications for parents, healthcare providers, and educators are discussed.
Access options
Buy single article
Instant access to the full article PDF.
US$ 39.95
Tax calculation will be finalised during checkout.
Subscribe to journal
Immediate online access to all issues from 2019. Subscription will auto renew annually.
US$ 79
Tax calculation will be finalised during checkout.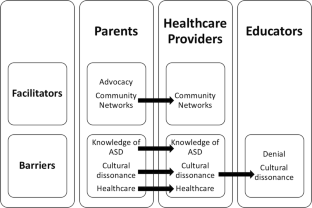 References
1.

Atwater SC. Waking up to difference: teachers, color-blindness, and the effects on students of color. J Instr Psychol. 2008;35:246–53.

2.

Williams DR, Sternthal M. Understanding racial-ethnic disparities in health: sociological contributions. J Health Soc Behav. 2010. https://doi.org/10.1177/0022146510383838.

3.

Hartlep ND. Critical race theory: an examination of its past, present, and future implications. ERIC. 2009; https://files.eric.ed.gov/fulltext/ED506735.pdf

4.

Hosking DL. Critical disability theory: a paper presented at the 4th biennial disability studies conference at lancaster university, UK. 2008. http://www.lancaster.ac.uk/fass/events/disabilityconference_archive/2008/papers/hosking2008.pdf 2008. Accessed 18 Oct 2018.

5.

Wilkinson J, Dreyfus D, Cerreto M, Bokhour B. "Sometimes I feel overwhelmed": educational needs of family physicians caring for people with intellectual disability. Intellect and Dev Disabilities. 2012;50:243–50.

6.

Cox ED, Nackers KA, Young HN, Moreno MA, Levy JF, Mangione-Smith RM. Influence of race and socioeconomic status on engagement in pediatric primary care. Patient Educ Couns. 2012;87:319–26.

7.

Johnson RL, Roter D, Powe NR, Cooper LA. Patient race/ethnicity and quality of patient-physician communication during medical visits. Am J Public Health. 2004;94:2084–90.

8.

Boyd BA, Odom SL, Humphreys BP, Sam AM. Infants and toddlers with autism spectrum disorder: early identification and early intervention. J Early Interv. 2010;32:75–98.

9.

Hilton CL, Fitzgerald RT, Jackson KM, Maxim RA, Bosworth CC, Shattuck PT, et al. Brief report: under-representation of African Americans in autism genetic research: a rationale for inclusion of subjects representing diverse family structures. J Autism Dev Disord. 2010;40:633–9.

10.

Mandell DS, Listerud J, Levy SE, Pinto-Martin JA. Race differences in the age at diagnosis among Medicaid-eligible children with autism. J Ame Acad Child Adolesc Psychiatry. 2002;41:1447–53.

11.

Baio J. Prevalence of autism spectrum disorders among children aged 8 years old — Autism and developmental disabilities monitoring network, 11, United States. Cent for Dis Control and Prev. 2016. https://www.cdc.gov/mmwr/preview/mmwrhtml/ss6302a1.htm. Accessed 18 Oct 2018.

12.

Zuckerman KE, Mattox K, Donelan K, Batbayar O, Baghaee A, Bethell C. Pediatrician identification of Latino children at risk for autism spectrum disorder. Pediatrics. 2013;132:445–53.

13.

Pearson J. Disparities in diagnoses and access to services for African American children with autism spectrum disorder. DADD Online J. 2015;2:52–65.

14.

Pearson J, Meadan H. African American mothers' perceptions of diagnoses and services for children with autism. Educ Train Autism and Dev Disabilities. 2018;53:17–32.

15.

Wright J Disparities in diagnoses might harm minority groups. https://spectrumnews.org/news/disparities-in-autism-diagnosis-may-harm-minority-groups/. 2016. Accessed 18 Oct 2018.

16.

Krahn GL, Laura H, Anne T. A cascade of disparities: health and health care access for people with intellectual disabilities. Ment Retard Dev Disabil Res Rev. 2006;12:70–82.

17.

Reichman NE, Corman H, Noonan K. Impact of child disability on the family. Matern Child Health J. 2008;6:679–83.

18.

Savin-Baden M, Major CH. Qualitative research: the essential guide to theory and practice. Routledge; 2013.

19.

Krathwohl DR. Methods of educational and social science research: the logic of methods. Long Grove: Waveland Press; 2009.

20.

Corbin J, Strauss A. Basics of qualitative research: techniques and procedures for developing grounded theory. 2015.

21.

Brantlinger E, Jimenez R, Pugach M, Richardson V. Qualitative studies in special education. Except Child. 2005;71:195–207.

22.

Darling-Hammond L. New standards and old inequalities: school reform and the education of African American students. J Negro Educ. 2000;69:263–87.

23.

Donohue MR, Childs AW, Richards M, Robins DL. Race influences parent report of concerns about symptoms of autism spectrum disorder. Autism. https://doi.org/10.1177/1362361317722030.

24.

Gay G. Culturally responsive teaching: theory, research, and practice. New York: Teachers College Press; 2000.

25.

Yee, A. Autism's full spectrum. 2016. Retrieved from: https://spectrumnews.org/features/deep-dive/autisms-full-spectrum/. Accessed 18 Oct 2018.

26.

Gourdine R, Baffour T, Teasley M. Autism and the African American community. Soc Work Public Health. 2011;26:454–70.
Ethics declarations
Conflict of Interest
The authors declare that they have no conflict of interest.
Research Involving Human Participants
All procedures performed in studies involving human participants were in accordance with the ethical standards of the institutional and/or national research committee and with the 1964 Helsinki declaration and its later amendments or comparable ethical standards.
Informed Consent
Informed consent was obtained from all individual participants included in the study.
Additional information
Publisher's Note
Springer Nature remains neutral with regard to jurisdictional claims in published maps and institutional affiliations.
About this article
Cite this article
Pearson, J.N., Meadan, H., Malone, K.M. et al. Parent and Professional Experiences Supporting African-American Children with Autism. J. Racial and Ethnic Health Disparities 7, 305–315 (2020). https://doi.org/10.1007/s40615-019-00659-9
Received:

Revised:

Accepted:

Published:

Issue Date:
Keywords
African-American children

Autism spectrum disorder

Healthcare

Disparities

Access to services