Abstract
Background
Diabetes is a burgeoning disease affecting more than 8% of the world population. Indigenous communities are disproportionately impacted by diabetes; however, limited data is available on prevalence and correlates of diabetes.
Methods
Data was collected from 211 Indigenous Kuna adults off the coast of Panamá in the San Blas region of the Caribbean. Diabetes and prediabetes were measured by HbA1c. Obesity was defined using the US BMI categories as well as categories defined by the WHO to assess obesity among Asian populations. Univariate analyses (chi2 tests) were used to investigate diabetes status and obesity by demographic factors. Logistic regression was used to examine the correlates of diabetes and obesity.
Results
Of the 211 adults, 13% had diabetes, 35% had prediabetes, and approximately 39% were obese. Using the Asian cut point for obesity, this number increased to 61%. Income was statistically significantly related to an HbA1c cut point of 6.5 (p = 0.005). Individuals who reported a monthly income of greater than $250 had increased odds of prediabetes and diabetes nearly sixfold for HbA1c of > 6.5 (OR 6.3; CI 1.43–28.45) and HbA1c of > 5.7 (OR 5.1; CI 1.03–26.14).
Conclusions
These findings represent one of the first studies examining diabetes and prediabetes in indigenous Kuna of the San Blas region. Our findings suggest Kuna Indians may be at an increased risk for diabetes and prediabetes. Current national estimates for diabetes is considered low in this population. Greater understanding of determinants of diabetes and obesity are needed in order to address diabetes in this indigenous community.
This is a preview of subscription content, log in to check access.
Access options
Buy single article
Instant access to the full article PDF.
US$ 39.95
Price includes VAT for USA
Subscribe to journal
Immediate online access to all issues from 2019. Subscription will auto renew annually.
US$ 99
This is the net price. Taxes to be calculated in checkout.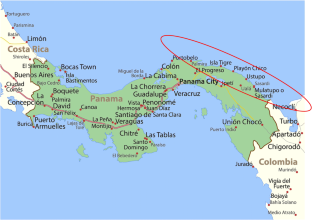 References
1.

World Health Organization, Health Topics: Indigenous Populations. 2007. Accessed from: http://www.who.int/mediacentre/factsheets/fs326/en/

2.

United Nations Development Programme. Human Development Report. New York and Oxford: Oxford University press; 2000. p. 10.

3.

Diabetes in Indigenous Populations, Anthony J. Hanley, Medscape Today.

4.

Catherine HY, Zinman B. Type 2 diabetes and impaired glucose tolerance in aboriginal populations: a global perspective. Diabetes Res Clin Pract. 2007;78(2):159–70.

5.

Lee ET, Howard BV, Savage PJ, Cowan LD, Fabsitz RR, Oopik AJ, et al. Diabetes and impaired glucose tolerance in three American Indian populations aged 45-74 years: the strong heart study. Diabetes Care. 1995;18(5):599–610.

6.

Pérez-Bravo F, Carrasco E, Santos JL, Calvillán M, Larenas G, Albala C. Prevalence of type 2 diabetes and obesity in rural Mapuche population from Chile. Nutrition. 2001;17(3):236–8.

7.

Dowse GK, Zimmet PZ, Finch CF, Collins VR. Decline in incidence of epidemic glucose intolerance in Nauruans: implications for the "thrifty genotype". Am J Epidemiol. 1991;133(11):1093–104.

8.

Grandinetti A, Kaholokula JK, Kamana'opono MC, Kenui CK, Chen R, Chang HK. Relationship between depressive symptoms and diabetes among native Hawaiians. Psychoneuroendocrinology. 2000;25(3):239–46.

9.

Naqshbandi M, Harris SB, Esler JG, Antwi-Nsiah F. Global complication rates of type 2 diabetes in Indigenous peoples: a comprehensive review. Diabetes Res Clin Pract. 2008;82(1):1–7.

10.

Harris SB, Bhattacharyya O, Dyck R, Hayward MN, Toth EL. Type 2 diabetes in aboriginal peoples. Can J Diabetes. 2013;37:S191–6.

11.

Leonard D, McDermott R, O'Dea K, Rowley KG, Pensio P, Sambo E, et al. Measuring prevalence: obesity, diabetes and associated cardiovascular risk factors among Torres Strait islander people. Aust N Z J Public Health. 2002;26(2):144–9.

12.

Coimbra CEA, Santos RV, Welch JR, Cardoso AM, de Souza MC, Garnelo L, et al. The first national survey of indigenous people's health and nutrition in Brazil: rationale, methodology and overview of results. BMC Public Health. 2013;13:52.

13.

Gracey and King 2009 M and Malcolm King. Indigenous health part 1: determinants and disease patterns. Lancet. 2009;374:65–75.

14.

Montenegro RA, Stephens C. Indigenous health in Latin America and the Caribbean. Lancet. 2006;367:1859–69.

15.

Aguilar R, Garcia-Huidobro G. Socio economic and demographic characteristics key social policy issues to alleviate their poverty. Santiago-Gothenburg. Panamá: Indigenous peoples; 2001.

16.

Howe JA. People who would not kneel: Panamá, the United States, and the San Blas Kuna. Smithsonian series of ethnographic inquiry. Washington DC: Smithsonian Institution Press; 1998.

17.

Bayard V, Chamorro F, Motta J, Hollenberg NK. Does flavanol intake influence mortality from nitric oxide-dependent processes? Ischemic heart disease, stroke, diabetes mellitus, and cancer in Panamá. Int J Med. 2007;4(1):53–8.

18.

Hollenberg NK, Fisher ND, McCullough ML. Flavanols, the Kuna, cocoa consumption, and nitric oxide. J Am Soc Hypertens. 2009;3(2):105–12.

19.

McDonald A, Motta Borrel J, Roa R. Prevalence of risk factors associated with cardiovascular disease (PREFREC) ICGES. Panamá. 2010.

20.

de Rivera AL, Cumbrera A. Prevalence, sociodemographic distribution, treatment and control of diabetes mellitus in Panamá. Diabetol Metab Syndr. 2013;5(1):69.

21.

Posso AJ, Meza RA, Morales EA, Jaen Y, Ortega AC, Posada EJ. Diabetes in Panamá: epidemiology, risk factors, and clinical management. Ann Glob Health. 2015;81(6):754–64.

22.

Guía Para la Atención Integral de las Personas con Diabetes Mellitus Organización Panamericana de la Salud Organización Panamericana de la Salud, Panamá. 2009.

23.

McDonald A, Motta J, Roa R, Batista I, Correa R, Gonzalez B. Prevalencia de factores de riesgo asociados a enfermedad cardiovascular en la población adulta de 18 años y más. Provincias de Panamá y Colón. Ministerio de Salud. In: Ministerio de Salud - Panama; 2011.

24.

Center for Disease Control and Prevention. Clinical Guidelines on the Identification, Evaluation, and Treatment of Overweight and Obesity in Adults. Accessed from: https://www.nhlbi.nih.gov/files/docs/guidelines/ob_gdlns.pdf

25.

Shiwaku K, Anuurad E, Enkhmaa B, Kitajima K, Yamane Y. Appropriate BMI for Asian populations. Lancet. 2004;363(9414):1077.

26.

Hsu WC, Araneta MR, Kanaya AM, Chiang JL, Fujimoto W. BMI cut points to identify at-risk Asian Americans for type 2 diabetes screening. Diabetes Care. 2015;38(1):150–8.

27.

Classification and Diagnosis of Diabetes. Standards of medical Care in Diabetes—2018. American Diabetes Association. Diabetes Care. 2018;41(Supplement 1):S13–27. https://doi.org/10.2337/dc18-S002.

28.

Barnes AS. The epidemic of obesity and diabetes: trends and treatments. Tex Heart Inst J. 2011;38(2):142.

29.

Centers for Disease Control and Prevention. Adult Obesity Facts. 2018. Accessed from: https://www.cdc.gov/obesity/data/adult.html

30.

World Health Organization. Obesity and overweight facts. 2018. Accessed from: http://www.who.int/en/news-room/fact-sheets/detail/obesity-and-overweight

31.

Sasson M, Lee M, Jan C, Fontes F, Motta J. Prevalence and associated factors of obesity among Panamanian adults. 1982–2010. PLoS One. 2014;9(3):e91689.

32.

Ring I, Brown N. The health status of indigenous peoples and others. BMJ. 2013;327(7412):404–5. https://doi.org/10.1136/bmj.327.7412.404.

33.

The Report Panamá. 2015. Accessed from: https://oxfordbusinessgroup.com/Panamá-2015/health

34.

A Barroso. Indígenas preservan su medicina, Programa Panamericano de Defensa y Desarrollo de la Biodiversidad Biológica, Cultural y Social, Ciudad de Panamá. 2004.
Acknowledgments
We would like to acknowledge the support and participation of the Ustupu and Ogobsucum communities and the partnership with the Panama Ministry of Health that made this study possible.
Funding
This study was supported by Indigenous Health International (IHI), an approved 501(c)(3) non-profit organization in the USA. The study sponsor had no role in the analysis, interpretation, or writing of the manuscript.
Ethics declarations
Conflict of Interest
The authors declare that they have no conflict of interest.
Ethical Standards Disclosure
This study was conducted according to the guidelines laid down in the Declaration of Helsinki and all procedures involving human subjects/patients were approved by the Western Institutional Review Board (WIRB), USA. Informed consent was obtained from all subjects/patients.
Additional information
Publisher's Note
Springer Nature remains neutral with regard to jurisdictional claims in published maps and institutional affiliations.
About this article
Cite this article
Campbell, J.A., Walker, R.J., Dawson, A.Z. et al. Prevalence of Diabetes, Prediabetes, and Obesity in the Indigenous Kuna Population of Panamá. J. Racial and Ethnic Health Disparities 6, 743–751 (2019). https://doi.org/10.1007/s40615-019-00573-0
Received:

Revised:

Accepted:

Published:

Issue Date:
Keywords
Diabetes

Prediabetes

Obesity

Indigenous

Kuna

Panama