Abstract
This study assessed whether high school youth with mixed race/ethnicity are at greater risk for poor mental health conditions compared to their single race/ethnic counterparts and whether this mental health risk can be mitigated by youth developmental assets regardless of one's race/ethnicity. Methods involved secondary data analysis of the 2009–2013 Youth Risk Behavioral Survey—Anchorage, Alaska subsample. Difference in rates of mental health conditions and mean number of developmental assets (protective factors) were assessed among three racial/ethnic groups. Logistic regression models tested whether race/ethnicity has an independent association with mental health conditions and whether there is an interaction effect between race/ethnicity and protective factors. Results show that, compared to white students, mixed race/ethnic students have significantly higher rates of poor mental health condition and significantly fewer protective factors. A significant interaction effect between race/ethnicity and protective factors was also found, showing decreasing likelihood of poor mental health condition with increasing number of protective factors among all racial/ethnic groups. However, this effect was more pronounced among white students compared to both mixed and single race/ethnicity minority students. Study findings indicate that youth of mixed race/ethnicity are more likely to be at risk for poor mental health outcomes, yet less likely to mitigate this risk even with similar number of external developmental assets as their single race/ethnic counterparts. More research is needed to further understand the differential effect of certain developmental assets among different racial/ethnic groups.
Access options
Buy single article
Instant access to the full article PDF.
USD 39.95
Price excludes VAT (USA)
Tax calculation will be finalised during checkout.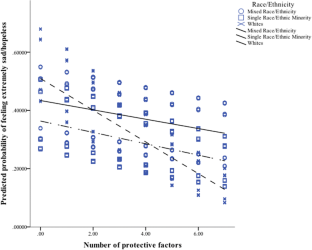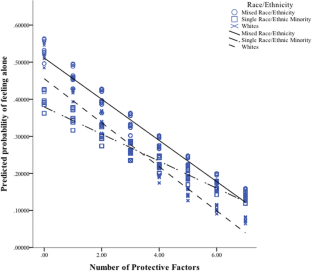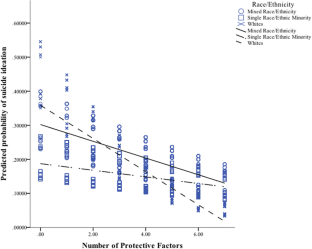 References
Kapphahn CJ, Morreale MC, Rickert VI, Walker LR. Financing mental health services for adolescents: a position paper of the Society for Adolescent Medicine. J Adolescent Health. 2006;39:456–8.

Breslau J, Kendler KS, Su M, Gaxiola-Aguilar S, Kessler RC. Lifetime risk and persistence of psychiatric disorders across ethnic groups in the United States. Psychol Med. 2005;35:317–27.

Breslau J, Aguilar-Gaxiola S, Kendler KS, Su M, Williams D, Kessler RC. Specifying race-ethnic differences in risk for psychiatric disorder in a USA national sample. Psychol Med 2006;36:57–68.

Kessler RC, Berglund P, Demler O, Jin R, Merikangas KR, Walters EE. Lifetime prevalence and age-of-onset distributions of DSM-IV disorders in the National Comorbidity Survey Replication. Arch Gen Psychiat. 2005;62:593–602.

Chisolm DJ, Mulatu MS, Brown JR. Racial/ethnic disparities in the patterns of co-occurring mental health problems in adolescents in substance abuse treatment. J Subst Abus Treat. 2009;37:203–10.

Udry JR, Li RM, Hendrickson-Smith J. Health and behavior risks of adolescents with mixed-race identity. Am J Public Health. 2003;93:1865–70.

Cheng S, Lively KJ. Multiracial self-identification and adolescent outcomes: a social psychological approach to the marginal man theory. Social Forces. 2009;88:61–98.

Bolland JM, Bryant CM, Lian BE, McCallum DM, Vazsonyi AT, Barth JM. Development and risk behavior among African American, Caucasian, and mixed-race adolescents living in high poverty inner-city neighborhoods. Am J Community Psychol. 2007;40:230–49.

Bellmore AD, Witkow MR, Graham S, Juvonen J. Beyond the individual: the impact of ethnic context and classroom behavioral norms on victims' adjustment. Dev Psychol. 2004;40:1159–72.

Tashiro CJ. Health disparities in the context of mixed race: challenging the ideology of race. Adv Nurs Sci. 2005;28:203–11.

Cooney TM, Radina ME. Adjustment problems in adolescence: are multiracial children at risk? Am J Orthop. 2000;70:433–44.

Crozier G, Davies J. 'The trouble is they don't mix': self-segregation of enforced exclusion?. Race Ethn Educ. 2008;11(3):285–301.

Ebstyne KP, Furrow JL. Religion as a resource for positive youth development: religion, social capital, and moral outcomes. Dev Psychol. 2004;40:703–13.

McDonald CC, Deatrick JA, Kassam-Adams N, Richmond TS. Community violence exposure and positive youth development in urban youth. J Community Health. 2011;36:925–32.

Proctor CL, Linley PA, Maltby J. Youth life satisfaction: a review of the literature. J Happiness Studies. 2009;10:583–630.

Smith EP. The role of afterschool settings in positive youth development. J Adolescent Health. 2007;1:219–20.

Search Institute. 40 Developmental assets for adolescents (ages 12-18). 1997. http://www.search-institute.org/content/40-developmental-assets-adolescents-ages-12-18. Accessed 1 Feb 2017.

Search Institute. Unique strengths, shared strengths: developmental assets among youth of color. Insights and Evidence. 2003;1:1–13.

Graham S, Juvonen J. Ethnicity, peer harassment and adjustment in middle school: an exploratory study. J Early Adolescence. 2002;22:173–99.

Boulton MJ. Patterns of bully/victim problems in mixed race groups of children. Soc Dev. 1995;4:277–93.

Valois RF, Zullig KJ, Huebner ES, Drane JW. Youth developmental assets and perceived life satisfaction: is there a relationship? Appl Res Qual Life. 2009;4:315–31.

Georgiades K, Boyle MH, Duku E. Contextual influences on children's mental health and school performance: the moderating effects of family immigrant status. Child Dev. 2007;78(5):1572–91.

Bradshaw CP, Waasdorp TE, Goldweber A, Johnson SL. Bullies, gangs, drugs, and school: understanding the overlap and the role of ethnicity and urbanicity. J Youth Adolescence. 2013;42:220–34.

Tizard B, Phoenix A. The identity of mixed parentage adolescents. J Child Psychol Psyc. 1995;36:1399–410.

Humes KR, Jones NA, Ramirez RR. Overview of race and Hispanic origin: 2010. 2010 Census Briefs. Washington, DC: U.S. Department of Commerce, U.S. Census Bureau, 2011.

Saulny S. Census data presents rise in multiracial population of youths. The New York Times. 2011. http://www.nytimes.com/2011/03/25/us/25race.html?_r=2&src=tptw. Accessed 2 Feb 2017.

Alaska Department of Health and Social Services. Youth Risk Behavior Survey (YRBS). In Alaska Department of Health and Social Services, Division of Public Health. http://dhss.alaska.gov/dph/Chronic/Pages/yrbs/yrbs.aspx of Youth Risk Behavior Survey (YRBS). Accessed 22 Nov 2016.

U.S. Census Bureau. 2010 Census Interactive Population Search. 2010. http://www.census.gov/2010census/popmap/ipmtext.php?fl=02. Accessed 2 Feb 2017.

Heath K, Garcia G, Hanson, B, Rivera M, Hedwig T, Moras R, Reed D, Smith C, Craig S. Growing up Anchorage: Anchorage youth and young adult behavioral health and wellness assessment. University of Alaska Anchorage: Center for Human Development; 2015.

Leffert N, Benson PL, Scales PC, Sharma AR, Drake DR, Blyth DA. Developmental assets: measurement and prediction of risk behaviors among adolescents. Appl Dev Sci. 1998;2:209–30.

Rutter M. Resilience reconsidered: conceptual considerations, empirical findings, and policy implications. In: Shonkoff JP JP, Meisels SJ, editors. Handbook of early childhood intervention (2nd ed). New York: Cambridge; 2000. p. 651–82.

Scales PC, Benson PL, Leffert N, Blyth DA. Contribution of developmental assets to the prediction of thriving among adolescents. Appl Dev Sci. 2000;4:27–46.

Marascuilo LA. Large-sample multiple comparisons. Psychol Bull. 1966;65:280–90.

Assari S, Lankarani MM. Race and urbanity alter the protective effect of education but not income on mortality. Front Public Health. 2016;4:1–9.

Assari S. Race, sense of control over life, and short-term risk of mortality among older adults in the United States. Arch Med Sci. 2016;12:1–8.

Lyles MR, Yancey A, Grace C, Carter JH. Racial identity and self esteem: problems peculiar to biracial children. J Am Acad Child Psy. 1985;24:150–3.

Brandell JR. Treatment of the biracial child: theoretical and clinical issues. J Multicult Couns D. 1988;16:176–87.

Root MP. Experiences and processes affecting racial identity development: preliminary results from the biracial sibling project. Cult Divers Ment Health. 1998;4:237–47.

Office of Disease Prevention and Health Promotion. Adolescent Health. In HealthyPeople.gov . https://www.healthypeople.gov/2020/topics-objectives/topic/Adolescent - Health. Accessed 2 Feb 2017.

Yu SM, Huang ZJ, Schwalberg RH, Overpeck M, Kogan MD. Acculturation and the health and well-being of U.S. immigrant adolescents. J Adolesc Health. 2003;33(6):479–88.

Fisher S, Reynolds JL, Hsu WW, Barnes J, Tyler K. Examining multiracial youth in context: ethnic identity development and mental health outcomes. J Youth Adolesc. 2014;43(10):1688–99.
Ethics declarations
This study was approved and granted exempt status by the authors' institutional review board.
Conflict of Interest
The authors declare that they have no conflict of interest.
About this article
Cite this article
Garcia, G.M., Hedwig, T., Hanson, B.L. et al. The Relationship Between Mixed Race/Ethnicity, Developmental Assets, and Mental Health Among Youth. J. Racial and Ethnic Health Disparities 6, 77–85 (2019). https://doi.org/10.1007/s40615-018-0501-2
Received:

Revised:

Accepted:

Published:

Issue Date:

DOI: https://doi.org/10.1007/s40615-018-0501-2
Keywords
Mixed race/ethnicity

Mental health

Youth