Abstract
Background
Data show that yoga is effective for improving health-related outcomes in breast cancer survivors. While breast cancer is the most commonly diagnosed cancer among African-American women (AAW), AAW are less likely to engage in yoga compared to other ethnic groups. The goals of the current study were to assess the feasibility of an 8-week restorative yoga program among African-American breast cancer survivors (AA BCS). Specifically, study aims were to (1) measure changes in study outcomes in a restorative yoga (RY) group compared to a wait list control group, (2) assess adherence to the RY program, and (3) assess program satisfaction among study participants.
Methods
Thirty-three AA BCS were randomly assigned to either the RY intervention (n = 18) or wait list control group (n = 15). RY classes met once per week for 8 weeks. Pre- and post-testing assessments were measured at 0 and 8 weeks (immediately post-intervention).
Results
Depression scores at follow-up were significantly lower in the yoga group (M = 4.78, SD = 3.56) compared to the control group (M = 6.91, SD = 5.86). No significant group differences were observed for sleep quality, fatigue, or perceived stress. Yoga program participants completing baseline assessments demonstrated 61% adherence to the yoga classes. Average rating of the yoga program was "very useful." Recommendations for future yoga programs were provided.
Conclusions
This study suggests that yoga has a beneficial effect on depression in AA BCS. There is, however, a need to further explore the benefits of yoga among minority breast cancer survivors using a study with larger sample sizes.
This is a preview of subscription content, log in to check access.
Access options
Buy single article
Instant access to the full article PDF.
US$ 39.95
Price includes VAT for USA
Subscribe to journal
Immediate online access to all issues from 2019. Subscription will auto renew annually.
US$ 99
This is the net price. Taxes to be calculated in checkout.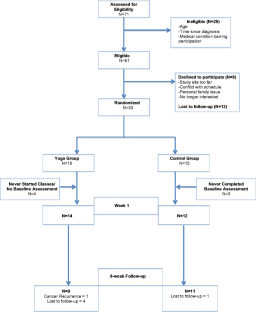 References
1.

American Cancer Society. Cancer facts and figures for African Americans 2013–2014. American Cancer Society 2013.

2.

Courneya KS, Friedenreich CM. Physical exercise and quality of life following cancer diagnosis: a literature review. Ann Behav Med. 1999;21:171–9.

3.

Courneya KS. Exercise in cancer survivors: an overview of research. Med Sci Sports Exerc. 2003;35:1846–52.

4.

Buffart LM, van Uffelen JG, Riphagen II, Brug J, van Mechelen W, Brown WJ, Chinapaw MJ. Physical and psychosocial benefits of yoga in cancer patients and survivors, a systematic review and meta-analysis of randomized controlled trials. BMC Cancer. 2012;12:559. 2407-12-559

5.

Courneya KS, McKenzie DC, Reid RD, Mackey JR, Gelmon K, Friedenreich CM, Ladha AB, Proulx C, Lane K, Vallance JK, Segal RJ. Barriers to supervised exercise training in a randomized controlled trial of breast cancer patients receiving chemotherapy. Ann Behav Med. 2008;35:116–22.

6.

Rogers LQ, Courneya KS, Verhulst S, Markwell SJ, McAuley E. Factors associated with exercise counseling and program preferences among breast cancer survivors. J Phys Act Health. 2008;5:688–705.

7.

Whitehead S, Lavelle K. Older breast cancer survivors' views and preferences for physical activity. Qual Health Res. 2009;19:894–906.

8.

Perna FM, Craft L, Carver CS, Antoni MH. Negative affect and barriers to exercise among early stage breast cancer patients. Health Psychol. 2008;27:275–9.

9.

Courneya KS, Friedenreich CM, Quinney HA, Fields AL, Jones LW, Fairey AS. Predictors of adherence and contamination in a randomized trial of exercise in colorectal cancer survivors. Psychooncology. 2004;13:857–66.

10.

National Center for Health Statistics. National Health Interview Survey, 2000, 2013, and 2014. Public-use data file and documentation

11.

Lipton L. Using yoga to treat disease: an evidence-based review. JAAPA. 2008;21:34–6. 38, 41

12.

Ross A, Thomas S. The health benefits of yoga and exercise: a review of comparison studies. J Altern Complement Med. 2010;16:3–12.

13.

Cramer H, Lange S, Klose P, Paul A, Dobos G. Yoga for breast cancer patients and survivors: a systematic review and meta-analysis. BMC Cancer. 2012;12:412. 2407-12-412

14.

Harder H, Parlour L, Jenkins V. Randomised controlled trials of yoga interventions for women with breast cancer: a systematic literature review. Support Care Cancer. 2012;20:3055–64.

15.

Danhauer SC, Mihalko SL, Russell GB, Campbell CR, Felder L, Daley K, Levine EA. Restorative yoga for women with breast cancer: findings from a randomized pilot study. Psychooncology. 2009;18:360–8.

16.

Birdee GS, Legedza AT, Saper RB, Bertisch SM, Eisenberg DM, Phillips RS. Characteristics of yoga users: results of a national survey. J Gen Intern Med. 2008;23:1653–8.

17.

Moadel AB, Shah C, Wylie-Rosett J, Harris MS, Patel SR, Hall CB, Sparano JA. Randomized controlled trial of yoga among a multiethnic sample of breast cancer patients: effects on quality of life. J Clin Oncol. 2007;25:4387–95.

18.

American College of Sports Medicine. Guidelines for graded exercise testing and prescription. 4th ed. Philadelphia: Lea & Febiger; 1991.

19.

Godin G, Shephard RJ. Godin Leisure-Time Exercise Questionnaire. Medicine and science in sports and exercise 1997; 29 June Supplement: S36–8.

20.

Amireault S, Godin G, Lacombe J, Sabiston CM. The use of the Godin-Shephard Leisure-Time Physical Activity Questionnaire in oncology research: a systematic review. BMC Med Res Methodol. 2015;15:60. 015-0045-7

21.

Mendoza TR, Wang XS, Cleeland CS, Morrissey M, Johnson BA, Wendt JK, Huber SL. The rapid assessment of fatigue severity in cancer patients: use of the Brief Fatigue Inventory. Cancer. 1999;85:1186–96.

22.

Taylor TR, Huntley ED, Makambi K, Sween J, Adams-Campbell LL, Frederick W, Mellman TA. Understanding sleep disturbances in African-American breast cancer survivors: a pilot study. Psychooncology. 2012;21:896–902.

23.

Bastien CH, Vallieres A, Morin CM. Validation of the Insomnia Severity Index as an outcome measure for insomnia research. Sleep Med. 2001;2:297–307.

24.

Radloff LS. CES-D scale: a self-report depression scale for research in the general populations. Appl Psychol Meas. 1977;1:385–401.

25.

Makambi KH, Williams CD, Taylor TR, Rosenberg L, Adams-Campbell LL. An assessment of the CES-D scale factor structure in black women: The Black Women's Health Study. Psychiatry Res. 2009;168:163–70.

26.

Cohen S, Kamarck T, Mermelstein R. A global measure of perceived stress. J Health Soc Behav. 1983;24:385–96.

27.

Lee EH. Review of the psychometric evidence of the perceived stress scale. Asian Nurs Res (Korean Soc Nurs Sci). 2012;6:121–7.

28.

Hofman M, Ryan JL, Figueroa-Moseley CD, Jean-Pierre P, Morrow GR. Cancer-related fatigue: the scale of the problem. Oncologist. 2007;12(Suppl 1):4–10.

29.

Ancoli-Israel S, Moore PJ, Jones V. The relationship between fatigue and sleep in cancer patients: a review. Eur J Cancer Care (Engl). 2001;10:245–55.

30.

Berger AM, Parker KP, Young-McCaughan S, Mallory GA, Barsevick AM, Beck SL, Carpenter JS, Carter PA, Farr LA, Hinds PS, Lee KA, Miaskowski C, Mock V, Payne JK, Hall M. Sleep wake disturbances in people with cancer and their caregivers: state of the science. Oncol Nurs Forum. 2005;32:E98–126.

31.

Lewis PE, Sheng M, Rhodes MM, Jackson KE, Schover LR. Psychosocial concerns of young African American breast cancer survivors. J Psychosoc Oncol. 2012;30:168–84.

32.

Von Ah DM, Russell KM, Carpenter J, Monahan PO, Qianqian Z, Tallman E, Ziner KW, Storniolo AM, Miller KD, Giesler RB, Haase J, Otte J, Champion VL. Health-related quality of life of African American breast cancer survivors compared with healthy African American women. Cancer Nurs. 2012;35:337–46.

33.

Bower JE, Greendale G, Crosswell AD, Garet D, Sternlieb B, Ganz PA, Irwin MR, Olmstead R, Arevalo J, Cole SW. Yoga reduces inflammatory signaling in fatigued breast cancer survivors: a randomized controlled trial. Psychoneuroendocrinology. 2014;43:20–9.

34.

Bower JE, Ganz PA, Irwin MR, Arevalo JM, Cole SW. Fatigue and gene expression in human leukocytes: increased NF-kappaB and decreased glucocorticoid signaling in breast cancer survivors with persistent fatigue. Brain Behav Immun. 2011;25:147–50.

35.

Banasik J, Williams H, Haberman M, Blank SE, Bendel R. Effect of Iyengar yoga practice on fatigue and diurnal salivary cortisol concentration in breast cancer survivors. J Am Acad Nurse Pract. 2011;23:135–42.

36.

Antonova L, Aronson K, Mueller CR. Stress and breast cancer: from epidemiology to molecular biology. Breast Cancer Res. 2011;13:208.

37.

Theobald DE. Cancer pain, fatigue, distress, and insomnia in cancer patients. Clin Cornerstone. 2004;6(Suppl 1D):S15–21.

38.

Culos-Reed SN, Carlson LE, Daroux LM, Hately-Aldous S. A pilot study of yoga for breast cancer survivors: physical and psychological benefits. Psychooncology. 2006;15:891–7.

39.

Joseph RP, Keller C, Affuso O, Ainsworth BE. Designing culturally relevant physical activity programs for African-American women: a framework for intervention development. J Racial Ethn Health Disparities 2016.
Acknowledgements
This project has been funded in whole or in part with Federal funds (UL1TR001409 previously UL1TR000101) from the National Center for Advancing Translational Sciences (NCATS), National Institutes of Health, through the Clinical and Translational Science Awards Program (CTSA), a trademark of DHHS, part of the Roadmap Initiative, "Re-Engineering the Clinical Research Enterprise."
Ethics declarations
Human Subjects Statement
All procedures followed were in accordance with the ethical standards of the responsible committee on human experimentation (institutional and national) and with the Helsinki Declaration of 1975, as revised in 2000. Informed consent was obtained from all participants included in this study. The Georgetown-Howard Universities Center for Clinical and Translational Science Institutional Review Board approved the study that this manuscript is based on (Dr. Teletia R. Taylor, Principal Investigator).
Conflict of Interest
The authors declare that they have no conflict of interest.
About this article
Cite this article
Taylor, T.R., Barrow, J., Makambi, K. et al. A Restorative Yoga Intervention for African-American Breast Cancer Survivors: a Pilot Study. J. Racial and Ethnic Health Disparities 5, 62–72 (2018). https://doi.org/10.1007/s40615-017-0342-4
Received:

Revised:

Accepted:

Published:

Issue Date:
Keywords
African-American

Breast cancer survivors

Yoga