Abstract
Background
African Americans are under-represented in research, and there are perceptions of unwillingness among African Americans to participate in research. We explored barriers to African American research participation.
Methods
We conducted a cross-sectional survey to explore knowledge and beliefs regarding medical and genetic research among adults (n = 169) at urban community events. Descriptive data were summarized by frequencies for survey responses.
Results
Only 13 % of respondents had ever been approached for research; 93 % of those who had been approached for research had participated. Eighty-six percent of those who had previous research experience indicated willingness to participate again vs. only 30 % among those with no research experience. Seventy-four percent had altruistic views of research; 28 % were concerned about truthfulness of researchers; 52 % feared incidental discoveries.
Conclusion
African Americans have favorable views of research; however, few are being engaged in studies. Effective interventions to address identified barriers may improve participation and lead to better health outcomes among African Americans.
Access options
Buy single article
Instant access to the full article PDF.
USD 39.95
Price excludes VAT (USA)
Tax calculation will be finalised during checkout.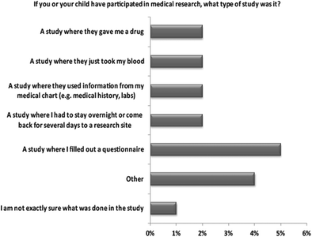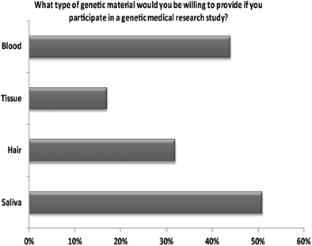 References
Skloot R. The immortal life of Henrietta Lacks. New York: Crown Publishers; 2010.

Svensson CK. Representation of American blacks in clinical trials of new drugs. JAMA. 1989;261(2):263–5.

Huang SM, Temple R. Is this the drug or dose for you? Impact and consideration of ethnic factors in global drug development, regulatory review, and clinical practice. Clin Pharmacol Ther. 2008;84(3):287–94. doi:10.1038/clpt.2008.144.

Ramamoorthy A, Pacanowski MA, Bull J, Zhang L. Racial/ethnic differences in drug disposition and response: review of recently approved drugs. Clinical Pharmacology and Therapeutic. 2015; Accepted Article. doi:10.1002/cpt.61.

Burchard EG. Medical research: missing patients. Nature. 2014;513(7518):301–2. doi:10.1038/513301a.

Scirica CV, Celedon JC. Genetics of asthma: potential implications for reducing asthma disparities. Chest. 2007;132(5 Suppl):770S–81S. doi:10.1378/chest.07-1905.

Perera MA, Cavallari LH, Johnson JA. Warfarin pharmacogenetics: an illustration of the importance of studies in minority populations. Clin Pharmacol Ther. 2014;95(3):242–4. doi:10.1038/clpt.2013.209.

Johnson JA. Ethnic differences in cardiovascular drug response: potential contribution of pharmacogenetics. Circulation. 2008;118(13):1383–93. doi:10.1161/CIRCULATIONAHA.107.704023.

Moorman JE, Rudd RA, Johnson CA, King M, Minor P, Bailey C, et al. National surveillance for asthma—United States, 1980-2004. MMWR Surveill Summ. 2007;56(8):1–54.

Baye TM, Butsch Kovacic M, Biagini Myers JM, Martin LJ, Lindsey M, Patterson TL, et al. Differences in candidate gene association between European ancestry and African American asthmatic children. PLoS One. 2011;6(2):e16522. doi:10.1371/journal.pone.0016522.

Braunstein JB, Sherber NS, Schulman SP, Ding EL, Powe NR. Race, medical researcher distrust, perceived harm, and willingness to participate in cardiovascular prevention trials. Medicine. 2008;87(1):1–9. doi:10.1097/MD.0b013e3181625d78.

Scharff DP, Mathews KJ, Jackson P, Hoffsuemmer J, Martin E, Edwards D. More than Tuskegee: understanding mistrust about research participation. J Health Care Poor Underserved. 2010;21(3):879–97. doi:10.1353/hpu.0.0323.

Dancy BL, Wilbur J, Talashek M, Bonner G, Barnes-Boyd C. Community-based research: barriers to recruitment of African Americans. Nurs Outlook. 2004;52(5):234–40. doi:10.1016/j.outlook.2004.04.012.

Durant RW, Davis RB, St George DM, Williams IC, Blumenthal C, Corbie-Smith GM. Participation in research studies: factors associated with failing to meet minority recruitment goals. Ann Epidemiol. 2007;17(8):634–42. doi:10.1016/j.annepidem.2007.02.003.

Cottler LB, McCloskey DJ, Aguilar-Gaxiola S, Bennett NM, Strelnick H, Dwyer-White M, et al. Community needs, concerns, and perceptions about health research: findings from the clinical and translational science award sentinel network. Am J Public Health. 2013;103(9):1685–92. doi:10.2105/AJPH.2012.300941.

Murphy E, Thompson A. An exploration of attitudes among black Americans towards psychiatric genetic research. Psychiatry. 2009;72(2):177–94. doi:10.1521/psyc.2009.72.2.177.

Israel BA, Parker EA, Rowe Z, Salvatore A, Minkler M, Lopez J, et al. Community-based participatory research: lessons learned from the Centers for Children's Environmental Health and Disease Prevention Research. Environ Health Perspect. 2005;113(10):1463–71.

Harris PA, Taylor R, Thielke R, Payne J, Gonzalez N, Conde JG. Research electronic data capture (REDCap)—a metadata-driven methodology and workflow process for providing translational research informatics support. J Biomed Inform. 2009;42(2):377–81. doi:10.1016/j.jbi.2008.08.010.

Hartz SM, Johnson EO, Saccone NL, Hatsukami D, Breslau N, Bierut LJ. Inclusion of African Americans in genetic studies: what is the barrier? Am J Epidemiol. 174(3):336–44. doi:10.1093/aje/kwr084.

Paskett ED, Reeves KW, McLaughlin JM, Katz ML, McAlearney AS, Ruffin MT, et al. Recruitment of minority and underserved populations in the United States: the Centers for Population Health and Health Disparities experience. Contemp Clin Trials. 2008;29(6):847–61.

George S, Duran N, Norris K. A systematic review of barriers and facilitators to minority research participation among African Americans, Latinos, Asian Americans, and Pacific Islanders. Am J Public Health. 2014;104(2):e16–31.

Ngui EM, Warner TD, Roberts LW. Perceptions of African-American health professionals and community members on the participation of children and pregnant women in genetic research. Public Health Genomics. 2014;17(1):23–32. doi:10.1159/000355359.

Williams IC, Corbie-Smith G. Investigator beliefs and reported success in recruiting minority participants. Contemp Clin Trials. 2006;27(6):580–6. doi:10.1016/j.cct.2006.05.006.

Berkley-Patton J, Bowe-Thompson C, Bradley-Ewing A, Hawes S, Moore E, Williams E, et al. Taking it to the pews: a CBPR-guided HIV awareness and screening project with black churches. AIDS Educ Prev. 2010;22(3):218–37. doi:10.1521/aeap.2010.22.3.218.

Streicher SA, Sanderson SC, Jabs EW, Diefenbach M, Smirnoff M, Peter I, et al. Reasons for participating and genetic information needs among racially and ethnically diverse biobank participants: a focus group study. J Community Genet. 2011;2(3):153–63. doi:10.1007/s12687-011-0052-2.

Halverson CM, Ross LF. Engaging African-Americans about biobanks and the return of research results. J Community Genet. 2012;3(4):275–83. doi:10.1007/s12687-012-0091-3.

Collins FS, Varmus H. A new initiative on precision medicine. N Engl J Med. 2015;372(9):793–5. doi:10.1056/NEJMp1500523.
Acknowledgments
We would like to acknowledge the important contributions of time, knowledge, and support provided by our community partners, Zion Grove Missionary Baptist Church (Pastor Michael Brooks) and the Kansas Black Healthcare Coalition (Melissa Robinson, President and Doris Grant, Community Health Educator). We also acknowledge the generosity of the Kansas City community members who were willing to share their thoughts with us about research. Finally, we would like to recognize Mrs. Henrietta Lacks for her contributions to science and the Lacks family for their continued efforts in helping scientists to conduct fair and ethical research. Grant support is provided by the National Institute on Minority Health and Health Disparities grant #1RC4MD005738 (PI, Goggin) and the National Heart, Lung, and Blood Institute grant #1K23HL105783 (PI, Jones).
Ethics declarations
Conflict of Interest
The authors declare that they have no conflicts of interest.
Ethical Approval
All procedures performed in studies involving human participants were in accordance with the ethical standards of the institutional and/or national research committee and with the 1964 Helsinki Declaration and its later amendments or comparable ethical standards.
Electronic supplementary material
About this article
Cite this article
Jones, B.L., Vyhlidal, C.A., Bradley-Ewing, A. et al. If We Would Only Ask: How Henrietta Lacks Continues to Teach Us About Perceptions of Research and Genetic Research Among African Americans Today. J. Racial and Ethnic Health Disparities 4, 735–745 (2017). https://doi.org/10.1007/s40615-016-0277-1
Received:

Revised:

Accepted:

Published:

Issue Date:

DOI: https://doi.org/10.1007/s40615-016-0277-1
Keywords
Disparities

Research

Underserved

Asthma

Genetics