Abstract
Purpose
We examined progress made by the Milwaukee community toward achieving the Milwaukee Teen Pregnancy Prevention Initiative's aggressive 2008 goal of reducing the teen birth rate to 30 live births/1000 females aged 15–17 years by 2015. We further examined differential teen birth rates in disparate racial and ethnic groups.
Method
We analyzed teen birth count data from the Wisconsin Interactive Statistics on Health system and demographic data from the US Census Bureau. We computed annual 2003–2014 teen birth rates for the city and four racial/ethnic groups within the city (white non-Hispanic, black non-Hispanic, Hispanic/Latina, Asian non-Hispanic). To compare birth rates from before (2003–2008) and after (2009–2014) goal setting, we used a single-system design to employ two time series analysis approaches, celeration line, and three standard deviation (3SD) bands.
Results
Milwaukee's teen birth rate dropped 54 % from 54.3 in 2003 to 23.7 births/1000 females in 2014, surpassing the goal of 30 births/1000 females 3 years ahead of schedule. Rate reduction following goal setting was statistically significant, as five of the six post-goal data points were located below the celeration line and points for six consecutive years (2010–2014) fell below the 3SD band. All racial/ethnic groups demonstrated significant reductions through at least one of the two time series approaches. The gap between white and both black and Hispanic/Latina teens widened.
Conclusion
Significant reduction has occurred in the overall teen birth rate of Milwaukee. Achieving an aggressive reduction in teen births highlights the importance of collaborative community partnerships in setting and tracking public health goals.
Access options
Buy single article
Instant access to the full article PDF.
US$ 39.95
Tax calculation will be finalised during checkout.
Subscribe to journal
Immediate online access to all issues from 2019. Subscription will auto renew annually.
US$ 79
Tax calculation will be finalised during checkout.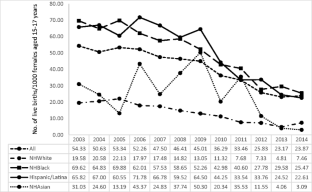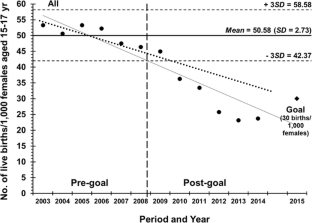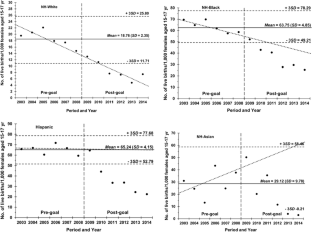 References
1.

Pinzon JL et al. Care of adolescent parents and their children. Pediatrics. 2012;130(6):e1743–56.

2.

Ducci F et al. Association of substance use disorders with childhood trauma but not African genetic heritage in an African American cohort. Am J Psychiatry. 2009;166(9):1031–40.

3.

Hodgkinson S et al. Addressing the mental health needs of pregnant and parenting adolescents. Pediatrics. 2014;133(1):114–22.

4.

Gavin AR, Lindhorst T, Lohr MJ. The prevalence and correlates of depressive symptoms among adolescent mothers: results from a 17-year longitudinal study. Women Health. 2011;51(6):525–45.

5.

Logan C, Holcombe E, Manlove J, Ryan S. The consequences of unintended childbearing: a white paper, 2007: ChildTrends, 2007. Available at: http://www.childtrends.org/?publications=the-consequences-of-unintended-childbearing-a-white-paper.

6.

Terry-Humen E, Manlove J, Moore KA. Playing catch-up: how children born to teen mothers fare. Washington, DC: The National Campaign to Prevent Teen Pregnancy; 2005.

7.

Assini-Meytin LC, Green KM. Long-term consequences of adolescent parenthood among African-American urban youth: a propensity score matching approach. J Adolesc Health. 2015;56(5):529–35.

8.

Herrman JW. Adolescent perceptions of teen births. J Obstet Gynecol Neonatal Nurs. 2008;37(1):42–50.

9.

Perper K, Peterson K, Manlove J. Diploma attainment among teen mothers, 2010, Child trends fact sheet. 2010. Available at: http://www.childtrends.org/wp-content/uploads/2010/01/child_trends-2010_01_22_FS_diplomaattainment.pdf.

10.

Finer L, Zolna M. Unintended pregnancy in the United States: incidence and disparities. Contraception. 2011;84:478–85.

11.

Ventura SJ et al. Estimated pregnancy rates and rates of pregnancy outcomes for the United States, 1990-2008. National Vital Statistics Reports. 2012;60(7):1–21.

12.

Sedgh G et al. Adolescent pregnancy, birth, and abortion rates across countries: levels and recent trends. J Adolesc Health. 2015;56(2):223–30.

13.

Martin JA, Hamilton BE, Osterman MJK, et al. Births: Final data for 2014. National vital statistics reports. Hyattsville: National Center for Health Statistics. 2015;64(12).

14.

CDC. Reduced disparities in birth rates among teens aged 15-19 years in the United States. CDC; 2016. Accessed from: www.cdc.gov/teenpregnancy/prevent-teen-pregnancy/reduced-disparities-birth-rates.htm.

15.

Penman-Aguilar A et al. Socioeconomic disadvantage as a social determinant of teen childbearing in the U.S. Public Health Rep. 2013;128:5–22.

16.

French K. Exploring socioeconomic characteristics of ethnically divided neighbourhoods. In: SI Lloyd CD, Wong DW, editors. Social-spatial segregation: concepts, processes and outcomes. Bristol: Policy Press; 2014.

17.

Shuger L. Teen pregnancy and high school dropout: what communities can do to address these issues. Washington, DC: The National Campaign to Prevent Teen and Unplanned Pregnancy and America's Promise; 2012.

18.

Greer DM et al. Milwaukee Health Report 2013: health disparities in Milwaukee by socioeconomic status. Milwaukee: Center for Urban Population Health; 2013.

19.

CDC. About teen pregnancy: Teen Pregnancy in the United States. Centers for Disease Control & Prevention (CDC). 2016. CDC; 2016. Retrieved June 13, 2016, from http://www.cdc.gov/teenpregnancy/about/.

20.

Mori N et al. Setting a goal to reduce teen births in Milwaukee by 2015. WMJ. 2009;108(7):365–9.

21.

United Way of Greater Milwaukee. Teen pregnancy prevention. Milwaukee; 2013, Available at http://unitedwaymilwaukee.org/TeenPregnacyPrevention.

22.

Martinez G, Copen CE, JC Abma. Teenagers in the United States: sexual activity, contraceptive use, and childbearing, 2006-2010. National survey of family growth. National center for health statistics. Vital and Health Stat. 2011;23(31):1–35.

23.

Hamilton BE, Ventura SJ. Birth rates for U.S. teenagers reach historic lows for all age and ethnic groups. Hyattsville: National Center for Health Statistics Data Brief. 2012;89:1–8.

24.

Bloom M, Fischer J, Orme JG. Evaluating practice: guidelines for the accountable professional. 6th ed. 2009.

25.

Center BA, Skiba RJ, Casey A. A methodology for the quantitative synthesis of intra-subject design research. J Educ Sci. 1986;19:387–400. doi:10.1177/002246698501900404.

26.

Smith JD. Single-case experimental designs: a systematic review of published research and current standard. Psychol Methods. 2012;17(4):510–50.

27.

Santelli JS et al. Explaining recent declines in adolescent pregnancy in the United States: the contribution of abstinence and improved contraceptive use. Am J Public Health. 2007;97(1):150–6.

28.

Santelli JS et al. Changing behavioral risk for pregnancy among high school students in the United States, 1991-2007. J Adolesc Health. 2009;45(1):25–32.

29.

Boonstra HD. Leveling the playing field: the promise of long-acting reversible contraceptives for adolescents. Guttmacher Policy Rev. 2013;16(4):13–8.

30.

Boonstra HD. Emergency contraception: steps being taken to improve access. Guttmacher Rep Public Policy. 2002;5(5):10–3.

31.

McNicholas C et al. Sexually transmitted infection prevalence in a population seeking no-cost contraception. Sex Transm Dis. 2013;40(7):546–51.

32.

Peipert JF et al. Preventing unintended pregnancies by providing no-cost contraception. Obstet Gynecol. 2012;120(6):1291–7.

33.

Ricketts S, Klingler G, Schwalberg R. Game change in Colorado: widespread use of long-acting reversible contraceptives and rapid decline in births among young, low-income women. Perspect Sex Reprod Health. 2014;46(3):125–32.

34.

Oringanje C et al. Interventions for preventing unintended pregnancies among adolescents. Cochrane Database Syst Rev. 2009;4.

35.

Mulvihill BA et al. Does access to a medical home differ according to child and family characteristics, including special-health-care-needs status, among children in Alabama? Pediatrics. 2007;119(Supplement_1):S107–13.

36.

Krby, D., Emerging Answers 2007: Research findings on programs to reduce teen pregnancy and sexually transmitted diseases. National Campaign to Prevent Teen and Unplanned Pregnancy. Washington, DC; 2007. p. 26. Report available at: https://thenationalcampaign.org/resource/emerging-answers-2007%E2%80%94full-report. Accessed 22 Jan 2016

37.

Cannonier C. State abstinence education programs and teen birth rates in the US. Rev Econ Household. 2011;10(1):53–75.

38.

Kohler PK, Manhart LE, Lafferty WE. Abstinence-only and comprehensive sex education and the initiation of sexual activity and teen pregnancy. J Adolesc Health. 2008;42(4):344–51.

39.

Stanger-Hall KF, Hall DW. Abstinence-only education and teen pregnancy rates: why we need comprehensive sex education in the U.S. PLoS One. 2011;6(10):14.

40.

United Way of Greater Milwaukee. Healthy Girls. Milwaukee: United Way of Greater Milwaukee; 2013. Avaiable at https://www.unitedwaymilwaukee.org/HealthyGirls.htm?docid=178.

41.

Percheski C, Kimbro R. How did the great recession affect fertility? Focus. 2014;30(2):26–30.

42.

Ananat EO, Gassman-Pines A, Gibson-Davis C. Community-wide Job loss and teenage fertility: evidence from North Carolina. Demography. 2013;50(6):2151–71.
Acknowledgements
Funding for this project was provided primarily by the Center for Urban Population Health, which is a partnership of the University of Wisconsin School of Medicine and Public Health, the University of Wisconsin-Milwaukee, and Aurora Health Care, Inc.
Ethics declarations
Conflict of Interest
The authors declare that they have no conflict of interest.
Ethical Approval
All procedures performed in studies involving human participants were in accordance with the ethical standards of the institutional and/or national research committee and with the 1964 Helsinki declaration and its later amendments or comparable ethical standards. For this type of study formal consent is not required.
About this article
Cite this article
Ngui, E.M., Greer, D.M., Bridgewater, F.D. et al. Trends and Progress in Reducing Teen Birth Rates and the Persisting Challenge of Eliminating Racial/Ethnic Disparities. J. Racial and Ethnic Health Disparities 4, 615–622 (2017). https://doi.org/10.1007/s40615-016-0265-5
Received:

Revised:

Accepted:

Published:

Issue Date:
Keywords
Teen birth

Teen pregnancy

Trend analysis

Adolescent

Health disparities

Racial disparities

Race/ethnicity

Goals