Abstract
Background
Early survey evidence suggests a reduction of disparities in insurance coverage between Latinos and non-Hispanic Whites post-Affordable Care Act (ACA). These findings may not describe the insurance status of vulnerable, low-income Latino populations served in community health centers (CHCs) over the course of this policy change. Cross-sectional surveys also may be of limited use in describing longitudinal phenomena such as changes in health insurance status.
Methods
Using electronic health record (EHR) data, we compared the insurance status of N = 42,392 low-income patients served in 23 CHCs in Oregon, by race/ethnicity and language, over a period of 6 years straddling the implementation of ACA-related Medicaid expansion on January 1, 2014.
Findings
Prior to 2014, Spanish-preferring Latinos were more likely to be uninsured than English-preferring Latinos and non-Hispanic Whites. Among uninsured patients who returned for at least one visit in 2014, Spanish-preferring Latinos had the largest increase in insurance coverage rates, and all three racial/ethnic/language groups had similar rates of insurance coverage. There were no racial/ethnic/language differences between those who did and did not have visit in 2014.
Conclusion
Among previously uninsured low-income patients returning to Oregon CHCs, insurance disparities were eliminated after Medicaid expansion, especially in Spanish-speaking Latinos. Further study is needed to understand the elimination of insurance disparities in this cohort.
This is a preview of subscription content, log in to check access.
Access options
Buy single article
Instant access to the full article PDF.
US$ 39.95
Price includes VAT for USA
Subscribe to journal
Immediate online access to all issues from 2019. Subscription will auto renew annually.
US$ 99
This is the net price. Taxes to be calculated in checkout.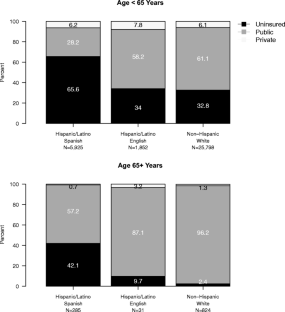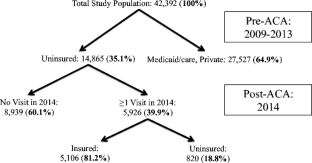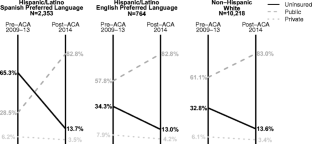 References
1.

Rutledge MS, McLaughlin CG. Hispanics and health insurance coverage: the rising disparity. Medical Care. 46(10):1086–92.

2.

Kirby JB, Taliaferro G, Zuvekas SH. Explaining racial and ethnic disparities in health care. Medical Care. 44(5 Suppl):I64–72.

3.

Goldman DP, Smith JP, Sood N. Legal status and health insurance among immigrants. Health Aff (Millwood). 2005;24(6):1640–53.

4.

Vargas Bustamante AC, Jie; Fang, Hai; Rizzo,John; Ortega, Alexander. Identifying health insurance predictors and the main reported reasons for being uninsured among US immigrants by legal authorization status. Int J Health Plann Manage. 2014;29(1):e83–96.

5.

McCollister KE, Arheart KL, Lee DJ, Fleming LE, Davila EP, LeBlanc WG, et al. Declining health insurance access among US Hispanic workers: not all jobs are created equal. American Journal of Industrial Medicine. 53(2):163–70.

6.

Heintzman J, Marino M, Hoopes M, Bailey S, Gold R, Crawford C, et al. Using electronic health record data to evaluate preventive service utilization among uninsured safety net patients. Prev Med. 2014;67:306–10.

7.

DeVoe JE, Fryer GE, Phillips R, Green L. Receipt of preventive care among adults: insurance status and usual source of care. American journal of public health. 93(5):786–91.

8.

Ayanian JZ, Weissman JS, Schneider EC, Ginsburg JA, Zaslavsky AM. Unmet health needs of uninsured adults in the United States. JAMA: the journal of the American Medical Association. 284(16):2061–9.

9.

Bandi P, Cokkinides VE, Virgo KS, Ward EM. The receipt and utilization of effective clinical smoking cessation services in subgroups of the insured and uninsured populations in the USA. Journal of Behavioral Health Services & Research. 39(2):202–13.

10.

Bednarek HL, Schone BS. Variation in preventive service use among the insured and uninsured: does length of time without coverage matter? Journal of Health Care for the Poor & Underserved. 14(3):403–19.

11.

Berenson J, Doty MM, Abrams MK, Shih A. Achieving better quality of care for low-income populations: the roles of health insurance and the medical home in reducing health inequities. Issue Brief (Commonwealth Fund).11:1–18.

12.

Casillas J, Castellino SM, Hudson MM, Mertens AC, Lima ISF, Liu Q, et al. Impact of insurance type on survivor-focused and general preventive health care utilization in adult survivors of childhood cancer: the Childhood Cancer Survivor Study (CCSS). Cancer. 117(9):1966–75.

13.

Fretts RC, Rodman G, Gomez-Carrion Y, Goldberg R, Sachs BP, Myers E, et al. Preventive health services received by minority women aged 45–64 and the goals of healthy people 2000. Womens Health Issues 10(6):305–311.

14.

Halterman JS, Montes G, Shone LP, Szilagyi PG. The impact of health insurance gaps on access to care among children with asthma in the United States. Ambulatory Pediatrics. 8(1):43–9.

15.

Mainous AG, 3rd, Hueston WJ, Love MM, Griffith CH, 3rd. Access to care for the uninsured: is access to a physician enough? American journal of public health. 89(6):910–2.

16.

Powell-Griner E, Bolen J, Bland S. Health care coverage and use of preventive services among the near elderly in the United States. American journal of public health. 89(6):882–6.

17.

Kaiser Family Foundation. Focus on Health Reform, Summary of the Accountable Care Act 2013 [cited 2014 May 20]. Available from: http://kaiserfamilyfoundation.files.wordpress.com/2011/04/8061-021.pdf.

18.

Oregon Health Authority. ENACT: Oregon Health Plan. OHP data and reports 2015 [cited 2015 September 3]. Available from: http://www.oregon.gov/oha/healthplan/pages/reports.aspx.

19.

Department of Health and Human Services: Medicaid Services. Oregon 2014 [cited 2015 January 8]. Available from: http://www.medicaid.gov/Medicaid-CHIP-Program-Information/By-State/oregon.html.

20.

Department of Health and Human Services. Summary of Current Immigrant Eligibility Restriction under Current Law 2009 [cited 2014]. Available from: http://aspe.hhs.gov/hsp/immigration/restrictions-sum.shtml.

21.

Cleaveland C, Ihara ES. "They treat us like pests:" undocumented immigrant experiences obtaining health care in the wake of a "crackdown" ordinance. Journal of Human Behavior in the Social Environment. 2012;22(7):771–88.

22.

Xu Q, Brabeck K. Service utilization for Latino children in mixed-status families. Social Work Research. 2012;36(3):209–21.

23.

OCHIN. OCHIN's Fiscal Year 2013 Annual Report 2014. Available from: https://ochin.org/resources/publications/ochins-fiscal-year-2013-annual-report/.

24.

Calman NS, Hauser D, Chokshi DA. "Lost to follow-up": the public health goals of accountable care. Arch Intern Med. 2012;172(7):584–6.

25.

Foster A, Jordan K, Croft P. Is frequent attendance in primary care disease-specific? Family practice. 2006;23(4):444–52.

26.

Doty MM, Blumenthal, David., Collins, Sara. Catching Up: Latino Health Coverage Gains and Challenges Under the Affordable Care Act 2014. Available from: http://www.commonwealthfund.org/publications/issue-briefs/2014/sep/gains-for-latino-adults.

27.

McMorrow S, Long SK, Kenney GM, Anderson N. Uninsurance disparities have narrowed for Black and Hispanic adults under the Affordable Care Act. Health Aff (Millwood). 2015;34(10):1774–8.

28.

Angier H, Hoopes M, Gold R, Bailey SR, Cottrell EK, Heintzman J, et al. An early look at rates of uninsured safety net clinic visits after the Affordable Care Act. Ann Fam Med. 2015;13(1):10–6.

29.

Center PH. Unauthorized immigrant totals rise in 7 states, fall in 14 2014 [cited 2015]. Available from: http://www.pewhispanic.org/2014/11/18/unauthorized-immigrant-totals-rise-in-7-states-fall-in-14/.

30.

Hayes E. Cover Oregon targets Latinos in outreach campaign. Portland Business Journal. 2013 Aug;29:2013.
Acknowledgments
We acknowledge the patients, staff, and clinicians of the OCHIN Practice-Based Research Network.
Ethics declarations
All procedures performed in studies involving human participants were in accordance with the ethical standards of the institutional and/or national research committee and with the 1964 Helsinki declaration and its later amendments or comparable ethical standards. The Institutional Review Board of Oregon Health and Science University (OHSU) approved this study.
Funding
The study received funding from the Agency for Healthcare Quality and Research (AHRQ) Grant No. K08 HS021 522, National Institute on Drug Abuse Grant No. K23DA037453, and AHRQ No. R01HS024270: (PACE).
Conflicts of Interest
The authors declare that they have no conflicts of interest.
Informed Consent
This analysis was performed with deidentified patient data, so was deemed exempt from individual informed consent procedures by the Institutional Review Board at OHSU. Community clinics in our network have consented to the use of their data in this manner.
About this article
Cite this article
Heintzman, J., Bailey, S.R., DeVoe, J. et al. In Low-Income Latino Patients, Post-Affordable Care Act Insurance Disparities May Be Reduced Even More than Broader National Estimates: Evidence from Oregon. J. Racial and Ethnic Health Disparities 4, 329–336 (2017). https://doi.org/10.1007/s40615-016-0232-1
Received:

Revised:

Accepted:

Published:

Issue Date:
Keywords
Health insurance

Hispanic/Latino Americans

Affordable Care Act

Community health centers