Abstract
Behavior analysts have widely adopted and embraced within-subject replication through the use of reversal and multielement designs. However, the withdrawal of treatment, which is central to these designs, may not be desirable, feasible, or even ethical in practical settings. To examine this issue, we extracted 501 ABAB graphs from theses and dissertations to examine to what extent we would have reached correct or incorrect conclusions if we had based our analysis on the initial AB component only. In our first experiment, we examined the proportion of datasets for which the results of the first AB component matched the results of the subsequent phase reversals. In our second experiment, we calculated three effect size estimates for the same datasets to examine whether these measures could predict the relevance of conducting a within-subject replication. Our analyses indicated that the initial effects were successfully replicated at least once in approximately 85% of the cases and that effect size may predict the probability of within-subject replication. Overall, our results support the rather controversial proposition that it may be possible to set threshold values of effect size above which conducting a replication could be considered unnecessary. That said, more research is needed to confirm and examine the generalizability of these results prior to recommending changes in practice.
This is a preview of subscription content, log in to check access.
Access options
Buy single article
Instant access to the full article PDF.
US$ 39.95
Price includes VAT for USA
Subscribe to journal
Immediate online access to all issues from 2019. Subscription will auto renew annually.
US$ 99
This is the net price. Taxes to be calculated in checkout.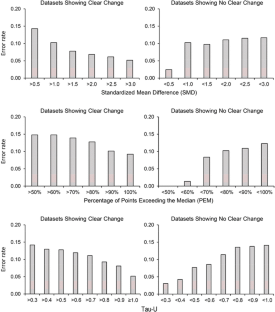 References
Christ, T. J. (2007). Experimental control and threats to internal validity of concurrent and nonconcurrent multiple baseline designs. Psychology in the Schools, 44, 451–459. https://doi.org/10.1002/pits.20237.

Cohen, J. (1992). A power primer. Psychological Bulletin, 112, 155–159. https://doi.org/10.1037/0033-2909.112.1.155.

Ferron, J. M., & Levin, J. R. (2014). Single-case permutation and randomization statistical tests: present status, promising new developments. In T. R. Kratochwill & J. R. Levin (Eds.), Single-case intervention research: methodological and statistical advances (pp. 153–183). Washington, DC: American Psychological Association. https://doi.org/10.1037/14376-006.

Fisher, W. W., Kelley, M. E., & Lomas, J. E. (2003). Visual aids and structured criteria for improving visual inspection and interpretation of single-case designs. Journal of Applied Behavior Analysis, 36, 387–406. https://doi.org/10.1901/jaba.2003.36-387.

Horner, R. H., Carr, E. G., Halle, J., McGee, G., Odom, S., & Wolery, M. (2005). The use of single-subject research to identify evidence-based practice in special education. Exceptional Children, 71, 165–179. https://doi.org/10.1177/001440290507100203.

Johnston, J. M., Carr, J. E., & Mellichamp, F. H. (2017). A history of the professional credentialing of applied behavior analysts. The Behavior Analyst. Advanced online publication, 40, 523–538. https://doi.org/10.1007/s40614-017-0106-9.

Kazdin, A. E. (2011). Single-case research designs (2nd ed.). New York: Oxford University Press.

Kratochwill, T. R., Hitchcock, J., Horner, R. H., Levin, J. R., Odom, S. L., Rindskopf, D. M., &Shadish, W. R. (2010). Single-case designs technical documentation. Retrieved from http://files.eric.ed.gov/fulltext/ED510743.pdf

Krueger, T. K., Rapp, J. T., Ott, L. M., Lood, E. A., & Novotny, M. A. (2013). Detecting false positives in A-B designs: potential implications for practitioners. Behavior Modification, 37, 615–630. https://doi.org/10.1177/0145445512468754.

Lanovaz, M. J., Huxley, S. C., & Dufour, M.-M. (2017). Using the dual-criteria methods to supplement visual inspection: an analysis of nonsimulated data. Journal of Applied Behavior Analysis, 50, 662–667. https://doi.org/10.1002/jaba.394.

Levin, J. R., Ferron, J. M., & Kratochwill, T. R. (2012). Nonparametric statistical tests for single-case systematic and randomized ABAB… AB and alternating treatment intervention designs: new developments, new directions. Journal of School Psychology, 50, 599–624. https://doi.org/10.1016/j.jsp.2012.05.001.

Ma, H. H. (2006). An alternative method for quantitative synthesis of single-subject researches: percentage of data points exceeding the median. Behavior Modification, 30, 598–617. https://doi.org/10.1177/0145445504272974.

Marquis, J. G., Horner, R. H., Carr, E. G., Turnbull, A. P., Thompson, M., Behrens, G. A., et al. (2000). A meta-analysis of positive behavior support. In R. Gersten, E. P. Schiller, & S. Vaughn (Eds.), Contemporary special education research: syntheses of knowledge base on critical instructional issues (pp. 137–178). Mahwah: Erlbaum.

Moeyaert, M., Maggin, D., & Verkuilen, J. (2016). Reliability, validity, and usability of data extraction programs for single-case research designs. Behavior Modification, 40, 874–900. https://doi.org/10.1177/0145445516645763.

Ninci, J., Vannest, K. J., Willson, V., & Zhang, N. (2015). Interrater agreement between visual analysts of single-case data: a meta-analysis. Behavior Modification, 39, 510–541. https://doi.org/10.1177/0145445515581327.

Novotny, M. A., Sharp, K. J., Rapp, J. T., Jelinski, J. D., Lood, E. A., & Steffes, A. K. (2014). False positives with visual analysis for nonconcurrent multiple baseline designs and ABAB designs: preliminary findings. Research in Autism Spectrum Disorders, 8, 933–943. https://doi.org/10.1016/j.rasd.2014.04.009.

Ombudsman Ontatrio. (2016). Nowhere to turn: investigation into the Ministry of Community and Social Services' response to situations of crisis involving adults with developmental disabilities Retrieved from https://www.ombudsman.on.ca/Files/sitemedia/Documents/NTT-Final-EN-w-cover.pdf

Parker, R. I., Vannest, K. J., & Davis, J. L. (2011). Effect size in single-case research: a review of nine nonoverlap techniques. Behavior Modification, 35, 303–322. https://doi.org/10.1177/0145445511399147.

Pustejovsky, J. E. (2016, November 3). What is Tau-U? Retrieved from http://jepusto.github.io/What-is-Tau-U

Québec Ombudsman. (2012). Services provided to young people and adults with a pervasive developmental disorder. Retrieved from https://protecteurducitoyen.qc.ca/sites/default/files/pdf/rapports_speciaux/2012-05-23_rapport_ted_2_EN.pdf

Rohatgi, A. (2017). Plot Digitizer [computer software]. Retrieved from http://arohatgi.info/WebPlotDigitizer/app/

Rogers, L. A., & Graham, S. (2008). A meta-analysis of single subject design writing intervention research. Journal of Educational Psychology, 100, 879–906. https://doi.org/10.1037/0022-0663.100.4.879.

Shadish, W. R., & Sullivan, K. J. (2011). Characteristics of single-case designs used to assess intervention effects in 2008. Behavior Research Methods, 43, 971–980. https://doi.org/10.3758/s13428-011-0111-y.

Sham, E., & Smith, T. (2014). Publication bias in studies of an applied behavior-analytic intervention: an initial analysis. Journal of Applied Behavior Analysis, 47, 663–678. https://doi.org/10.1002/jaba.146.

Shook, G. L. (2005). An examination of the integrity and future of the Behavior Analyst Certification Board® credentials. Behavior Modification, 29, 562–574. https://doi.org/10.1177/0145445504274203.

Skinner, B. F. (1991). The behavior of organisms: an experimental analysis. Acton: Copley Publishing Group (Original work published 1938).

Vannest, K. J., & Ninci, J. (2015). Evaluating intervention effects in single-case research designs. Journal of Counseling & Development, 93, 403–411. https://doi.org/10.1002/jcad.12038.
Funding
This research project was supported in part by a salary award (no. 30827) and a grant (no. 32612) from the Fonds de Recherche du Québec—Santé as well as a grant from the Canadian Institutes of Health Research (no. 136895) to the first author.
About this article
Cite this article
Lanovaz, M.J., Turgeon, S., Cardinal, P. et al. Using Single-Case Designs in Practical Settings: Is Within-Subject Replication Always Necessary?. Perspect Behav Sci 42, 153–162 (2019). https://doi.org/10.1007/s40614-018-0138-9
Keywords
AB design

Effect size

Error rate

Replication

Single-case design