Histone Modifications in Ageing and Lifespan Regulation
Epigenetics (J Davie and C Nelson, Section Editors)
Part of the following topical collections:
Abstract
Ageing has been associated with structural changes in chromatin. At the molecular level, multiple histone modifications with established epigenetic mechanisms have been connected to the regulation of lifespan. Here, we review the changes in histone modification profiles during ageing and their possible functional contribution to ageing and lifespan regulation. We brief the state of the knowledge on marks associated with both repressive (H3K9me3, H3K9me2, H3K27me3) and active chromatin (H3K4me3, H3K36me3, H3K56ac, H4K16ac, H2Bub). We further explore new histone modifications that emerged as lifespan-regulating candidates from a recent screen in yeast. Next, we comment on protein arginine methylation and GlcNAcylation, exploring their potential links to ageing. Finally, we provide a perspective on integrative approaches and methodological advances that might aid our pursuit of the epigenetic mechanisms of ageing.
Keywords
Epigenetics 
Histone modifications 
Chromatin 
Ageing 
Introduction
Chromatin provides the scaffold for the packaging of the entire genome. The basic functional unit of chromatin is the nucleosome, which contains 147 base pairs of DNA wrapped around a histone octamer made up of two copies of each of the histone proteins H2A, H2B, H3, and H4.
Research over the last two decades has revealed that covalent modifications of both the histone proteins, and the underlying DNA, can alter the organization of chromatin. This opened the doors for researchers trying to understand the meaning of specific modifications, their role in controlling gene expression, and thereby cellular phenotypes.
In the last few years, the role of histone modifications in the process of ageing has emerged, providing insights into epigenetic mechanisms of ageing and lifespan regulation. Excellent reviews exist on the epigenetics of senescence and the roles of sirtuins or DNA-methylation in ageing [1, 2, 3, 4, 5]. In this review, we will focus on histone modifications, review the current state of knowledge, and provide perspective on their role in the regulation of organismal ageing and lifespan.
Histone Modifications Involved in Ageing and Lifespan Regulation
Potential Role of Other Histone Modifications in the Regulation of Ageing
Up to this point, we have described histone modifications that have already been implicated to influence ageing (see sections above). Intriguingly, a recent screen using a yeast histone mutant library implies that many more histone modifications might regulate lifespan, as summarized in Table
1
[
43
••]. Of 38 uniquely mutated sites within histones H3 and H4 that change lifespan by over 20 %, 15 sites are residues previously reported to be post-translationally modified. It is tempting to speculate that the identified mutations point toward so far unknown ageing-related histone modifications and thus might prove useful as a resource for researchers interested in the involvement of epigenetics in ageing. Mutations of the majority of the 38 newly identified sites decrease lifespan. Nevertheless, six of the mutations increase yeast lifespan over 25 %. These are K14Q, K64A, K115A, K122A, and R128A in histone H3, and K77A in histone H4.
Table 1
Novel histone modification sites with putative function in ageing and lifespan regulation
Histone

Mutation

PTM

Lifespan

Function

Ref.

H3

K14Q

ac

Long

Transcription, repair

K18Q

ac/me

Short

Transcription

K36A,E,R,Q

me

Short

Transcription

[41]

K42A,Q

me

Short

?

[80]

K56Q

ac/me

Short

Transcription, replication, repair

K64A

ac/me

Long

Transcription, silencing

[81]

K79E

me

Short

Transcription

[82]

T80D

p

Short

Mitosis

[83]

K115A

ac

Long

?

[84]

K122A

ac

Long

Transcription

[85]

R128A

me

Long

?

[86]

H4

R19E

me

Short

Transcription

[87]

K31A

ub/me

Short

?

K44A

ac

Short

Meiosis

[90]

K77A

ac/ub

Long

?

[84]
H3R128 was shown to be methylated in brains of a 12-month-old progeria model mice [86]. However, it remains to be seen whether its levels are affected over the course of the organismal lifespan. Furthermore, the function of this modification is unknown to date. H4K77 is the site of acetylation and ubiquitination [91]. It has been demonstrated at least in vitro that acetylation of H4K77 enhances the instability of nucleosomes, an effect that can also be observed in ageing yeast cells [92]. H3K64, 155, and 122 all map to the lateral surface of the nucleosome where the DNA-protein interaction is at its maximum strength [93]. All three residues can also be acetylated, and this weakens histone-DNA contacts [85, 94, 95]. Interestingly, H3K64 can also be tri-methylated, a modification that localizes to repressive chromatin [81]. It would be highly interesting to investigate how this interplay between methylation and acetylation would change with age. Finally, H3K14Q is the only lifespan-extending mutation that harbors the acetylation-mimicking glutamine, while the unmodifiable mimic arginine does not alter lifespan. This is particularly interesting as H3K14 acetylation has been correlated with the regulation of stress response genes and the induction and coordination of the DNA damage response pathways that are well known to enhance lifespan [76, 77, 96, 97, 98].
Besides the novel targets revealed in the screen, there are two classes of important protein modifications, arginine methylation and GlcNAcylation, that have been associated with ageing and lifespan regulation; however, it remains unclear if their effects depend on epigenetic mechanisms [99, 100, 101, 102, 103].
Arginine residues can be methylated by enzymes that belong to the mammalian protein arginine methyltransferases (PRMTs) or to its homologous Drosophila arginine methyltransferases (DARTs) [104, 105]. PRMTs were reported to change their expression in an age-dependent manner in rat tissues [99]. Interestingly, PRMT6−/− MEF cells exhibited a senescence-like phenotype, associated with decreased levels of H3R2 methylation, a modification suggested to be involved in the maintenance of euchromatin [100]. However, as PRMTs methylate a variety of target proteins, it remains to be seen whether histone-arginine methylation is involved in regulation of ageing.
The target proteins of O-GlcNAcylation are also diverse, ranging from signaling pathway mediators to epigenetic regulators [106]. However, all core histones can be modified with O-GlcNAc [106, 107, 108, 109, 110, 111].
Using anti-GlcNAc antibody, Love et al. identified over 800 genes, whose promoters were enriched in GlcNAc-modified proteins in C. elegans [102]. GlcNAcylation localized in proximity of promoters of genes associated with ageing, among other processes [102]. GlcNAcylation is carried out by O-GlcNAc transferase (OGT), while its removal by O-GlcNAcase (OGA) [106]. Deletion of ogt-1 led to decrease in lifespan, while deletion of oga-1 to increase in lifespan in C. elegans [102, 103]. This effect of the GlcNAc cycling enzymes seemed to be at least partly dependent on the insulin-signaling pathway and its downstream DAF16/FOXO transcription factor, a known regulator of ageing in C. elegans and other organisms [102, 103]. As Love et al. investigated DNA-associated protein GlcNAcylation, it seems plausible that the modification was present, among others, at histone proteins. Along with other modifications described in this section, it will be highly interesting to see whether and how GlcNacylation of histones plays a role in regulation of organismal lifespan. However, the detectability, and hence the existence, of histone GlcNAcylation in mammalian cells are currently under dispute, questioning its putative role in ageing in higher organisms [112].
Perspectives
Along with the investigation of novel histone marks in ageing, the challenge for the field will be the integration of the information on single histone marks, to better understand their interplay. A well-known example of interaction between two histone marks occurs in bivalent domains that contain both active H3K4me3 and repressive H3K27me3. As described by Sun et al., in aged HSCs, 355 bivalent domains were lost and 1245 were gained, either through gain in both H3K4me3 and H3K27me3, or only in H3K27me3 [32••]. This suggests that monitoring of single histone marks in ageing, while important, may only yield partial information. Knowledge of the individual functions of modifications as well as of their interplay will be crucial for complete understanding of their role in ageing. Furthermore, it might be important to put less stress on monitoring the global levels of modifications and pay more attention to their redistribution patterns towards different sets of genomic regions during ageing.
A next step forward should be further integration of the data on histone modifications with data on DNA methylation, cellular signaling, and metabolism. The most recent reports seem to weigh in this direction, raising hopes for development of a complete, systems biology model that would integrate epigenetic, genetic, metabolic, and signaling mechanisms of ageing [17, 32••, 113•].
While integrative approaches will most likely gain in importance in the coming years, thanks to increasing computational expertise and computational power in the field, another challenge will be to uncouple the likely different epigenetic mechanisms of ageing in different tissues or even cell types. Current approaches often still focus on a specific tissue, if not a whole organ. However, the epigenetic patterns of histone modifications vary greatly between specific cell types. The bivalent domains mentioned above, or the enhancers, present a drastically different make-up in different cell types. This suggests that also the changes acquired during ageing might be of different nature. Profiling of whole organs or tissues, although important, might only monitor the average of the cell populations within the organ and thus miss subtle, cell type-specific changes. While it seems obvious in mammals, it is also important in small model organisms: Pu et al. and others used germlineless worms in their ageing research, because of the dramatic changes that occur in the germline during adulthood, which could mask the somatic epigenetic changes [45•]. Therefore, it will be of high importance in the coming years to investigate the mechanisms of ageing in specific, selected cellular populations.
While methods are in place to achieve the population-level cellular resolution, e.g., fluorescence-activated cell sorting (FACS), there remains a challenge of working with very low cell numbers those populations might consist of. Traditionally, many methods, especially ChIP, required very high inputs. Methods have now been developed to perform DNA methylation, RNA-seq, and even ChIP-seq experiments with cellular inputs reaching down to a single cell, accompanied by development of computational approaches and tools enabling the analysis [114, 115, 116, 117, 118, 119, 120]. The establishment of the single-cell techniques will also permit the next step forward: investigating the dynamics of epigenetic modifications of single cells in seemingly uniform cellular populations [114, 119].
Conclusions
The research of recent years has established links between histone modifications and ageing or lifespan regulation. However, the pool of histone mark candidates involved in ageing is growing and future investigation of the new ageing-associated histone marks, as well as integration of epigenetic data with other areas of cellular activity, will be important to reveal a systems biology mechanism of ageing.
The current understanding of the role that the changes in histone modifications play in ageing is not complete. In many cases, conflicting reports are present in regard to the presence or direction of change in the levels of particular histone marks during ageing. However, their functional role in promoting or restraining longevity is often clearly indicated by studies in mutant models.
It seems that the net changes in amounts of specific histone marks are not as important as their localization. It is rather the redistribution of marks and reorganization of chromatin that may regulate ageing (Fig. 
1
). Histone modifications are reshuffled to control different sets of genes. This redistribution of modifications, and their net effect on transcription of specific sets of genes, is therefore the most likely explanation for the impact of histone marks on ageing.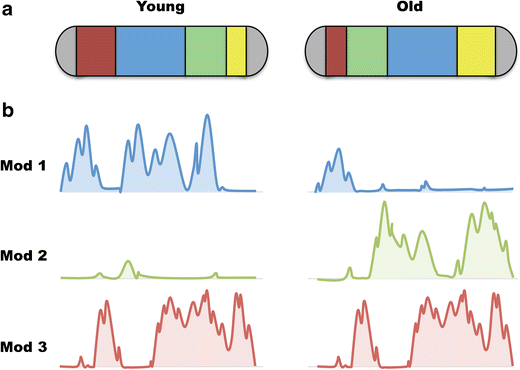 Notes
Acknowledgments
Work in our laboratory is funded by the Max Planck Society.
Compliance with Ethical Standards
Conflict of Interest
The authors declare no conflict of interest.
Human and Animal Rights and Informed Consent
This article does not contain any studies with human or animal subjects performed by any of the authors.
References
Papers of particular interest, published recently, have been highlighted as: • Of importance •• Of major importance
Copyright information
© Springer International Publishing AG 2016