Abstract
A nation's wellbeing is dependent on a broad range of factors including economic performance, quality of life, the state of the environment, sustainability, equality, as well as cultural capital. Increasingly, there has been a recognition that measurements such as gross domestic product do not capture the overall wellbeing of a nation's citizens. Using a modified version of Bhutan's Gross National Happiness Index, this research calculates a Gross Happiness Index for the Solomon Islands and Tonga, one country in Melanesia and the other in Polynesia. The findings show that Tongans tend to be happier than Solomon Islanders. While there are some life domains in which both countries are lacking, there are other dimensions where each country can focus on to improve citizen wellbeing. Because the sampling is non-random in nature, the findings are only indicative. A more systematic sampling technique would enable the findings to be more generalizable. Nevertheless, the research has shown that an instrument such as the Gross Happiness Index is a useful tool with which to assess a nation's wellbeing and provide actionable recommendations for improved happiness.
Access options
Buy single article
Instant access to the full article PDF.
USD 39.95
Price excludes VAT (USA)
Tax calculation will be finalised during checkout.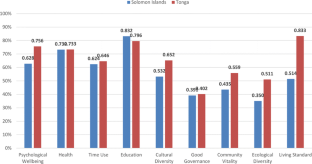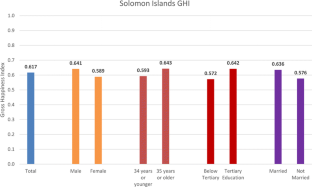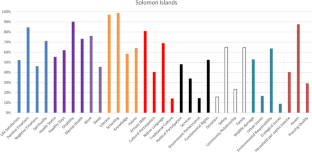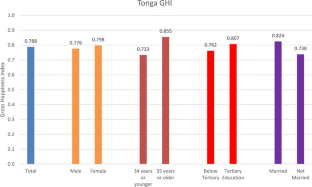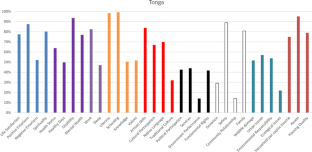 References
Abdallah, S., Simms, A., Thompson, S., & Marks, N. (2006). The (Un)Happy planet index: an index of human well-being and environmental impact Retrieved from http://b.3cdn.net/nefoundation/54928c89090c07a78f_ywm6y59da.pdf. Accessed 23rd Oct 2015.

Abdallah, S., Michaelson, J., Shah, S., Stoll, L., & Marks, N. (2012). The happy planet index: 2012 report—a global index of sustainable well-being. Retrieved from http://b.3cdn.net/nefoundation/d8879619b64bae461f_opm6ixqee.pdf. Accessed 23rd Oct 2015.

Alkire, S., & Foster, J. (2011). Counting and multidimensional poverty measurement. Journal of Public Economics, 95(7–8), 476–487.

Anand, S., & Sen, A. (1994). Human Development Index: methodology and measurement. Retrieved from http://hdr.undp.org/sites/default/files/oc12.pdf. Accessed 23rd Oct 2015.

Asia Development Bank. (2004). Swimming against the tide: an assessment of the private sector in the pacific. Retrieved from http://adb.org/sites/default/files/pub/2004/swimming_against_tide.pdf. Accessed 26th May 2015.

Asia Development Bank. (2011). Development effectiveness brief—Tonga. Retrieved from http://www.adb.org/sites/default/files/publication/28909/decb-ton-0.pdf. Accessed 26th May 2015.

AusAid. (2006). Pacific 2020 : challenges and opportunities for growth. Retrieved from http://www.ausaid.gov.au/publications/pdf/pacific2020.pdf. Accessed 26th May 2015

Baird, A. D., Adams, K. M., Ausman, J. I., & Diaz, F. G. (1985). Medical, neuropsychological, and quality-of-life correlates of cerebrovascular disease. Rehabilitation Psychology, 30(3), 145.

Barnett, J. (2001). Adapting to climate change in Pacific Island countries: the problem of uncertainty. World Development, 29(6), 977–993.

Barnett, J., & Campbell, J. (2010). Climate change and small island states: power, knowledge, and the South Pacific: Earthscan.

Beach, B. A. (1987). Time use in rural home-working families. Family Relations, 36(4), 412–416.

Brown, R. P., Connell, J., & Jimenez‐Soto, E. V. (2014). Migrants' remittances, poverty and social protection in the South Pacific: Fiji and Tonga. Population, Space and Place, 20(5), 434–454.

Campbell, A. (1981). The sense of well-being in America: recent patterns and trends.

Cao-Lormeau, V.-M., Roche, C., Musso, D., Mallet, H.-P., Dalipanda, T., Dofai, A., et al. (2014). Dengue virus type 3, South Pacific Islands, 2013. Emerging Infectious Diseases, 20(6), 1034.

Diener, E., Suh, E., & Oishi, S. (1997). Recent findings on subjective well-being. Indian Journal of Clinical Psychology, 24(1), 25–41.

Doran, S. M., Van Dongen, H. P., & Dinges, D. F. (2001). Sustained attention performance during sleep deprivation: evidence of state instability. Archives of Italiennes de Biologie: A Journal of Neuroscience, 139(3), 253–267.

Easterlin, R. A. (2006). Life cycle happiness and its sources: intersections of psychology, economics, and demography. Journal of Economic Psychology, 27(4), 463–482.

Ferriss, A. L. (2004). The quality of life concept in sociology. The American Sociologist, 35(3), 37–51.

Field, J. (2008). Social capital (2nd ed.). London: Routledge.

Filmer, D., & Pritchett, L. (2001). Estimating wealth effects without expenditure data—or tears: an application to educational enrollments in States of India. Demography, 38(1), 115–132.

Fujiwara, T., & Kawachi, I. (2008). Social capital and health. A study of adult twins in the U.S. American Journal of Preventive Medicine, 35(2), 139–144.

Gordon, D. (2006). The concept and measurement of poverty. In C. Pantazis, D. Gordon, & R. Levitas (Eds.), Poverty and social exclusion in Britain: the millennium survey (pp. 29–69). Bristol: The Policy Press.

Hawley, N. L., & McGarvey, S. T. (2015). Obesity and diabetes in Pacific Islanders: the current burden and the need for urgent action. Current Diabetes Reports, 15(5), 1–10.

Huffer, E. (2005). Governance, corruption, and ethics in the South Pacific. The Contemporary Pacific, 17(1), 118–140.

Laking, R. (2010). State performance and capacity in the Pacific. Pacific Studies Series. Retrieved from http://wcm.adb.org/sites/default/files/publication/27480/state-performance-capacity-pac.pdf. Accessed 23rd Oct 2015.

Larmour, P. (1997). Corruption and governance in the South Pacific. Pacific Studies, 20(3), 1–17.

Montgomery, M. R., Gragnolati, M., Burke, K. A., & Paredes, E. (2000). Measuring living standards with proxy variables. Demography, 37(2), 155–174.

Pernetta, J. C. (1992). Impacts of climate change and sea-level rise on small island states: national and international responses. Global Environmental Change, 2(1), 19–31.

Porter, M. E., Stern, S., & Green, M. (2015). Social progress index 2015. Retrieved from http://www.socialprogressimperative.org/system/resources/W1siZiIsIjIwMTUvMDUvMDcvMTcvMjkvMzEvMzI4LzIwMTVfU09DSUFMX1BST0dSRVNTX0lOREVYX0ZJTkFMLnBkZiJdXQ/2015%20SOCIAL%20PROGRESS%20INDEX_FINAL.pdf. Accessed 23rd Oct 2015

Roessler, R. T. (1990). A quality of life perspective on rehabilitation counseling. Rehabilitation Counseling Bulletin.

Schuessler, K. F., & Fisher, G. A. (1985). Quality of life research and sociology. Annual Review of Sociology, 129–149.

Self, A., Thomas, J., & Randall, C. (2012). Measuring national well-being: life in the UK, 2012.

Solomon Islands National Statistical Office. (2009). Report on 2009 population & housing census: basic tables and census description. Retrieved from http://www.mof.gov.sb/Libraries/Statistics/2013_12_-_2009_Census_Report_on_Basic_Tables_-_Volumn_2.sflb.ashx. Accessed 22nd May 2015

Solomon Islands Statistics Office: Department of Finance and Treasury. (2006). Household Income and Expenditure Survey Provincial Report 2005/6. Retrieved from http://www.spc.int/prism/solomons/index.php/sinso-documents?view=download&fileId=12. Accessed 12th Aug 2014

Spurgeon, A. (2003). Working time: its impact on safety and health. Retrieved from http://www.ilo.org/travail/whatwedo/publications/WCMS_TRAVAIL_PUB_25/lang--en/index.htm. Accessed 17th Feb 2014

Tonga Department of Statistics. (2010). Household Income and Expenditure Survey—2009. Retrieved from http://catalog.ihsn.org/index.php/catalog/3201. Accessed 22nd May 2015

Tonga Department of Statistics. (2011). Tonga 2011 Census Population. Retrieved from http://www.spc.int/prism/tonga/index.php?option=com_content&view=article&id=98&Itemid=310#census-2011. Accessed 22nd May 2015

Ura, K., Alkire, S., Zangmo, T., & Wangdi, K. (2012). An extensive analysis of GNH index. Retrieved from http://www.grossnationalhappiness.com/wp-content/uploads/2012/10/An%20Extensive%20Analysis%20of%20GNH%20Index.pdf. Accessed 21st Jan 2014

Weitz-Shapiro, R., & Winters, M. S. (2008). Political participation and quality of life. Working Paper 638. Retrieved from http://www.econstor.eu/bitstream/10419/51523/1/585732140.pdf. Accessed 18th Feb 2014

World Bank. (2014a). Doing business 2015: going beyond efficiency. Retrieved from https://openknowledge.worldbank.org/bitstream/handle/10986/20483/DB15-Full-Report.pdf?sequence=1. Accessed 26th May 2015

World Bank. (2014b). World Bank indicators—Solomon Islands. Retrieved from http://data.worldbank.org/country/solomon-islands. Accessed 21st Jan 2014

World Bank. (2014c). World Bank indicators—Tonga. Retrieved from http://data.worldbank.org/country/tonga. Accessed 21st Jan 2015
About this article
Cite this article
Pratt, S. A Gross Happiness Index for the Solomon Islands and Tonga: an Exploratory Study. Glob Soc Welf 3, 11–21 (2016). https://doi.org/10.1007/s40609-015-0041-1
Published:

Issue Date:

DOI: https://doi.org/10.1007/s40609-015-0041-1
Keywords
Gross National Happiness Index

Quality of life

Wellbeing

Solomon Islands

Tonga