Abstract
Objective
Substance use disorders (SUDs) are stigmatized conditions in medicine, with negative attitudes toward patients with SUDs beginning to form in medical school. Only a few studies with small samples show that attending an Alcoholics Anonymous (AA) meeting may help decrease addiction stigma. This study examined whether attending an AA meeting impacts medical student attitudes toward patients with SUDs and any gender and age group differences within these attitudes.
Methods
As part of their psychiatry clerkship, 138 third-year medical students attended an AA meeting and wrote reflection essays discussing expectations before the meeting, feelings while there, and thoughts on how these feelings might affect patient care. The authors performed a thematic analysis to identify themes and t tests to compare theme frequency by gender and age group.
Results
A primary theme in student responses was a reduction in stigmatizing attitudes, which was broken down into three subthemes: complexity of addiction (46%), diversity of people with addiction (37%), and practical applications (66%). Practical applications comprised compassionate care (53%) and intention to address SUDs clinically (35%). While no gender differences were found in theme frequency, younger students showed significantly higher frequency of all themes.
Conclusions
Attending an AA meeting can challenge medical students' stigmatizing attitudes about addiction and increase flexibility of thinking. Younger students' biases may not be as solidified, stressing the importance of early exposure to patients in recovery during medical school. Attending an AA meeting and reflecting on the experience may be one way to decrease addiction stigma among medical students.
Access options
Buy single article
Instant access to the full article PDF.
US$ 39.95
Tax calculation will be finalised during checkout.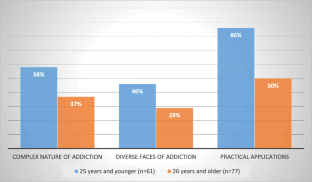 References
1.

U.S. Department of Health and Human Services (HHS), Office of the Surgeon General, Facing addiction in America: the surgeon general's report on alcohol, drugs, and health. Washington, DC: U.S. Department of Health and Human Services; 2016.

2.

Yang L, Wong LY, Grivet MM, Hasin DS. Stigma and substance use disorders: an international phenomenon. Curr Opin Psychiatry. 2017;30(5):378–88.

3.

Avery J, Han BH, Zerbo E, Wu G, Mauer E, Avery J, et al. Changes in psychiatry residents' attitudes towards individuals with substance use disorders over the course of residency training. Am J Addict. 2017;26:75–9.

4.

National Academies of Sciences, Engineering, and Medicine. Ending discrimination against people with mental and substance use disorders: the evidence for stigma change. Washington, DC: National Academies Press; 2016.

5.

Weiss MG, Ramakrishna J, Somma D. Health related stigma: rethinking concepts and interventions. Psychol Health Med. 2006;11(3):277–87.

6.

van Boekel LC, Brouwers EPM, van Weeghel J, Garretsen HFL. Stigma among health professionals towards patients with substance use disorders and its consequences for healthcare delivery: systematic review. Drug Alcohol Depen. 2013;131:23–35.

7.

Ballon BC, Skinner W. "Attitude is a little thing that makes a big difference": reflection techniques for addiction psychiatry training. Acad Psychiatry. 2008;32:218–24.

8.

Wakeman SE, Pham-Kanter G, Donelan K. Attitudes, practices, and preparedness to care for patients with substance use disorder: results from a survey of general internists. Subst Abus. 2016;47(4):635–41.

9.

Silins E, Conigrave KM, Rakvin C, Dobbins T, Curry K. The influence of structured education and clinical experience on the attitudes of medical students towards substance misusers. Drug Alcohol Rev. 2007;26:191–200.

10.

Lindsay DL, Hagle H, Lincoln P, Williams J, Luongo PF. Exploring medical students' conceptions of substance use: a follow-up evaluation. Subst Abus. 2017;38(4):464–7.

11.

Cape G, Hannah A, Sellman D. A longitudinal evaluation of medical student knowledge, skills and attitudes to alcohol and drugs. Addiction. 2006;101:841–9.

12.

Shorter D, Dermatis H. Addiction training in general psychiatry residency: a national survey. Subst Abus. 2012;33:392–4.

13.

Corrigan P, Schomerus G, Shuman V, Kraus D, Perlick D, Harnish A, et al. Developing a research agenda for reducing the stigma of addictions, part 2: lessons from the mental health stigma literature. Am J Addict. 2017;26:67–74.

14.

Livingston JD, Milne T, Fang ML, Amari E. The effectiveness of interventions for reducing stigma related to substance use disorders: a systematic review. Addiction. 2011;107:39–50.

15.

Renner JA. Counteracting the effect of stigma on education for substance use disorders. Focus. 2019;17:134–40.

16.

Corrigan P, Schomerus G, Shuman V, Kraus D, Perlick D, Harnish A, et al. Developing a research agenda for understanding the stigma of addictions, part 1: lessons from the mental health stigma literature. Am J Addict. 2017;26:59–66.

17.

Barron R, Frank E, Gitlow S. Evaluation of an experiential curriculum for addiction education among medical students. J Addict Med. 2012;6:131–6.

18.

Koyi MB, Nelliot A, MacKinnon D, Rastegar DA, Fingerhood M, Alvanzo A, et al. Change in medical student attitudes toward patient with substance use disorders after course exposure. Acad Psychiatry. 2018;42:283–7.

19.

Stack KM, Arcand LGF, Briscoe G. Use of alcoholics anonymous as part of medical school education: students' and educators' perspectives. Subst Abus. 2012;33:387–91.

20.

Kastenholz KJ, Agarwal G. A qualitative analysis of medical students' reflection on attending an alcoholics anonymous meeting: insights for future addiction curricula. Acad Psychiatry. 2016;40:468–74.

21.

Kennedy AJ, McNeil M, Hamm M, de Abril CF, Carter AE. Internal medicine resident perceptions of patients with substance use disorder after attending a mutual support group meeting. J Gen Intern Med. 2020;35(3):918–21.

22.

Dedoose Version 8.0.35, web application for managing, analyzing, and presenting qualitative and mixed method research data (2018). Los Angeles, CA: SocioCultural Research Consultants, LLC. Available at: www.dedoose.com

23.

Braun V, Clark V. Using thematic analysis in psychology. Qual Res Psychol. 2006;3(2):77–101.

24.

De Vries H, Elliott MN, Kanouse DE, Teleki SS. Using pooled kappa to summarize interrater agreement across many items. Field Methods. 2008;20(3):272–82.

25.

Cicchetti DV. Guidelines, criteria, and rules of thumb for evaluating normed and standardized assessment instruments in psychology. Psychol Assess. 1994;6(4):284–90.

26.

Meltzer EC, Suppess A, Burns S, et al. Stigmatization of substance use disorders among internal medicine residents. Subst Abus. 2013;34(4):356–62.

27.

Geller G, Levine DM, Mamon JA, Moore RD, Bone LR, Stokes EJ. Knowledge, attitudes, and reported practices of medical students and house staff regarding the diagnosis and treatment of alcoholism. JAMA. 1989;261(21):3115–20.

28.

Lindberg M, Vergara C, Wild-Wesley R, Gruman C. Physicians-in training attitudes towards caring for and working with patients with alcohol and drug abuse diagnoses. South Med J. 2006;99(1):28–35.

29.

Miller NS, Sheppard LM, Colenda CC, Magen J. Why physicians are unprepared to treat patients who have alcohol- and drug-related disorders. Acad Med. 2001;76(5):410–8.

30.

Ram A, Chisolm MS. The time is now: improving substance abuse training in medical schools. Acad Psychiatry. 2016;40(3):454–60.

31.

Rasyidi E, Wilkins JN, Danovitch I. Training the next generation of providers in addiction medicine. Psychiatr Clin North Am. 2012;35(2):461–80.

32.

Boulis AK, Jacobs JA. The changing face of medicine: women doctors and the evolution of health care in America. 1st ed. Ithaca, NY: Cornell University Press; 2011.

33.

Volkow ND. Stigma and the toll of addiction. N Eng J Med. 2020;382(14):1289–90.

34.

McGinty EE, Barry CL. Stigma reduction to combat the addiction crisis – establishing an evidence base. N Eng J Med. 2020;382(14):1291–2.
Acknowledgments
The authors would like to thank Sarah Kepple, BA, for assistance with data collection and Brigette Vaughan, APRN, for her constructive feedback on earlier versions of this manuscript.
Ethics declarations
Conflict of Interest
On behalf of all authors, the corresponding author states that there is no conflict of interest.
Additional information
Publisher's Note
Springer Nature remains neutral with regard to jurisdictional claims in published maps and institutional affiliations.
About this article
Cite this article
Balasanova, A.A., MacArthur, K.R. & DeLizza, A.A. "From All Walks of Life": Attending an Alcoholics Anonymous Meeting to Reduce Addiction Stigma Among Medical Students. Acad Psychiatry 44, 714–720 (2020). https://doi.org/10.1007/s40596-020-01302-0
Received:

Accepted:

Published:

Issue Date:
Keywords
Stigma

Addiction

Alcoholics Anonymous

Medical student

Substance use disorder