Abstract
Objective
Fourth-year course offerings seem to vary widely among psychiatry departments with some offering a wide selection while others offer little or unspecified opportunity. The purpose of this study was to learn the distribution and diversity of fourth-year medical school psychiatry courses and identify unique course offerings that may inspire other departments.
Methods
The authors compiled a list of US allopathic medical schools accredited by the Liaison Committee on Medical Education (LCME) using the LCME website. They accessed each school's website catalog and recorded all psychiatry electives available to fourth-year students listed in the catalog or the Visiting Student Application Service® (VSAS®) database. The authors calculated median published course offerings per department and categorized each course according to learning opportunity.
Results
The authors identified 142 fully accredited allopathic medical schools of which n = 126 listed fourth-year medical student courses on their website or through VSAS. The median number of fourth-year psychiatry course offerings per school was 6 (range, 1–22). The most frequently offered courses were inpatient psychiatry (n = 105 schools), child and adolescent psychiatry (n = 95), and consultation psychiatry (n = 84). The authors also identified unique enrichment courses in media, women's health, ethics, research, and cultural psychiatry.
Conclusions
The fourth-year curriculum varies widely among institutions. Hypotheses to be tested are if prioritizing robust fourth-year rotations include improved resident readiness, improved retention of home students into the training program, improved recruitment of visiting students, increased faculty scholarly activity and career development, and improved recruitment into the subspecialties.
Access options
Buy single article
Instant access to the full article PDF.
US$ 39.95
Tax calculation will be finalised during checkout.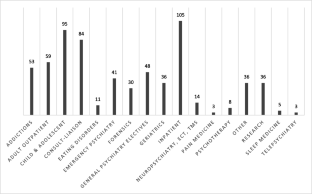 References
1.

A Roadmap to Psychiatric Residency. (n.d.). Retrieved April 2, 2020, from https://www.psychiatry.org/residents-medical-students/medical-students/apply-for-psychiatric-residency

2.

Verduin ML. Improving the recruitment of medical students into psychiatry. Academic Psychiatry. 2016;41:207–12.

3.

Results and Data. 2019 Main Residency Match. Washington: National Resident Matching Program; 2019.

4.

Benson NM, Stickle TR, Raszka WV. Going "fourth" from medical school. Academic Medicine. 2015;90:1386–93.

5.

Brenner AM, Balon R, Coverdale JH, Beresin EV, Guerrero APS, Louie AK, et al. Psychiatry workforce and psychiatry recruitment: two intertwined challenges. Academic Psychiatry. 2017;41:202–6.

6.

Dewan M, Norcini J. A purpose-driven fourth year of medical school. Academic Medicine. 2018;93:581–5.

7.

Farooq K, Lydall GJ, Bhugra D. What attracts medical students towards psychiatry? A review of factors before and during medical school. International Review of Psychiatry. 2013;25:371–7.

8.

Higgins E, Newman L, Halligan K, Miller M, Schwab S, Kosowicz L. Do audition electives impact match success? Medical Education Online. 2016;21:31325.

9.

Roman BJ. Medical student education in psychiatry: opportunities and challenges. Academic Psychiatry. 2015;39:242–5.

10.

Medical School Directory | LCME. Liaison Committee on Medical Education. (2020). https://lcme.org/directory/accredited-u-s-programs/. Accessed 6 Apr 2020

11.

Visiting Student Application Service (VSAS). Apps.aamc.org. (2020). Retrieved 6 April 2020, from https://apps.aamc.org/vsas/public.html#/find-electives. Accessed 10 Apr 2020

12.

Hausman K. Medical school electives explore psychiatry in depth. Psychiatric News. 2005;40:18–30.

13.

Frank A, Zagoloff A, Long B, Moen R, Nelson K. An introduction to psychotherapy for medical students. Mededportal Publications. 2016. https://doi.org/10.15766/mep_2374-8265.10332.

14.

American Psychiatric Association. (2019). 2018 Resident/ Fellow Census [Ebook]. https://www.psychiatry.org/residents-medical-students/medical-students/resident-fellow-census. Accessed 6 Apr 2020
Acknowledgments
An abstract poster of this study was presented at the 2018 Annual Meeting of the Association for Academic Psychiatry (AAP) in Milwaukee, WI
Ethics declarations
Disclosures
On behalf of all authors, the corresponding author states that there is no conflict of interest.
Additional information
Publisher's Note
Springer Nature remains neutral with regard to jurisdictional claims in published maps and institutional affiliations.
About this article
Cite this article
Cenoz-Donati, A.B., McKinley, J.C. & Schillerstrom, J.E. A Survey of Psychiatry Course Offerings for Fourth-Year Medical Students. Acad Psychiatry 44, 741–744 (2020). https://doi.org/10.1007/s40596-020-01300-2
Received:

Accepted:

Published:

Issue Date:
Keywords
Medical student education

Senior medical students

Electives