Abstract
Objective
This study assessed the distribution of race, ethnicity, and sex within the US psychiatry physician workforce and trends from 1987 to 2016.
Methods
The authors used physician workforce data to assess differences in race, ethnicity, and sex among psychiatric practicing physicians, faculty, fellows, residents, residency applicants, and medical graduate cohorts. Binomial tests were used for comparison between individual cohorts and to US population statistics. A simple linear regression model was used to assess trends among psychiatric residents and faculty over years 1987–2016.
Results
Within psychiatry, historically underrepresented minorities in medicine (URMs) had less representation as residents (16.2%), faculty (8.7%), and practicing physicians (10.4%) compared with the US population (32.6%), Ps < 0.0001. Females were underrepresented as psychiatric practicing physicians (38.5%, P < .0001). There was greater URM representation among residents (16.2%) compared with that of Psychiatry faculty and practicing physicians (Ps < .0001). Racial/ethnic representation did not differ significantly compared with subspecialty fellows; however, the addiction subspecialty contained the least URM and female diversity. Historical trends indicated the proportion of female faculty (0.9%/yr) increased nearly 1.5 times faster than that of female trainees (0.6%/year). Conversely, the proportion of URM residents (0.26%/year) increased over 4 times faster than that of URM faculty (0.06%/year), with black faculty actually decreasing in proportion.
Conclusions
Female and URM representation within the psychiatry physician workforce is significantly lower than US population demographics; however, trends indicate diminishing underrepresentation. While psychiatry residency remains more diverse than other specialties, specific trends identify poor minority representation among psychiatry faculty and fellows as areas needing attention.
Access options
Buy single article
Instant access to the full article PDF.
US$ 39.95
Tax calculation will be finalised during checkout.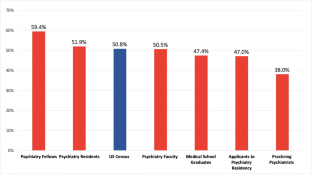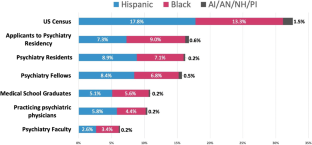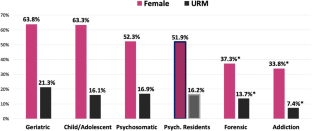 References
1.

Rao S, How PC, Ton H. Education, training, and recruitment of a diverse workforce in psychiatry. Psychiatr Ann. 2018;48(3):143–8.

2.

Ault-Brutus AA. Changes in racial-ethnic disparities in use and adequacy of mental health care in the United States, 1990–2003. Psychiatr Serv. 2012;63(6):531–40.

3.

Cooper LA, Powe NR: Disparities in patient experiences, health care processes, and outcomes: the role of the patient-provider: racial, ethnic, and language concordance, The Commonwealth Fund, July 2004. Available at www.cmwf.org. Accessed 17 May 2014.

4.

Burgess D, van Ryn M, Dovidio J, Saha S. Reducing racial bias among health care providers: lessons from social-cognitive psychology. J Gen Intern Med. 2007;22(6):882–7.

5.

Lokko HN, Chen JA, Parekh RI, Stern TA. Racial and ethnic diversity in the US psychiatric workforce: a perspective and recommendations. Acad Psychiatry. 2016;40(6):898–904.

6.

US Census Bureau. New census bureau report analyzes US population projections. In: US Census Bureau. DC: Washington; 2015.

7.

Bishop T, Seirup J, Pincus H, Ross J. Population of US psychiatric practicing physicians declined, 2003–13, which may help explain poor access to mental health care. Health Aff. 2016;35(7):1271–7.

8.

Bishop TF, Press MJ, Keyhani S, Pincus HA. Acceptance of insurance by psychiatrists and the implications for access to mental health care. JAMA psychiatry. 2014;71:176–81.

9.

Association of American Medical Colleges. Diversity in the physician workforce: facts & figures 2014. http://aamcdiversityfactsandfigures.org/section-ii-current-status-of-us-physician-workforce/. Accessed May 1, 2018.

10.

Satiani A, Niedermier J, Satiani B, Svendsen DP. Projected workforce of psychiatrists in the United States: a population analysis. Psychiatr Serv. 2018;69(6):710–3.

11.

American Psychiatry Association. Position statement on diversity. December 2019. Available at Psychiatry.org.

12.

Lett LA, Orji WU, Sebro R. Declining racial and ethnic representation in clinical academic medicine: a longitudinal study of 16 US medical specialties. PLoS One. 2018;13(11):e0207274.

13.

U.S. Census Bureau. Annual estimates of the resident population by sex, race, and Hispanic origin for the United States, states, and counties: April 1, 2010 to July 1, 2016, U.S. Census Bureau, Population Division, Release Date: June 2017 Retrieved 2 October 2018, from https://factfinder.census.gov/faces/tableservices/jsf/pages/productview.xhtml?src=bkmk

14.

Association of American Medical Colleges. Table B-4: Total US medical school graduates by race/ethnicity and sex, 2013–2014 through 2017–2018. https://www.aamc.org/download/321536/data/factstableb4.pdf Accessed May 1, 2018.

15.

Association of American Medical Colleges. ERAS. Historical specialty specific applicant data, Psychiatry 2016. https://www.aamc.org/download/358832/data/psychiatry.pdf Accessed May 1, 2018.

16.

Deville C, Hang W-T, Burgos Ramon, et al. Diversity in graduate medical education in the United States by race, ethnicity, and sex, 2012. JAMA Intern Med 2015;175(10):1706–1708.

17.

Association of American Medical Colleges Faculty roster. Available at: https://www.aamc.org/data/facultyroster/reports/. Accessed December 7, 2018. https://www.aamc.org/data/479586/requestaamcdata.html.

18.

Smart D. Physician characteristics and distribution in the US 2015. Retrieved April 1, 2019 from https://www.r2librarycom.ezp.welch.jhmi.edu/Resource/Title/1622021037

19.

Haynes W. Bonferroni correction. In: Dubitzky W, Wolkenhauer O, Cho KH, Yokota H, editors. Encyclopedia of systems biology. New York, NY: Springer; 2013.

20.

Price EG, Gozu A, Kern DE, et al. The role of cultural diversity climate in recruitment, promotion, and retention of faculty in academic medicine. J Gen Intern Med. 2005;20(7):565–71.

21.

Fang D, Moy E, Colburn L, Hurley J. Racial and ethnic disparities in faculty promotion in academic medicine. JAMA. 2000;284(9):1085–92.

22.

Nivet MA. Minorities in academic medicine: review of the literature. J Vasc Surg. 2010;51(4):S53–8.

23.

Rodríguez JE, Campbell KM, Pololi LH. Addressing disparities in academic medicine: what of the minority tax? BMC Med Educ. 2015;15(1):

24.

Railey MT, Railey KM, Hauptman PJ. Reducing bias in academic search committees. JAMA. 2016;316(24):2595–6.

25.

Pierre JM, Mahr F, Carter A, Madaan V. Underrepresented in medicine recruitment: rationale, challenges, and strategies for increasing diversity in psychiatry residency programs. Acad Psychiatry. 2016;41(2):226–32.

26.

Yale University School of Medicine Department of Psychiatry. Addiction Psychiatry, Psychiatry, Yale School of Medicine. Retrieved 2 April 2019, from https://medicine.yale.edu/psychiatry/education/clinfell/addiction/

27.

Walaszek A. Keep calm and recruit on: residency recruitment in an era of increased anxiety about the future of psychiatry. Acad Psychiatry. 2017;41(2):213–20.
Acknowledgments
This paper was presented in part at the 15th Annual AAMC Health Workforce Research Conference, Washington, DC, on May 2, 2019.
Ethics declarations
Disclosure
There are no actual or potential conflicts of interest to disclose for any of the authors.
Additional information
Publisher's Note
Springer Nature remains neutral with regard to jurisdictional claims in published maps and institutional affiliations.
About this article
Cite this article
Wyse, R., Hwang, WT., Ahmed, A.A. et al. Diversity by Race, Ethnicity, and Sex within the US Psychiatry Physician Workforce. Acad Psychiatry 44, 523–530 (2020). https://doi.org/10.1007/s40596-020-01276-z
Received:

Accepted:

Published:

Issue Date:
Keywords
Diversity

Workforce

Minorities