Access options
Buy single article
Instant access to the full article PDF.
US$ 39.95
Tax calculation will be finalised during checkout.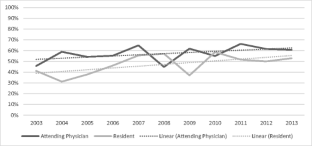 References
1.

Beckman TJ, Reed DA, Shanafelt TD, West CP. Resident physician well-being and assessments of their knowledge and clinical performance. J Gen Intern Med. 2012;27(3):325–30.

2.

Cohen JS, Leung Y, Fahey M, Hoyt L, Sinha R, Cailler L, et al. The happy docs study: a Canadian association of internes and residents well-being survey examining resident physician health and satisfaction within and outside of residency training in Canada. BMC Res Notes. 2008;1:105.

3.

Shanafelt TD, Balch CM, Bechamps GJ, Russell T, Dyrbye L, Satele D, et al. Burnout and career satisfaction among American surgeons. Ann Surg. 2009;250(3):463–71.

4.

Shanafelt TD, Kolars JC. Quality of life, burnout, educational debt, and medical knowledge among internal medicine residents. JAMA: J A Med Assoc. 2011;306(9):9p.

5.

Keim SM, Mays MZ, Williams JM, Serido J, Harris RB. Measuring wellness among resident physicians. Med Teach. 2006;28(4):370–4.

6.

Macedo PC, Citero Vde A, Schenkman S, Nogueira-Martins MC, Morais MB, Nogueira-Martins LA. Health-related quality of life predictors during medical residency in a random, stratified sample of residents. Rev Bras Psiquiatr. 2009;31(2):119–24.

7.

Holmes ME, Editor. Medical resident burnout reaches epidemic levels. American Psychiatric Association (APA) Annual Meeting; 2015; Chicago, IL.

8.

Panagopoulou E, Montgomery A, Benos A. Burnout in internal medicine physicians: differences between residents and specialists. Eur J Intern Med. 2006;17(3):195–200.

9.

Buddeberg-Fischer B, Klaghofer R, Stamm M, Siegrist J, Buddeberg C. Work stress and reduced health in young physicians: prospective evidence from Swiss residents. Int Arch Occ Env Hea. 2008;82(1):31–8.

10.

Mata DA, Ramos MA, Bansal N, Khan R, Guille C, di Angelantonio E, et al. Prevalence of depression and depressive symptoms among resident physicians: a systematic review and meta-analysis. JAMA. 2015;314(22):2373–83.

11.

Fahrenkopf AM, Sectish TC, Barger LK, Sharek PJ, Lewin D, Chiang VW, et al. Rates of medication errors among depressed and burnt out residents: prospective cohort study. BMJ. 2008;336(7642):488–91.

12.

Mata DA, Ramos MA, Bansal N, Khan R, Guille C, Di Angelantonio E, et al. Prevalence of depression and depressive symptoms among resident physicians: a systematic review and meta-analysis. JAMA: J Am Med Assoc. 2015;314(22):2373–83.

13.

Tyssen R, Rovik JO, Vaglum P, Gronvold NT, Ekeberg O. Help-seeking for mental health problems among young physicians: is it the most ill that seeks help?: a longitudinal and nationwide study. Soc Psychiatry Psychiatr Epidemiol. 2004;39(12):989–93.

14.

Rosen IM, Christie JD, Bellini LM, Asch DA. Health and health care among housestaff in four u.S. internal medicine residency programs. J Gen Intern Med. 2000;15:116–21.

15.

Dunn LB, Green Hammond KA, Roberts LW. Delaying care, avoiding stigma: Residents' attitudes toward obtaining personal health care. Acad Med. 2009;84(2):242–50.

16.

Carr GD, Hall BP, Reid AJ, RL D. Physician health programs: the us model Brower K. RM, editor:. Springer; 2017.

17.

Brooks E, Gendel MH, Early SR, Gundersen DC, Shore JH. Physician boundary violations in a physician's health program: a 19-year review. J Am Acad Psychiatry Law 2012;40(1):59–66.

18.

Brooks E, Gendel MH, Gundersen DC, Early SR, Schirrmacher R, Lembitz A, et al. Physician health programmes and malpractice claims: reducing risk through monitoring. Occup Med (Lond). 2013;63(4):274–80.

19.

Skipper GE, DuPont RL. The physician health program: a replicable model of sustained recovery management. In: Kelly JF, White WL, editors. Addiction recovery management: Theory, research and practice, current clinical psychiatry: Springer Science+Business Media; 2010. p. 281–299.

20.

Ware JE, Kosinski M. Sf-36 physical & mental health summary scales: a manual for users of version 1: Quality Metric; 2001.

21.

Center for Workforce Studies. Colorado physician workforce profile. In: Association of American Medical Colleges; 2015.

22.

Association of American Medical Colleges. The state of women in academic medicine: the pipeline and pathways to leadership. In: 2013–2014; 2015.

23.

Association of American Medical Colleges. Report on residents: 2016. Washington, DC: 2016.

24.

Revicki DA, Whitley TW, Gallery ME. Organizational characteristics, perceived work stress, and depression in emergency medicine residents. Behav Med. 1993;19(2):74–81.

25.

Busireddy KR, Miller JA, Ellison K, Ren V, Qayyum R, Panda M. Efficacy of interventions to reduce resident physician burnout: a systematic review. J Grad Med Educ. 2017;9(3):294–301.

26.

Access to confidential health services for medical students and physicians: Resolutions 901-I-15, 913-I-15 AND 304-A-16(2016).

27.

Colorado Department of Regulatory Agencies. Physician training license (tl) application checklist. 2017.

28.

Campbell S, Delva D. Physician do not heal thyself. Survey of personal health practices among medical residents. Can Fam Physician. 2003;49:1121–7.
Acknowledgements
We would like to acknowledge Jeannette Guerrasio, MD, Assistant Professor of Medicine in the Department of General Internal Medicine, Hospitalist Section, at the University of Colorado at Anschutz Medical Campus and Doug Speedie, MD, Associate Medical Director at Rocky Mountain Health Plans, who reviewed and provided valuable insight into the development of this manuscript.
Ethics declarations
Colorado Multiple Institutional Review Board (COMIRB) reviewed this work and granted it as Exempt status.
Disclosures
On behalf of all authors, the corresponding author states that there is no conflict of interest.
About this article
Cite this article
Parry, A.L., Brooks, E. & Early, S.R. A Retrospective Cross-Sectional Review of Resident Care-Seeking at a Physician Health Program. Acad Psychiatry 42, 636–641 (2018). https://doi.org/10.1007/s40596-018-0917-3
Received:

Accepted:

Published:

Issue Date: