Abstract
Objective
Emotional distress, burnout, and depression occur frequently among graduate medical education (GME) trainees and may negatively affect patient care, education, and well-being. The authors aimed to characterize the causes and severity of distress among GME trainees seeking on-site counseling services at a large, multi-site, university-based training program in the USA.
Methods
The authors analyzed visits of all GME trainees seeking counseling from 2009 to 2012 and described trainee characteristics, level of distress, chief and secondary complaints, and initial visit outcomes.
Results
GME trainees (n = 332; 14.1% of total population) attended 2017 counseling visits. Women comprised over half (60.7%) of the clients. Referrals originated from trainees themselves (79.8%), program leadership (16.6%), or partners (1.8%). Mean counselor-assessed distress level at intake was 4.1 (range 1–5). Mental health was the most frequent concern (46.1%), particularly depression (19.3%) or anxiety (11.5%). Other chief complaints included personal relationship (28.6%), career (21.7%), and physical health concerns (2.7%). Counselors referred nearly a quarter (22.7%) of trainees to additional services such as psychiatry, primary care provider, or career mentor. Most trainees (75.3%) returned for ≥1 follow-up counseling visits.
Conclusion
GME trainees seen in counseling report significant emotional distress from a broad range of sources. Further research should identify effective preventative and therapeutic interventions to reduce trainee emotional distress.
Access options
Buy single article
Instant access to the full article PDF.
USD 39.95
Price excludes VAT (USA)
Tax calculation will be finalised during checkout.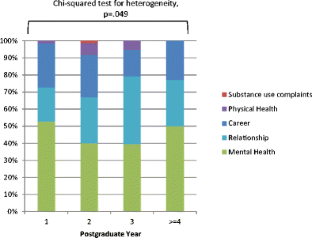 References
Levey RE. Sources of stress for residents and recommendations for programs to assist them. Acad Med. 2001;76(2):142–50.

Goebert D, et al. Depressive symptoms in medical students and residents: a multischool study. Acad Med. 2009;84(2):236–41.

Jennings ML, Slavin SJ. Resident wellness matters: optimizing resident education and wellness through the learning environment. Acad Med. 2015;90(9):1246–50.

Smith JW, Denny WF, Witzke DB. Emotional impairment in internal medicine house staff. Results of a national survey. JAMA. 1986;255(9):1155–8.

Mata DA, et al. Prevalence of depression and depressive symptoms among resident physicians: a systematic review and meta-analysis. JAMA. 2015;314(22):2373–83.

Goitein L, et al. The effects of work-hour limitations on resident well-being, patient care, and education in an internal medicine residency program. Arch Intern Med. 2005;165(22):2601–6.

Sen S, et al. Effects of the 2011 duty hour reforms on interns and their patients: a prospective longitudinal cohort study. JAMA Intern Med. 2013;173(8):657–62. discussion 663

Shanafelt TD, et al. Burnout and self-reported patient care in an internal medicine residency program. Ann Intern Med. 2002;136(5):358–67.

Collier VU, et al. Stress in medical residency: status quo after a decade of reform? Ann Intern Med. 2002;136(5):384–90.

Dyrbye LN, et al. Burnout among U.S. medical students, residents, and early career physicians relative to the general U.S. population. Acad Med. 2014;89(3):443–51.

Sen S, et al. A prospective cohort study investigating factors associated with depression during medical internship. Arch Gen Psychiatry. 2010;67(6):557–65.

Hsu K, Marshall V. Prevalence of depression and distress in a large sample of Canadian residents, interns, and fellows. Am J Psychiatry. 1987;144(12):1561–6.

Guille C, et al. Utilization and barriers to mental health services among depressed medical interns: a prospective multisite study. J Grad Med Educ. 2010;2(2):210–4.

Moutier C, et al. The suicide prevention and depression awareness program at the University of California, San Diego School of Medicine. Acad Med. 2012;87(3):320–6.

Martini S, et al. Burnout comparison among residents in different medical specialties. Acad Psychiatry. 2004;28(3):240–2.

Ishak WW, et al. Burnout during residency training: a literature review. J Grad Med Educ. 2009;1(2):236–42.

Mitchell M, et al. Factors affecting resident performance: development of a theoretical model and a focused literature review. Acad Med. 2005;80(4):376–89.

West CP, et al. Association of resident fatigue and distress with perceived medical errors. JAMA. 2009;302(12):1294–300.

Fahrenkopf AM, et al. Rates of medication errors among depressed and burnt out residents: prospective cohort study. BMJ. 2008;336(7642):488–91.

West CP, Shanafelt TD, Kolars JC. Quality of life, burnout, educational debt, and medical knowledge among internal medicine residents. JAMA. 2011;306(9):952–60.

ACGME Common Program Requirements. Section VI.C the learning and work environment: well-being. 2017. https://assets.fridgecms.com/81a7119e-968c-425c-b67c1cc44e028d44/CPRs_Section%20VI_with-Background-and-Intent_2017-01.pdf. Accessed 18 May 2017.

Dabrow S, et al. Combating the stress of residency: one school's approach. Acad Med. 2006;81(5):436–9.

Pitt E, et al. Mental health services for residents: more important than ever. Acad Med. 2004;79(9):840–4.

Schernhammer ES, Colditz GA. Suicide rates among physicians: a quantitative and gender assessment (meta-analysis). Am J Psychiatry. 2004;161(12):2295–302.

Ly DP, Seabury SA, Jena AB. Divorce among physicians and other healthcare professionals in the United States: analysis of census survey data. BMJ. 2015;350:h706.

Rollman BL, et al. Medical specialty and the incidence of divorce. N Engl J Med. 1997;336(11):800–3.

Hernandez BC, et al. Intimate partner violence experienced by physicians: a review. J Women's Health. 2016;25(3):311–20.

Eckleberry-Hunt J, et al. Changing the conversation from burnout to wellness: physician well-being in residency training programs. J Grad Med Educ. 2009;1(2):225–30.

Ey S, et al. "If you build it, they will come": attitudes of medical residents and fellows about seeking services in a resident wellness program. J Grad Med Educ. 2013;5(3):486–92.

Daskivich TJ, et al. Promotion of wellness and mental health awareness among physicians in training: perspective of a national, multispecialty panel of residents and fellows. J Grad Med Educ. 2015;7(1):143–7.
Acknowledgements
The authors wish to thank Kenneth Cartwright for his invaluable assistance with data management.
Ethics declarations
Ethical Considerations
Our study protocol was reviewed by the University of Washington Institutional Review Board and determined to be exempt as it did not meet criteria for human subject research.
Disclosures
On behalf of all authors, the corresponding author states that there is no conflict of interest.
Funding Sources
The authors report no funding sources for this study.
About this article
Cite this article
Golob, A., Beste, L.A., Stern, M. et al. Emotional Distress Among Physician Residents and Fellows: An Observational Study of Trainees Seeking Counseling Visits. Acad Psychiatry 42, 25–30 (2018). https://doi.org/10.1007/s40596-017-0740-2
Received:

Accepted:

Published:

Issue Date:

DOI: https://doi.org/10.1007/s40596-017-0740-2
Keywords
Graduate physician trainees

Depression

Wellness

Counseling