Abstract
Objective
This study explores relationships between US Medical Licensing Examination (USMLE) and Psychiatry Resident In-Training Examination (PRITE) scores over a 10-year period at a university-affiliated program.
Methods
For all MD general psychiatry residents who matriculated from 2003 to 2012 (n = 51), we extracted three-digit first-attempt and passing USMLE Step 1 and Step 2 clinical knowledge (CK) scores and PRITE percentile scores, stratified by global psychiatry and neurology scores, for postgraduate year (PGY)-1, 2, 3, and 4. A mixed model repeated measures analysis was performed to assess the association between USMLE and PRITE scores, adjusting for age, sex, and US medical graduate versus IMG status. Multiple linear regression models of USMLE and PGY-1 PRITE scores were also constructed.
Results
USMLE Steps 1 and 2 CK scores were significant predictors of PRITE psychiatry and neurology scores, both in PGY-1 as well as across all years of training (p < 0.01 for each).
Conclusion
Given that PRITE scores are a significant predictor of success on the ABPN written examination, USMLE scores may be an important quantitative predictor of performance during residency.
Access options
Buy single article
Instant access to the full article PDF.
US$ 39.95
Tax calculation will be finalised during checkout.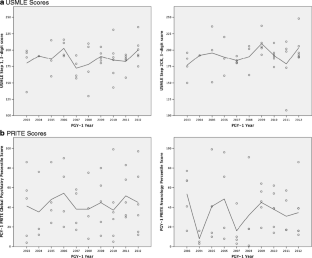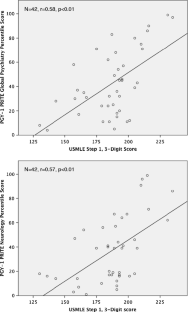 References
1.

Lehrmann JA, Walaszek A. Assessing the quality of residency applicants in psychiatry. Acad Psychiatry. 2008;32:180–2.

2.

Kenny S, McInnes M, Singh V. Associations between residency selection strategies and doctor performance: a meta-analysis. Med Educ. 2013;47:790–800.

3.

Dawkins K, Ekstrom RD, Maltbie A. The relationship between psychiatry residency applicant evaluations and subsequent residency performance. Acad Psychiatry. 2005;29:69–75.

4.

Webb LC, Sexson S, Scully J, et al. Training directors' opinions about the psychiatry resident in-training examination (PRITE). Am J Psychiatry. 1992;149:521–4.

5.

Shiroma PR, Alarcon RD. Selection factors among international medical graduates and psychiatric residency performance. Acad Psychiatry. 2010;34:128–31.

6.

Juul D, Schneidman BS, Sexson SB, et al. Relationship between resident-in-training examination in psychiatry and subsequent certification examination performances. Acad Psychiatry. 2009;33:404–6.
Acknowledgments
The authors thank Niju Philip and Edith Towns for assistance.
Disclosure
Dr. Miller received research support from Georgia Regents University and NIMH, and honoraria from MDLinx.com, Medefield, Emory University, and the Zucker-Hillside Hospital.
Drs. Sexon, Shevitz, Peeples, and Van Sant have nothing to disclose.
Dr. McCall received research support from NIMH and Merck Pharmaceuticals, and honoraria from Wolters Kluwer Publishing.
About this article
Cite this article
Miller, B.J., Sexson, S., Shevitz, S. et al. US Medical Licensing Exam Scores and Performance on the Psychiatry Resident In-Training Examination. Acad Psychiatry 38, 627–631 (2014). https://doi.org/10.1007/s40596-014-0130-y
Received:

Accepted:

Published:

Issue Date:
Keywords
USMLE

PRITE

General psychiatry residency

Performance