Abstract
Objective
A growing body of literature documents high rates of burnout, depression, and suicidal ideation among physicians and medical students. Barriers to seeking mental health treatment in this group include concerns about time, stigma, confidentiality, and potential career impact. The authors describe a 4-year trial of the Healer Education Assessment and Referral (HEAR) program, designed to increase mental health services utilization (MHSU) and decrease suicide risk (SR) as assessed by an Interactive Screening Program (ISP)at one US medical school.
Methods
Over a 4-year period, medical students were engaged in face-to-face, campus-wide, educational group programs and were invited to complete an individual, online, and anonymous survey. This survey contained the 9-item Patient Health Questionnaire (PHQ-9) scale to assess depression and items to identify suicidal thoughts and behaviors, substance use, distressing emotional states, and the use of mental health treatment. Students who engaged in this ISP by corresponding electronically with a counselor after completing the survey were assessed and when indicated, referred to further treatment.
Results
The HEAR program was delivered to 1,008 medical students. Thirty-four percent (343/1,008) completed the online screening portion. Almost 8 % of respondents met the criteria for high/significant SR upon analysis of the completed screens. Ten out of 13 of the students with SR who dialogued with a counselor were not already receiving mental health treatment, indicating that this anonymous ISP identified a high proportion of an untreated, at risk, and potentially suicidal population. MHSU among medical students who completed the survey was 11.5 % in year 1 and 15.0 % by year 4. SR among medical students was 8.8 % in year 1 and 6.2 % in year 4 as assessed by the ISP.
Conclusions
This novel interventional program identified at risk, potentially suicidal medical students at one institution. Based on this single-site experience, we suggest that future multisite studies incorporate a comparison group, acquire baseline (prematriculation) data regarding MHSU and SR, and use an individualized yet anonymous identification system to measure changes in individual participants' mental health status over time.
Access options
Buy single article
Instant access to the full article PDF.
USD 39.95
Price excludes VAT (USA)
Tax calculation will be finalised during checkout.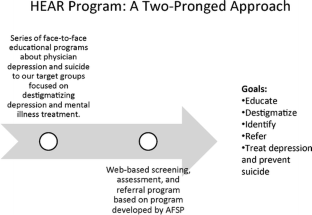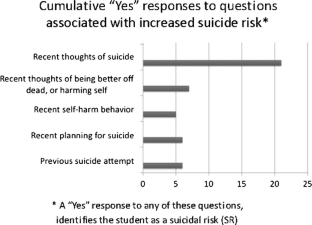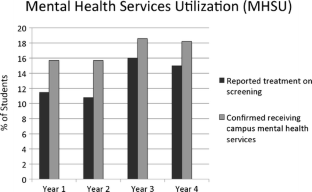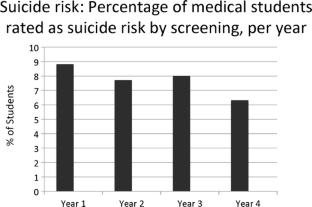 References
Goebert D, Thompson D, Takeshita J, et al. Depressive symptoms in medical students and residents: a multischool study. Acad Med. 2009;84(2):236–41.

Schernhammer ES, Colditz GA. Suicide rates among physicians: a quantitative and gender assessment. Am J Psychiatry. 2004;161:2295–302.

American Foundation for Suicide Prevention. "Struggling in silence: physician depression and suicide." http://www.afsp.org/preventing-suicide/our-education-and-prevention-programs/programs-for-professionals/physician-and-medical-student-depression-and-suicide.

Gold KJ, Sen A, Scwenk TL. Details on suicide among US physicians: data from the National Violent Death Reporting system. Gen Hosp Psychiatry. 2013;35:45–9.

Dyrbye LN, Thomas MR, Shanafelt TD. Medical student distress: causes, consequences, and proposed solutions. Mayo Clin Proc. 2005;80(12):1613–22.

Schwenk TL, Davis L, Wimsatt LA. Depression, stigma, and suicidal ideation in medical students. JAMA. 2010;304(11):1181–90.

Tjia J, Givens J, Shea J. Factors associated with undertreatment of medical student depression. J Am Coll Health. 2005;53(5):219–24.

Chandavarkar U, Azzam A, Mathews CA. Anxiety symptoms and perceived performance in medical students. Depress Anxiety. 2007;24(2):103–11.

Tillet R. The patient within—psychopathology in the helping professions. Adv Psychiatr Treat. 2003;9:272–9.

Center C, Davis M, Detre T, et al. Confronting depression and suicide in physicians: a consensus statement. JAMA. 2003;23:3161–6.

Moutier C, Norcross W, Jong P, Norman M, Kirby B, McGuire T, et al. The suicide prevention and depression awareness program at the University of California, San Diego School of Medicine. Acad Med. 2012;87(3):1–7.

Kroenke K, Spitzer RL, Williams JB. The PHQ-9: validity of a brief depression severity measure. J Gen Intern Med. 2001;16(9):606–13.

Caplan G. Principles of preventive psychiatry. New York: Basic Books, Inc; 1964.

Mann JJ, Apter A, Bertolote J, et al. Suicide prevention strategies: a systematic review. JAMA. 2005;294(16):2064–74.

van Os TW, van den Brink FH, Tiemens BG, et al. Are effects of depression management training for general practitioners on patient outcomes mediated by improvements in the process of care? J Affect Disord. 2004;80:173–9.

Gilbody S, Whitty P, Grimshaw J, Thomas R. Educational and organizational interventions to improve the management of depression in primary care: a systematic review. JAMA. 2003;289(23):3145–51.

Preventive US. Services Task Force. Screening for depression in adults: U.S. preventive services task force recommendation statement. Ann Intern Med. 2009;151(11):784–92.

Daigle MS, Pouliot L, Chagnon F, et al. Suicide attempts: prevention of repetition. Can J Psychiatry. 2011;56(10):621–9.

Council on Scientific Affairs. Results and implications of the AMA-APA physician mortality project. JAMA. 1987;257:2949–53.

Perlis RH. Hard outcomes: clinical trials to reduce suicide. Am J Psychiatry. 2011;168:1009–11.

O'Connor E, Gaynes BN, Burda BU, et al. Screening for and treatment of suicide risk relevant to primary care: a systematic review for the U.S. Preventive Services Task Force. Ann Intern Med. 2013;158(10):741–54.

Eisenberg D, Golberstein BA, Gollust SE. Help-seeking and access to mental health care in a university student population. Med Care. 2007;45:594–601.
Acknowledgments
The authors would like to thank the AFSP for their support in implementing the Interactive Screening Program at UCSD. This work was supported by the National Institute on Mental Health R25 grant MH071544 and the John A Majda, MD Memorial Fund.
Disclosures
On behalf of all authors, the corresponding author states that there is no conflict of interest.
About this article
Cite this article
Downs, N., Feng, W., Kirby, B. et al. Listening to Depression and Suicide Risk in Medical Students: the Healer Education Assessment and Referral (HEAR) Program. Acad Psychiatry 38, 547–553 (2014). https://doi.org/10.1007/s40596-014-0115-x
Received:

Accepted:

Published:

Issue Date:

DOI: https://doi.org/10.1007/s40596-014-0115-x
Keywords