Access options
Buy single article
Instant access to the full article PDF.
USD 39.95
Price excludes VAT (USA)
Tax calculation will be finalised during checkout.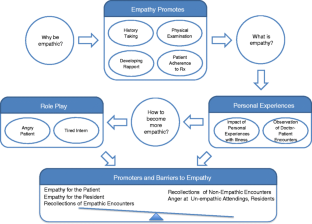 References
Winefield HR, Chur-Hansen A. Evaluating the outcome of communication skill teaching for entry-level medical students: does knowledge of empathy increase? Med Educ. 2000;34:90–4.

Hojat M, Gonella JS, Mangione S, et al. Physician empathy in medical education and practice: experience with the Jefferson Scale of Physician Empathy. Sem Integr Med. 2003;1:25–41.

Benbassat J, Baumal R. What is empathy, and how can it be promoted during clinical clerkships? Acad Med. 2004;79:832–9.

Hojat M, Vergare MJ, Maxwell K, et al. The devil is in the third year: a longitudinal study of erosion of empathy in medical school. Acad Med. 2009;84:1182–91.

Reiss H, Kelley JM, Bailey RW, et al. Empathy training for resident physicians: a randomized controlled trial of a neuroscience-informed curriculum. J Gen Int Med. 2012; 27.

Stepien KA, Baernstein A. Educating for empathy: a review. J Gen Intern Med. 2006;21:524–30.

Carr L, Iacobani M, Dubeau MC, Mazziotta JC, Lenzi GL. Neural mechanisms of empathy in humans: a relay from neural systems for imitation to limbic areas. PNAS. 2003;100(9):5497–502.

Colliver JA, Willis MS, Robbs RS, Cohen DS, Swartz MH. Assessment of empathy in a standardized patient examination. Teach Learn Med. 1998;10(1):8–11.

Kim SS, Kaplowitz S, Johnston MV. The effects of physician empathy on patient satisfaction and compliance. Eval Health Prof. 2004;27(3):237–51.

Stewart MA. Effect physician-patient communication and health outcomes: a review. Can Med Assoc J. 1995;152(9):1423–33.

Halpern J. What is clinical empathy? J Gen Intern Med. 2003;18:670–4.

Quill TE. Barriers to effective communication. In: Lipkin Jr M, Putnam SM, Lazare A, Carroll Jr JG, Frankel RM, editors. The medical interview. New York: Springer; 1995. p. 110–21.
Disclosures
On behalf of all authors, the corresponding author states that there is no conflict of interest.
About this article
Cite this article
Aggarwal, R., Guanci, N. Teaching Empathy During Clerkship and Residency. Acad Psychiatry 38, 506–508 (2014). https://doi.org/10.1007/s40596-014-0113-z
Received:

Accepted:

Published:

Issue Date:

DOI: https://doi.org/10.1007/s40596-014-0113-z
Keywords