Training the Body: The Potential of AIED to Support Personalized Motor Skills Learning
Abstract
This paper argues that the research field of Artificial Intelligence in Education (AIED) can benefit from integrating recent technological advances (e.g., wearable devices, big data processing, 3D modelling, 3D printing, ambient intelligence) and design methodologies, such as TORMES, when developing systems that address the psychomotor learning domain. In particular, the acquisition of motor skills could benefit from individualized instruction and support just as cognitive skills learning has over the last decades. To this point, procedural learning has been considered since the earliest days of AIED (dating back to the 1980's). However, AIED developments in motor skills learning have lagged significantly behind. As technology has evolved, and supported by the do-it-yourself and quantified-self movements, it is now possible to integrate emerging interactive technologies in order to provide personal awareness and reflection for behavioural change at low cost and with low intrusion. Many activities exist that would benefit from personalizing motor skills learning, such as playing a musical instrument, handwriting, drawing, training for surgery, improving the technique in sports and martial arts, learning sign language, dancing, etc. In this context, my suggestions for AIED research in the coming 25 years focus on addressing challenges regarding 1) modelling the psychomotor interaction, and 2) providing appropriate personalized psychomotor support.
Keywords
Procedural learning 
Motor skills learning 
Psychomotor learning domain 
Artificial intelligence 
Education 
Internet of me 
Quantified-self 
Wearable devices 
Big data 
3D modelling 
3D printing 
Ambient intelligence 
TORMES methodology 
Introduction
Research in Artificial Intelligence in Education (AIED) aims to develop flexible systems that will increase access to effective, personalized and engaging, anytime, anywhere learning throughout lifetimes across the full range of knowledge domains and skills and employing varied pedagogical approaches (Underwood and Luckin 2011).
Under this umbrella, this paper focuses on the psychomotor learning domain, which deals with physical movement, coordination and the use of the motor skills areas (Harrow
1972
). Motor skills refer to bodily movements involving muscular activity (Gagné and Briggs
1979
). More precisely, motor skills involve goal-oriented physical actions or tasks requiring voluntary body and/or limb movements to achieve the goal (Magill
1993
). Thus, motor skills learning can be defined as achieving the ability to perform a function acquired with practice that requires body and/or limb movement to accomplish the goal of an action or task (Christensson
2005
). It is about "doing" through imitation, practicing and habituating new skills (Penney
2011
). Motor skills can be classified in three dimensions (Magill
1993
):
1)

precision of the movement, which considers i) gross motor skills that involve large musculatures and a goal where the precision of movement is not as important, and ii) fine motor skills that require control of small muscles of the body to achieve the goal of the skill and generally including hand-eye coordination;

 

2)

defining the beginning and end points of the movement, which considers i) discrete motor skills that have clearly defined beginning and end points, ii) serial motor skills that put together several discrete motor skills, and iii) continuous motor skills in which the performer of the skill determines the beginning and end points; and

 

3)

stability of the environment, which in a four category system combines i) the change or not from one execution to the next one, with ii) the execution either stationary or in motion.

 
Consolidating specific motor tasks into memory through repetition (thus, creating long-term muscle memory for a given task), is very relevant in diverse scenarios that support learning processes involving not only brain activity, but also physical activity, such as playing a musical instrument, handwriting, drawing, training for surgery, improving the technique in sports and martial arts, learning sign language, dancing. In these situations, learners have to train by repeating very specific movements till they learn the best way to carry them out effectively without conscious effort (Krakauer and Shadmehr 2006). The automatization of skills is very much shared between cognitive and motor skills, so in essence, all of the work being done in AIED over the last 30 years on cognitive skills acquisition, that can go back to (Anderson 1982), is worthy of reinvestigation with motor skills.
For that matter, learning motor skills goes beyond mere muscle memory, blending motor skills with cognitive (including meta-cognitive) and affective skills. Hence, research in AIED must build on existing cognitive (i.e., tell what to do when the learner answers something wrong), meta-cognitive (make learners aware of their learning process and thus, produce their own learning strategies) and affective research (turning negative emotional states into productive learning experiences). The cognitive, meta-cognitive and affective dimensions are popular focus areas in AIED. However, as discussed in this paper, there have not yet been corresponding AIED developments addressing the psychomotor learning domain, thus supporting the personalized learning of motor skills. Therefore, the focus of this paper is mainly on how the physical part related to muscle training can be supported from an AIED perspective, both in the modelling of the learner's physical interaction and in the provision of personalized support during the training. This implies that the physical actions carried out while training are to be monitored in real-time, compared with experts' performance and, when needed, corrected through appropriate feedback, in order to achieve successful motor skills learning (i.e., skills learning at a physical level).
Feedback is crucial in motor skills learning (Swinnen 1996). For example, learners do not often recognize motion errors, and experts need to provide objective advice to learners (Iwasako et al. 2014). Traditionally, a human instructor or coach is used to support motor skills learning (Wulf et al. 2010) following the apprenticeship model (i.e., learning by observation of an expert) (Christensson 2005), which can also be done using multimedia content (Kwon and Gross 2005). Methods include (van der Linden et al. 2011): i) verbal instructions, ii) physically guiding the learner's limb movements, and iii) allowing learners to observe themselves in a mirror. This training approach requires a high degree of expertise in identifying how close the movement performed resembles the ideal one, especially when movements are complex and can be performed with different level. There are also several limitations when a human attempts to provide feedback (Rauter et al. 2011): i) a human cannot hold the same level of attention and concentration over a longer period of time, ii) a human is not able to observe all important physiological and biomechanical variables characterizing the movement, neither at the same time nor at high precision, and iii) a human can hardly provide augmented concurrent feedback (i.e., external stimulus during the movement in real-time). In addition, the process of learning by imitation can be improved with multimodal feedback systems (Portillo-Rodriguez et al. 2008), which are systems that provide feedback through different sensorial channels (i.e., visual, auditory and haptic).
Moreover, according to (Christensson 2005), personalized motor skills learning environments that follow a learner-centric and constructivist (learn-by-doing) approach are needed. In this way, the system can be challenging and supporting at the same time in order to properly engage and motivate the learner. Hence, it can adapt to each individual needs and progress, providing personalized feedback meanwhile the learner is performing the tasks, and changing the instructional strategy when needed (e.g., guide, teach, iterate, challenge).
Because there are multiple novel interactive technologies that can help make personalized motor skills learning possible, this paper argues that now is a good time to introduce motor skills learning as a main research direction in the AIED community. A variety of emerging resources are primed to support this new direction, including:
novel types of quantified-self 1 wearable devices from the so called "Internet of Me" that allow collecting data from the user in a non-intrusive way, such as with smart bracelets, watches, t-shirts, etc.,

techniques for big data analysis that deal with volume, variety, velocity, variability and veracity,

3D modelling of living physical objects by developing a mathematical representation of their three-dimensional surface,

3D printing of exoskeletons for motor control rehabilitation, and

augmented sensorial output with ambient intelligence (i.e., environments that are sensitive and responsive to the presence of people).
These technologies can enrich AIED research in order to develop procedural learning environments that can physically support -and when appropriate guide- the particular way each individual learner should move her body in order to achieve specific motor learning goals (i.e., learning goals that are related to improving motor skills acquisition). As these technologies are of much interest in the do-it-yourself (DIY) movement,2 the AIED research community can take advantage of the resources and support already available online, thus reducing the learning curve for their integration in AIED systems. In addition, educators need to be involved in what is known as an elicitation process to help them identify the personalized support to be provided to learners training their motor skills. TORMES methodology (Santos and Boticario 2015) can facilitate this elicitation process.
The rationale for pursuing this new approach in the AIED field is that the learning of motor skills would benefit from the individualized instruction and support that it is the purpose of AIED to provide. The acquisition of motor skills poses familiar AIED problems, but in novel and challenging new forms, such as i) modelling correct (expert) motor movements, ii) diagnosing students' movements, and iii) deciding the personalized intervention (i.e., what feedback to give and when and in what form, etc.). Emerging novel interaction technologies seem to fill the technological gap to make personalization possible in motor skills learning. In addition, service-oriented architecture approaches aimed to extend learning environments with adaptive navigation support (Santos and Boticario
2011
) need to take into account recent trends in service-oriented and ubiquitous computing, moving to an ecosystem of standard-based interactive learning tools (Nye
2015
). Figure
1
depicts aforementioned elements that are foreseen to frame the AIED research in the coming 25 years aimed to develop systems that can provide individualized instruction and support in motor skills training.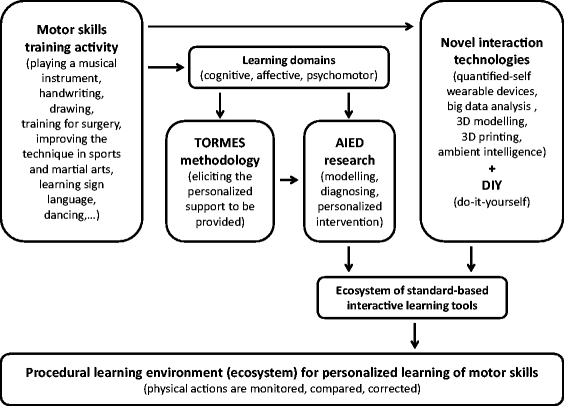 As preliminary work to this paper, a discussion on how the training of the Aikido martial art can benefit from an AIED procedural learning environment for personalized motor skills training (Santos 2015) was presented at the workshop "Les Contes du Marriage: Should AI stay married to ED?" that was organized during the AIED 2015 conference to examine the current and future identity of the AIED field.
The contents of this paper are structured as follows. First, a review of papers from the International Journal of AIED (IJAIED) is provided, which reveals a dearth of AIED research on personalized motor skills learning (despite a few examples that tackle related issues) inside the community. Next, a non-exhaustive list of motor skills learning systems from outside the AIED field are reviewed, revealing a lack of attention to personalization features. After that, challenges and opportunities for the AIED research community are identified, when considering emerging interactive technologies to build personalized systems for motor skills learning.
Motor Skills Learning Inside the AIED Community
Limited attention to physical and motor aspects of learning has been carried out in the AIED community so far. This is likely due to the lack of appropriate technological support available in the past for movement detection at low cost and with low intrusion. In order to provide some background of the AIED field regarding personalized support for motor skills learning (and since no specific IJAIED papers addressing motor skills personalized learning were found in the review), this section compiles articles published in IJAIED that tackle related issues from the procedural learning perspective. In particular, the acquisition of procedural skills has been addressed since the eighties and early nineties in the AIED field, primarily in the context of Intelligent Tutoring Systems (ITS) in closed domains (Andriessen and Sandberg 1999). Typically, these approaches involved comparisons between learner answers and experts' by (Ohlsson 1993): 1) observing learners' actions, 2) measuring progress in terms of correct problem solving steps, and 3) applying existing and well-founded theoretical notions on skill acquisition.
This review of IJAIED papers starts with some historical issues regarding procedural learning that arose during the discussion carried out among Schank and Edelson (1989/1990) and Eggert (1990) on their different viewpoints regarding the role for AIED, and how technology can be used to reshape education. In particular, Schank and Edelson proposed and discussed the benefits of simulation as a relevant instructional approach for computer-based education since it is realistic enough to facilitate learning-by-doing (through failure-driven learning) in domains that are too risky or expensive to be trained in, allowing also the learner to revise her hypothesis based on her observations. In addition to engaging the learner in the learning process thanks to the direct experience while acquiring knowledge, these authors highlighted that simulation environments encourage learners to formulate hypotheses in the form of actions in the simulation and then observe the effects of their hypothesis. In turn, the environment can respond immediately to the actions of the learners (with several levels of intervention) providing instant feedback. Eggert did not doubt on the educational value of the simulators and agreed on the benefits for learners from being able to make errors without the pressure of a human judging them. However, he considered that simulations were too expensive to build in a way that could allow true independent learning and avoid learners pushing system boundaries while wandering around materials that they do not fully understand.
Following this "learning-to-do-by-doing" approach, IJAIED papers in the same period discussed the usefulness of robots for procedural learning. The robot-based pedagogy (Nonnon and Theil 1990) was proposed to take advantage of computers to transform learning activities that are often very abstract into others that are more concrete and hands-on. The goal of this approach was to let learners discover by themselves the methods of experimental inquiry. For this, the learner can stock incrementally the procedural instructions pertaining to an experimental schema. When needed, the robot-aid can take over from the learner the step-by-step procedural details of the experiment under study, look after the collection of data and give back a (graphical) representation of the dynamics of the whole process. This pedagogical concept of managing via robot-aid the data collection and the graphical representation of the experimental process in real-time was named "bi-focal cognitive lenses" by the authors, as it provided the learner with the opportunity to simultaneously perform an action and receive a representation of it for consultation. In turn, Howell and Hay (1989) proposed robotics manipulators to support learners with motor impairments to transform their desired actions into purposeful manipulations through the robot movements. In this way, learners with functional diversity were also able to experience learning processes and educational concepts. In a different approach, Rabardel (1991) reported the effect on the cognitive activity of using a training robot for learning through discovery, integrating the role of physical action in the construction of knowledge. The goal here was to guide the conceptualization process in relation to the action to be used for the development of skills.
A decade later, AIED evolved to more directly address issues related to modelling (of natural phenomena) and to elevate dynamic aspects of learning as an essential feature (Andriessen and Sandberg 1999). In this context, the roles of models in AIED research were discussed (Baker 2000). Within the first role (i.e., models as a scientific tool for understanding and predicting some aspect of an educational situation), Baker proposed extending the notion of cognition to embrace action and perception, and suggested to consider for instance, the need for "understanding the coordination between hand, eye, brain, pencil and paper required when a child learns to write". His concern was to avoid leaving out any significant phenomena (as purely cognitive models of teaching practice do). This author argued that models integrating cognition, perception and action could be elaborated. In this context, he posed the question of whether these integrated models are useful in solving important problems.
Recently, in 2015, a few papers that focus on procedural learning of motor skills have emerged. Alvarez et al. (2015) designed and evaluated a virtual training application built with an ITS to simulate complex scenarios and realistic behaviours that controls events using real-time task recognition. Another ITS combined with augmented reality (i.e., a live direct or indirect view of a physical, real-world environment whose elements are augmented -or supplemented- by computer-generated sensory input) has also been built and evaluated in a different system (Westerfield et al. 2015) with the purpose of training for manual assembly tasks. In particular, this research suggests that combining abstract concepts and 3D spatial information in the context of real-world objects makes augmented reality an approach for training tasks which require manipulation of objects. These tasks are inherently spatial in nature and can be difficult to teach without close instruction and supervision. In this way, hands-on training that provides more intuitive, interactive and efficient training is supported, and this can provide new possibilities for motor skills development. This work has also showed the benefit of the personalized support provided by the ITS (in terms of domain, student and pedagogical models) in order to learn and retain the skills under study in a more effective way (i.e., better learning outcome in the corresponding post-test).
Above selected and commented papers provide some insight on how procedural learning has been considered along IJAIED history. Although motor skills training has not been addressed explicitly in IJAIED literature, signs of its potential interest for the AIED field have been identified in this review, such as 1) diverse technology (e.g., robots, augmented reality) has been considered to improve learning through manipulations, 2) simulation environments have been used for training in realistic situations that preclude real-life rehearsals, and 3) awareness of activities, such as learning to write, which involve physical actions that need to be analysed in order to understand all the phenomena related to the learning process. Regarding the first point, a question that can be posed is which other emerging technologies might be leveraged to improve learning through movement and what kind of learning can be benefited from that. Another question that can be posed addressing the second point asks whether it is possible to make rehearsals in real-life environments under certain circumstances, supporting full immersion in the learning task and going beyond the limitations of simulated environments. Finally, in relation to the last point, the question to be posed is whether modelling the physical activities involved in the learning process is useful. With the aim to answer these issues, the next section reviews motor skills training systems reported in literature that has been published outside the AIED community.
Motor Skills Learning Ouside the AIED Community
With the aim to open the way for AIED researchers to develop procedural learning ecosystems that support physical practice, a non-exhaustive literature review has been carried out to identify systems outside the AIED community that support motor skills learning. As a result, 17 works have been analysed in terms of the following four aspects, as compiled in Table
1
:
Table 1
Review of motor skills learning systems published outside AIED community
System / Reference/ Activity / Subjects

Movement

Feedback

Sensing

Modelling

Designing

Delivering

–

(Takahata et al., 2004)

Karate

10 learners (novice)

Wearable device (accelerometer)

Waist (rotation) and wrist

Model of karate (depends on each learner's skilled level): not a unique karate training model

Goal: train learners' movements to sounds

Feedback depends on learner level (beginners vs. advanced)

Sound feedback in waist and wrist (check the order of motions and practice in their rhythm) with correct actions (i.e., correct timing)

–

(Kwon and Gross, 2005)

Taekwondo

6 learners (no experience) + 1 trainer

Body (accelerometer: tilt, movement and vibration + markers) and visual (camera) sensors

Motion data model with motion chunks (i.e., pieces of motion information)

Machine learning (HMM) to construct the motion model

Models posture + gesture

Different learners' styles: focuses on improving gestures, static postures, both at the same time

Gender issues: males use more power, female focus on technique

Goal: explain and improve motion practice to help learners find the correct posture

Compares collected data with trainer's so learner can adjust motion

Trainers create instructive material (training video), edited to select video frames and add explanatory information

Visual feedback: body sensor data on the images along the motion path (template that displays a moving circle along the path changing size with acceleration) + boolean feedback indicating if posture is correct

–

(Baca and Kornfeind, 2006)

Rowing / table tennis/biathlon

n/a

Sensors in the environment (not on person):

-rowing: force sensors

-table tennis: accelerometers + microphone

-biathlon: video system

Factors differ with activity:

-rowing: timing, rower's centre of mass, force applied to oars

-table tennis: ball spin, position, time

-biathlon: motion of the rifle's barrel

Goal: present performance data (feedback on the quality of the technique)

-Rowing: screen with graphics

-Table tennis: acoustic feedback on impact position and time + screen with impact position in the table

-Biathlon: screen with graphics + video

TIKL

(Lieberman and Breazeal, 2007)

Copy movements from videos

40 learners

Vicon motion capture system (optical tracking) with infrared cameras + reflectors (markers)

3D models of markers can be inferred to build skeletal models

Compares learner's and teacher's performance

Subjects have different joint lengths and offsets, a calibration routines needs to be run

User's performance is stored

Goal: correct the posture

Discrepancy wherever learner's body differs from teacher's (incorrect joint angles and rotations)

Feedback simultaneous to all joints. It can supplement visual and auditory feedback from teacher.

Vibrotactile feedback requires acclimation

Vibrotactile feedback: joints moving in error receive vibrations till position is corrected (magnitude proportional to error)

Sensory saltation phenomenona simulates rotating signal

–

(Spelmezan and Borchers, 2008)

Snowboarding

3 advanced beginners / 11 instructors

Mobile device with Bluetooth & Arduino + inertial sensors, bend sensors, force-sensitive resistors + video

Back of each knee + inside boot + leg + upper body

Digital compass algorithms to measure rotation

Neutral position (weight central over the board and distributed equally between both feet + legs and ankles flexed + shoulders and hips in line + head up) is used as reference to find mistakes during ride → user dependent!

Correct posture also depends on slope gradient

Goal: alert incorrect movements and body positions

Practice in spatial and temporal challenging sports can only receive delayed feedback (after training) and there is no possibility of physical guiding by instructor

Instructors were interviewed to understand how they teach and the most common mistakes.

Even if immediate feedback is provided, beginners do not react because they are focused on keeping their balance → better with some experience. Even experienced still can fine tune movements.

Audible and tactile (unimplemented)

–

(Portillo-Rodriguez et al., 2008)

Tai-chi

5 learners (novel)

Vicon optical system with markers

Gesture recognition system (k-means clustering, PNN, FSM)

Gestures are subdivided in n-states (time independent)

Qualify learner's movements with master's

Calibration process is required to adjust the kinematics model to each user using a initial position (stand at attention)

Goal: understand and correct movements

Feedback stimuli to compensate errors during performance of gesture

Master performs the movements one step forward to learner and remains there till learner reaches actual movement

FW: develop a skill methodology by acquiring data from different experts and analyze their styles to select exercises to improve learners' movements

-Audio: soft-repetitive sound that changes volume and pitch proportional to error and from the corresponding axis side (error location)

-Visual: master and second avatar + graphics (virtual energy line with users' movements whose intensity varies with error distance)

-Vibrotactile: vibrations at different frequencies depending on error distance when arms reach bad position and need to be corrected

There is also delayed feedback when finished: replays movements performed + statistical information

PHANToM

(Bloomfield and Badler, 2008)

Karate

5 subjects (unexperienced)

Motion capture device

Real-time human model with body pose in 3D space

Wrist rotation + positions of elbow and wrist

Video frames analysis

Goal: guide the arm movement

Tactor (tactile actuators) activates when movement separates a predefined distance from accurate position

Predefined distances seemed not appropriate for all subjects

Visual (projection screen) vs. vibrotactile (sleeve of tactors with vibratory motors to the user's right arm and hand)

Best modality may depend on situation

–

(Ghasemzadeh et al., 2009)

Golf swing

4 subjects (novice)

Wearable inertial motion sensors (accelerometer and gyroscope) on golf club + body (acceleration and angular velocity)

Quantitative model (LDA & PCA signal processing to quantify correctness of performed action)

Dataset of accurate movements obtained with swing trainer

Goal: Feedback on the quality of movement (FW)

Quality measure: linear projection of features space that changes while wrist rotation angle varies (deviation from target line)

n/a

Second Skin

(Miaw and Raskar, 2010)

Sports training/dance practice

No evaluation

Optical 3D tracking system (extension of Prakash to 3D): infrared projectors to track infrared photodetectors (no cameras) worn by the user

User motion tracking is analyzed against a reference (i.e., recorded movements of an expert)

Teacher performs the correct motions (reference angles)

Limbs angles to determine error (more tolerant for users with different builds and body structures)

Goal: aid in the correction of the movement and position errors

Tells how to adjust in order to correct motion

Threshold from correct movement to trigger feedback

FW: physically guiding the movement in activities with little time to consciously react to a skin stimuli (e.g., golf swing)

Vibrotactil feedback through tactile actuators (tactors)

2 modes: beginners (waits till the learner gets the correct position) and advanced (expect that are mostly performing correct motions at actual speed) learners

–

(James et al., 2011)

Swimming

no evaluation

Wearable sensors (inertial sensors for swimming biomechanics: accelerometer and gyroscope) + video

Attached to wrist and ankle

Features: strokes, wall push-offs, turns and lap times

Algorithms developed using hand-timed data and underwater video as benchmarks

Goal: quantify performance and identify potential harm (multiple devices/ multiple users)

Poolside interventions and long term developmental planning

Visualization of raw and processed data (video and graphics)

M3-trainer

(Rauter et al., 2011)

Rowing

no evaluation

Sensors in the rowing simulator + optelectrical motion tracking system

"Perfect" reference data (measurements of physiological and biomechanical variables on professional rowers)

Quantifies errors: error classification in real-time by an algorithm for online data analysis (FFT, PCA, SVM).

Subject's profile (errors & feedback given) + individual skills & perceptual abilities

Goal: challenge subjects within their abilities to maximize the overall performance

Select feedback to address the most important movement errors

Choose feedback modality and strategy based on the rowing error recognized

Augmented feedback: auditory (loud speakers), visual (screen projections) and haptic cues (tendon-based parallel robot) [note that details are not provided]

FW: feedback modality and strategy adapted to individual maximal capability and individual perception (actual performance)

MusicJacket

(Van der Linden et al., 2011)

violin

6 (beginners) and 4 (advanced) learners

Inertial motion capture sensors (accelerometers, gyroscope and magnetometer)

System can be configured to the body size of each user

3D position using a hierarchical skeleton model (movements and posture during bowing)

Goal: improve technique and awareness of execution

Defines a reference bow stroke (target path) to provide feedback appropriate to each player (build, way to hold the violin, teacher pedagogy). Obtained though calibration with teacher

Vibration motors in arms and torso (when away from target path)

Beginners required teachers' indications on how to move to stay in path.

Feedback differs with ability levels

–

(Dancu, 2012)

Clinical applications /instructional games

n/a

Kinect sensor (body tracking based on images)

Representation of hand movements executed + next ones to be performed

2D avatar wih OpenNI and OGRE

Whole movement divided into submovements

Goal: inform if the correct movement is performed

External focus of attention: submovement goal is hitting the visual marker (i.e., a red sphere)

Shows when hand is off course

Visual representations of trainer and learner avatar + audio when hitting the target (volume/frequency proportional to distance from correct path) + score in the screen

Airwriting

(Amma et al., 2014)

Handwriting

9 users

Wearable input system (motion/inertial sensors applying accelerometers and gyroscopes)

Attached to the back of the hand.

3D handwriting recognition:

-SVM for segment identification

-HMM for segment recognition (text representation)

-statistical language model

n/a

n/a

–

(Kikukawa et al., 2014)

Erhu bows strokes

8 subjects (novice)

Motion tracking sensor (magnetic position sensor) on the instrument

Bow strokes (motions, speed, accelerations, angles)

Gesture recognition (accurate movements are described by an expert)

FW: finger positions

Goal: make learner aware of bad finger positions to learn accurate gestures

-Feedback errors (bow strokes in a virtual 3D space) + colouring

-Score window (erroneous notes in musical scale)

–

(Iwasako et al., 2014)

Sign language

20 subjects

Motion capture system with data gloves

FW: position sensors (arm movements)

3D finger models rendered with a 3D modeller software

Rotation angles (FW: joint angles)

Error is calculated based on similarity

FW: influence of differences among learners (e.g., size of hand)

Goal: allow learners to recognize errors

Overlaying skilled person's 3D models with learner's 3D models of hands and fingers

FW: only learner model emphasizing wrong points

MuscleMemory

(Oakes et al., 2015)

Gym training (squats)

14 (8+6) athletes + coachers

Wearable knee sleeve (bend sensor with Arduino + push button to calibrate depth target).

Sensor vertically placed on the posterior knee

FW: accelerometer

Squats movement according to guidelines

Physical cues (depth was selected because it cannot be checked without a mirror): knee angle

FW: form overall (other factors: knees out, chest up…)

Goal: maximize exercise and avoid injury (in group settings)

Interviews (contextual inquiry) + video recordings (while performing squats thinking aloud)

Green light when desired squats' depth is achieved

The push buttons allows individualized training (define target where user is physically capable)

Wearable ambient display (visually displays squat depth with a set of RGB LEDs)

Alternatives not selected: buzzer (vibro tactile) as it is noisy and distracting (in a group); unaware for coach

FW: mix visual and auditory cues, not make user look down
1.

Sensing the learner's corporal movement as specific skills are acquired, and the context in which this movement takes place.

 

2.

Modelling the interactions to allow comparing the learner movement against the accurate movement (e.g., how an expert would carry the movement out).

 

3.

Designing the feedback to be provided (i.e., what kind of support, and when and how to provide it).

 

4.

Delivering the feedback in an effective non-intrusive way to advice the learner on how the body and limbs should move to achieve the motor learning goal.

 
In addition, each system compiled in Table 1 includes in the first column its name (when available), the bibliographical reference that has been analysed, the learning activity involved and the number of participants who took part in the evaluation of the system (when reported). In the analysis carried out, personalization issues (when implemented) have been identified and highlighted in Table 1 with bold face to facilitate its identification, as those are the relevant parts where AIED research can make relevant contributions. Works have been ordered chronologically (from oldest to most recent).
The review compiled in Table 1 shows diverse systems aimed to support motor skills learning. Following Magill's classification (1993) in terms of precision most of the activities imply gross motor skills, although there are also examples of fine motor skills (e.g., hand writing, playing a musical instrument), beginning and end points of the movement are arbitrary (continuous motor skills) except for (Oakes et al. 2015; Lieberman and Breazeal 2007) and the stability of the environment involves changes in the response of the participant from one execution to the next one (except for sign language or handwriting), some stationary (playing a musical instrument) and others in motion (practicing a sport or martial art technique).
Many of these systems are intended for a diverse range of activities (Lieberman and Breazeal 2007; Miaw and Raskar 2010; Dancu 2012), although studies are usually carried out in a specific one. When user studies are carried out (in 12 of the 17 systems analysed), they are usually done so with a limited number of participants, and with the goal to show that the system functions as expected. Some aspects of the users experience are also analysed, such as whether users have positive views of the system (Takahata et al. 2004; Iwasako et al. 2014; Kikukawaa et al. 2014), whether they improve their performance while using the system (Kwon and Gross 2005; van der Linden et al. 2011; Ghasemzadeh et al. 2009; Portillo-Rodriguez et al. 2008), or how users respond to different feedback alternatives (Dancu 2012; Lieberman and Breazeal 2007). In another vein, most of the learning environments reviewed here address novice users. However, some works suggests that motor skills acquisition is also relevant, and even more appropriate, for advanced users (Spelmezan and Borchers 2008). Advanced users have different needs (Van der Linden et al. 2011) and/or behaviours (e.g., expert users are more consistent with the movement and the action is more controlled) (Ahmadi et al. 2006). In fact, as users might evolve from novice to experts with training, the system should also personalized its support and provide it accordingly (Takahata et al. 2004; Miaw and Raskar 2010; Van der Linden et al. 2011).
Next, the 17 systems analysed are discussed in relation to the four aspects considered in the review.
Challenges and Opportunities to Personalize Motor Skills Learning in AIED Systems
As reported in the previous sections, systems aimed to support learners in motor skills acquisition have been developed outside the AIED community. Thus, it is not surprising that their personalization support is very limited. From all the systems reviewed in Table 1, those that describe higher personalization capabilities are M3-trainer (Rauter et al. 2011) and the MusicJacket (Van der Linden et al. 2011). Anyway, from the analysis of those 17 systems, some personalization opportunities for AIED research have been identified in Table 1 (and have been bolded there to facilitate its identification). The main personalization issues identified are the following: 1) take into account the specific capabilities of each learner (Oakes et al. 2015; Bloomfield and Badler 2008; Rauter et al. 2011; Takahata et al. 2004; Kwon and Gross 2005) and/or physical features (Iwasako et al. 2014; Van der Linden et al. 2011; Lieberman and Breazeal 2007; Miaw and Raskar 2010; Spelmezan and Borchers 2008; Portillo-Rodriguez et al. 2008), and 2) select the delivery of feedback depending on the learner's preferences and/or context (Bloomfield and Badler 2008; Rauter et al. 2011; Van der Linden et al. 2011), or level of ability (Takahata et al. 2004; Miaw and Raskar 2010).
Therefore, there are challenges and opportunities for AIED researchers to build procedural learning ecosystems that personalize motor skills learning. As compiled in Table
2
, AIED directions can be classified into: 1) modelling and representing the movements of the learner by building a learner psychomotor interaction model as well as an accurate movement model, and 2) providing the appropriate personalized psychomotor support in the most effective way for each learner in each training context. Regarding the first direction (i.e., modelling psycho-motor interaction), several AIED issues have to be addressed: i) to detect the physical interaction carried out by the learners by collecting data of their movements; ii) to model the accurate movements to be trained, which are those performed by experts; and iii) to diagnose the mismatch between the movements carried out by the learner and the expert's way. Regarding the second direction (i.e., providing appropriate personalized psychomotor support), the issues involved are: iv) to model the intervention to be applied; v) to decide the intervention strategy to provide (e.g., showing performance, guiding, etc.), and when to apply it; and vi) to deliver the personalized intervention.
Table 2
AIED directions, research issues and challenges and opportunities, as well as novel approaches to be considered (interactive technologies and design methodologies)
AIED directions

AIED research issues

Challenges & Opportunities for AIED

Novel Approaches

Modelling psychomotor interaction

Detect learner physical interaction

Sensing the movement performed by the learner

Wearable devices

Big data processing

Model accurate movements to be trained (expert)

Modelling to allow comparing learner and expert movements

3D modelling

Diagnose mismatch between movements (learner vs. expert)

 

Providing personalized psychomotor support

Model the intervention

Designing the required support to give (when, what, how)

TORMES methodology

Decide the intervention strategy, and when to apply it

Deliver the personalized intervention

Delivering the personalized support (e.g., augmented sensorial feedback including vibrotactile, haptic guidance)

Ambient intelligence

3D printing (and also 4D)
Each of these issues poses several challenges and opportunities for AIED research in terms of representation and interaction issues, which might be addressed by applying novel interactive technologies such as wearable devices, big data processing, 3D modelling, 3D printing, ambient intelligence, as well as holistic design approaches such as TORMES methodology. These are compiled in Table 2 and discussed next.
Conclusions
There exist many and diverse types of activities (e.g., playing a musical instrument, handwriting, drawing, training for surgery, improving the technique in sports and martial arts, learning sign language, dancing, etc.) that require long-term physical training to learn how to perform the movements in the most efficient way. The training process is based on the learning-by-doing approach and involves correcting the learner's movements till her optimal movements (considering the own learner's corporal features, specific physical abilities, performance to date as well as the particularities of the motor skills to be learnt) is achieved. Defining the accurate movement and when and how to provide the physical support is not trivial at all, but is indeed a modelling challenge for AIED.
No specific work on motor skills learning has been found in the review of IJAIED papers reported here (although some signs of their potential interest have been detected and commented upon in this paper). In turn, outside the AIED community, diverse learning environments for motor skills learning have been developed, but have almost no personalization features, which are clearly specific of AIED systems. This shows a gap in AIED research that can become an opportunity thanks to emerging novel interaction technologies and design methodologies.
In fact, the review of IJAIED papers has shown that AIED research has historically reflected the technology of the times (Schank and Edelson (1989/1990); Eggert (1990)). Following this, I concur that AIED systems should take advantage of those technological advances that can make the field progress, although there is a need to carefully analyse the best way to apply them. At this point in time, my vision for the future of the AIED field in the psychomotor learning domain is that the synergy of artificial intelligence techniques with novel interaction technologies such as quantified-self wearable devices from the "Internet of Me", 3D modelling and 3D printing, big data streams processing on the fly and ambient intelligence sensorial support, among others, can breathe new life into the AIED research and open new opportunities for building procedural AIED ecosystem of standard-based interactive learning tools that can personalize motor skills learning by providing intelligent real-time feedback to scaffold learning in the psychomotor domain. Moreover, design methodologies such as TORMES can guide the elicitation of appropriate psychomotor interventions supported by models of expert and learner behaviour to underpin this personalization effort.
The selection and reporting of research and technologies in this paper does not aim to be exhaustive, but to suggest some technological directions to be explored by the AIED research community in the coming years. In particular, the work reported here suggests that there exists a technological context that can support the AIED research in developing systems that sense the learner's corporal behaviour as she learns specific skilled movements and when needed, provide the appropriate support aimed to make the learner acquire new motor skills (or refine existing skills) aided by developing a muscle memory experience along the way. This requires novel forms of expert as well as learner modelling, novel forms of personalized support suitable for each learner in each training context, etc., so this is indeed a potential new research frontier in AIED. There are four main issues to be addressed: i) sensing the movement performed by the learner, ii) modelling and comparing learners' and experts' movements, iii) designing the required support to give, and iv) delivering the personalized support. Interestingly, by putting motor skills learning in the AIED research agenda for the next years, the field is somehow also going back to its roots due to the need to revisit many of our fundamental and driving questions, but in the context of motor skills. Substantial evidence exists to suggest that important similarities exist between motor and cognitive learning (Bjork and Bjork 1992).
Given the enormous amount of resources spent every year on motor skills training throughout society, this research area might turn out to be extremely important, and thus, it can turn into a good opportunity for the AIED field. The added value of AIED is to provide the personalization support required to build procedural learning ecosystems that can individualize the learning of motor skills.
Footnotes
1.

A movement to incorporate technology into data acquisition on aspects of a person's daily life (i.e., self-knowledge through self-tracking with technology) (Wolf 2010).
Notes
Acknowledgments
The author would like to thank her colleagues of the aDeNu research group at UNED as well as the participants of the workshop "Les Contes du Marriage: Should AI stay married to ED?" that took place during the AIED 2015 conference held in Madrid (Spain), for all the valuable comments provided when the ideas that have been elaborated in this paper were initially discussed with them. In addition, she would like to thank the suggestions provided by the reviewers of this paper which definitely hit the target, as well as the extraordinary support provided by the guest editors of the Special Issue "The next 25 Years: How advanced, interactive educational technologies will change the world" where this paper is published, support that has been channelled through Chad Lane and Gord McCalla. And also very special thanks to Gord McCalla and Ben du Boulay who were really effective in handling her request of searching missing early papers published by IJAIED in the late eighties end early nineties about procedural learning that were not available in the online archival of IJAIED, and which served to provide the historical background of the AIED research in this topic.
Copyright information
© International Artificial Intelligence in Education Society 2016