Abstract
Active pharmaceutical ingredients represent a class of pollutants of emerging concern, and there is growing evidence that these pollutants can cause damage to the aquatic environment. As regulations to address these concerns are expected in developed nations, decision-makers are looking to the scientific community for potential solutions. To inform these regulatory efforts, further information on the potential strategies to reduce the levels of pharmaceuticals entering the aquatic environment is needed. End-of-pipe (i.e., wastewater treatment) technologies that can remove pharmaceuticals exist; however, they are costly to install and operate. Thus, the goal of this brief review is to look beyond end-of-pipe solutions and present various upstream mitigation strategies discussed within the scientific literature. Programs such as pharmaceutical take-back programs currently exist to attempt to reduce pharmaceutical concentrations in the environment, although access and coverage are often limited for many programs. Other potential strategies include redesigning pharmaceuticals to minimize aquatic toxicity, increasing the percent of the pharmaceuticals metabolized in the body, selecting less harmful pharmaceuticals for use, starting new prescriptions at lower dosages, selecting pharmaceuticals with lower excretion rates, and implementing source treatment such as urine separating toilets. Overall, this brief review presents a summary of the upstream preventative recommendations to mitigate pharmaceuticals from entering the aquatic environment with an emphasis on regulatory efforts in the USA and concludes with priorities for further research.
Access options
Buy single article
Instant access to the full article PDF.
USD 39.95
Price excludes VAT (USA)
Tax calculation will be finalised during checkout.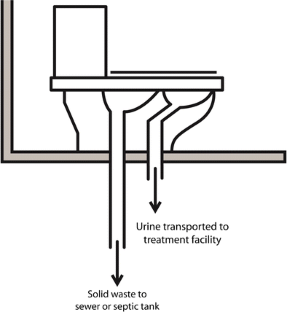 References
Papers of particular interest, published recently, have been highlighted as: •Of importance ••Of major importance
Zhong W, Maradit-Kremers H, St. Sauver JL, Yawn BP, Ebbert JO, Roger VL, et al. Age and sex patterns of drug prescribing in a defined American population. Mayo Clin Proc. 2013;88:697–707. doi:10.1016/j.mayocp.2013.04.021.

Phillips PJ, Smith SG, Kolpin DW, Zaugg SD, Buxton HT, Furlong ET, et al. Pharmaceutical formulation facilities as sources of opioids and other pharmaceuticals to wastewater treatment plant effluents. Environ Sci Technol. 2010;44:4910–6. doi:10.1021/es100356f.

Daughton CG. Cradle-to-cradle stewardship of drugs for minimizing their environmental disposition while promoting human health. I. Rational for and avenues toward a green pharmacy. Environ Health Perspect. 2003;111:757–74. doi:10.1289/ehp.5948.

Verlicchi P, Al Aukidy M, Zambello E. Occurrence of pharmaceutical compounds in urban wastewater: removal, mass load and environmental risk after a secondary treatment—a review. Sci Total Environ. 2012;429:123–55. doi:10.1016/j.scitotenv.2012.04.028.

Masoner JR, Kolpin DW, Furlong ET, Cozzarelli IM, Gray JL. Landfill leachate as a mirror of today's disposable society: pharmaceuticals and other contaminants of emerging concern in final leachate from landfills in the conterminous United States. Environ Toxicol Chem. 2015. doi:10.1002/etc.3219.

Kolpin DW, Furlong ET, Meyer MT, Thurman EM, Zaugg SD, Barber LB, et al. Pharmaceuticals, hormones, and other organic wastewater contaminants in U.S. streams, 1999–2000: a national reconnaissance. Environ Sci Technol. 2002;36:1202–11. doi:10.1021/es011055j.

Christensen AM, Markussen B, Baun A, Halling-Sørensen B. Probabilistic environmental risk characterization of pharmaceuticals in sewage treatment plant discharges. Chemosphere. 2009;77:351–8. doi:10.1016/j.chemosphere.2009.07.018.

Blair BD, Crago JP, Hedman CJ, Klaper RD. Pharmaceuticals and personal care products found in the Great Lakes above concentrations of environmental concern. Chemosphere. 2013;93:2116–23. doi:10.1016/j.chemosphere.2013.07.057.

Deo RP. Pharmaceuticals in the surface water of the USA: a review. Curr Environ Heal Reports. 2014;1:113–22. doi:10.1007/s40572-014-0015-y. The report reviewed the levels and risk quotients for 93 pharmaceuticals that have been reported in US surface waters.

Niemuth NJ, Klaper RD. Emerging wastewater contaminant metformin causes intersex and reduced fecundity in fish. Chemosphere. 2015;135:38–45. doi:10.1016/j.chemosphere.2015.03.060. This study reported environmentally relevant concentrations of the antidiabetic metformin causes the development of intersex gonads of male and reduced fecundity of pairs of fathead minnows.

Kidd KA, Blanchfield PJ, Mills KH, Palace VP, Evans RE, Lazorchak JM, et al. Collapse of a fish population after exposure to a synthetic estrogen. Proc Natl Acad Sci U S A. 2007;104:8897–901. doi:10.1073/pnas.0609568104.

Tahrani L, Soufi L, Mehri I, Najjari A, Hassan A, Van Loco J, et al. Isolation and characterization of antibiotic-resistant bacteria from pharmaceutical industrial wastewaters. Microb Pathog. 2015;89:54–61. doi:10.1016/j.micpath.2015.09.001.

Meena VD, Dotaniya ML, Saha JK, Patra AK. Antibiotics and antibiotic resistant bacteria in wastewater : impact on environment, soil microbial activity and human health. African J Microbiol Res. 2015;9.

Brodin T, Fick J, Jonsson M, Klaminder J. Dilute concentrations of a psychiatric drug alter behavior of fish from natural populations. Science. 2013;339:814–5. doi:10.1126/science.1226850.

Sumpter J. Pharmaceuticals in the environment: moving from a problem to a solution. In: Green Sustain. Pharmcacy. Klaus Kümmerer, Maximilian Hempel, 2010. pp. 11–22.

Bull RJ, Crook J, Whittaker M, Cotruvo JA. Therapeutic dose as the point of departure in assessing potential health hazards from drugs in drinking water and recycled municipal wastewater. Regul Toxicol Pharmacol. 2011;60:1–19. doi:10.1016/j.yrtph.2009.12.010.

Oulton RL, Kohn T, Cwiertny DM. Pharmaceuticals and personal care products in effluent matrices: a survey of transformation and removal during wastewater treatment and implications for wastewater management. J Environ Monit. 2010;12:1956–78. doi:10.1039/c0em00068j.

Blair BD, Crago JP, Hedman CJ, Treguer RJF, Magruder C, Royer LS, et al. Science of the total environment evaluation of a model for the removal of pharmaceuticals, personal care products, and hormones from wastewater. Sci Total Environ. 2013;444:515–21. doi:10.1016/j.scitotenv.2012.11.103.

Blair BD, Kehl J, Klaper R. Assessing emerging wastewater regulations to minimize the risk from pharmaceuticals and personal care products. Manag Environ Qual An Int J. 2015;26:966–83. doi:10.1108/MEQ-12-2014-0171.

Molinos-Senante M, Hernández-Sancho F, Sala-Garrido R. Economic feasibility study for wastewater treatment: a cost-benefit analysis. Sci Total Environ. 2010;408:4396–402. doi:10.1016/j.scitotenv.2010.07.014.

Daughton CG, Ruhoy IS. Green pharmacy and pharmEcovigilance: prescribing and the planet. Expert Rev Clin Pharmacol. 2011;4:211–32. doi:10.1586/ecp.11.6. Introduces eco-directed sustainable prescribing, which could reduce pharmaceutical entry to the environment by minimizing the need for disposal and reducing the excretion of unmetabolized pharmaceutical.

Sorell TL. Approaches to the development of human health toxicity values for active pharmaceutical ingredients in the environment. AAPS J. 2016;18:92–101. doi:10.1208/s12248-015-9818-5.

Molinos-Senante M, Hernández-Sancho F, Sala-Garrido R. Economic feasibility study for new technological alternatives in wastewater treatment processes: a review. Water Sci Technol. 2012;65:898. doi:10.2166/wst.2012.936.

Rudd MA, Ankley GT, Boxall ABA, Brooks BW. International scientists' priorities for research on pharmaceutical and personal care products in the environment. Integr Environ Assess Manag. 2014;10:576–87. doi:10.1002/ieam.1551.

Eckstein G. Emerging EPA regulation of pharmaceuticals in the environment. Environ Law Rep. 2012;42:11105–8.

Boxall ABA, Rudd MA, Brooks BW, Caldwell DJ, Choi K, Hickmann S, et al. Pharmaceuticals and personal care products in the environment: what are the big questions? Environ Health Perspect. 2012;120:1221–9. doi:10.1016/j.envint.2013.06.012.

Kümmerer K, Dionysiou DD, Fatta-Kassinos D. Long-term strategies for tackling micropollutants. 2015; 1–9. doi:10.1007/698_2015_447.

U.S. Food and Drug Administration, Safe disposal of medicines—disposal of unused medicines: what you should know, (2015). http://www.fda.gov/Drugs/ResourcesForYou/Consumers/BuyingUsingMedicineSafely/EnsuringSafeUseofMedicine/SafeDisposalofMedicines/ucm186187.htm (accessed January 9, 2016).

Teske J, Weller J-P, Larsch K, Tröger HD, Karst M. Fatal outcome in a child after ingestion of a transdermal fentanyl patch. Int J Legal Med. 2007;121:147–51. doi:10.1007/s00414-006-0137-3.

Bound JP, Voulvoulis N. Household disposal of pharmaceuticals as a pathway for aquatic contamination in the United Kingdom. Environ Health Perspect. 2005;113:1705–11. doi:10.1289/ehp.8315.

Cook SM, Vanduinen BJ, Love NG, Skerlos SJ. Life cycle comparison of environmental emissions from three disposal options for unused pharmaceuticals. Environ Sci Technol. 2012;46:5535–41. doi:10.1021/es203987b.

Becker JA, Ortner PM, Tullai-McGuinness S. Don't rush to flush: safer pharmaceutical practices for hospice home care and home health nurses. Home Health Care Manag Pract. 2010;22:202–6. doi:10.1177/1084822309348696.

U.S. Center for Disease Control, Understanding the epidemic, prescription drug overdose, (2015). http://www.cdc.gov/drugoverdose/epidemic/index.html (accessed November 24, 2015).

Daughton CG. Eco-directed sustainable prescribing: feasibility for reducing water contamination by drugs. Sci Total Environ. 2014;493:392–404. doi:10.1016/j.scitotenv.2014.06.013.

Carballa M, Omil F, Lema JM. Comparison of predicted and measured concentrations of selected pharmaceuticals, fragrances and hormones in Spanish sewage. Chemosphere. 2008;72:1118–23. doi:10.1016/j.chemosphere.2008.04.034.

Graham GG, Punt J, Arora M, Day RO, Doogue MP, Duong JK, et al. Clin Pharmacokinetics Metf ormin. 2011;50:81–98.

Wisconsin Department of Natural Resource, Pharmaceuticals and personal care products in the environment, (2016). http://dnr.wi.gov/topic/healthwaste/pharm.html (accessed January 17, 2016).

Corominas L, Foley J, Guest JS, Hospido A, Larsen HF, Morera S, et al. Life cycle assessment applied to wastewater treatment: state of the art. Water Res. 2013;47:5480–92. doi:10.1016/j.watres.2013.06.049.

U.S. Drug Enforcement Administration, 21 CFR Parts 1300, 1301, 1304, et al. Disposal of controlled substances, 2014.

Supreme Court of the United States, Pharmaceutical Research and Manufacturers of America, et al., Petitioners v. County of Alameda, California, et al., (2014). http://www.supremecourt.gov/search.aspx?filename=/docketfiles/14-751.htm (accessed December 7, 2015).

Glassmeyer ST, Hinchey EK, Boehme SE, Daughton CG, Ruhoy IS, Conerly O, et al. Disposal practices for unwanted residential medications in the United States. Environ Int. 2009;35:566–72. doi:10.1016/j.envint.2008.10.007.

Barlas S. Take-back programs opportunities for congress, liabilities for pharmacies. Pharmacol Ther. 2009;34:404.

Doerr-MacEwen NA, Haight ME. Expert stakeholders' views on the management of human pharmaceuticals in the environment. Environ Manag. 2006;38:853–66. doi:10.1007/s00267-005-0306-z.

Kotchen M, Kallaos J, Wheeler K, Wong C, Zahller M. Pharmaceuticals in wastewater: behavior, preferences, and willingness to pay for a disposal program. J Environ Manag. 2009;90:1476–82. doi:10.1016/j.jenvman.2008.10.002.

State Prescription Drug Return, Reuse and Recycling Laws -NCSL, (2015). http://www.ncsl.org/research/health/state-prescription-drug-return-reuse-and-recycling.aspx (accessed November 29, 2015).

Gibson K. Pharmaceuticals and personal care products (PPCPs): disposal, scientific, and regulatory challenges. Environ Qual Manag. 2010;20:39–48. doi:10.1002/tqem.20270.

D.B. Stoddard, K. I., & Huggett, No Title, in: D.B.H. Bryan W. Brooks (Ed.), Hum Pharm Environ. Springer, New York, 2012: pp. 257–285.

U.S. Food and Drug Administration. How to dispose of unused medicines. 2009; 1–2.

Khetan SK, Collins TJ. Human pharmaceuticals in the aquatic environment: a challenge to green chemistry. Chem Rev. 2007;107:2319–64. doi:10.1021/cr020441w.

Lubick N. Opening the "green pharmacy". Environ Sci Technol. 2008;42:8620–1. doi:10.1021/es802555w.

Rastogi T, Leder C, Kümmerer K. Re-designing of existing pharmaceuticals for environmental biodegradability: a tiered approach with β-blocker propranolol as an example. Environ Sci Technol. 2015; 150908080052000. doi:10.1021/acs.est.5b03051. This study is a recent example of developing a green pharmaceutical by redesigning propranolol to have increased biodegradability.

Blair B, Nikolaus A, Hedman C, Klaper R, Grundl T. Evaluating the degradation, sorption, and negative mass balances of pharmaceuticals and personal care products during wastewater treatment. Chemosphere. 2015;134:395–401. doi:10.1016/j.chemosphere.2015.04.078.

Kawabata K, Sugihara K, Sanoh S, Kitamura S, Ohta S. Photodegradation of pharmaceuticals in the aquatic environment by sunlight and UV-A, -B and -C irradiation. J Toxicol Sci. 2013;38:215–23. doi:10.2131/jts.38.215.

Adams C, Brantner V. Estimating the cost of new drug development: is it really $802 million? Health Aff. 2006;25:420–8. doi:10.1377/hlthaff.25.2.420.

Daughton CG, Ruhoy IS. Lower-dose prescribing: minimizing "side effects" of pharmaceuticals on society and the environment. Sci Total Environ. 2013;443:324–37. doi:10.1016/j.scitotenv.2012.10.092.

Dohle S, Campbell VEA, Arvai JL. Consumer-perceived risks and choices about pharmaceuticals in the environment: a cross-sectional study. Environ Health. 2013;12:45. doi:10.1186/1476-069X-12-45.

Lamichhane K, Babcock R. An economic appraisal of using source separation of human urine to contain and treat endocrine disrupters in the USA. J Environ Monit. 2012;14:2557. doi:10.1039/c2em30254c.

Borsuk ME, Maurer M, Lienert J, Larsen TA. Charting a path for innovative toilet technology using multicriteria decision analysis. Environ Sci Technol. 2008;42:1855–62. doi:10.1021/es702184p.

Larsen TA, Alder AC, Eggen RIL, Maurer M, Lienert J. Source separation: will we see a paradigm shift in wastewater handling? Environ Sci Technol. 2009;43:6121–5. doi:10.1021/es803001r.

Escher BI, Pronk W, Suter MJF, Maurer M. Monitoring the removal efficiency of pharmaceuticals and hormones in different treatment processes of source-separated urine with bioassays. Environ Sci Technol. 2006;40:5095–101. doi:10.1021/es060598w.

Lienert J, Güdel K, Escher BI. Screening method for ecotoxicological hazard assessment of 42 pharmaceuticals considering human metabolism and excretory routes. Environ Sci Technol. 2007;41:4471–8. doi:10.1021/es0627693.

Brack W, Altenburger R, Schüürmann G, Krauss M, López Herráez D, van Gils J, et al. The SOLUTIONS project: challenges and responses for present and future emerging pollutants in land and water resources management. Sci Total Environ. 2015;503–504:22–31. doi:10.1016/j.scitotenv.2014.05.143.

Leung HW, Jin L, Wei S, Tsui MMP, Zhou B, Jiao L, et al. Pharmaceuticals in tap water: human health risk assessment and proposed monitoring framework in China. Environ Health Perspect. 2013;121:839–46. doi:10.1289/ehp.1206244.

Verlicchi P, Galletti A, Petrovic M, Barceló D. Hospital effluents as a source of emerging pollutants: an overview of micropollutants and sustainable treatment options. J Hydrol. 2010;389:416–28. doi:10.1016/j.jhydrol.2010.06.005.

Herrmann M, Olsson O, Fiehn R, Herrel M, Kümmerer K. The significance of different health institutions and their respective contributions of active pharmaceutical ingredients to wastewater. Environ Int. 2015;85:61–76. doi:10.1016/j.envint.2015.07.020.

Verlicchi P, Al Aukidy M, Zambello E. What have we learned from worldwide experiences on the management and treatment of hospital effluent?—an overview and a discussion on perspectives. Sci Total Environ. 2015;514:467–91. doi:10.1016/j.scitotenv.2015.02.020.

Metz F, Ingold K. Sustainable wastewater management: is it possible to regulate micropollution in the future by learning from the past? A policy analysis. Sustain. 2014;6:1992–2012. doi:10.3390/su6041992.
Ethics declarations
Conflict of Interest
Benjamin D. Blair declares that he has no conflict of interest.
Human and Animal Rights and Informed Consent
This article does not contain any studies with human or animal subjects performed by the author.
Additional information
This article is part of the Topical Collection on Water and Health
About this article
Cite this article
Blair, B.D. Potential Upstream Strategies for the Mitigation of Pharmaceuticals in the Aquatic Environment: a Brief Review. Curr Envir Health Rpt 3, 153–160 (2016). https://doi.org/10.1007/s40572-016-0088-x
Published:

Issue Date:

DOI: https://doi.org/10.1007/s40572-016-0088-x
Keywords
Pharmaceuticals

Take-back

Green pharmaceuticals

Management

Regulation