From demand response to transactive energy: state of the art
Open Access
Special Section on Managing Electricity Demand
Abstract
This paper reviews the state of the art of research and industry practice on demand response and the new methodology of transactive energy. Demand response programs incentivize consumers to align their demand with power supply conditions, enhancing power system reliability and economic operation. The design of demand response programs, performance of pilot projects and programs, consumer behaviors, and barriers are discussed. Transactive energy is a variant and a generalized form of demand response in that it manages both the supply and demand sides. It is intended for a changing environment with an increasing number of distributed resources and intelligent devices. It utilizes the flexibility of various generation/load resources to maintain a dynamic balance of supply and demand. These distributed resources are controlled by their owners. However, the design of transaction mechanisms should align the individual behaviors with the interests of the entire system. Transactive energy features real-time, autonomous, and decentralized decision making. The transition from demand response to transactive energy is also discussed.
Keywords
Demand response 
Incentive-based program 
Price-based program 
Direct load control 
Transactive energy 
1

Introduction
1.1

What is demand response

Demand response is defined by the U.S. Federal Energy Regulatory Commission as follows [1].

Changes in electric usage by end-use customers from their normal consumption patterns in response to changes in the price of electricity over time, or to incentive payments designed to induce lower electricity use at times of high wholesale market prices or when system reliability is jeopardized.

Demand response contributes to the economy and reliability of a power system. From an economic point of view, demand response can shift energy use from high-cost to low-cost periods, thus reducing the costs of generation. From a power system reliability point of view, demand response can help maintain the system frequency and supply-demand balance.

Demand response programs can be categorized into incentive-based and price-based programs. They differ in what drives customers to change their consumption behaviors, i.e., incentive payments or time-varying prices. Incentive-based programs take a variety of forms. A popular form is direct load control (DLC), in which customers receive incentives and allow power companies to control some of their loads at certain times. Incentive-based programs were initially implemented in 1968 [2], when Detroit Edison, a power utility, implemented a DLC program. Price-based programs expose customers to prices that vary within 24 hours a day. They gain popularity as a result of installation of the smart meter technology [3]. Traditional meters accumulate energy usage over time, and customers are billed typically on a monthly basis. In contrast, smart meters can record energy usage on a more frequent basis, e.g., every 10 minutes, making time-varying pricing tariffs feasible.
1.2

What is transactive energy

Since the first demand response program was implemented, power systems have become much more complex. Distributed resources increasingly penetrate the grid, and generation has become more variable [4]. Also, intelligent devices such as smart thermostats are more accessible [5]. According to [5], networks of smart devices take complexity to "a scale where we cannot manage things centrally." Furthermore, these new resources are mostly controlled by end users. It is a challenging task to monitor and manage these devices in real time. Traditional demand response programs have to adapt in the new environment.

Transactive energy is associated with "democratization of electricity", "eBay of electricity", and "internet of things" [6]. According to GridWise Architecture Council, transactive energy is "a set of economic and control mechanisms that allow the dynamic balance of supply and demand across the entire electrical infrastructure using value as a key operational parameter" [7]. The term "value" here basically equates to prices.

Under the framework of transactive energy, distributed flexible resources are directly controlled by their owners. Transaction mechanisms are designed to align individual behaviors with the system's interests. Similar to existing demand response programs, transactive energy is concerned with creating incentives to ensure all resources are generating/consuming electricity in a system friendly manner. However, transactive energy extends the concept of demand response to both the supply side and demand side, and aims to balance supply and demand in a real-time, autonomous, and decentralized manner.
1.3

Comparison

An example is given to illustrate existing demand response programs and potential transactive energy programs. Consider a scenario with a photovoltaic (PV) and some flexible loads. Due to forecasting errors, PV generation is lower than expected. To re-balance power supply and demand, different methods will be used in transactive energy programs and conventional demand response programs.

In a price-based program, the market will temporarily raise electricity prices, expecting that consumers will reduce their load.

In a DLC program, the control center managing the area will remotely control and curtail some load.

In a transactive energy pilot in the U.S. Pacific Northwest, all flexible loads are represented by one agent [8, 9]. The load balancing authority is represented by another agent. The balancing authority agent negotiates with the load agent, requesting it to lower consumption.

In an extended form of transactive energy scheme, the PV will negotiate with the flexible loads. The PV will "buy" from the flexible loads the difference between its forecasted generation and actual generation. Table 

1

compares the above schemes from three aspects.

Table 1

Comparison of demand response and transactive energy
| Programs | Decentralized | Autonomous | Automated |
| --- | --- | --- | --- |
| Time-varying pricing | No | Yes | No |
| DLC | No | No | Yes |
| Northwest Pacific transactive energy pilot | Yes | Yes | No |
| Envisioned transactive energy | Yes | Yes | Yes |
Section 2 and Section 3 will review the industry practice and research on demand response. Section 4 gives an overview of transactive energy, including its features, applications, and concerns.
2

Demand response: industry practice
2.1

Classifications of demand response programs

In incentive-based programs, users are offered monetary incentives and agree to reduce load to help maintain system reliability or to avoid high generation costs. DLC, interruptible load, and load as a capacity resource are common incentive-based programs [1].

In a DLC program, a power company is allowed to remotely control participants' appliances such as heating, ventilating, and air conditioning (HVAC), water heaters, or pool pumps. For example, HVAC can be controlled to be cycled on and off via a switch on the compressor, or by adjusting room temperature set points via a smart thermostat.

In an interruptible load program, participants are subject to load interruption during system contingencies.

In a program where load serves as a capacity resource, participants commit to load reduction by pre-specified levels when system contingencies arise.

Price-based demand response provides time-varying price signals to induce consumers to reduce energy usage during high-price hours. According to [1, 3, 10, 11], time-varying tariffs typically include time-of-use (TOU) tariffs, critical peak pricing (CPP) tariffs, critical peak rebate (CPR) tariffs, and real time pricing (RTP) tariffs.

TOU is a tariff where electricity prices vary by time periods, each period being a block of hours. A 24-hour day is typically divided into peak hours and off-peak hours. In summer, for example, peak hours can include 6 hours in weekday afternoons, whereas off-peak hours include all other hours in the week. Prices are pre-determined at the beginning of a tariff cycle and kept constant until the end of the cycle (e.g., a season).

CPP is similar to a TOU, except that power companies are entitled to call critical events during a time period of high wholesale market prices and/or system emergency conditions. A critical event lasts for a limited number of hours, within which electricity prices increase substantially to incentivize users to reduce energy usage. When critical events are called, the time and duration of the price increase can either be pre-determined or vary based on how much load needs to be reduced in the events.

CPR is analogous to CPP, except that during a critical event, electricity prices remain the same while a user is refunded for a pre-determined rebate. The billing factor is a user's usage reduction relative to what the power company's expectation.

RTP is a tariff where the retail prices track wholesale market prices. As a result, it typically fluctuates hourly or more often.

Electricity rates in time-varying tariffs reflect the time-varying energy costs. The following cost components should be included in these tariffs [

12

].
1)

Monthly fixed charge per customer to recover the costs that vary with the number of customers but do not vary with electricity usage.

 

2)

Distribution facility charge per kW of peak demand to recover the operation and maintenance costs of local distribution facilities.

 

3)

Location-specific and time-varying charge per kWh of energy usage to recover the marginal costs of electricity generation.

 
2.2

Findings of demand response pilots and programs
2.2.1

Overall performances and challenges

Starting from 2006, each year the U.S. Federal Energy Regulatory Commission publishes an

Assessment of Demand Response and Advanced Metering Staff Report

[

1

,

13

,

14

]. These reports document the latest progress of U.S. demand response programs, lessons learned, and trends. For example, one can find in these reports the peak load reduction by customer class in the U.S. In Fig. 

1

(source: 2012 Assessment of Demand Response and Advanced Metering Staff Report), the largest portion of peak load reduction is attributable to commercial & industrial customers and wholesale market participants. The growth of peak load reduction is mainly driven by those customers. Relatively, residential customers make a modest contribution to peak load reduction.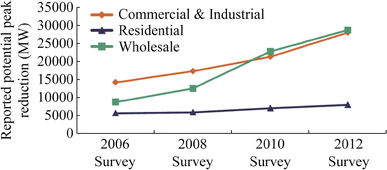 These reports also identified some barriers to demand response as follows.
1)

Customers have not been fully engaged. It is challenging to expect a large number of consumers to actively participate for monetary incentives. They need to be informed about the significance and opportunities of demand response.

 

2)

Uniform standards for demand response pricing and incentives have not been established. Incentives, prices, and information exchange protocols are typically designed on a company-specific basis.

 

3)

The measurement and cost-effectiveness of demand reductions continue to be an issue. It is crucial yet unsolved how to recover the costs of deploying demand response technologies and implementing programs.

 
2.2.2

Findings of price-based programs

Reference [15] reviewed 15 time-varying pricing pilots in the U.S. designed for households. It is found that the magnitude of peak load reduction depends on several factors, including the presence of central air conditioning, magnitude of the price increase, and availability of enabling technologies (such as programmable communicating thermostats). Across various pilots, TOU induces a peak demand reduction ranging from 3% to 6%. CPP achieves a peak demand reduction ranging from 13% to 20%.

The promises of price-based programs are as follows.

Enabling technologies are vital to the success of time-varying pricing. They free customers from manual response to price changes. According to [15], CPP with enabling technologies achieved a peak load reduction as high as 51% in the California's Advanced Demand Response System program. This reveals the great potential of CPP in alleviating the pressure of peak load on a power system.

However, some challenges also arise from this type of programs.
1)

The number of retail customers on price-based programs is limited. A possible reason is that retail customers' savings in electricity bill resulting from a change in consumption behavior are trivial relative to the efforts to make such changes [16]. Another possible reason is that most retail customers are risk-averse and are not in favor of price variations [17].

 

2)

Price-based programs may fail without technologies that enable automated response. According to [18], consumers, especially residential consumers, may not self-respond to prices in a meaningful manner. The largest TOU pricing pilot in the U.S. operated by Puget Sound Energy was discontinued. It turned out that a number of consumers had to pay more than they do under flat tariffs [5]. The lesson is that one can lose consumers' time and attention by asking them to manually self-adjust their usage behaviors.

 
2.2.3

Findings of incentive-based programs

As opposed to price-based program participants, participants in DLC are not expected to self-change consumption behaviors. Reference [19] surveyed a number of DLC programs. The recruitment incentives in the programs include free installation of enabling equipment, one-time payments, and/or a recurring annual payment. It is reported that an average peak load reduction between 0.8 and 1.5 kW is achievable per residential participant. Small commercial and industrial participants can reach an average reduction between 2 and 4 kW.

The promises of DLC programs include the following.

In a DLC program, a participant can receive incentive payments without additional efforts beyond enrollment. Therefore, peak load reduction can be more significant and controllable compared to time-varying pricing [20]. In a Federal Energy Regulatory Commission survey, DLC ranked first in total peak load reduction potential [1].

Some associated challenges are as follows.
1)

Based on the survey in [19], only 43% of customers expressed an interest in DLC while 74% of customers were interested in time-varying pricing. Recent pilots have shown that the inconvenience associated with the mandatory electricity interruption from DLC can lead to potential reluctance among consumers [17].

 

2)

Privacy and equity issues also arise from DLC programs. How can one convince customers that DLC will not jeopardize their privacy? Who should pay the incentives? How should program benefits be shared? These are important decisions for a successful DLC program.

 
3

Demand response: research

Research on time-varying pricing can be categorized into two types: how to characterize consumers' behaviors under a time-varying electricity tariff and how to design a time-varying tariff that fully exploits users' demand response potentials.

Models characterizing consumer behaviors fall into two categories: price elasticity and utility functions. The price elasticity of electricity demand, including own price elasticity and elasticity of substitution, is studied in [21, 22, 23, 24, 25, 26]. Own price elasticity refers to the percentage change in electricity demand in response to a percentage change in price of that same time period [27]. Elasticity of substitution refers to the elasticity of the ratio of demand in two different time periods with respect to the ratio of prices in those two time periods [27]. It indicates how easy it is for consumers to substitute demand in one period for another. The work of [28, 29, 30, 31, 32, 33] models consumer behaviors via utility functions, including quadratic function, logarithm function, and power function. Consumers are assumed to be rational and, therefore, determine their load patterns by maximizing utility.

Approaches for designing time-varying tariffs include deterministic programming [22], stochastic programming [21, 23], and game theory [28, 34]. A single-level optimization problem is formulated by both deterministic and stochastic programming approaches. The decision variables are prices, and consumers' elasticity is used to depict their responses to prices. The stochastic programming approach differs from the deterministic one in that the former captures uncertainties associated with consumer behaviors. Game-theory-based approaches feature a two-level optimization problem. In the upper level, a tariff designer, e.g., a power company, acts as a leader to set time-varying prices. In the lower level, consumers act as followers and behave to maximize their utility.

The above work does not rely on knowledge about specific load models. On the other hand, DLC programs allow power companies to access specific loads owned by consumers. This gives rise to another research direction, i.e., to develop demand response strategies for specific loads [35], such as HVAC loads, batteries, electric vehicles (EVs), data centers, and computer servers.

Among these flexible loads, HVAC draws most attention and is normally considered flexible for two reasons. First, minor temperature changes in customers' buildings may not adversely impact human comfort [36]. Then, heat can be stored in buildings because of building thermal insulation, which further enables buildings to "store" electricity. That is, buildings can be overheated or overcooled when electricity prices are low, so HVAC devices can be turned off when electricity prices go up. In the work of [20, 37, 38, 39], HVAC loads are scheduled to minimize consumer electricity bills. These studies capture the thermodynamics of buildings and temperature constraints set by consumers. It is shown that the HVAC control scheme has a dramatic effect on both system-wide peak load and consumer electricity bills.

A battery is another promising resource for demand response. Indeed, a battery can arbitrage using price differences among time periods. That is, a battery can be charged when prices are low and discharged when prices are high. References [40, 41] derive the charging/discharging schedules for batteries, taking into account changes in batteries' state of charge, charging/discharging rate limits, energy capacities, and impact of charging/discharging on battery life.

An EV, irrigation pump, or water heater can be responsive to price variations because they are deferrable loads. That is, they need to consume a certain amount of kWh energy within a certain time window, but it is flexible regarding how much kW load they need to consume at each instant. References [42, 43] deal with the design load schedules for such deferrable devices.
4

Transactive energy: overview
5

Conclusion

Although significant progress has been made in demand response, there are outstanding barriers to overcome to further its performance. In addition, the power grids are undergoing a transformative change that requires demand response to adapt. Transactive energy has been proposed as a promising solution that goes beyond demand response. It is expected to maintain the dynamic balance of supply and demand by enabling real-time, decentralized, automated, and autonomous transactions among distributed generation and load resources. In this emerging field, much research is needed. One can identify the value proposition of transactive energy, design the mechanics of how it should function, develop enabling platforms, and derive strategies for individual participants.
Notes
Acknowledgements
This work is sponsored by Department of Commerce, State of Washington, and US Department of Energy, USA, through the Transactive Campus Energy Systems project, in collaboration with Pacific Northwest National Lab and University of Washington.
Copyright information
© The Author(s) 2016
Open AccessThis article is distributed under the terms of the Creative Commons Attribution 4.0 International License (http://creativecommons.org/licenses/by/4.0/), which permits unrestricted use, distribution, and reproduction in any medium, provided you give appropriate credit to the original author(s) and the source, provide a link to the Creative Commons license, and indicate if changes were made.