Abstract
Interactions between tourism and social networks are among the most notable phenomena of recent times, generating new approaches, in terms of both analyses of and policies for tourism promotion. Public authorities have been forced to become involved in these new realities, adapting their promotion channels to tourists' new behaviour patterns and carefully cultivating interactions with them. It is becoming ever more important to create and transmit an image capable of stimulating high levels of engagement. This article analyses the role of one of the most booming social networks, Instagram, applied to the case of Berlin, a leading tourist city. All posts generated over the course of a year on the German capital's official Instagram account were encoded, and the characteristics of those that generated the most interaction with users in the form of likes and comments were analysed. Our study reveals that posts more directly intended as advertising generate more negative results, while there are differences between the elements capable of generating more likes and more comments, respectively: likes are more general in nature, while comments are more specifically linked to the Berlin brand. These findings suggest important conclusions for the more efficient development of strategies to promote interaction with users.
Access options
Buy single article
Instant access to the full article PDF.
US$ 39.95
Tax calculation will be finalised during checkout.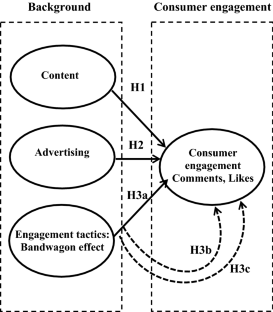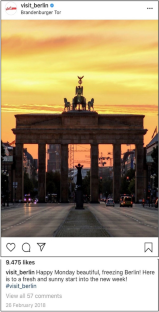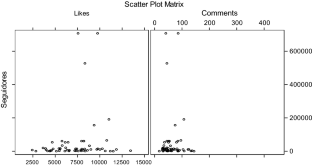 References
Acuti D, Mazzoli V, Donvito R, Chan P (2018) An Instagram content analysis for city branding in London and Florence. J Glob Fash Market 9(3):185–204. https://doi.org/10.1080/20932685.2018.1463859

Ahn J, Back KJ (2018) Antecedents and consequences of customer brand engagement in integrated resorts. Int J Hosp Manag 75:144–152. https://doi.org/10.1016/j.ijhm.2018.05.020

Algharabat R, Rana NP, Alalwan AA, Baabdullah A, Gupta A (2020) Investigating the antecedents of customer brand engagement and consumer-based brand equity in social media. J Retail Consum Serv. https://doi.org/10.1016/j.jretconser.2019.01.016

Alhabash S, Almutairi N, Lou C, Kim W (2019) Pathways to virality: psychophysiological responses preceding likes, shares, comments, and status updates on Facebook. Media Psychol 22(2):196–216. https://doi.org/10.1080/15213269.2017.1416296

Balomenou N, Garrod B (2014) Using volunteer-employed photography to inform tourism planning decisions: a study of St David's Peninsula, Wales. Tour Manag 44:126–139. https://doi.org/10.1016/j.tourman.2014.02.015

Balomenou N, Garrod B (2019) Photographs in tourism research: prejudice, power, performance and participant-generated images. Tour Manag 70:201–217. https://doi.org/10.1016/j.tourman.2018.08.014

Barbe D, Neuburger L, Pennington-Gray L (2020) Follow us on Instagram! Understanding the driving force behind following travel accounts on Instagram. E-Rev Tour Res 17(4):592–609. https://ertr-ojs-tamu.tdl.org/ertr/index.php/ertr/article/view/543 (Accessed 14 Sept 2021).

Bravo R, Catalán S, Pina JM (2019) Intergenerational differences in customer engagement behaviours: an analysis of social tourism websites. Int J Tour Res 22(2):182–191. https://doi.org/10.1002/jtr.2327

Brodie RJ, Ilic A, Juric B, Hollebeek L (2013) Consumer engagement in a virtual brand community: an exploratory analysis. J Bus Res 66:105–114. https://doi.org/10.1016/j.jbusres.2011.07.029

Buhalis D, Mamalakis E (2015) Social media return on investment and performance evaluation in the hotel industry context. In: Information and communication technologies in tourism 2015. Springer, Cham, pp 241–253

Capolupo N, Giampaola V, Piscopo G (2020) The 'Dark Power'of Instagram: prospects and threats for tourism organisations. Int J Islands Res 1(1):7. https://arrow.tudublin.ie/ijir/vol1/iss1/7 (Accessed 14 Sept 2021).

Carlson J, Rahman MM, Taylor A, Voola R (2019) Feel the VIBE: examining value-in-the-brand-page-experience and its impact on satisfaction and customer engagement behaviours in mobile social media. J Retail Consum Serv 46:149–162. https://doi.org/10.1016/j.jretconser.2017.10.002

Casaló LV, Flavián C, Ibáñez-Sánchez S (2020) Influencers on Instagram: antecedents and consequences of opinion leadership. J Bus Res 117:510–519

Chen R, Zhou Z, Zhan G, Zhou N (2020) The impact of destination brand authenticity and destination brand self-congruence on tourist loyalty: the mediating role of destination brand engagement. J Destin Mark Manag 15:100402. https://doi.org/10.1016/j.jdmm.2019.100402

Choi S, Lehto XY, Morrison AM (2007) Destination image representation on the web: content analysis of Macau travel related websites. Tour Manag 28(1):118–129. https://doi.org/10.1016/j.tourman.2006.03.002

de Rosa AS, Bocci E, Dryjanska L (2019) Social representations of the European capitals and destination e-branding via multi-channel web communication. J Destin Mark Manag 11:150–165. https://doi.org/10.1016/j.jdmm.2017.05.004

Dogra J, Kale SS (2020) Network analysis of destination management organization smart tourism ecosystem (STE) for e-branding and marketing of tourism destinations. in handbook of research on social media applications for the tourism and hospitality sector: 1–16. IGI Global. https://doi.org/10.4018/978-1-7998-1947-9.ch001

Erz A, Marder B, Osadchaya E (2018) Hashtags: motivational drivers, their use, and differences between influencers and followers. Comput Hum Behav 89:48–60

Femenia-Serra F, Gretzel U (2020) Influencer marketing for tourism destinations: lessons from a mature destination. In: Information and communication technologies in tourism. Springer, Cham, pp 65–78. https://doi.org/10.1007/978-3-030-36737-4_6

Fyall A, Garrod B (2019) Destination management: a perspective article. Tour Rev 75(1):165–169. https://doi.org/10.1108/TR-07-2019-0311

Gálvez-Rodríguez MM, Alonso-Cañadas J, Haro-de-Rosario A, Caba-Pérez C (2020) Exploring best practices for online engagement via Facebook with local destination management organisations (DMOs) in Europe: a longitudinal analysis. Tour Manag Perspect 34:100636. https://doi.org/10.1016/j.tmp.2020.100636

Ge J, Gretzel U (2018) Impact of humour on firm-initiated social media conversations. Inf Technol Tour 18(1):61–83. https://doi.org/10.1007/s40558-017-0097-0

Giglio S, Bertacchini F, Bilotta E, Pantano P (2019) Using social media to identify tourism attractiveness in six Italian cities. Tour Manag 72:306–312. https://doi.org/10.1016/j.tourman.2018.12.007

Gunn C (1972) Vacationscape: designing tourist regions. Taylor and Francis. ISBN 1-56032-520-8

Harrigan P, Evers U, Miles M, Daly T (2018) Customer engagement with tourism social media brands. Tour Manag 59:597–609. https://doi.org/10.1016/j.tourman.2016.09.015

Hays S, Page SJ, Buhalis D (2013) Social media as a destination marketing tool: its use by national tourism organisations. Curr Issue Tour 16(3):211–239. https://doi.org/10.1080/13683500.2012.662215

Helme-Guizon A, Magnoni F (2019) Consumer brand engagement and its social side on brand-hosted social media: how do they contribute to brand loyalty? J Mark Manag 35(7–8):716–741. https://doi.org/10.1080/0267257X.2019.1599990

Hollebeek LD (2019) Developing business customer engagement through social media engagement-platforms: an integrative SD logic/RBV-informed model. Ind Mark Manag 81:89–98. https://doi.org/10.1016/j.indmarman.2017.11.016

Hollebeek LD, Srivastava RK, Chen T (2019) SD logic–informed customer engagement: integrative framework, revised fundamental propositions, and application to CRM. J Acad Mark Sci 47(1):161–185. https://doi.org/10.1007/s11747-016-0494-5

Hsiao SH, Wang YY, Wang T, Kao TW (2020) How social media shapes the fashion industry: the spillover effects between private labels and national brands. Ind Mark Manag 86:40–51. https://doi.org/10.1016/j.indmarman.2019.02.022

Huerta-Álvarez R, Cambra-Fierro JJ, Fuentes-Blasco M (2020) The interplay between social media communication, brand equity and brand engagement in tourist destinations: an analysis in an emerging economy. J Destin Mark Manag 16:100413. https://doi.org/10.1016/j.jdmm.2020.100413

Huertas A, Marine-Roig E (2016) User reactions to destination brand contents in social media. Inf Technol Tour 15(4):291–315. https://doi.org/10.1007/s40558-015-0045-9

Iglesias-Sánchez PP, Correia MB, Jambrino-Maldonado C, de las Heras-Pedrosa C (2020) Instagram as a co-creation space for tourist destination image-building: algarve and costa del sol case studies. Sustainability 12(7):2793. https://doi.org/10.3390/su12072793

John L, Emrich O, Gupta S, Norton M (2017) Does liking lead to loving? The impact of joining a brand social network on marketing outcomes. J Mark Res 54(1). https://doi.org/10.1509/jmr.14.0237

Johnson BK, Potocki B, Veldhuis J (2019) Is that my friend or an advert? The effectiveness of Instagram native advertisements posing as social posts. J Comput Mediat Commun 24(3):108–125

Kanje P, Charles G, Tumsifu E, Mossberg L, Andersson T (2020) Customer engagement and eWOM in tourism. J Hosp Tour Insights 3(3):273–289. https://doi.org/10.1509/jmr.14.0237

Kim MJ, Lee CK, Contractor NS (2019) Seniors' usage of mobile social network sites: applying theories of innovation diffusion and uses and gratifications. Comput Hum Behav 90:60–73. https://doi.org/10.1016/j.chb.2018.08.046

Kiráľová A, Pavlíčeka A (2015) Development of social media strategies in tourism destination. Procedia Soc Behav Sci 175:358–366. https://doi.org/10.1016/j.sbspro.2015.01.1211

Kladou S, Mavragani E (2016) A social media approach to evaluating heritage destination perceptions: the case of Istanbul. Heritage tourism destinations: preservation, communication and development. CAB International, Wallingford; CABI, Boston, pp 91–104

Klostermann J, Plumeyer A, Böger D, Decker R (2018) Extracting brand information from social networks: integrating image, text, and social tagging data. Int J Res Mark 35(4):538–556. https://doi.org/10.1016/j.ijresmar.2018.08.002

Knoema (2019) Berlin—number of arrivals at tourist accommodation establishments. https://knoema.es/atlas/Alemania/Berlin/Number-of-arrivals (Accessed 01 Apr 2019)

Kouokam EK, Dirik AE (2019) PRNU-based source device attribution for YouTube videos. Digit Investig 29:91–100. https://doi.org/10.1016/j.diin.2019.03.005

Kursuncu U, Gaur M, Lokala U, Thirunarayan K, Sheth A, Arpinar IB (2019) Predictive analysis on twitter: techniques and applications. In: Emerging research challenges and opportunities in computational social network analysis and mining. Springer, Cham, pp 67–104. https://doi.org/10.1007/978-3-319-94105-9_4

Lee D, Hosanagar K, Nair HS (2018) Advertising content and consumer engagement on social media: evidence from Facebook. Manag Sci 64(11):5105–5131. https://doi.org/10.1287/mnsc.2017.2902

Lim Y, Chung Y, Weaver PA (2012) The impact of social media on destination branding: consumer-generated videos versus destination marketer-generated videos. J Vacat Mark 18(3):197–206. https://doi.org/10.1177/1356766712449366

Lonely Planet (2020) Las ciudades de Europa más visitadas. https://www.lonelyplanet.es/blog/las-ciudades-de-europa-mas-visitadas (Accessed 03 Apr 2019)

Lu Y, Chen Z, Law R (2018) Mapping the progress of social media research in hospitality and tourism management from 2004 to 2014. J Travel Tour Mark 35(2):102–118. https://doi.org/10.1080/10548408.2017.1350249

Lu CC, Wu L, Hsiao WH (2019) Developing customer product loyalty through mobile advertising: affective and cognitive perspectives. Int J Inf Manag 47:101–111. https://doi.org/10.1016/j.ijinfomgt.2018.12.020

Mak AH (2017) Online destination image: comparing national tourism organisation's and tourists' perspectives. Tour Manag 60:280–297. https://doi.org/10.1016/j.tourman.2016.12.012

Mariani M, Mura M, Di Felice M (2018) The determinants of Facebook social engagement for national tourism organizations' Facebook pages: a quantitative approach. J Destin Mark Manag 8:312–325. https://doi.org/10.1016/j.jdmm.2017.06.003

Michaelidou N, Siamagka NT, Moraes C, Micevski M (2013) Do marketers use visual representations of destinations that tourists value? Comparing visitors' image of a destination with marketer-controlled images online. J Travel Res 52(6):789–804. https://doi.org/10.1177/0047287513481272

Minazzi R (2015) Social media marketing in tourism and hospitality. Springer International Publishing, New York. https://doi.org/10.1007/978-3-319-05182-6

Moro S, Rita P (2018) Brand strategies in social media in hospitality and tourism. Int J Contemp Hosp Manag 30(1):343–364. https://doi.org/10.1108/IJCHM-07-2016-0340

Na Y, Kim J (2019) Sensibility and response keywords of users according to posting types of fashion Instagram: Focused on Koreans' fashion brands. Int J Cloth Sci Technol 32(1):23–36. https://doi.org/10.1108/IJCST-03-2018-0032

Narangajavana Y, Fiol LJC, Tena MÁM, Artola RMR, García JS (2017) The influence of social media in creating expectations. An empirical study for a tourist destination. Ann Tour Res 65:60–70. https://doi.org/10.1016/j.annals.2017.05.002

Nash J (2019) Exploring how social media platforms influence fashion consumer decisions in the UK retail sector. J Fash Mark Manag 23(1):82–103. https://doi.org/10.1108/JFMM-01-2018-0012

Nilashi M, Ibrahim O, Yadegaridehkordi E, Samad S, Akbari E, Alizadeh A (2018) Travelers' decision making using online review in social network sites: a case on TripAdvisor. J Comput Sci 28:168–179. https://doi.org/10.1016/j.jocs.2018.09.006

Parihar P, Dawra J (2020) The role of customer engagement in travel services. J Prod Brand Manag. https://doi.org/10.1108/JPBM-11-2018-2097

Paül i Agustí D (2018) Characterizing the location of tourist images in cities. Differences in user-generated images (Instagram), official tourist brochures and travel guides. Ann Tour Res 73:103–115. https://doi.org/10.1016/j.annals.2018.09.001

Rather RA, Camilleri MA (2019) The effects of service quality and consumer-brand value congruity on hospitality brand loyalty. Anatolia 30(4):1–13. https://doi.org/10.1080/13032917.2019.1650289

Rietveld R, van Dolen W, Mazloom M, Worring M (2020) What you feel, is what you like influence of message appeals on customer engagement on Instagram. J Interact Mark 49:20–53. https://doi.org/10.1016/j.intmar.2019.06.003

Sashi CM (2012) Customer engagement, buyer–seller relationships, and social media. Manag Decis 50(2):253–272. https://doi.org/10.1108/00251741211203551

Schultz CD (2016) Insights from consumer interactions on a social networking site: findings from six apparel retail brands. Electron Mark 26(3):203–217. https://doi.org/10.1007/s12525-015-0209-7

Statista (2020). Number of Instagram users worldwide from 2016 to 2023 (in millions). https://www.statista.com/statistics/183585/instagram-number-of-global-users/ (Accessed 16 Dec 2020)

Stepchenkova S, Zhan F (2013) Visual destination images of Peru: comparative content analysis of DMO and user-generated photography. Tour Manag 36:590–601. https://doi.org/10.1016/j.tourman.2012.08.006

Taheri B, Jafari A, O'Gorman K (2014) Keeping your audience: presenting a visitor engagement scale. Tour Manag 42:321–329. https://doi.org/10.1016/j.tourman.2013.12.011

Villamediana J, Küster I, Vila N (2019) Destination engagement on Facebook: time and seasonality. Ann Tour Res 79:102747. https://doi.org/10.1016/j.annals.2019.102747

Vinyals-Mirabent S, Kavaratzis M, Fernández-Cavia J (2019) The role of functional associations in building destination brand personality: when official websites do the talking. Tour Manag 75:148–155. https://doi.org/10.1016/j.tourman.2019.04.022

Vivek SD, Beatty SE, Dalela V, Morgan RM (2014) A generalized scale for measuring consumer engagement. J Mark Theory Pract 22(4):401–420. https://doi.org/10.2753/MTP1069-6679220404

WeSwap (2018) Social Media's impact on travel and holiday. https://c8de9c07f5bc3c7540b8-af152700d349bb4c661e21971b9c756d.ssl.cf3.rackcdn.com/downloads/Travel_for_the_gram_Sept_2018.pdf (Accessed 20 Apr 2019)

Wozniak T, Stangl B, Schegg R, Liebrich A (2017) The return on tourism organizations' social media investments: preliminary evidence from Belgium, France, and Switzerland. Inf Technol Tour 17(1):75–100. https://doi.org/10.1007/s40558-017-0077-4

Xiang Z, Gretzel U (2010) Role of social media in online travel information search. Tour Manag 31(2):179–188. https://doi.org/10.1016/j.tourman.2009.02.016

Yi J, Ryan C, Wang D (2020) China's village tourism committees: a social network analysis. J Travel Res. https://doi.org/10.1177/0047287519892324

Youn S, Jin SV (2017) Reconnecting with the past in social media: the moderating role of social influence in nostalgia marketing on Pinterest. J Consum Behav 16(6):565–576. https://doi.org/10.1002/cb.1655
Ethics declarations
Conflict of interest
The authors declare that they have no conflict of interest.
Additional information
Publisher's Note
Springer Nature remains neutral with regard to jurisdictional claims in published maps and institutional affiliations.
About this article
Cite this article
Bonilla-Quijada, M., Tugores-Ques, J. & Olmo Arriaga, J.L. Promotion of urban tourism: insights into user engagement on social media. Inf Technol Tourism (2021). https://doi.org/10.1007/s40558-021-00213-6
Received:

Revised:

Accepted:

Published:
Keywords
Engagement

Social media

Destination marketing organisations

Instagram

Berlin

Bandwagon effect