Abstract
In the not-so-distant past, genealogists and family history hobbyists had to lug around heavy boxes, documents, and copious notes and references as they travelled to discover their family roots. Technological advances in mobile devices and applications have created efficiencies and opened paths of exploration that facilitate researching genealogical roots while travelling. This research employs a netnographic approach in studying genealogy blogs, social media, and websites to see how genealogy tourists use mobile devices and apps. Mobile apps used by genealogists are categorized into a taxonomy which shows the plethora of apps and functions that genealogists can rely on before, during and after a trip. The paper then analyzes how smartphone use in general, and mobile app use in particular, affect genealogy tourism. It is found that travelling genealogists use their mobile devices and apps extensively throughout all travel phases to plan and prepare for trips, to conduct and inform their research, and to share their findings. Genealogy tourists also use technology to create and tap into a virtual collective of like-minded others by sharing their knowledge online to help others, acting as a teacher, but at other times may post questions and seek others' knowledge, as a learner. As such, the study contributes to ongoing efforts to better understand the impact of mobile technologies on travel.
Access options
Buy single article
Instant access to the full article PDF.
US$ 39.95
Tax calculation will be finalised during checkout.
Subscribe to journal
Immediate online access to all issues from 2019. Subscription will auto renew annually.
US$ 79
Tax calculation will be finalised during checkout.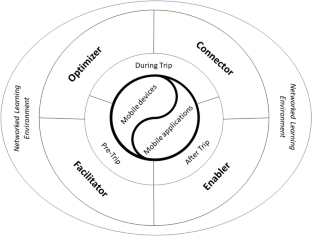 References
Alexander M, Bryce D, Murdy S (2017) Delivering the past: providing personalized ancestral tourism experiences. J Travel Res 56(4):543–555

Alsos GA, Eide D, Madsen EL (2014) Introduction: innovation in tourism industries. In: Eide D, Madsen EL, Alsos GA (eds) Handbook of research on innovation in tourism industries. Edward Elgar, Cheltenham

Ancestry.com (2019a) Company overview. https://www.ancestry.com/corporate/about-ancestry/company-facts. Accessed 31 Dec 2019

Ancestry.com (2019b) We help unlock new understanding and meaningful connections. https://www.ancestry.com/corporate/about-ancestry/our-story. Accessed 31 Dec 2019

Baldassar L (2001) Visits home: migration experiences between Italy and Australia. Melbourne University Press, Melbourne

Basu P (2007) Highland homecomings: genealogy and heritage tourism in the Scottish diaspora. Routledge, USA

Bryce D, Murdy S, Alexander M (2017) Diaspora, authenticity and the imagined past. Ann Tour Res 66:49–60. https://doi.org/10.1016/j.annals.2017.05.010

Buhalis D, Amaranggana A (2015) Smart tourism destinations enhancing tourism experience through personalisation of services. In: Tussyadiah I, Inversini A (eds) Information and communication technologies in tourism 2015. Springer, Cham, pp 377–389

Clarke V, Braun V, Hayfield N (2015) Thematic analysis. In: Smith JA (ed) Qualitative psychology: a practical guide to research methods. Sage, London, pp 222–248

Conrad R-M, Donaldson JA (2012) Continuing to engage the online learner : activities and resources for creative instruction. Jossey-Bass guides to online teaching and learning, 1st edn. Wiley, San Francisco

Dinhopl A, Gretzel U (2016) GoPro panopticon: performing in the surveyed leisure experience. In: Carnicelli S, McGillivray D, McPherson G (eds) Digital leisure cultures: critical perspectives. Routledge, London, pp 66–79

Downes S (2020) Recent work in connectivism. Eur J Open Distance E Learn 22(2):113–132

Esswein PM (2019) Discover your roots. Kiplinger's Pers Financ 73:64–69

Fulkerson J (1995) Climbing the family tree. Am Demogr 17:42

Fulton C (2016) The Genealogist's information world: creating information in the pursuit of a hobby. J Multidiscip Res 8:85–100

Ge J, Gretzel U (2018) A taxonomy of value co-creation on Weibo—a communication perspective. Int J Contemp Hosp Manag 30(4):2075–2092

Ghaderi Z, Hatamifar P, Ghahramni L (2019) How smartphones enhance local tourism experiences. Asia Pac J Tour Res 24(8):778–788. https://doi.org/10.1080/10941665.2019.1630456

Gibbs C, Gretzel U, Saltzman J (2016) An experience-based taxonomy of branded hotel mobile application features. J Inf Technol Tour 16(2):175–199

Gretzel U (2011) Intelligent systems in tourism: a social science perspective. Ann Tour Res 38:757–779. https://doi.org/10.1016/j.annals.2011.04.014

Gretzel U, Fesenmaier DR, O'Leary JT (2006) The transformation of consumer behaviour. In: Buhalis D, Costa C (eds) Tourism business frontiers. Elsevier/Butterworth-Heinemann, Burlington, pp 9–18

Hajibaba H, Gretzel U, Leisch F, Dolnicar S (2015) Crisis-resistant tourists. Ann Tour Res 53:46–60

Heinlen E (2007) Genealogy and the economic drain on Ireland: unintended consequences. First Monday. https://doi.org/10.5210/fm.v12i1.1424

Hershkovitz A, Hardof-Jaffe S (2017) Genealogy as a lifelong learning endeavor. Leisure/loisir 41:535–560

Higginbotham G (2012) Seeking roots and tracing lineages: constructing a framework of reference for roots and genealogical tourism. Taylor and Francis, Great Britain

Hoarau-Heemstra H, Eide D (2019) Values and concern: drivers of innovation in experience-based tourism. Tour Hosp Res 19:15–26. https://doi.org/10.1177/1467358416683768

Hoeve CD (2018) Finding a place for genealogy and family history in the digital humanities. Digit Libr Perspect 34:215–226. https://doi.org/10.1108/DLP-11-2017-0044

Huang WJ, Haller WJ, Ramshaw GP (2013) Diaspora tourism and homeland attachment: an exploratory analysis. Tour Anal 18(3):285–296

Iorio M, Corsale A (2013) Diaspora and tourism: Transylvanian Saxons visiting the homeland. Tour Geogr 15(2):198–232

Josiam BM, Frazier R (2008) Who am I? Where did I come from? Where do I go to find out? Genealogy, the internet and tourism. Tourismos 3:35–56

Kang K, Jwa J, Park S (2017) Smart audio tour guide system using TTS. Int J Appl Eng Res 12:20

Kennedy-Eden H, Gretzel U (2012) A taxonomy of mobile applications for tourism. e-Rev Tour Res 10(2):47–50. https://ertr.tamu.edu/content/issues/volume-10-issue-1-3-2012/volume-10-issue-2-may-2012-special-issue-enter-6/

Kennedy-Eden H, Gretzel U (2021) A typology of personal heritage tourists. In: Novelli M, Cheer JM, Dolezal C, Jones A, Milano C (eds) Handbook of niche tourism. Edward Elgar Publishing, Cheltenham (forthcoming)

Kirova V (2020) Value co-creation and value co-destruction through interactive technology in tourism: the case of 'La Cité du Vin'wine museum, Bordeaux, France. Curr Issues Tour. https://doi.org/10.1080/13683500.2020.1732883

Kozinets RV (2002) The field behind the screen: using netnography for marketing research in online communities. J Mark Res 39:61

Kozinets RV (2015) Netnography: redefined. SAGE Publications, United Kingdom

Kozinets RV (2020a) Netnography: the essential guide to qualitative social media research, 3rd edn. SAGE Publications, Thousand Oaks

Kozinets RV (2020b) E-tourism research, cultural understanding, and netnography. In: Xiang Z, Fuchs M, Gretzel U, Höpken W (eds) Handbook of e-tourism. Springer, Berlin, pp 1–16

Law R, Chan ICC, Wang L (2018) A comprehensive review of mobile technology use in hospitality and tourism. J Hosp Mark Manag 27(6):626–648

Leurs E, Hardy A (2019) Tinder tourism: tourist experiences beyond the tourism industry realm. Ann Leisure Res 22(3):323

Lincoln YS, Denzin NK (2005) The SAGE handbook of qualitative research. Sage Publications, India

Linton H, Kwortnik RJ (2019) Mobile usage in travel: bridging the supplier-user gap. Int J Contemp Hosp Manag 31:771

Lucy C (2015) Research trends & emerging technologies for genealogists. Stud Res J 5:1–18

MacKay K, Vogt C (2012) Information technology in everyday and vacation contexts. Ann Tour Res 39:1380–1401. https://doi.org/10.1016/j.annals.2012.02.001

Magasic M, Gretzel U (2020) Travel connectivity. Tour Stud 20(1):3–26

Maruyama NU (2016) Roots tourists' internal experiences and relations with the ancestral land: case of second-generation Chinese Americans. Int J Tour Res 18:469–476. https://doi.org/10.1002/jtr.2064

McLuhan HM (1964) Understanding media: the extensions of man. McGraw-Hill, New York

Mehtiyeva A, Prince S (2020) Journeys of research, emotions and belonging: an exploratory analysis of the motivations and experience of ancestral tourists. Scand J Hosp Tour 20:85–103

Mkono M (2013) Using net-based ethnography (netnography) to understand the staging and marketing of "Authentic African" dining experiences to tourists at Victoria Falls. J Hosp Tour Res 37:184–198. https://doi.org/10.1177/1096348011425502

Morehart P (2019) Newsmaker: Kenyatta D. Berry. Author and attorney uses genealogy to help create personal stories. American Libraries

Morphet S (2018) The growth of genealogy tourism; travel companies, educational institutions, tour operators and now even cruise lines are reaching out to those looking to reconnect with their past. The Globe and Mail Inc.

Murdy S, Alexander M, Bryce D (2018) What pulls ancestral tourists 'home'? An analysis of ancestral tourist motivations. Tour Manag 64:13–19

Neuhofer B, Buhalis D, Ladkin A (2014) A typology of technology-enhanced tourism experiences. Int J Tour Res 16(4):340–350

Nickerson R, Muntermann J, Varshney U, Isaac H (2009) Taxonomy development in information systems: Developing a taxonomy of mobile applications. In: ECIS 2009 Proceedings, 388. https://aisel.aisnet.org/ecis2009/388

Otterstrom SM, Bunker BE (2013) Genealogy, migration, and the intertwined geographies of personal pasts. Ann Am Assoc Geogr 103:544–569. https://doi.org/10.1080/00045608.2012.700607

Pelliccia A (2018) In the family home: roots tourism among Greek second generation in Italy. Curr Issue Tour 21(18):2108–2123

Pine LG (2004) Genealogy. Encyclopædia Britannica

Ray N, McCain G (2009) Guiding tourists to their ancestral home. Int J Cult Tour Hosp Res 3:296–305

Rivers DJ (2020) Strava as a discursive field of practice: technological affordances and mediated cycling motivations. Discourse Context Media 34:100345

Rodriguez G (2014) How genealogy became almost as popular as porn. Time

Seale C, Silverman D (1997) Ensuring rigour in qualitative research. Eur J Public Health 7(4):379–384

Siemens G (2006) Knowing knowledge. Lulu, United Kingdom

Stanis SAW, Barbieri C (2013) Niche tourism attributes scale: a case of storm chasing. Curr Issue Tour 16(5):495–500

Stebbins RA (2009) Leisure and its relationship to library and information science: bridging the gap. Libr Trends 57:618–631. https://doi.org/10.1353/lib.0.0064

Sulca G, Gonçalves A, Marto A, Rodrigues N, Ascenso R (2019) The use of new technologies for Mindo birdwatching. In: Botto-Tobar M, León-Acurio J, Cadena AD, Díaz PM (eds) The international conference on advances in emerging trends and technologies. Springer, Cham, pp 270–279

Timothy DJ (1997) Tourism and the personal heritage experience. Ann Tour Res 24(3):751–754

Uriely N, Belhassen Y (2005) Drugs and tourists' experiences. J Travel Res 43(3):238–246

Veale KJ (2009) A doctoral study of the use of the internet for genealogy. Hist Actual Online 7:7–14

Wang D, Xiang Z, Fesenmaier DR (2014) Adapting to the mobile world: a model of smartphone use. Ann Tour Res 48:11–26. https://doi.org/10.1016/j.annals.2014.04.008

Wang D, Xiang Z, Fesenmaier DR (2016) Smartphone use in everyday life and travel. J Travel Res 55:52

Whalen EA (2018) Understanding a shifting methodology: a content analysis of the use of netnography in hospitality and tourism research. Int J Contemp Hosp Manag 30:3423–3441. https://doi.org/10.1108/IJCHM-08-2017-0536

White J, Klein D (2002) Family theories. SAGE Publishers, New York

Wu M-Y, Pearce PL (2014) Appraising netnography: towards insights about new markets in the digital tourist era. Curr Issue Tour 17:463–474. https://doi.org/10.1080/13683500.2013.833179
Additional information
Publisher's Note
Springer Nature remains neutral with regard to jurisdictional claims in published maps and institutional affiliations.
About this article
Cite this article
Kennedy-Eden, H., Gretzel, U. My heritage in my pocket: mobile device and app use by genealogy tourists. Inf Technol Tourism 23, 327–350 (2021). https://doi.org/10.1007/s40558-021-00206-5
Received:

Revised:

Accepted:

Published:

Issue Date:
Keywords
Mobile apps

Genealogy

Taxonomy

Technology impact

Smartphone