Abstract
Since culture influences expectations, perceptions, and satisfaction, a cross-culture study is necessary to understand the differences between Japan's biggest tourist populations, Chinese and Western tourists. However, with ever-increasing customer populations, this is hard to accomplish without extensive customer base studies. There is a need for an automated method for identifying these expectations at a large scale. For this, we used a data-driven approach to our analysis. Our study analyzed their satisfaction factors comparing soft attributes, such as service, with hard attributes, such as location and facilities, and studied different price ranges. We collected hotel reviews and extracted keywords to classify the sentiment of sentences with an SVC. We then used dependency parsing and part-of-speech tagging to extract nouns tied to positive adjectives. We found that Chinese tourists consider room quality more than hospitality, whereas Westerners are delighted more by staff behavior. Furthermore, the lack of a Chinese-friendly environment for Chinese customers and cigarette smell for Western ones can be disappointing factors of their stay. As one of the first studies in the tourism field to use the high-standard Japanese hospitality environment for this analysis, our cross-cultural study contributes to both the theoretical understanding of satisfaction and suggests practical applications and strategies for hotel managers.
Access options
Buy single article
Instant access to the full article PDF.
US$ 39.95
Tax calculation will be finalised during checkout.
Subscribe to journal
Immediate online access to all issues from 2019. Subscription will auto renew annually.
US$ 79
Tax calculation will be finalised during checkout.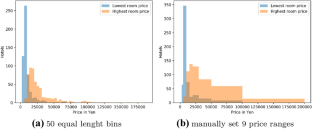 References
Aishima T, Sato Y et al (2015) The origin of Japanese Omotenashi in Man-yo-shu. Bus Acc Rev 16:103–122

Al-alsheikh A, Sato Y (2015) Characteristics of the hospitality, Omotenashi in the traditional Japanese inn: a case study of Kagaya. Bus Acc Rev 16:123–142

Al-Smadi M, Al-Ayyoub M, Jararweh Y, Qawasmeh O (2018) Enhancing aspect-based sentiment analysis of Arabic hotels' reviews using morphological, syntactic and semantic features. Inf Process Manag. https://doi.org/10.1016/j.ipm.2018.01.006

Alemán Carreón EC, Nonaka H, Hiraoka T, Kumano M, Ito T, Hirota M (2018) Emotional contribution analysis of online reviews. In: Proceedings of the 2018 International Conference on artificial life and robotics (ICAROB2018), Beppu, Japan, vol 23, pp 359–362. https://doi.org/10.5954/ICAROB.2018.OS5-3

Armstrong RW, Mok C, Go FM, Chan A (1997) The importance of cross-cultural expectations in the measurement of service quality perceptions in the hotel industry. Int J Hosp Manag 16(2):181–190

Balbi S, Misuraca M, Scepi G (2018) Combining different evaluation systems on social media for measuring user satisfaction. Inf Process Manag 54(4):674–685. https://doi.org/10.1016/j.ipm.2018.04.009

Basuroy S, Chatterjee S, Ravid S (2003) How critical are critical reviews? the box office effects of film critics, star power, and budgets. J Mark 67(4):103–117. https://doi.org/10.1509/jmkg.67.4.103.18692

Bauer T, Jago L, Wise B (1993) The changing demand for hotel facilities in the Asia Pacific region. Int J Hosp Manag 12(4):313–322. https://doi.org/10.1016/0278-4319(93)90048-E

Berezina K, Bilgihan A, Cobanoglu C, Okumus F (2016) Understanding satisfied and dissatisfied hotel customers: text mining of online hotel reviews. J Hosp Mark Manag 25(1):1–24. https://doi.org/10.1080/19368623.2015.983631

Browning V, So KKF, Sparks B (2013) The influence of online reviews on consumers' attributions of service quality and control for service standards in hotels. J Travel Tour Mark 30(1–2):23–40. https://doi.org/10.1080/10548408.2013.750971

Chan A, Hsu CH, Baum T (2015) The impact of tour service performance on tourist satisfaction and behavioral intentions: a study of Chinese tourists in Hong Kong. J Travel Tour Mark 32(1–2):18–33. https://doi.org/10.1080/10548408.2014.986010

Chang P, Galley M, Manning C (2008) Optimizing Chinese word segmentation for machine translation performance. In: Proceedings of the Third Workshop On Statistical Machine (Statmt'08), Columbus, Ohio, USA, pp 224–232. http://nlp.stanford.edu/pubs/acl-wmt08-cws.pdf. Accessed Apr 2019

Chang R, Kivela J, Mak A (2010) Food preferences of Chinese tourists. Ann Tour Res 37(4):989–1011. https://doi.org/10.1016/j.annals.2010.03.007

Chen D, Manning CD (2014) A fast and accurate dependency parser using neural networks. In: Proceedings of the 2014 Conference on empirical methods in natural language processing (EMNLP), pp 740–750

Choi TY, Chu R (2000) Levels of satisfaction among Asian and Western travellers. Int J Qual Reliab Manag 17(2):116–132. https://doi.org/10.1108/02656710010304537

Choi TY, Chu R (2001) Determinants of hotel guests' satisfaction and repeat patronage in the Hong Kong hotel industry. Int J Hosp Manag 20(3):277–297. https://doi.org/10.1016/S0278-4319(01)00006-8. http://www.sciencedirect.com/science/article/pii/S0278431901000068

Cortes C, Vapnik V (1995) Support-vector networks. Mach Learn 20(3):273–297. https://doi.org/10.1007/bf00994018

Coulmas F, Watanabe M (2002) Japans nascent multilingualism. Contrib Sociol Lang 87:249–274

de Marneffe MC, Manning CD (2008) Stanford typed dependencies manual. Tech. rep., Stanford University. https://nlp.stanford.edu/software/dependencies_manual.pdf

Dongyang Z, Mori T, Hayashi K et al (2015) A study on preferences and behavioral patterns of Chinese tourists in Kansai region, Japan. Konan Econ Papers 55(1–2):31–46. https://doi.org/10.14990/00001507

Donthu N, Yoo B (1998) Cultural influences on service quality expectations. J Serv Res 1(2):178–186

Engel J, Blackwell R, Miniard P (1990) Consumer behavior, 6th edn. Dryden Press, Hinsdale

Fang T (2003) A critique of Hofstede's fifth national culture dimension. Int J Cross Cult Manag 3(3):347–368

Fang B, Ye Q, Kucukusta D, Law R (2016) Analysis of the perceived value of online tourism reviews: influence of readability and reviewer characteristics. Tour Manag 52:498–506. https://doi.org/10.1016/j.tourman.2015.07.018

Fayyad U, Piatetsky-Shapiro G, Smyth P (1996) From data mining to knowledge discovery in databases. AI Mag 17(3):37–37. https://doi.org/10.1609/aimag.v17i3.1230. https://www.aaai.org/ojs/index.php/aimagazine/article/download/1230/1131

Francesco G, Roberta G (2019) Cross-country analysis of perception and emphasis of hotel attributes. Tour Manag 74:24–42. https://doi.org/10.1016/j.tourman.2019.02.011. http://www.sciencedirect.com/science/article/pii/S0261517719300408

Gao J, Zhang C, Huang Z (2017) Chinese tourists' views of nature and natural landscape interpretation: a generational perspective. J Sustain Tour 26(4):668–684. https://doi.org/10.1080/09669582.2017.1377722

Hargreaves C (2015) Analysis of hotel guest satisfaction ratings and reviews: an application in Singapore. Am J Mark Res 1(4):208–214

Heinrich P (2012) The making of monolingual Japan: language ideology and Japanese modernity, vol 146. In: Multilingual matters

Hofstede G (1984) Culture's consequences: international differences in work-related values, vol 5. Sage, London

House RJ, Hanges PJ, Ruiz-Quintanilla SA, Dorfman PW, Javidan M, Dickson M, Gupta V et al (1999) Cultural influences on leadership and organizations: Project GLOBE. Adv Glob Leader 1(2):171–233

Hu YH, Chen YL, Chou HL (2017) Opinion mining from online hotel reviews—a text summarization approach. Inf Process Manag 53(2):436–449. https://doi.org/10.1016/j.ipm.2016.12.002

Huang J (2017) The dining experience of Beijing roast duck: A comparative study of the Chinese and English online consumer reviews. Int J Hosp Manag 66:117–129. https://doi.org/10.1016/j.ijhm.2017.07.003. http://www.sciencedirect.com/science/article/pii/S0278431917301251

Hunt JD (1975) Image as a factor in tourism development. J Travel Res 13(3):1–7

Ikeda N (2013) Omotenashi: Japanese hospitality as the global standard. Manag Serv Bus Jpn World Sci Chap 9:145–154

Japan National Tourism Organization (2019) Nationality/monthly foreign visitors to Japan (2003-2019). Tech. rep., Japan National Tourism Organization, https://www.jnto.go.jp/jpn/statistics/since2003_visitor_arrivals.pdf, (in Japanese)

Japan Tourism Agency (2014) Consumption trend survey for foreigners visiting Japan

Jeknić R (2014) Gender equality, young women and culture in the context of the "masculinity/ femininity" as a dimension in Geert Hofstede's model of "national culture".. Zbornik radova Pravnog fakulteta u Splitu 51(3):681–696

Jia SS (2020) Motivation and satisfaction of Chinese and U.S. tourists in restaurants: a cross-cultural text mining of online reviews. Tour Manag 78:104071. https://doi.org/10.1016/j.tourman.2019.104071. http://www.sciencedirect.com/science/article/pii/S0261517719302687

Jones T, Nagata S, Nakajima M, Masuyama K (2009) Prefectural branding in Japan—tourism, national parks and the Shinshu brand. Place Brand Public Dipl 5(3):192–201. https://doi.org/10.1057/pb.2009.13

Kim C, Lee S (2000) Understanding the cultural differences in tourist motivation between Anglo-American and Japanese tourists. J Travel Tour Mark 9(1–2):153–170. https://doi.org/10.1300/J073v09n01_09

Kim K, joung Park O, Yun S, Yun H (2017) What makes tourists feel negatively about tourism destinations? application of hybrid text mining methodology to smart destination management. Technol Forecast Soc Change 123:362–369. https://doi.org/10.1016/j.techfore.2017.01.001

Kozak M (2002) Measuring tourist satisfaction with multiple destination attributes. Tour Anal 7(3–4):229–240. https://doi.org/10.3727/108354203108750076 ((12))

Kuboyama T (2020) "Omotenashi" must comprise hospitality and service. In: Serviceology for services, Springer Singapore, pp 34–53. https://doi.org/10.1007/978-981-15-3118-7_3

Levy SE (2010) The hospitality of the host: a cross-cultural examination of managerially facilitated consumer-to-consumer interactions. Int J Hosp Manag 29(2):319–327. https://doi.org/10.1016/j.ijhm.2009.10.003. https://www.sciencedirect.com/science/article/pii/S027843190900111X, special issue on Event Studies

Likert R (1932) A technique for the measurement of attitudes. Arch Psychol 22:55

Liu BSC, Furrer O, Sudharshan D (2001) The relationships between culture and behavioral intentions toward services. J Serv Res 4(2):118–129

Liu Y, Bi JW, Fan ZP (2017) Ranking products through online reviews: a method based on sentiment analysis technique and intuitionistic fuzzy set theory. Inf Fusion 36:149–161. https://doi.org/10.1016/j.inffus.2016.11.012

Liu Y, Huang K, Bao J, Chen K (2019) Listen to the voices from home: an analysis of Chinese tourists' sentiments regarding Australian destinations. Tour Manag 71:337–347. https://doi.org/10.1016/j.tourman.2018.10.004. http://www.sciencedirect.com/science/article/pii/S0261517718302395

Loh S, Lorenzi F, Saldaña R, Licthnow D (2003) A tourism recommender system based on collaboration and text analysis. Inf Technol Tour 6(3):157–165. https://doi.org/10.3727/1098305031436980

Manning CD, Surdeanu M, Bauer J, Finkel J, Bethard SJ, McClosky D (2014) The Stanford CoreNLP natural language processing toolkit. In: Proceedings of the Association for Computational Linguistics (ACL) System Demonstrations, pp 55–60. http://www.aclweb.org/anthology/P/P14/P14-5010

Mattila AS (1999) The role of culture and purchase motivation in service encounter evaluations. J Serv Mark 13:376–389

Mattila AS (2019) A commentary on cross-cultural research in hospitality & tourism inquiry (invited paper for luminaries special issue of International Journal of Hospitality Management). Int J Hosp Manag 76:10–12. https://doi.org/10.1016/j.ijhm.2018.06.007. https://www.sciencedirect.com/science/article/pii/S027843191830505X, HOSPITALITY LUMINARIES ISSUE

Nahm UY, Mooney RJ (2002) Text mining with information extraction. In: Proceedings of the AAAI 2002 Spring Symposium on Mining Answers from Texts and Knowledge Bases, Stanford CA, pp 60–67

O'Connor B, Balasubramanyan R, Routledge B, Smith N (2010) From tweets to polls: Linking text sentiment to public opinion time series. In: Proceedings of the Fourth International AAAI Conference On Weblogs And Social Media, 11(1-2), p 122-129

Oh H, Parks SC (1996) Customer satisfaction and service quality: a critical review of the literature and research implications for the hospitality industry. Hosp Res J 20(3):35–64

Oliver RL (1981) Measurement and evaluation of satisfaction processes in retail settings. J Retail 57(3):25–48

Powers D (2011) Evaluation: From precision, recall and F-measure to ROC, informedness, markedness & correlation. Journal Of Machine Learning Technologies 2(1):37–63. http://www.flinders.edu.au/science_engineering/fms/School-CSEM/publications/tech_reps-research_artfcts/TRRA_2007.pdf

Rajman M, Besançon R (1998) Text mining-knowledge extraction from unstructured textual data. In: Advances in data science and classification. Springer, Berlin, Heidelberg, pp 473–480

Ren G, Hong T (2019) Examining the relationship between specific negative emotions and the perceived helpfulness of online reviews. Inf Process Manag 56(4):1425–1438. https://doi.org/10.1016/j.ipm.2018.04.003

Romão J, Neuts B, Nijkamp P, Shikida A (2014) Determinants of trip choice, satisfaction and loyalty in an eco-tourism destination: a modelling study on the Shiretoko Peninsula, Japan. Ecol Econ 107:195–205. https://doi.org/10.1016/j.ecolecon.2014.07.019

Ryan C, Mo X (2001) Chinese visitors to New Zealand—demographics and perceptions. J Vacat Mark 8(1):13–27. https://doi.org/10.1177/135676670200800103

Shanka T, Taylor R (2004) An investigation into the perceived importance of service and facility attributes to hotel satisfaction. J Qual Assur Hosp Tour 4(3–4):119–134. https://doi.org/10.1300/J162v04n03_08

Shannon C (1948) A mathematical theory of communication. Bell Syst Tech J 27(3):279–423. https://doi.org/10.1002/j.1538-7305.1948.tb01338.x

Stone PJ, Dunphy DC, Smith MS (1966) The general inquirer: a computer approach to content analysis. MIT Press, Cambridge

Sun Y, Wei Y, Zhang L (2017) International academic impact of Chinese tourism research: a review based on the analysis of SSCI tourism articles from 2001 to 2012. Tour Manag 58:245–252. https://doi.org/10.1016/j.tourman.2016.03.008

Toutanova K, Manning C (2000) Enriching the knowledge sources used in a maximum entropy part-of-speech tagger. In: Proceedings of the 2000 Joint SIGDAT Conference EMNLP/VLC, 63-71, 2000

Toutanova K, Klein D, Manning CD, Singer Y (2003) Feature-rich part-of-speech tagging with a cyclic dependency network. In: Proceedings of the 2003 conference of the North American chapter of the association for computational linguistics on human language technology-volume 1. Association for Computational Linguistics, pp 173–180

Truong T, King B (2009) An evaluation of satisfaction levels among Chinese tourists in Vietnam. Int J Tour Res 11(6):521–535. https://doi.org/10.1002/jtr.726

Tsujimoto N (2017) The purchasing behavior of Chinese tourists at popular visiting areas in Japan. J Glob Tour Res 2(2):99–104

Uzama A (2012) Yokoso! Japan: classifying foreign tourists to Japan for market segmentation. J Hospi Mark Manag 21(2):132–154. https://doi.org/10.1080/19368623.2011.615016

Vermeulen I, Seegers D (2009) Tried and tested: the impact of online hotel reviews on consumer consideration. Tour Manag 30:123–127. https://doi.org/10.1016/j.tourman.2008.04.008

Winsted KF (1997) The service experience in two cultures: a behavioral perspective. J Retail 73(3):337–360

World Health Organization (2015) WHO global report on trends in prevalence of tobacco smoking 2015. https://apps.who.int/iris/bitstream/handle/10665/156262/9789241564922_eng.pdf, ISBN: 978-9241564922

Wu CHJ, Liang RD (2009) Effect of experiential value on customer satisfaction with service encounters in luxury-hotel restaurants. Int J Hosp Manag 28(4):586–593. https://doi.org/10.1016/j.ijhm.2009.03.008

Xia F (2000) The Part-Of-Speech tagging guidelines for the Penn Chinese Treebank (3.0). Tech. Rep. IRCS Technical Reports Series. 38, Institute for Research in Cognitive Science, University of Pennsylvania, http://repository.upenn.edu/ircs_reports/38

Xiang Z, Gretzel U (2010) Role of social media in online travel information search. Tour Manag 31(2):179–188. https://doi.org/10.1016/j.tourman.2009.02.016

Xiang Z, Schwartz Z, Gerdes JH, Uysal M (2015) What can big data and text analytics tell us about hotel guest experience and satisfaction? Int J Hosp Manag 44:120–130. https://doi.org/10.1016/j.ijhm.2014.10.013

Xiumei S, Jinying W (2011) Cultural distance between China and US across GLOBE model and Hofstede model. Int Bus Manag 2(1):11–17

Xu X, Li Y (2016) The antecedents of customer satisfaction and dissatisfaction toward various types of hotels: a text mining approach. Int J Hosp Manag 55:57–69. https://doi.org/10.1016/j.ijhm.2016.03.003

Yang Y, Pan B, Song H (2014) Predicting hotel demand using destination marketing organization's web traffic data. J Travel Res 53(4):433–447. https://doi.org/10.1177/0047287513500391

Ye Q, Law R, Gu B (2009) The impact of online user reviews on hotel room sales. Int J Hosp Manag 28(1):180–182. https://doi.org/10.1016/j.ijhm.2008.06.011

Zeman D, Popel M, Straka M, Hajič J, Nivre J, Ginter F, Luotolahti J, Pyysalo S, Petrov S, Potthast M, Tyers F, Badmaeva E, Gökırmak M, Nedoluzhko A, Cinková S, Hajič J Jr, Hlaváčová J, Kettnerová V, Urešová Z, Kanerva J, Ojala S, Missilä A, Manning C, Schuster S, Reddy S, Taji D, Habash N, Leung H, de Marneffe MC, Sanguinetti M, Simi M, Kanayama H, de Paiva V, Droganova K, Martínez Alonso H, Çöltekin c, Sulubacak U, Uszkoreit H, Macketanz V, Burchardt A, Harris K, Marheinecke K, Rehm G, Kayadelen T, Attia M, Elkahky A, Yu Z, Pitler E, Lertpradit S, Mandl M, Kirchner J, Fernandez Alcalde H, Strnadová J, Banerjee E, Manurung R, Stella A, Shimada A, Kwak S, Mendonça G, Lando T, Nitisaroj R, Li J (2018) CoNLL 2018 shared task: Multilingual parsing from raw text to universal dependencies. In: Proceedings of the CoNLL 2018 Shared Task: Multilingual parsing from raw text to universal dependencies, pp 1–21

Zhang H, Yu Z, Xu M, Shi Y (2011) Feature-level sentiment analysis for Chinese product reviews. In: Proceedings of the 2011 3rd International Conference on computer research and development, vol 2, pp 135–140. https://doi.org/10.1109/iccrd.2011.5764099

Zhang M, Liu S, Yang L, Jiang Y, Huang Z, Zhao Z, Deng Q, Li Y, Zhou M, Wang L et al (2019) Prevalence of smoking and knowledge about the smoking hazards among 170,000 Chinese adults: a nationally representative survey in 2013–2014. Nicotine Tob Res. https://doi.org/10.1093/ntr/ntz020

Zhou L, Ye S, Pearce PL, Wu MY (2014) Refreshing hotel satisfaction studies by reconfiguring customer review data. Int J Hosp Manag 38:1–10. https://doi.org/10.1016/j.ijhm.2013.12.004
Acknowledgements
Acknowledgements During our research, we received the commentary and discussion by our dear colleagues necessary to understand particular cultural aspects that could influence the data's interpretation. We would like to show gratitude to Mr. Liangyuan Zhou, Ms. Min Fan, and Ms. Eerdengqiqige for this.
We would also like to show gratitude to Ms. Aleksandra Jajus, from whom we also received notes on the editing and commentary on the content of our manuscript.
Funding
This work was supported by the Japan Construction Information Center Foundation (JACIC).
Ethics declarations
Conflict of interest
None.
Additional information
Publisher's Note
Springer Nature remains neutral with regard to jurisdictional claims in published maps and institutional affiliations.
About this article
Cite this article
Alemán Carreón, E.C., Mendoza España, H.A., Nonaka, H. et al. Differences in Chinese and Western tourists faced with Japanese hospitality: a natural language processing approach. Inf Technol Tourism (2021). https://doi.org/10.1007/s40558-021-00203-8
Received:

Revised:

Accepted:

Published:
Keywords
Sentiment analysis

Hotels and lodging

Text mining

Chinese

English

Satisfaction and dissatisfaction factors