Abstract
Light pollution is one of the fastest-growing pollutants of the environment and considering the amount and diversity of negative consequences, it is a highly interdisciplinary subject. So far, most of the research about the negative influence of light pollution on human health was based on the disruption of the circadian clock, sleep deprivation, and other physical diseases. Together with artificial lighting, the rapid development of information and communication technology significantly contributed to the increased lighting levels in the indoor environment and at the same time influenced the perception of natural darkness as something unnatural and undesired. On the other hand, the same technologies can be a useful asset in the popularization of astronomy-related activities, thus promoting the necessity for dark skies preservation. This paper aims to emphasize the importance of dark skies and appropriate usage of ICTs in the nighttime hours for our psychological health and well-being in general and at the same time to propose astronomy tourism as a part of the sustainable tourism offer as a tool for fighting light pollution.
This is a preview of subscription content, log in to check access.
Access options
Buy single article
Instant access to the full article PDF.
US$ 39.95
Price includes VAT for USA
Subscribe to journal
Immediate online access to all issues from 2019. Subscription will auto renew annually.
US$ 99
This is the net price. Taxes to be calculated in checkout.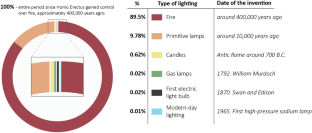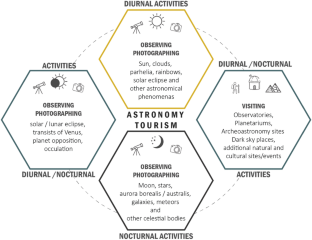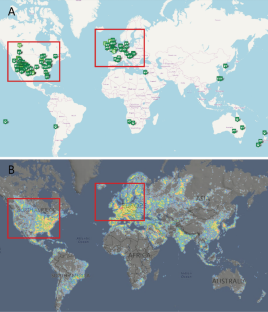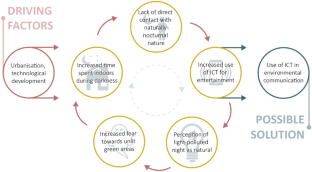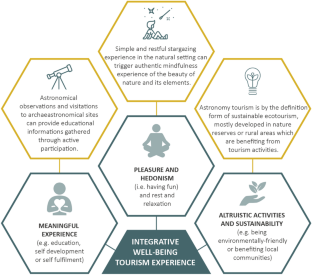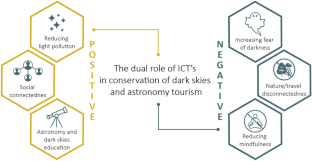 References
Anisimov VN (2006) Light pollution, reproductive function and cancer risk. Neuro endocrinology 2. Letters 27-1-2:35–52. https://www.ncbi.nlm.nih.gov/pubmed/16648818

Arora T, Broglia E, Thomas GN, Taheri S (2014) Associations between specific technologies and adolescent sleep quantity, sleep quality, and parasomnias. Sleep Med 15(2):240–247

Ayeh JK (2018) Distracted gaze: problematic use of mobile technologies in vacation contexts. Tour Manag Perspect 26:31–38

Baron KG, Duffecy J, Berendsen MA, Cheung Mason I, Lattie EG, Manalo NC (2018) Feeling validated yet? A scoping review of the use of consumer-targeted wearable and mobile technology to measure and improve sleep. Sleep Med Rev 40:151–159

Belij M, Tadić M (2015) Astrotourism—possibilities for development in Serbia. Bull Serb Geograph Soc 95–3:59–73. https://doi.org/10.2298/gsgd1503059b

Bennie J, Davies TW, Cruse D, Gaston KJ (2016) Ecological effects of artificial light at night on wild plants. J Ecol 104(3):611–620. https://doi.org/10.1111/1365-2745.12551

Berry RL (1976) Light pollution in Southern Ontario. J R Astron Soc Can 70:97–115

Bixler RD, Floyd MF (1997) Nature is scary, disgusting, and uncomfortable. Environ Behav 29:443–467

Bjelajac D, Đerčan B (2019) Artificial light at night as an unrecognized threat to protected areas of Autonomous Province of Vojvodina (North Serbia). Res Rev Dept Geogr Tour Hotel Manag 48(1):46–56. https://doi.org/10.5937/ZbDght1901046B

Blair A (2016) Sark in the dark: wellbeing and community on the dark sky island of Sark. Sophia Centre Press, Ceredigion

Boorstin DJ (1983) The discoverers. Random House, United States

Brox J (2009) Brilliant: the evolution of artificial light. Houghton Mifflin Harcourt, Boston

Brown L (2013) Tourism: a catalyst for existential authenticity. Ann Tour Res 40(1):176–190

Cai W, McKenna B, Waizenegger L (2020) Turning it off: emotions in digital-free travel. J Travel Res 59(5):909–927

Cajochen C, Frey S, Anders D, Späti J, Bues M, Pross A, Mager R, Wirz-Justice A, Stefani O (2011) Evening exposure to a light-emitting diodes (LED)-backlit computer screen affects circadian physiology and cognitive performance. J Appl Physiol 110(5):1432–1438. https://doi.org/10.1152/japplphysiol.00165.2011

Cater CI (2010) Steps to Space; opportunities for astrotourism. Tourism Manag 31(6):838–845. https://doi.org/10.1016/j.tourman.2009.09.001

Ceballos-Lascuráin H (1987) The future of ecotourism. Mex J 20:13–14

Chalkias C, Petrakis M, Psiloglou B, Lianou M (2006) Modelling of light pollution in suburban areas using remotely sensed imagery and GIS. J Environ Manag 79(1):57–63. https://www.ncbi.nlm.nih.gov/pubmed/16171928

Cinzano P, Falchi PF, Elvidge CD (2001) First world atlas of light. Mon Not R Astron Soc 707:689–707. https://doi.org/10.1046/j.1365-8711.2001.04882.x

Coghlan A (2010) Tourism and health: using positive psychology principles to maximise participants' wellbeing outcomes—a design concept for charity challenge tourism'. J Sustain Tourism 23(3):382–400

Collison FM, Poe K (2013) "Astronomical Tourism": the astronomy and dark sky program at Bryce Canyon National Park. Tourism Manag Perspect 7:1–15. https://doi.org/10.1016/j.tmp.2013.01.002

Crouch GI (2001) The market for space tourism: early indications. J Travel Res 40–2:213–219. https://doi.org/10.1177/004728750104000212

C-Sánchez E, Sánchez-Medina JA, Alonso-Hernández BJ, Voltes-Dorta A (2019) Astrotourism and night sky brightness forecast: first probabilistic model approach. Sensors 19(2840):1–16. https://doi.org/10.3390/s19132840

Choi K, Son H, Park M, Han J, Kim K, Lee B, Gwak H (2009) Internet overuse and excessive daytime sleepiness in adolescents. Psychiatry Clin Neurosci 63(4):455–462. https://doi.org/10.1111/j.1440-1819.2009.01925.x

Davies TW, Smyth T (2017) Why artificial light at night should be a focus for global change research in the 21st century. Glob Change Biol 1–11:1–11. https://doi.org/10.1111/gcb.13927

Davis S, Mirick KD, Stevens GR (2001) Night shift work and risk of breast cancer. J Natl Cancer Inst 93(20):1557–1562. https://doi.org/10.1007/s40572-017-0155-y

Dominoni DM, Borniger JC, Nelson RJ (2016) Light at night, clocks and health: from humans to wild organisms. Biol Let 12–2:2–5. https://doi.org/10.1098/rsbl.2016.0015

Dong K, Goyarts EC, Pelle E, Trivero J, Pernodet N (2019) Blue light disrupts the circadian rhythm and create damage in skin cells. Int J Cosmet Sci 41(6):558–562. https://doi.org/10.1111/ics.12572

Egger I, Lei SI, Wassler P (2020) Digital free tourism—an exploratory study of tourist motivations. Tourism Manag 79:104098

Exelmans L, Van den Bulck J (2016) Bedtime mobile phone use and sleep in adults. Soc Sci Med 148:93–101. https://doi.org/10.1016/j.socscimed.2015.11.037

Falchi F, Cinzano P, Duriscoe D, Kyba CCM, Elvidge CD, Baugh K, Portnov BA, Rybnikova NA, Furgoni R (2016) The new world atlas of artificial night sky brightness. Sci Adv 2:6. https://doi.org/10.1126/sciadv.1600377

Fayos-Solá E, Marin C, Jafar J (2014) Astrotourism: no requiem for meaningful travel. PASOS. Rev Turismo Patrim Cult 12(4):663–671

Figueiro MG, Wood B, Plitnick B, Rea MS (2011) The impact of light from computer monitors on melatonin levels in college students. Neuroendocrinol Lett 32(2):158–163

Gallagher MW, Lopez SJ, Preacher KJ (2009) The hierarchical structure of well-being. J Pers 77(4):1025–1050

Gatersleben B, Jackson T, Meadows J, Soto E, Yan YL (2018) Leisure, materialism, well-being and the environment. Rev Eur Psychol Appl 68(3):131–139

Gill C, Packer J, Ballantyne R (2019) Spiritual retreats as a restorative destination: design factors facilitating restorative outcomes. Ann Tourism Res 79:102761

Hale L, Kirschen GW, LeBourgeois MK, Gradisar M, Garrison MM, Montgomery-Downs H, Kirschen H, McHale SM, Chang AM, Buxton OM (2018) Youth screen media habits and sleep: sleep-friendly screen behavior recommendations for clinicians, educators, and parents. Child Adolesc Psychiatr Clin N Am 27(2):229–245. https://doi.org/10.1016/j.chc.2017.11.014

Hanski I (2005) Landscape fragmentation, biodiversity loss and the societal response. EMBO Rep 6(5):388–392

Hollan J (2009) What is light pollution, and how do we quantify it. https://amper.ped.muni.cz/light/lpwhatis.pdf

Hoskin M (ed) (1999) The Cambridge concise history of astronomy. Cambridge University Press, Cambridge

Hölker F, Moss T, Griefahn B, Kloas W, Voigt CC (2010) The dark side of light: a transdisciplinary research agenda for light pollution policy. Ecol Soc 15(4):13. https://docs.darksky.org/Reports/ResearchAgendaforLPPolicy.pdf

Ingle M (2010) Making the most of 'nothing': astro tourism, the Sublime, and the Karoo as a 'space destination'. Transformation 74(1):87–111

Jacobs L, Du Preez EA, Fairer-Wessels F (2019) To wish upon a star: exploring Astro Tourism as vehicle for sustainable rural development. Dev Southern Afr. https://doi.org/10.1080/0376835X.2019.1609908

Kabat-Zinn J (1990) Full catastrophe living: using the wisdom of your body and mind to face stress, pain, and illness. Dell Publishing, New York

Kahn PH, Friedman B (1995) Environmental views and values of children in an inner-city black community. Child Dev 66:1403–1417

Kahn PH, Severson RL, Ruckert JH (2009) The human relation with nature and technological nature. Curr Direct Psychol Sci 18:37–42

Kaplan S, Kaplan R (1989) The experience of nature: a psychological perspective. Cambridge University Press, New York

Kay Smith MK, Diekmann A (2017) Tourism and wellbeing. Ann Tourism Res 66:1–13

Kelly WE (2004) Development of an instrument to measure noctcaelador: psychological attachment to the night-sky. Coll Stud J 38:100–102

Kirillova K, Lehto X (2015) An existential conceptualisation of the vacation cycle. Ann Tour Res 55(1):110–123

Kirillova K, Wang D (2016) Smartphone (dis) connectedness and vacation recovery. Ann Tourism Res 61:157–169

Kyba CCM, Garz S, Kuechly H, de Miguel AS, Zamorano J, Fischer J, Hölker F (2015) High-resolution imagery of earth at night: new sources, opportunities and challenges. Remote Sens 7(1):1–23. https://doi.org/10.3390/rs70100001

Laing JH, Crouch GI (2005) Extraordinary journeys: an exploratory cross-cultural study of tourists on the frontier. J Vacat Market 11(3):209–223

Lin J, Ding X, Hong C, Pang Y, Chen L, Liu Q, Zhang X, Xin H, Wang X (2019) Several biological benefits of the low color temperature light-emitting diodes based normal indoor lighting source. Sci Rep 9(1):1–8. https://doi.org/10.1038/s41598-019-43864-6

Louv R (2005) Last child in the woods: saving our children from nature deficit disorder. Algonquin books, Chapel Hill

Lyytimäki J (2012) Indoor ecosystem services: bringing ecology and people together. Human Ecol Rev 19:70–76

Lyytimäki J (2013) Nature's nocturnal services: light pollution as a non-recognised challenge for ecosystem services research and management. Ecosyst Serv 3:44–48. https://doi.org/10.1016/j.ecoser.2012.12.001

MacCannell D (1976) The tourist: a new theory of the leisure class. University of California Press, California

Malville JM (2008) Guide to prehistoric astronomy in the southwest, revised and updated. Johnson Printing Company, Boulder

Mayer FS, Frantz CP, Bruehlman-Senecal E, Dolliver K (2009) Why is nature beneficial? The role of connectedness to nature. Environ Behav 41:607–643. https://doi.org/10.1177/0013916508319745

Mei X, Zhou Q, Li X, Jing P, Hu WXZ (2018) Sleep problems in excessive technology use among adolescent: a systemic review and meta-analysis. Sleep Sci Pract 2(1):9

Miller DS (1997) Stars of the first people. Preutt Publishing Company, Boulder

Mitchell D, Gallaway T (2019) Dark sky tourism: economic impacts on the Colorado Plateau Economy, USA. Tour Rev 74(4):930–942. https://doi.org/10.1108/TR-10-2018-0146

Mizon B (2002) Light pollution: responses and remedies, 2nd edn. Springer, New York

Najafabadi SS (2012) Astronomical tourism (Astro Tourism) in Cebu, Philippines: essential features in selected destinations and its complementing visitor attractions. In: International conference on trade, tourism and management, December 21–22, 2012: Bangkok, Thailand

Nakajima M, Sato T, Yasuoka H, Igawa S (2017) Analysis of sleep environment in ICT users. Sleep Med 40:e236–e237. https://doi.org/10.1016/j.sleep.2017.11.691

Nawijn J, Marchand MA, Veenhoven R, Vingerhoets AJ (2010) Vacationers happier, but most not happier after a holiday. Appl Res Qual Life 5(1):35–47

Nawijn J, De Bloom J, Geurts S (2013) Pre-vacation time: blessing or burden? Leisure Sci 35:33–44

Ononogbu S, Wallenius M, Punamäki RL, Saarni L, Lindholm H, Nygård CH (2014) Association between information and communication technology usage and the quality of sleep among school-aged children during a school s. Sleep Disord 2014:1–6. https://doi.org/10.1155/2014/315808

Packer C, Swanson A, Ikanda D, Kushnir H (2011) Fear of darkness, the full moon and the nocturnal ecology of African lions. PLoS One 6–7:4–7. https://doi.org/10.1371/journal.pone.0022285

Papworth SK, Rist J, Coad L, Milner-Gulland EJ (2009) Evidence for shifting baseline syndrome in conservation. Conserv Lett 2:93–100

Pauly D (1995) Anecdotes and the shifting baseline syndrome of fisheries. Trends Ecol Evol 10:430. https://doi.org/10.1016/S0169-5347(00)89171-5

Pearce PL, Gretzel U (2012) Tourism in technology dead zones: documenting experiential dimensions. Int J Tour Sci 12(2):1–20

Pilgrim SE, Cullen LC, Smith DJ, Pretty J (2008) Ecological knowledge is lost in wealthier communities and countries. Environ Sci Technol 42:1004–1009

Prensky M (2001) Digital natives, digital immigrants. On Horizon 9(5):1–6

Punamäki RL, Wallenius M, Nygård CH, Saarni L, Rimpelä A (2007) Use of information and communication technology (ICT) and perceived health in adolescence: the role of sleeping habits and waking-time tiredness. J Adolesc 30(4):569–585

Pyke S, Hartwell H, Blake A, Hemingway A (2016) Exploring well-being as a tourism product resource. Tour Manag 55:94–105

Reisinger Y (2015) Transformational tourism: host perspectives. CABI, Wallingford

Riegel KW (1973) Light pollution: outdoor lighting is a growing threat to astronomy. Science 179–4080:1285–1291

Rodrigues ALO, Rodrigues A, Peroff DM (2015) The sky and sustainable tourism development: a case study of a dark sky reserve implementation in Alqueva. Int J Tour Res 17(3):292–302. https://doi.org/10.1002/jtr.1987

Ruggles CL, Cotte M (2017) Heritage Sites of Astronomy and Archaeoastronomy in the context of the UNESCO World Heritage Convention. International Council on Monuments and Sites and International Astronomical Union. Ocarina Books Limited, West Sussex

Sheehan W (2010) A passion for the planets: envisioning other worlds from the Pleistocene to the age of the telescope. Springer, New York

Smith MK, Puczkó L, Michalkó G, Kiss K, Sziva I (2015) Balkan wellbeing and health tourism: final report. Budapest: Metropolitan University

Soleimani S, Bruwer J, Gross MJ, Lee R (2019) Astro-tourism conceptualisation as special-interest tourism (SIT) field: a phenomonological approach. Curr Issues Tour 22(18):2299–2314. https://doi.org/10.1080/13683500.2018.1444021

Spear B (2013) Let there be light! Sir Joseph Swan and the incandescent light bulb. World Patent Inf 35:38–41. https://doi.org/10.1016/j.wpi.2012.10.001

Spennemann D (2008) Orbital, lunar and interplanetary tourism: opportunities for different perspectives in star tourism. In: Starlight: a common heritage. Proceedings of the international conference in defence of the quality of the night sky and the right to observe the stars. La Palma: UNESCO-MaB. IAC, pp 161–173

Stanford Research Institute (SRI) (2012) Spas and the global wellness market: synergies and opportunities

Stankov U, Filimonau V, Gretzel U, Vujičić MD (2020) E-mindfulness—the growing importance of facilitating tourists' connections to the present moment. J Tour Futures

Starlight Initiative (2007) Starlight Initiative. https://starlight2007.net/index_option_com_content_view_article_id_234_itemid_78_lang_en.html Accessed 13 Jan 13 2020

Stevens RG (2009) Light-at-night, circadian disruption and breast cancer: assessment of existing evidence. Int J Epidemiol 38(4):963–970. https://doi.org/10.1093/ije/dyp178

Šmotek M, Fárková E, Manková D, Kopřivová J (2020) Evening and night exposure to screens of media devices and its association with subjectively perceived sleep: should "light hygiene" be given more attention? Sleep Health. https://doi.org/10.1016/j.sleh.2019.11.007(In press)

Thomée S, Eklöf M, Gustafsson E, Nilsson R, Hagberg M (2007) Prevalence of perceived stress, symptoms of depression and sleep disturbances in relation to information and communication technology (ICT) use among young adults—an explorative prospective study. Comput Hum Behav 23(3):1300–1321. https://doi.org/10.1016/j.chb.2004.12.007

Uysal M, Sirgy JM, Woo E, Kim M (2016) Quality of Life (QoL) and well-being research in tourism. Tour Manag 53:244–261

Van Gordon W, Shonin E, Richardson M (2018) Mindfulness and nature. Mindfulness 9:1655–1658. https://doi.org/10.1007/s12671-018-0883-6

Walker MF (1970) The California site survey. Astronomical Society of the Pacific, pp 672–691

Weaver DB (2008) Ecotourism, 2nd edn. Wiley, Brisbane

Weaver DB (2011) Celestial ecotourism: new horizons in nature-based tourism. J Ecotour 10(1):38–45. https://doi.org/10.1080/14724040903576116

Wei S, Milman A (2002) The impact of participation in activities while on vacation on seniors' psychological well-being: a path model application. J Hospit Tour Res 26(2):175–185

Wen J (2017) Astronomy tourism: exploring an emerging market: group culture, individual experience, and industry future. PhD thesis. James Cook University

Williamson RA (1984) Living the sky: the cosmos of the American Indian. University of Oklahoma Press, Norman

Wood B, Rea MS, Plitnick B, Figueiro MG (2013) Light level and duration of exposure determine the impact of self-luminous tablets on melatonin suppression. Appl Ergonom 44(2):237–240. https://doi.org/10.1016/j.apergo.2012.07.008

World Tourism Organization (2013) Sustainable tourism for development guidebook—enhancing capacities for sustainable tourism for development in developing countries. UNWTO, Madrid. https://doi.org/10.18111/9789284415496

Wyles KJ, White MP, Hattam C, Pahl S, King H, Austen M (2017) Are some natural environments more psychologically beneficial than others? The importance of type and quality on connectedness to nature and psychological restoration. Environ Behav 51(2):111–143

Yang MQ, Chen QW, Zhu YY, Zhou Q, Geng YG, Lu CC, Wang GF, Yang CM (2019) The effects of intermittent light during the evening on sleepiness, sleep electroencephalographic spectral power and performance the next morning. Light Res Technol 51(8):1159–1177. https://doi.org/10.1177/1477153519828414

Zhu R, Fang H, Chen M, Hu X, Cao Y, Yang F, Xia K (2020) Screen time and sleep disorder in preschool children: identifying the safe threshold in a digital world. Public Health 186:204–210. https://doi.org/10.1016/j.puhe.2020.07.028
Additional information
Publisher's Note
Springer Nature remains neutral with regard to jurisdictional claims in published maps and institutional affiliations.
About this article
Cite this article
Bjelajac, D., Đerčan, B. & Kovačić, S. Dark skies and dark screens as a precondition for astronomy tourism and general well-being. Inf Technol Tourism (2020). https://doi.org/10.1007/s40558-020-00189-9
Received:

Revised:

Accepted:

Published:
Keywords
Astronomy tourism

ICTs

Light pollution

Dark skies

Well-being

Mindfulness