Abstract
The evolution of information and communication technology now makes it possible to collect travel information in a variety of ways. Social media content that includes blogs is one such useful information source when planning a trip. This paper proposes a method for generating a summary of multiple travel blog entries that contain images. The proposed method identifies significant sentences in addition to the images by using a graph-based approach that considers travelers' types of behavior. To investigate the effectiveness of the proposed method, we conducted two experiments: (1) evaluation of the quality of summaries and (2) evaluation of the effectiveness of these summaries. The experimental results demonstrated that the proposed method, LexRank + Image, can outperform state-of-the-art baseline methods for both evaluations. It was also confirmed that the proposed method could produce summaries containing new information not included in travel guidebooks. A system was implemented for generating summaries based on the proposed method.
This is a preview of subscription content, log in to check access.
Access options
Buy single article
Instant access to the full article PDF.
US$ 39.95
Price includes VAT for USA
Subscribe to journal
Immediate online access to all issues from 2019. Subscription will auto renew annually.
US$ 99
This is the net price. Taxes to be calculated in checkout.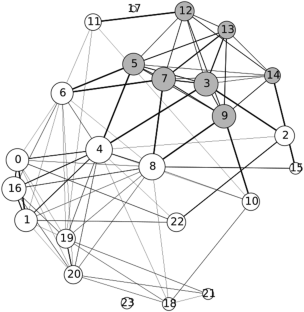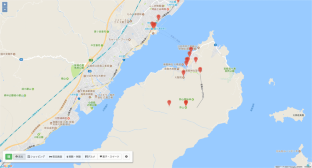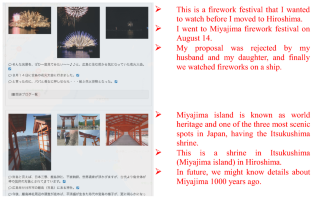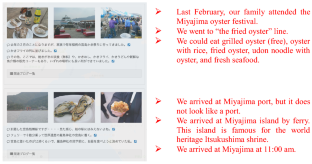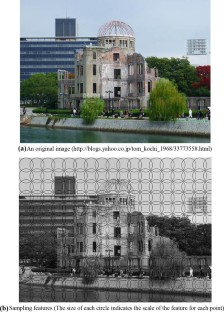 References
Akehurst G (2009) User generated content: the use of blogs for tourism organizations and tourism consumers. J Serv Bus. 3(1):51–61

Brin S, Page L (1998) The Anatomy of a large-scale hypertextual web search engine. In: Proceedings of World Wide Web conference. pp 107–117

Csurka G, Dance CR, Fan L, Willamowski J, Bray C (2004) Visual categorization with bags of keypoints. In: Proceedings of ECCV international workshop on statistical learning in computer vision. pp 1–22

Defays D (1977) An Efficient Algorithm for a Complete Link Method. The Computer Journal. 20(4):364–366

Erkan G, Radev DR (2004) LexRank: graph-based lexical centrality as salience in text summarization. J Artif Intell Res 22:457–479

Fujii K, Nanba H, Takezawa T, Ishino A (2016) Enriching travel guidebooks with travel blog entries and archives of answered questions. In: Proceedings of ENTER 2016

Fukushima T, Okumura M, Nanba H (2002) Text summarization challenge 2/text summarization evaluation at NTCIR workshop 3. In: Working notes of the 3rd NTCIR workshop meeting, PART V. pp 1–7

Hao Q, Cai R, Wang C, Xiao R, Yang JM, Pang Y, Zhang L (2010) Equip tourists with knowledge mined from travelogues. In: Proceedings of World Wide Web conference

Jonnson C, Devonish D (2008) Dose nationality, gender, and age affect travel motivation? A case of visitors to the Caribbean Island of Barbados. J Travel Tour Mark 25(3–4):398–408

Li YR, Wang YY (2013) Exploring the destination image of chinese tourists to taiwan by word-of-mouth on web. Proc World Acad Sci Eng Technol 7:977–981

Lin CY (2004) ROUGE: a package for automatic evaluation of summaries. In: Proceedings of workshop on text summarization branches out, pp 74–81

Lowe DG (1999) Objective recognition from local scale-invariant features. In: Proceedings of the international conference on computer vision. pp 1150–1157

Luhn HP (1958) The automatic creation of literature abstracts. IBM J Res Dev 2(2):159–165

Mack RW, Blose JE, Pan B (2008) Believe it or not: credibility of blogs in tourism. J Vacation Mark 14(2):133–144

Nanba H, Taguma H, Ozaki T, Kobayashi D, Ishino A, Takezawa T (2009) Automatic compilation of travel information from automatically identified travel blogs. In: Proceedings of the joint conference of the 47th annual meeting of the association for computational linguistics and the 4th international joint conference on natural language processing. pp 205–208

Otterbacher J, Erkan G, Radev DR (2009) Biased LexRank: passage retrieval using random walks with question-based priors. Inf Process Manage 45(1):42–54

Radev DR, Jing H, Budzikowska M (2000) Centroid-based summarization of multiple documents: sentence extraction, utility-based evaluation, and user studies. Proc NAACL-ANLP Workshop on Autom summ 4:21–30

Salton G (1971) The SMART retrieval system—experiments in automatic document processing. Prentice-Hall Inc, Upper Saddle River

Wenger A (2008) Analysis of travel bloggers' characteristics and their communication about Austria as a tourism destination. J Vacation Mark 14(2):169–176

Wu X, Li J, Neo SY (2008) Personalized multimedia web summarizer for tourist. In: Proceedings of World Wide Web conference

Xia J, Ciesielski V, Arrowsmith C (2005) Data mining of tourists' spatiotemporal movement patterns—a case study on Phillip Island. In: Proceedings of the 8th international conference on geocomputation. pp 1–5
About this article
Cite this article
Iinuma, S., Nanba, H. & Takezawa, T. Investigating the effectiveness of computer-produced summaries obtained from multiple travel blog entries. Inf Technol Tourism 21, 83–103 (2019). https://doi.org/10.1007/s40558-018-0132-9
Received:

Revised:

Accepted:

Published:

Issue Date:
Keywords
Travel blog

Multimedia summarization

Travel information processing

LexRank