Abstract
Designing engaging virtual-reality (VR) experiences to promote a tourist destination is a challenge for destination managers. There is still limited research on which VR characteristics (i.e., format, field of view, presence of animated elements, presence of sound effects, and perceived realness/vividness) have greater impacts on memory recall (i.e., what a person remembers from the VR experience) and favorable behaviors (i.e., intent to visit, repeat the experience, recommend the product, and engage in word-of-mouth advertising). Thus, to investigate such aspects, this study discusses a protocol that includes the use of heart rate (HR), a specific biophysical data, and self-reported perceptions of users exposed to a VR experience. A case study of a VR experience developed by Ticino Tourism, a regional Swiss Destination Management Organization, to promote a destination was conducted, including the participation of 23 users in pre- and post-experiments that tracked their HR data. The findings show that specific characteristics of the VR experience, such as presenting an unusual viewpoint to the user and incorporating animated elements, hold potential in encouraging the formation of strong memories.
Access options
Buy single article
Instant access to the full article PDF.
US$ 39.95
Tax calculation will be finalised during checkout.
Subscribe to journal
Immediate online access to all issues from 2019. Subscription will auto renew annually.
US$ 79
Tax calculation will be finalised during checkout.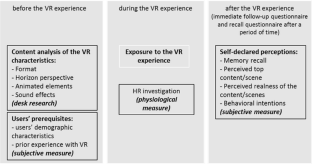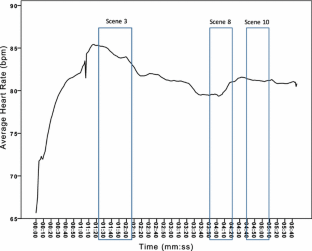 References
Biocca F, Nowak K (2001) Plugging your body into the telecommunication system: Mediated embodiment, media interfaces, and social virtual environments. In: Lin Carolyn, Atkin David (eds) Communication technology and society. Hampton Press, Waverly Hill, pp 407–447

Buhalis D, Law R (2008) Progress in information technology and tourism management: 20 years on and 10 years after the Internet-The state of eTourism research. Tour Manag 29(4):609–623

D'Argembeau A, Comblain C, Van der Linden M (2003) Phenomenal characteristics of autobiographical memories for positive, negative, and neutral events. App Cogn Psychol 17(3):281–294

Diemer J, Alpers GW, Peperkorn HM, Shiban Y, Mühlberger A (2015) The impact of perception and presence on emotional reactions: a review of research in virtual reality. Front Psychol. https://doi.org/10.3389/fpsyg.2015.00026

Earnshaw RA, Gigante MA, Jones H (1993) Virtual reality systems. Academic Press, London

Erickson KI, Voss MW, Prakash RS (2011) Exercise training increases size of hippocampus and improves memory. Proc Natl Acad Sci 108(7):3017–3022

Gretzel U, Fesenmaier D (2009) Information and technology: shaping the past, present and future of tourism. In: Robinson M, Jama T (eds) The SAGE handbook of tourism studies. Sage, Thousand Oaks, pp 558–580

Guttentag DA (2010) Virtual reality: applications and implications for tourism. Tour Manag 31(5):637–651

Hamann S (2001) Cognitive and neural mechanisms of emotional memory. Trends Cogn Sci 5(9):394–400

Highton S (2015) Virtual reality photography: creating panoramic and object images. Foreword

Huang E (2012) Online experiences and virtual goods purchase intention. Internet Res 22(3):252–274. https://doi.org/10.1108/10662241211235644

Huang YC, Backman KF, Backman SJ, Chang LL (2015) Exploring the implications of virtual reality technology in tourism marketing: an integrated research framework. Int J Tour Res 18:116–128

Jang DP, Kim IY, Nam SW, Wiederhold BK, Wiederhold MD, Kim SI (2002) An investigation of immersiveness in virtual reality exposure using physiological data. Stud Health Technol Inform 85:207–213

Kim JJ, Fesenmaier DR (2015) Measuring emotions in real time. implications for tourism experience design. J Travel Res 54(4):419–429

LaBar KS, Cabeza R (2006) Cognitive neuroscience of emotional memory. Nat Rev Neurosci 7(1):54–64

Lauria RM, FordMorie J (2015) Virtuality: VR as metamedia and herald of our future realities. In: Cantoni L, Danowski J (eds) Communication and technology, Handbooks of communication science [HoCS], vol 5. De Gruyter Mouton, Boston, pp 141–160

Lui TW, Piccoli G, Ives B (2007) Marketing strategies in virtual worlds. Adv Inf Syst 38(4):77–80

Malińska M, Zużewicz K, Bugajska J, Grabowski A (2015) Heart rate variability (HRV) during virtual reality immersion. Int J Occup Saf Ergon 21(1):47–54

Marchiori E, Niforatos E, Preto L (2017) Measuring the media effects of a tourism-related virtual reality experience using biophysical data. Inf Commun Technol, Tourism, pp 203–215

Meehan M (2000) An objective surrogate for presence: physiological response. In: Paper presented at the presence 2000 workshop

Morina N, Ijntema H, Meyerbröker K, Emmelkamp PMG (2015) Can virtual reality exposure therapy gains be generalized to real-life? A meta-analysis of studies applying behavioral assessments. Behav Res Ther 74:18–24

Nah FF, Eschenbrenner B, Dewester D (2011) Enhancing brand equity through flow and telepresence: a comparison of 2D and 3D virtual. MIS Q 35(3):1–19

Park J, Stoel L, Lennon SJ (2008) Cognitive, affective and conative responses to visual simulation: the effects of rotation in online product presentation. J Consum Behav 7(1):72–87

Ridout SJ, Spofford CM, van't Wout-Frank M et al (2017) Heart rate variability responses to a standardized virtual reality exposure in veterans with PTSD. Curr Treat Options Psychiatry 4(3):271–280

Riva G, Mantovani F, Capideville CS, Preziosa A, Morganti F, Villani D, Gaggioli A, Botella C, Alcañiz M (2007) Affective interactions using virtual reality: the link between presence and emotions. Cyberpsychol Behav 10(1):45–56

Schaefer A, Philippot P (2005) Selective effects of emotion on the phenomenal characteristics of autobiographical memories. Memory 13(2):148–160

Schuemie MJ, Van Der Straaten P, Krijn M, Van Der Mast CA (2001) Research on presence in virtual reality: a survey. Cyberpsychol Behav 4:183–201

Shah AJ, Su S, Veledar E (2011) Is heart rate variability related to memory performance in middle-aged men? Psychosom Med 73(6):475–482

Sherman WR, Craig AB (2002) Understanding virtual reality: interface, application, and design. Morgan Kaufmann, San Francisco

Slater M (2003) A note on presence terminology. Presence Connect 3(3)

Steuer JS (1992) Defining virtual reality: dimensions determining telepresence. J Commun 42(4):73–93

Sundar SS, Bellur S, Oh J, Jia H, Kim H-S (2014) Theoretical importance of contingency in human-computer interaction: effects of message interactivity on user engagement. Commun Res 43:595–625

Talarico JM, LaBar KS, Rubin DC (2004) Emotional intensity predicts autobiographical memory experience. Mem Cogn 32(7):1118–1132

van Noort G, Voorveld HAM, van Reijmersdal EA (2012) Interactivity in brand web sites: cognitive, affective, and behavioral responses explained by consumers' online flow experience. J Interact Mark 26(4):223–234

Wan CS, Tsaur SH, Chiu Y-L, Chiou WB (2007) Is the advertising effect of virtual experience always better or contingent on different travel destinations? Inf Technol Tour 9(1):45–54

Weinberg L, Hasni A, Shinohara M, Duarte A (2014) A single bout of resistance exercise can enhance episodic memory performance. Acta Physiol (Oxf) 153:13–19

Wiederhold BK, Davis R, Wiederhold MD (1998) The effect of immersiveness on physiology. Virtual Environ Clin Psychol Neurosci 58:52–60
Additional information
This is an extended version of a conference paper entitled "Measuring the Media Effects of a Tourism-Related Virtual Reality Experience Using Biophysical Data" (Marchiori et al. 2017), which was previously published in the proceedings of the Information and Communication Technologies in Tourism 2017 (ENTER 2017) conference held in Rome, Italy, January 24–26, 2017.
About this article
Cite this article
Marchiori, E., Niforatos, E. & Preto, L. Analysis of users' heart rate data and self-reported perceptions to understand effective virtual reality characteristics. Inf Technol Tourism 18, 133–155 (2018). https://doi.org/10.1007/s40558-018-0104-0
Received:

Revised:

Accepted:

Published:

Issue Date:
Keywords
Virtual reality

Biophysical data

Tourism destination

Emotional responses

VR characteristics

Heart-rate data