Abstract
In the last years, destinations have started to redefine their role and their entrepreneurial logics, involving tourists as active co-creators of their own experiences and considering new technologies as the main tools for defining tourism products. It implies the birth of a new kind of destinations, the smart tourism destinations (STDs), in which new technologies are so extensively embedded to influence tourism experiences, enhance destinations' competitiveness and favour tourism development projects. Starting from these considerations, the main purpose of this paper is to contribute to the recent debate on innovation in tourism, by proposing an interpretative framework able to explain the way in which technological components in a STD may improve the co-creation of tourism experiences. Empirical analysis on two European STD best practices, Venice and Salzburg, conducted triangulating qualitative methods, reveals that the smart approach adopted by STDs improves the co-creation of tourism experiences by encouraging the interaction with tourists, increasing their active participation during the experience, and promoting the sharing of the experience among the tourists themselves. The paper provides interesting insights for destination managers and policy makers on how they should use innovative technologies in STDs to improve the experience co-creation.
Access options
Buy single article
Instant access to the full article PDF.
USD 39.95
Price excludes VAT (USA)
Tax calculation will be finalised during checkout.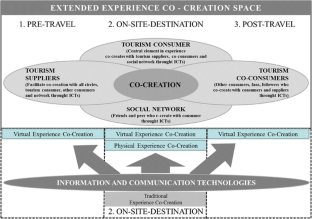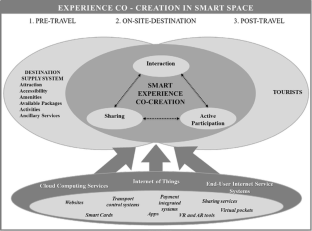 References
Aho SK (2001) Towards a general theory of touristic experiences: modelling experience process in tourism. Tour Rev 56(3/4):33–37

Andersson TD (2007) The tourist in the Experience Economy. Scand J Hosp Tour 7(1):46–58

Armbrust M, Fox A, Griffith R, Joseph AD, Katz R, Konwinski A, Lee G, Patterson D, Rabkin A, Stica I, Zaharia M (2010) A view of cloud computing. Commun ACM 53(4):50–58

Atzori L, Iera A, Morabito G (2010) The Internet of things: a survey. Comput Netw 54:2787–2805

Baggio R, Del Chiappa G (2014) Real and virtual relationships in tourism digital ecosystems. Inf Technol Tour 14(1):3–19

Baggio R, Del Chiappa G (2013) Tourism destinations as digital business ecosystems. Springer, Berlin, Heidelberg

Beritelli P, Bieger T, Laesser C (2007) Destination governance: using corporate governance theories as a foundation for effective destination management. J Travel Res 46(1):96–107

Beritelli P, Bieger T, Laesser C (2014) The new frontiers of destination management applying variable geometry as a function-based approach. J Travel Res 53(4):403–417

Bettini M (2013) Venezia smart city—Innovatività nella proposizione dei servizi. Available presentation at https://prezi.com/r5kocavti5zj/venezia-smart-city. Accessed 10 Apr 2015

Binkhorst E, Den Dekker T (2009) Agenda for co-creation tourism experience research. J Hosp Mark Manag 18(2–3):311–327

Boes, K (2015) Smart tourism destinations: smartness as competitive advantage. In: ENTER2015 PhD workshop research proposals pp 11–15

Brejla P, Gilbert D (2014) An exploratory use of web content analysis to understand cruise tourism services. Int J Tour Res 16(2):157–168

Bryman A (2008) Of methods and methodology. Qual Res Org Manag: Int J 3(2):159–168

Buhalis D (2000) Marketing the competitive destination of the future. Tour Manag 21(1):97–116

Buhalis D, Amaranggana A (2013) Smart Tourism Destinations. In: Xiang Z, Tussyadiah I (eds) Information and communication technologies in tourism 2014. Springer International Publishing, Switzerland, pp 553–556

Buhalis D, Amaranggana A (2014) Smart tourism destinations enhancing tourism experience through personalisation of services. In: Tussyadiah I, Inversini A (eds) Information and communication technologies in tourism 2015. Springer International Publishing, Switzerland, pp 377–389

Buhalis D, Foerste M (2015) SoCoMo Marketing for travel and tourism: empowering co-creation of value. J Desti Market Manag 4(3):151–161

Caragliu A, Del Bo C, Nijkamp P (2009) Smart cities in Europe. In: Proceedings to the 3rd central European conference on regional science, Košice, Slovak Republic

Del Chiappa G, Baggio R (2015) Knowledge transfer in smart tourism destinations: analyzing the effects of a network structure. J Dest Market Manag 4(3):145–150

Chui M, Löffler M, Roberts R (2010) The Internet of things. McKinsey 2:1–9

Cohen B (2012) Smart cities hub. Retrieved 22 July 2013, from http://smartcitieshub.com/2012/11/11/smart-cities-ranking-methodology/

Comune di Venezia (2014) Annuario del Turismo del Comune di Venezia 2013. CPM Editoria per la comunicazione

Eisenhardt KM (1989) Building theories from case study research. Acad Manag Rev 14(4):532–550

Green N (2002) On the move: technology, mobility, and the mediation of social time and space. Inf Soc 18(4):281–292

Gretzel U, Jamal T (2009) Conceptualizing the creative tourist class: technology, mobility and tourism experiences. Tour Anal 14(4):471–481

Gretzel U, Sigala M, Xiang Z, Koo C (2015a) Smart tourism: foundations and developments. Electron Mark 25(3):179–188

Gretzel U, Werthner H, Koo C, Lamsfus C (2015b) Conceptual foundations for understanding smart tourism ecosystems. Comput Hum Behav 50:558–563

Gutiérrez V, Galache JA, Sánchez L, Muñoz L, Hernández-Muñoz JM, Fernandes J et al (2013) Smart Santander: internet of things research and innovation through citizen participation. In: Galis A, Gavras A (eds) The future internet. Springer, Berlin, Heidelberg, pp 173–186

Holland RG (2008) Will the real smart city please stand up? City 12(3):303–320

Kladou S, Mavragani E (2015) Assessing destination image: an online marketing approach and the case of TripAdvisor. J Dest Market Manag 4(3):187–193

Komninos N, Pallot M, Schaffers H (2013) Smart cities and the future Internet in Europe. special issue. J Knowl Econ 4(2):149–231

Kuflik T, Wecker AJ, Lanir J, Stock O (2015) An integrative framework for extending the boundaries of the museum visit experience: linking the pre, during and post visit phases. Inf Technol Tour 15:17–47

Lamsfus C, Alzua-Sorzabal A (2013) Theoretical framework for a tourism internet of things: smart destinations. TourGUNE J Tour Hum Mobil 0:15–21

Lamsfus C, Martín D, Alzua-Sorzabal A, Torres-Manzanera E (2015) Smart tourism destinations: an extended conception of smart cities focusing on human mobility. In: Information and communication technologies in tourism 2015. Springer International Publishing, pp 363–375

Lin Y (2011) The application of the Internet of things in Hainan tourism scenic spot. In: Hainan: Seventh international conference on computational intelligence and security

Lopez de Avila A (2015) Smart destinations: XXI century tourism. Presented at the ENTER2015 conference on information and communication technologies in tourism. Lugano, Switzerland

Mingjun W, Zhen Y, Wei Z, Xishang D, Xiaofei Y, Chenggang S, Jinghai H (2012) A research on experimental system for Internet of Things major and application project. In: 2012 3rd international conference on system science, engineering design and manufacturing informatization (ICSEM), vol 1, pp 261–263. IEEE

Minkiewicz J, Evans J, Bridson K (2009) Co-creation in the heritage sector paper presented at ANZMAC Conference 2009: sustainable management and marketing conference, Melbourne, pp 1–10

Neuhofer B, Buhalis D, Ladkin A (2012) Conceptualising technology enhanced destination experiences. J Destin Mark Manag 1(1):36–46

Prebensen NK, Vittersø J, Dahl TI (2013) Value co-creation significance of tourist resources. Annal Tour Res 42:240–261

Presenza A, Micera R, Splendiani S, Del Chiappa G (2014) Stakeholder e-involvement and participatory tourism planning: analysis of an Italian case study. Int J Knowle-Based Dev 5(3):311–328

Provincia di Venezia (2014) Tutto è cultura, in tutto c'è cultura. Rapporto Statistico 2014

Rustichini A, Siconolfi P (2004) Growth in economies with non convexities: sunspots and lottery equilibria. Econ Theor 24(3):701–726

Salvado JOMG, Ferreira AMAP, Costa CMM (2011) Co-creation: the travel agencies'new frontier. Tour Manag Stud 1:229–244

Schaffers H, Komninos N, Pallot M, Trousse B, Nilsson M, Oliveira A (2011) Smart cities and the future internet: towards cooperation frameworks for open innovation. Future Internet Assem 6656(31):431–446

Supak S, Brothers G, Bohnenstiehl D, Devine H (2015) Geospatial analytics for federally managed tourism destinations and their demand markets. J Dest Market Manag 4(3):173–186

Tussyadiah IP, Fesenmaier DR (2009) Mediating tourist experiences: access to places via shared videos. Ann Tour Res 36(1):24–40

Vicini S, Bellini S, Sanna A (2012) How to co-create Internet of things-enabled services for smarter cities. IARIA, Stuttgart

Wang D, Li XR, Li Y (2013) China's "smart tourism destination" initiative: a taste of the service-dominant logic. J Destin Mark Manag 2(2):59–61

Xiang Z, Tussyadiah I, Buhalis D (2015) Special issue: smart destinations. J Destin Mark Manag 4(3):143–201

Yin RK (2003) Case study research: design and methods, 3rd edn. Thousand Oaks, CA, Sage

Yin RK (2013) Case study research: design and methods. Sage Publications, London

Zhang LY, Li N, Liu M (2012) On the basic concept of smarter tourism and its theoretical system. Tour Tribune 27(5):66–73

Zhu W, Zhang L, Li N (2014) Challenges, function changing of government and enterprises in chinese smart tourism. In: Xiang Z, Tussyadiah I (eds) Information and communication technologies in tourism. Springer, Dublin
Sitography
About this article
Cite this article
Buonincontri, P., Micera, R. The experience co-creation in smart tourism destinations: a multiple case analysis of European destinations. Inf Technol Tourism 16, 285–315 (2016). https://doi.org/10.1007/s40558-016-0060-5
Received:

Revised:

Accepted:

Published:

Issue Date:

DOI: https://doi.org/10.1007/s40558-016-0060-5
Keywords