Abstract
Firms endeavor to differentiate their products and brands by applying various elements to their marketing communication tools. One underutilized element is the human voice, which carries much information about the speaker (both static and dynamic) and may serve as the "auditory face" of a brand. In this study, we propose a concept that we have named the "voiceprint," which identifies the "ideal" voice for promoting a product/brand. In our conceptual framework, we illustrate how different combinations of acoustic features in voices that represent the product evoke certain perceptions and images, which ultimately drive preferences toward the product/brand. To empirically demonstrate that consumers are indeed affected by voices, we conducted a laboratory study wherein subjects evaluated different actors' voices in radio advertisements for various product categories. The data were analyzed using voice feature extraction methods and by applying a latent class multivariate model. The results showed that different voices indeed have a significant effect on people's preferences. In addition, heterogeneity in different consumer segments and product categories was found regarding important voice features that drove preferences. Managerially, our findings provide guidance for marketers regarding how to effectively select the right voice for their marketing communications.
Access options
Buy single article
Instant access to the full article PDF.
US$ 39.95
Tax calculation will be finalised during checkout.
Subscribe to journal
Immediate online access to all issues from 2019. Subscription will auto renew annually.
US$ 79
Tax calculation will be finalised during checkout.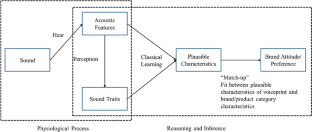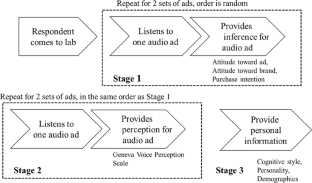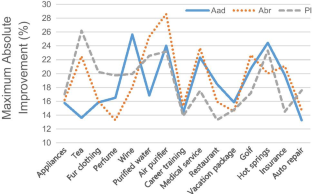 Notes
1.

We also considered the speech rate, which considers pauses in the calculation of speaking speed, but it had a very high correlation with articulation rate; thus, we ended up only considering the articulation rate.

2.

Strictly speaking, pitch represents perceived frequency, like loudness represents perceived signal intensity.

3.

Although the concept of timbre is complex and is determined by a combination of temporal and spectral aspects, for this research, we only consider the spectral centroid.

4.

A similar term used for pitch is jitter, which is defined as the cycle-to-cycle variation of fundamental frequency, i.e., the average absolute fundamental frequency difference between consecutive periods. We did not consider jitter in the analysis because it is highly correlated with shimmer, and previous research shows that people are usually not able to distinguish between these two [44].
References
1.

Kotler P, Keller KL, Brady M, Goodman M, Hansen T (2016) Marketing management. Pearson Education Ltd., London

2.

Minsky L, Fahey C (2017) Audio Branding: Using sound to build your brand. Kogan Page Publishers, London

3.

Hao K (2021) AI voice actors sound more human than ever—and they're ready to hire. MIT Technology Review, Cambridge

4.

Anonymous (2020) Voice Analytics Market by Component (Solution (Indexing & Query, Speech Engine) and Services), Application (Customer Experience Management, Competitive Intelligence), Deployment Mode, and Region - Global Forecast to 2024. MarketandMarkets Research Private Ltd.

5.

Belin P, Bestelmeyer PE, Latinus M, Watson R (2011) Understanding voice perception. Br J Psychol 102(4):711–725

6.

Kimble CE, Seidel SD (1991) Vocal signs of confidence. J Nonverbal Behav 15(2):99–105

7.

Chattopadhyay A, Dahl DW, Ritchie RJ, Shahin KN (2003) Hearing voices: the impact of announcer speech characteristics on consumer response to broadcast advertising. J Consum Psychol 13(3):198–204

8.

Chebat J-C, Chebat CG, Vaillant D (2001) Environmental background music and in-store selling. J Bus Res 54(2):115–123

9.

LaBarbera P, MacLachlan J (1979) Time-compressed speech in radio advertising. The Journal of Marketing 43:30–36

10.

Levi SV, Pisoni DB (2007) Indexical and linguistic channels in speech perception: some effects of voiceovers on advertising outcomes. In: Lowrey TM (ed) Psycholinguistic phenomena in marketing communications. Lawrence Erlbaum Associates Publishers, Mahwah, pp 203–219

11.

Wiener HJ, Chartrand TL (2014) The effect of voice quality on ad efficacy. Psychol Mark 31(7):509–517

12.

Apple W, Streeter LA, Krauss RM (1979) Effects of pitch and speech rate on personal attributions. J Pers Soc Psychol 37(5):715

13.

Erdogan BZ, Baker MJ (2000) Toward a practitioner-based model of selecting celebrity endorsers. Int J Advert 19(1):25–42

14.

Wheatley JJ, Brooker G (1994) Music and spokesperson effects on recall and cognitive response to a radio advertisement. Attention, attitude, and affect in response to advertising. p 192

15.

Latinus M, Belin P (2011) Human voice perception. Curr Biol 21(4):R143–R145

16.

Smith BL, Brown BL, Strong WJ, Rencher AC (1975) Effects of speech rate on personality perception. Lang Speech 18(2):145–152

17.

Pon-Barry H, Shieber SM (2011) Recognizing uncertainty in speech. EURASIP Journal on Advances in Signal Processing 2011:1–11

18.

Miller N, Maruyama G, Beaber RJ, Valone K (1976) Speed of speech and persuasion. J Pers Soc Psychol 34(4):615

19.

Smith SM, Shaffer DR (1995) Speed of speech and persuasion: evidence for multiple effects. Pers Soc Psychol Bull 21(10):1051–1060

20.

Tigue CC, Borak DJ, O'Connor JJ, Schandl C, Feinberg DR (2012) Voice pitch influences voting behavior. Evol Hum Behav 33(3):210–216

21.

Gelinas-Chebat C, Chebat J-C (1992) Effects of two voice characteristics on the attitudes toward advertising messages. J Soc Psychol 132(4):447–459

22.

Forehand MR, Perkins A (2005) Implicit assimilation and explicit contrast: a set/reset model of response to celebrity voice-overs. Journal of Consumer Research 32(3):435–441

23.

Zoghaib A (2017) The contribution of a brand spokesperson's voice to consumer-based brand equity. Journal of Product & Brand Management 26(5):492–502

24.

Alías F, Socoró JC, Sevillano X (2016) A review of physical and perceptual feature extraction techniques for speech, music and environmental sounds. Appl Sci 6(5):143

25.

Kent RD, Read C, Kent RD (1992) The acoustic analysis of speech, vol 58. Singular Publishing Group, San Diego

26.

Eggermont JJ (2001) Between sound and perception: reviewing the search for a neural code. Hear Res 157(1–2):1–42

27

Bregman AS (1994) Auditory scene analysis: the perceptual organization of sound. MIT press, Cambridge

28.

Watson JB (1913) Psychology as the behaviorist views it. Psychol Rev 20(2):158

29.

Graesser AC, Nakamura GV (1982) The impact of a schema on comprehension and memory. Psychology of learning and motivation, vol 16. Elsevier, Amsterdam, pp 59–109

30.

Misra S, Beatty SE (1990) Celebrity spokesperson and brand congruence: an assessment of recall and affect. J Bus Res 21(2):159–173

31

Girard T, Silverblatt R, Korgaonkar P (2002) Influence of product class on preference for shopping on the internet. Journal of Computer-Mediated Communication 8(1):JCMC815

32.

Klein LR (1998) Evaluating the potential of interactive media through a new lens: search versus experience goods. J Bus Res 41(3):195–203

33.

Nelson P (1974) Advertising as information. J Polit Econ 82(4):729–754

34.

Vaughn R (1980) How advertising works: a planning model. Journal of advertising research 1:2000

35.

Xiao L, Ding M (2014) Just the faces: exploring the effects of facial features in print advertising. Mark Sci 33(3):338–352

36.

Jin Q, Zheng TF (2011) Overview of front-end features for robust speaker recognition. Proc. APSIPA

37.

Wu D, Parsons TD, Narayanan SS (2010) Acoustic feature analysis in speech emotion primitives estimation. Eleventh Annual Conference of the International Speech Communication Association

38.

Schubert E, Wolfe J (2006) Does timbral brightness scale with frequency and spectral centroid? Acta Acust Acust 92(5):820–825

39.

Lakatos S, McAdams S, Caussé R (1997) The representation of auditory source characteristics: simple geometric form. Percept Psychophys 59(8):1180–1190

40.

Sun X (2002) Pitch determination and voice quality analysis using subharmonic-to-harmonic ratio. Acoustics, Speech, and Signal Processing (ICASSP). IEEE, New Jersey, pp I-333-I-336

41.

Keating P, Garellek M, Kreiman J (2015) Acoustic properties of different kinds of creaky voice. Proceedings of the 18th International Congress of Phonetic Sciences. pp 0821.0821-0821.0825

42.

Hildebrand C, Efthymiou F, Busquet F, Hampton WH, Hoffman DL, Novak TP (2020) Voice analytics in business research: conceptual foundations, acoustic feature extraction, and applications. J Bus Res 121:364–374

43.

Farrús M, Hernando J, Ejarque P (2007) Jitter and shimmer measurements for speaker recognition. Eighth Annual Conference of the International Speech Communication Association

44.

Kreiman J, Gabelman B, Gerratt BR (2003) Perception of vocal tremor. J Speech Lang Hear Res 46(1):203–214

45.

Shao J, MacCallum JK, Zhang Y, Sprecher A, Jiang JJ (2010) Acoustic analysis of the tremulous voice: assessing the utility of the correlation dimension and perturbation parameters. J Commun Disord 43(1):35–44

46.

Hillenbrand J, Cleveland RA, Erickson RL (1994) Acoustic correlates of breathy vocal quality. J Speech Lang Hear Res 37(4):769–778

47.

Ramaswamy V, DeSarbo WS, Reibstein DJ, Robinson WT (1993) An empirical pooling approach for estimating marketing mix elasticities with PIMS data. Mark Sci 12(1):103–124

48.

Vermunt JK, Magidson J (2013) Technical guide for Latent GOLD 5.0: Basic, advanced, and syntax. Statistical Innovations Inc, Belmont

49.

Enders CK, Tofighi D (2008) The impact of misspecifying class-specific residual variances in growth mixture models. Struct Equ Modeling 15(1):75–95

50.

Tofighi D, Enders CK (2008) Identifying the correct number of classes in growth mixture models. Advances in latent variable mixture Models 2007:317–341

51.

Streeter LA, Krauss RM, Geller V, Olson C, Apple W (1977) Pitch changes during attempted deception. J Pers Soc Psychol 35(5):345

52.

Gélinas-Chebat C, Chebat J-C, Vaninsky A (1996) Voice and advertising: effects of intonation and intensity of voice on source credibility, attitudes toward the advertised service and the intent to buy. Percept Mot Skills 83(1):243–262

53.

Dahl DW (2010) Understanding the role of spokesperson voice in broadcast advertising. Sensory marketing. In: Krishna A (ed) Research on the sensuality of products. Routledge, Oxford, pp 169–182

54.

Kitamura T (2008) Acoustic analysis of imitated voice produced by a professional impersonator. In: Ninth Annual Conference of the International Speech Communication Association.

55.

Zetterholm E (2006) Same speaker–different voices. A study of one impersonator and some of his different imitations. In: Proceedings of the 11th Australian International Conference on Speech Science & Technology. pp 70–75
Ethics declarations
Conflict of Interest
The authors declare no competing interests.
About this article
Cite this article
Kim, Hj., Wang, Y. & Ding, M. Brand Voiceprint. Cust. Need. and Solut. (2021). https://doi.org/10.1007/s40547-021-00120-1
Keywords
Voice

Voice features

Speech analysis

Brand management

Marketing communications