Abstract
Herding behavior refers to the behavior of individuals behaving similarly as a group without directions to coordinate. Herding can demonstrate rational characteristics. When consumers believe that others may have private information about a product, they infer unobserved information through other people's behaviors, thereby engaging in similar actions themselves. While rational herding behavior has been found mostly in high involvement environments such as the financial markets, this paper provides evidence that such behavior may also occur in a comparatively lower involvement environment such as retailing. To demonstrate herding behavior and test shoppers' rationality in such, the authors employ a unique dataset from a major TV shopping channel. In this setting, information about other buyers' purchase decisions is only sometimes observed by shoppers. Evidence suggests that herding happens among shoppers and the herding behavior appears to exhibit rationality. The authors find that herding effects (1) are stronger when relative price discount is smaller, (2) are more prominent for a product category with less digitalizable attributes, and (3) appear to happen mainly in the earlier part of a sales pitch when shoppers have less information about a product and are more uncertain about their product valuation.
This is a preview of subscription content, log in to check access.
Access options
Buy single article
Instant access to the full article PDF.
US$ 39.95
Price includes VAT for USA
Subscribe to journal
Immediate online access to all issues from 2019. Subscription will auto renew annually.
US$ 99
This is the net price. Taxes to be calculated in checkout.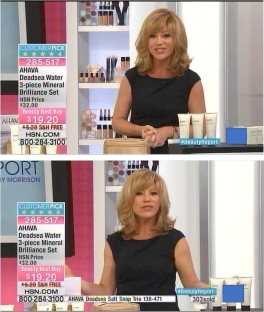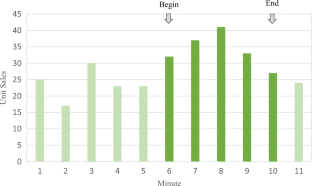 Notes
1.

We discuss in detail when the "sold box" is used in the data section.

2.

Note also that herding differs conceptually from "information cascade," which often refers to the phenomenon that consumers ignore private information without having a tangible reason to. In our study, we use the moderating effects on observed sales ("sold box") to infer the rationality of following the herd, with a tangible reason.

3.

We use the parameter estimate from Table 3 column (1) row one for this calculation. The actual magnitude of herding effect is context dependent, as we discuss further in the paper.

4.

5.

At any point of time during a sales pitch, the sales hosts control when to display and take off the "sales box" that shows how many units of products have been sold thus far.

6.

The database from the TV shopping network does not contain "sold box" information, an indication of the non-strategic role of the "sold box" in the TV shopping programs.

7.

For ease of reading, we suppress the subscript i for all future references of ti, with the understanding that Ti, the total length of pitch i, is pitch specific.

8.

9.

However, a set of time-invariable variables Zi (e.g., relative price discount as hypothesized in H2) are useful when examining their moderating effect on herding (Sit).

10.

We acknowledge that there can still be a relationship between sales and the use of "sold box," as the host may rely on their prior experience and/or "hunches" to display the "sold box" strategically.
References
1.

Akerlof GA (1970) The market for 'lemons': quality uncertainty and the market mechanism. Q J Econ 84(3):488–500

2.

Alba JW, Wesley Hutchinson J (1987) Dimensions of consumer expertise. J Consum Res 13(4):411–454

3.

Argo JJ, Dahl DW, Manchanda RV (2005) The influence of a mere social presence in a retail context. J Consum Res 32(2):207–212

4.

Avery CN, Chevalier JA (1999) Herding over the career. Econ Lett 63(3):327–333

5.

Avery C, Zemsky P (1998) Multidimensional uncertainty and herd behavior in financial markets. Am Econ Rev 88(4):724–748

6.

Babenko I, Tserlukevich Y, Vedrashko A (2012) The credibility of open market share repurchase signaling. J Financ Quant Anal 47(5):1059–1088

7.

Banerjee AV (1992) A simple model of herd behavior. Q J Econ 107(3):797–817

8.

Bass FM (1969) A new product growth for model consumer durables. Manag Sci 15(5):215–227

9.

Bass FM, Krishnan TV, Jain DC (1994) Why the Bass model fits without decision variables. Mark Sci 13(3):203–223

10.

Bollinger B, Gillingham K (2012) Peer effects in the diffusion of solar photovoltaic panels. Mark Sci 31(6):900–912

11.

Brown JJ, Reingen PH (1987) Social ties and word-of-mouth referral behavior. J Consum Res 14(3):350–362

12.

Brunnermeier MK (2001) Asset pricing under asymmetric information: bubbles, crashes, technical analysis, and herding. Press on Demand, Oxford University

13.

Cai H, Chen Y, Fang H (2009) Observational learning: evidence from a randomized natural field experiment. Am Econ Rev 99(3):864–882

14.

Chen Y, Wang Q, Xie J (2011) Online social interactions: a natural experiment on word of mouth versus observational learning. J Mark Res 48(2):238–254

15.

Chen Y, Xie J (2008) Online consumer review: word-of-mouth as a new element of marketing communication mix. Manag Sci 54(3):477–491

16.

Chevalier JA, Mayzlin D (2006) The effect of word of mouth on sales: online book reviews. J Mark Res 43(3):345–354

17.

Cipriani M, Guarino A (2005) Herd behavior in a laboratory financial market. Am Econ Rev 95(5):1427–1443

18.

Deutsch M, Gerard HB (1955) A study of normative and informational social influences upon individual judgment. J Abnorm Soc Psychol 51(3):629–636

19.

Devenow A, Welch I (1996) Rational herding in financial economics. Eur Econ Rev 40(3–5):603–615

20.

Ding AW, Li S (2019) Herding in the consumption and purchase of digital goods and moderators of the herding bias. J Acad Mark Sci 47(3):460–478

21.

Ding M, Eliashberg J, Huber J, Saini R (2005) Emotional bidders—an analytical and experimental examination of consumers' behavior in a priceline-like reverse auction. Manag Sci 51(3):352–364

22.

Duan W, Gu B, Whinston AB (2008) Do online reviews matter?—an empirical investigation of panel data. Decis Support Syst 45(4):1007–1016

23.

Falk A, Ichino A (2006) Clean evidence on peer effects. J Labor Econ 24(1):39–57

24.

Gigerenzer G, Todd PM, the ABC Research Group (1999) Simple heuristics that make us smart. Oxford University Press, New York, NY

25.

Hawkins SA, Hoch SJ (1992) Low-involvement learning: memory without evaluation. J Consum Res 19(2):212–225

26.

Herzenstein M, Dholakia UM, Andrews RL (2011) Strategic herding behavior in peer-to-peer loan auctions. J Interact Mark 25(1):27–36

27.

Hong H, Kubik JD, Solomon A (2000) Security analysts' career concerns and herding of earnings forecasts. RAND J Econ 31(1):121–144

28.

Hu Y, Li X (2011) Context-dependent product evaluations: an empirical analysis of internet book reviews. J Interact Mark 25(3):123–133

29.

Kahneman D (2011) Thinking, Fast and Slow. Farrar, Straus and Giroux, New York, NY

30.

Lal R, Sarvary M (1999) When and how is the internet likely to decrease price competition? Mark Sci 18(4):485–503

31.

Lamont OA (2002) Macroeconomic forecasts and microeconomic forecasters. J Econ Behav Organ 48(3):265–280

32.

Lu S, Xiao L, Ding M (2016) A video-based automated recommender (VAR) system for garments. Mark Sci 35(3):484–510

33.

Nickell S (1981) Biases in dynamic models with fixed effects. Econometrica 49(6):1417–1426

34.

Raafat RM, Chater N, Frith C (2009) Herding in Humans. Trends Cogn Sci 13(10):420–428

35.

Sacerdote B (2001) Peer effects with random assignment: results for Dartmouth roommates. Q J Econ 116(2):681–704

36.

Shiller RJ (1995) Conversation, information, and herd behavior. Am Econ Rev 85(2):181–185

37.

Sias RW (2004) Institutional herding. Rev Financ Stud 17(1):165–206

38.

Simonsohn U, Ariely D (2008) When rational sellers face nonrational buyers: evidence from herding on Ebay. Manag Sci 54(9):1624–1637

39.

Tirunillai S, Tellis GJ (2012) Does chatter really matter? Dynamics of user-generated content and stock performance. Mark Sci 31(2):198–215

40.

Trueman B (1994) Analyst forecasts and herding behavior. Rev Financ Stud 7(1):97–124

41.

Tucker C, Zhang J (2011) How does popularity information affect choices? A field experiment. Manag Sci 57(5):828–842

42.

Wang LC, Baker J, Wagner JA, Wakefield K (2007) Can a retail web site be social? J Mark 71(3):143–157

43.

Wang X, Hu Y (2009) The effect of experience on internet auction bidding dynamics. Mark Lett 20(3):245–261

44.

Welch I (2000) Herding among security analysts. J Financ Econ 58(3):369–396

45.

Wilson S (2008) "Big Break," Entrepreneur, (accessed September 13, 2019), [available at https://www.entrepreneur.com/article/192754]

46.

Zaichkowsky JL (1985) Measuring the involvement construct. J Consum Res 12(3):341–352

47.

Zhang J, Liu P (2012) Rational herding in microloan markets. Manag Sci 58(5):892–912

48.

Zhang X, Li S, Burke RR, Leykin A (2014) An examination of social influence on shopper behavior using video tracking data. J Mark 78(5):24–41

49.

Zhu F, Zhang X (2010) Impact of online consumer reviews on sales: the moderating role of product and consumer characteristics. J Mark 74(2):133–148
About this article
Cite this article
Hu, Y., Wang, K., Chen, M. et al. Herding Among Retail Shoppers: the Case of Television Shopping Network. Cust. Need. and Solut. (2020). https://doi.org/10.1007/s40547-020-00111-8
Keywords
Herding

Moderators of herding

Retailing

TV shopping