Abstract
This paper provides an overview of recent research that explores how digital technologies such as mobile devices, wearables, voice technology, and recommendation agents are transforming consumer decision-making. We advance a conceptual model of technology-augmented choice that describes how the three Ms of technology—mediums (i.e., device types), modalities (i.e., interaction interfaces), and modifiers (i.e., intelligent agents)—are becoming increasingly integral elements of consumer decision processes. For instance, today's new technologies often help curate consideration sets, shape how options are evaluated, and even guide choices themselves. As a result, market choices must now be viewed as a joint function of both consumer preferences and the characteristics of the technological environment in which those preferences are expressed. Examples of empirical research are reviewed that characterize the interdependencies between technology and decision-making, including how smartphones transform user-generated content, voice technology affects consumer search, haptic interfaces shape product preferences, and search engines alter confidence in choice.
Access options
Buy single article
Instant access to the full article PDF.
US$ 39.95
Tax calculation will be finalised during checkout.
Subscribe to journal
Immediate online access to all issues from 2019. Subscription will auto renew annually.
US$ 79
Tax calculation will be finalised during checkout.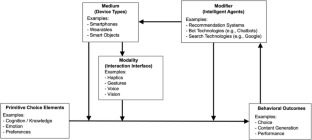 References
1.

Pew Research Center (2019) Mobile fact sheet, Report, Pew Research Center, Washington, DC

2.

Howell J. (2017) Number of connected IoT devices will surge to 125 billion by 2030, IHS markit says, IHS Markit, October 24, 2017

3.

Agrawal A, Gans J, Goldfarb A (2018) Prediction machines: the simple economics of artificial intelligence. Harvard Business Review Press, Boston

4.

Sagarin BJ, Britt A, Heider JD, Wood SE, Lynch JE (2003) Bartering our attention: the distraction and persuasion effects of online advertisements. Cognitive Technology 8:4–17

5.

Mittelstadt BD, Patrick A, Taddeo M, Wachter S, Floridi L (2016) The ethics of algorithms: mapping the debate. Big Data & Society, December

6.

Xu J, Ding M (2019) Using the double transparency of autonomous vehicles to increase fairness and social welfare. Cust Needs Solut 6:23–35

7.

McFadden D (1974) Conditional logit analysis of qualitative choice behavior. In: Zarembka P (ed) Frontiers in econometrics. Academic Press, New York, pp 105–142

8.

Cowan RS (1997) A social history of American technology. Oxford University Press, New York

9.

Bettman JR, Luce MF, Payne JW (1998) Constructive consumer choice processes. J Consum Res 25(3):187–217

10.

Tversky A, Simonson I (1993) Context-dependent preferences. Manag Sci 39(10):1179–1189

11.

Diehl K, Zauberman G, Barasch A (2016) How taking photos increases enjoyment of experiences. J Pers Soc Psychol 111(2):119–140

12.

Melumad S, Meyer RJ (2020) Full disclosure: how smartphones enhance consumer self-disclosure. J Mark 84(3):28–45

13.

Melumad S, Pham MT (2020) The smartphone as a pacifying technology, J Consum res, published online. Available at: https://doi.org/10.1093/jcr/ucaa005

14.

Hadi R, Venezuela A (2019) Good vibrations: consumer responses to technology-mediated haptic feedback. J Consum res, published online. Available at: https://doi.org/10.1093/jcr/ucz039

15.

Ansari A, Essegaier S, Kohli R (2000) Internet recommendation systems. J Mark Res 37(3):363–375

16.

Klesse AK, Levav J, Goukens C (2015) The effect of preference expression modalities on self-control. J Consum Res 42:535–550

17.

Hoffman DH, Novak TP (2018) Consumer and object experience in the internet of things: an assemblage theory approach. J Consum Res 44(6):1178–1204

18.

Bharadwaj R (2019). Artificial intelligence in home robots: current and future use-cases. Emerj.com, February 10, 2019. Accessed at: https://emerj.com/ai-sector-overviews/artificial-intelligence-home-robots-current-future-use-cases/

19.

Panova T, Carbonell X (2018) Is smartphone addiction really an addiction? J Behav Addict 7(2):252–259

20.

Kushlev K, Proulx JDE, Dunn EW (2016) Silence your phones: Smartphone notifications increase inattention and hyperactivity symptoms. Proceedings of CHI' 16

21.

Stothart C, Mitchum A, Yehnert C (2015) The attentional cost of receiving a cell phone notification. J Exp Psychol Hum Percept Perform 41(4):893–897

22.

Ward AF, Duke K, Gneezy A, Bos M (2017) Brain drain: the mere presence of one's own smartphone reduces available cognitive capacity. J Assoc Consum Res 2(2):140–154

23.

Cheever NA, Rosen LD, Carrier M, Chavez A (2014) Out of sight is not out of mind: the impact of restricting wireless mobile device use on anxiety levels among low, moderate and high users. Comput Hum Behav 37:290–297

24.

Clayton RB, Leshner G, Almond A (2015) The extended iSelf: the impact of iPhone separation on cognition, emotion, and physiology. J Comput-Mediat Commun 20(2):119–135

25.

Isen A (2001) An influence of positive affect on decision making in complex situations: theoretical issues with practical implication. J Consum Psychol 11(2):75–85

26.

Mogilner C, Aaker J, Kamvar SD (2012) How happiness affects choice. J Consum Res 39(2):429–443

27.

Kahn BE, Isen A (1993) The influence of positive affect on variety seeking among safe, enjoyable products. J Cons Res 20(2):257–270

28.

Stanton SJ, Reeck C, Huettel SA, LaBar KS (2014) Effects of induced moods on economic choices. Judgm Decis Mak 9(2):167–175

29.

Melumad S, Inman JJ, Pham MT (2019) Selectively emotional: how smartphone use changes user-generated content. J Mark Res 56(2):259–275

30.

Ransbotham S, Lurie NH, Liu H (2019) Creation and consumption of mobile word of mouth: how are mobile reviews different? Mark Sci 38(5):773–792

31.

Hyman IE, Matthew BS, Wise BM, McKenzie KE, Caggiano JM (2010) Did you see the unicycling clown? Inattentional blindness while walking and talking on a cell phone. Appl Cogn Psychol 24:597–607

32.

Lin MB, Huang Y (2017) The impact of walking while using a smartphone on pedestrians' awareness of roadside events. Accid Anal Prev 101(April):87–96

33.

Çiçek M (2015) Wearable technologies and its future applications. International Journal of Electrical, Electronics and Data Communication 3:2320–2084

34.

Radin JM, Wineinger NW, Topol EJ, Steinhubl SR (2020) Harnessing wearable device data to improve state-level real-time surveillance of influenza-like illness in the USA: a population-based study. The Lancet, e85–e93

35.

Jakicic JM, Davis KK, Rogers R, King WC, Marcus MD, Helsel D, Rickman AD, Wahed AS, Belle SH (2016) Effect of wearable technology combined with a lifestyle intervention on long-term weight loss: the IDEA randomized clinical trial. J Am Med Assoc 316(11):1161–1171

36.

Etkin J (2016) The hidden cost of personal quantification. J Consum Res 42(6):967–984

37.

Legault L (2016) Intrinsic and extrinsic motivation. Encyclopedia of Personality and Individual Differences, 10

38.

Brown D (2019) Apple watch or it doesn't count: how tech addiction may be ruining your workout. USA Today, May 15, 2019. Accessed at: https://www.usatoday.com/story/tech/2019/05/15/fitbits-apple-watches-and-smartphones-can-actually-hurt-your-workout/1186522001/

39.

Davidson, J (2019) Here's one way to break your smartphone addiction. Financial Review April 1, 2019. Accessed at: https://www.afr.com/technology/heres-one-way-to-break-your-smartphone-addiction-20190324-h1cqoy

40.

Brasel AS, Gips J (2015) Interface psychology: touchscreens change attribute importance, decision criteria, and behavior in online choice. Cyberpsychol Behav Soc Netw 18(9):534–538

41.

Shen H, Zhang M, Krishna A (2016) Computer interfaces and the "direct-touch" effect: can iPads increase the choice of hedonic food? J Mark Res 53(5):745–758

42.

Hildebrand C and Levav J (2020). Interface haptics and consumer choice. Working Paper

43.

Mulcahy R, Riedel AS (2020) Touch it, swipe it, shake it: does the emergence of haptic touch in mobile retailing advertising improve its effectiveness? J Retail Consum Serv 54

44.

Hampton W, Hildebrand C. (2019) Good buzz, bad buzz: using vibrotactile feedback to shape consumer choice. Working Paper

45.

Hadi R, Valenzuela A, Groth OH (2019) A tactile toolbox: documenting consumer responses to haptically-augmented mobile advertising. Working Paper

46.

Peck J, Wiggins J (2006) It just feels good: consumers' affective response to touch and its influence on persuasion. J Mark 70(October):56–69

47.

Williams R (2019) Visa's sensory branding boosts positive perception by 14%. Marketing dive. Accessed at: https://www.marketingdive.com/news/visas-sensory-branding-drives-14-gain-in-positive-brand-perception/557235/

48.

Jeng W, He D, Jiang J (2013) Users' perceived difficulties and corresponding reformulation strategies in voice search. The 7th annual symposium on human-computer interaction and information retrieval

49.

Jiang J, Jeng W, He D (2013) How do users respond to voice input errors? Lexical and phonetic query reformulation in voice search. Proceedings of the 36th international ACM SIGIR conference on Research and Development in information retrieval, 143–152

50.

Hildebrand C, Efthymiou F, Busquet F (2020) Voice analytics in business Research: conceptual foundations, acoustic feature extraction, and applications. Working Paper

51.

Taylor P (2009) Text-to-speech synthesis. Cambridge University Press, Cambridge

52.

Braun M, Mainz A, Chadowitz R, Pfleging B, Alt F (2019) At your service: Designing voice assistant personalities to improve automotive user interfaces. In Proceedings of the 2019 CHI Conference on Human Factors in Computing Systems, May:1–11

53.

Alcañiz M, Bigné E, Guixeres J (2019) Virtual reality in marketing: a framework, review, and research agenda. Front Psychol 10:1530

54.

Burke RR (1997) Do you see what I see? The future of virtual shopping. J Acad Mark Sci 25(4):352–360

55.

Siquid M, Lanker T, Makhdoomi K (2017) Augmented reality v. virtual reality. International Journal of Computers Science and Mobile Computing 6:324–327

56.

Shelstad W, Smith D, Chaparro B (2017) Gaming on the rift: how virtual reality affects game user satisfaction. Proceedings of the Human Factors and Ergonomics Society Annual Meeting, 61:2072–2076

57.

Gartner Research (2019) Gartner says 100 million consumers will shop in augmented reality online and in-store by 2020. Accessed at: https://www.gartner.com/en/newsroom/press-releases/2019-04-01-gartner-says-100-million-consumers-will-shop-in-augme

58.

Burke RR, Harlam BA, Kahn BE, Lodish LM (1992) Comparing dynamic consumer choice in real and computer-simulated environments. J Consum Res 19(1):71–78

59.

Urban GL, Hauser JR, Qualls WJ, Weinberg BD, Bohlmann JD, Chicos RA (1997) Information acceleration: validation and lessons from the field. J Mark Res 34(1):143–153

60.

Schirg F, Vandor P (2007) The potential of 'information acceleration' for forecasting critical parameters in the space tourism market. Proceedings of the 58th international Astronautical congress

61.

Meyer RJ, Broad K, Orlove B, Petrovic N (2013) Dynamic lab simulation as an approach to understanding hurricane risk response: insights from the Stormview Lab. Risk Anal 33(8):1532–1552

62.

Kaplan AM, Haenlein M (2009) Consumer use and business potential of virtual worlds: the case of "second Life." International Journal of Media Management, 11:93–101, , 3-4

63.

Heath D, Heath C (2011) Why second life failed", slate, November 11, https://slate.com/business/2011/11/why-second-life-failed-how-the-milkshake-test-helps-predict-which-ultrahyped-technology-will-succeed-and-which-wont.html

64.

Fritz W, Hadi R, Stephen, A (2020) A feast for the eyes: how augmented reality influences food desirability. Working Paper

65.

Suh KS, Chang S (2006) User interfaces and consumer perceptions of online stores: the role of telepresence. Behaviour and IT 25:99–113

66.

Brucks M, Levav J (2019) Technology-mediated innovation. Paper presented at Society for Consumer Psychology Boutique: Consumers and Technology, HEC Montreal, Canada

67.

Xiao BS, Benbasat I (2007) E-commerce product recommendation agents: use, characteristics, and impact. MIS Q 31(1):137–209

68.

Su X, Khoshgoftaar TM (2009) A survey of collaborative filtering techniques. Advances in Artificial Intelligence, A Survey of Collaborative Filtering Techniques

69.

Häubl G, Trifts V (2000) Consumer decision making in online shopping environments: the effects of interactive decision aids. Mark Sci 19(1):4–21

70.

Dabholkar P, Sheng X (2012) Consumer participation in using online recommendation agents: effects on satisfaction, trust, and purchase intentions. Serv Ind J 32(9):1433–1449

71.

Su HJ, Comer LB, Lee S (2008) The effect of expertise on consumers' satisfaction with the use of interactive recommendation agents. Psychol Mark 25(9):859–880

72.

Swearingen K, Sinha R (2001) Beyond algorithms: an HCI perspective on recommender systems. Proc. SIGIR 2001 Workshop on Recommender Systems

73.

Wu L, Joung Y, Lee J (2013) Recommendation systems and consumer satisfaction online: moderating effects of consumer product awareness. Proceedings of the Annual Hawaii International Conference on System Sciences, 2753–2762

74.

Hildebrand C, Bergner A (2020). Conversational Robo advisors as surrogates of trust: onboarding experience, firm perception, and consumer financial decision making, Working Paper

75.

Dawes RM (1971) A case study of graduate admissions: application of three principles of human decision making. Am Psychol 26(2):180–188

76.

Dietvorst B, Simmons JP, Massey C (2015) Algorithm aversion: people erroneously avoid algorithms after seeing them err. J Exp Psychol Gen 144(1):114–126

77.

Burton J, Stein MK, Jensen TB (2019) A systematic review of algorithm aversion in augmented decision making. J Behav Decis Mak 3:220–239

78.

Logg J, Minson J, Moore D (2019) Algorithm appreciation: people prefer algorithmic to human judgment. Organ Behav Hum Decis Process 151:90–103

79.

Prahl A, Van Swol L (2017) Understanding algorithm aversion: when is advice from automation discounted? J Forecast 36(6):691–702

80.

Dietvorst BJ, Simmons JP, Massey C (2016) Overcoming algorithm aversion: people will use imperfect algorithms if they can (even slightly) modify them. Manag Sci 64:1155–1170

81.

Goodwin P, Gönül M, Önkal D (2013) Antecedents and effects of trust in forecasting advice. Int J Forecast 29(2):354–366

82.

Lynch JG Jr, Ariely D (2000) Wine online: search costs affect competition on price, quality, and distribution. Mark Sci 19(1):83–103

83.

Peterson RA, Merino MC (2003) Consumer information search behavior and the internet. Psychol Mark 20(2):99–121

84.

Wegner DM, Ward AF (2013) How Google is changing your brain. Sci Am 309(6):58–61

85.

Sparrow B, Liu J, Wegner DM (2011) Google effects on memory: cognitive consequences of having information at our fingertips. Science 333(6043):776–778

86.

Ward AF (2013a) One with the cloud: why people mistake the internet's knowledge for their own. Doctoral Dissertation, Harvard University

87.

Ward AF (2013b) Supernormal: how the internet is changing our memories and our minds. Psychol Inq 24(4):341–348

88.

Fisher M, Goddu MK, Keil FC (2015) Searching for explanations: how the internet inflates estimates of internal knowledge. J Exp Psychol Gen 144(3):674–687

89.

Bhargave R, Mantonakis A, White K (2016) The cue-of-the-cloud effect: when reminders of online information availability increase purchase intentions and choice. J Mark Res 53(5):699–711

90.

Ward AF, Grillo TLH, Fernbach, PM (2020). Risky click: online financial search and consumer financial decision-making. Working Paper

91.

Grillo TLH, Pizzutti C, Ward AF (2020) Google-induced decision confidence enhances experiences. Working Paper

92.

Brynjolfsson E, McElheran K (2016) The rapid adoption of data-driven decision-making. Am Econ Rev 106(5):133–139

93.

Dzyabura D, Yoganarasimhan H (2018) Machine learning and marketing. In: Handbook of marketing analytics: methods and applications in marketing, public policy, and litigation support, editors Hanssens, D., and Mizik, N

94.

Kapur A, Kapur, S, Maes P (2018, March) Alterego: a personalized wearable silent speech interface. In 23rd International Conference on Intelligent User Interfaces, 43–53

95.

Wang W, Harari GM, Wang R, Müller SR, Mirjafari S, Masaba K, Campbell AT (2018) Sensing behavioral change over time: using within-person variability features from mobile sensing to predict personality traits. Proceedings of the ACM on Interactive, Mobile, Wearable and Ubiquitous Technologies 2(3):1–21

96.

Rutz OJ, Bucklin RE (2012) Does banner advertising affect browsing for brands? Clickstream choice model says yes, for some. Quant Mark Econ 10(2):231–257

97.

Walter M, Hildebrand C, Häubl G, Herrmann A (2020) Mixing it up: unsystematic product arrangements promote the choice of unfamiliar products. J Mark Res, published online. Available at: https://doi.org/10.1177/0022243720901520
Additional information
Publisher's Note
Springer Nature remains neutral with regard to jurisdictional claims in published maps and institutional affiliations.
About this article
Cite this article
Melumad, S., Hadi, R., Hildebrand, C. et al. Technology-Augmented Choice: How Digital Innovations Are Transforming Consumer Decision Processes. Cust. Need. and Solut. 7, 90–101 (2020). https://doi.org/10.1007/s40547-020-00107-4
Keywords
Artificial intelligence

Smart objects

Wearables

Voice technology

Search engines

Mobile devices

Chatbots

Human augmentation