Abstract
Several calls have been made to understand the influence of marketing thought on practice (Rust et al. J Mark 68:76–89, 11). Practice includes practitioners who mostly use concepts and frameworks (general practice) and who mostly use quantitative models (quantitative practice). This paper compares the relative influence of marketing thought compared to other disciplines and uncovers seminal marketing thoughts that have influenced both general and quantitative practice. Using topic modeling procedures on 94 years of Harvard Business Review, 46 years of Sloan Management Review, and 47 years of Management Science, this paper illuminates the evolution of the influence of marketing thought over time. Despite marketing's slow start, it has an increasing influence on both general and quantitative practice. Foundational topics in marketing such as product, promotion, place, consumers, and marketing research methods have influenced both general and quantitative practice. Surprisingly, price has not influenced practice. Marketing Communications is increasingly influential while Channel Management, Product/Service Management, and surprisingly Customer Relationships have lost their early influence to practice. General practitioners find Marketing Environment and Business Models increasingly influential while quantitative practitioners find Social Influence and Metrics increasingly influential. Quantitative practice has kept up to speed with marketing thought that influence general practice.
Access options
Buy single article
Instant access to the full article PDF.
USD 39.95
Price excludes VAT (USA)
Tax calculation will be finalised during checkout.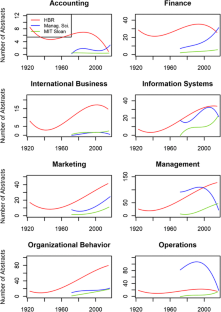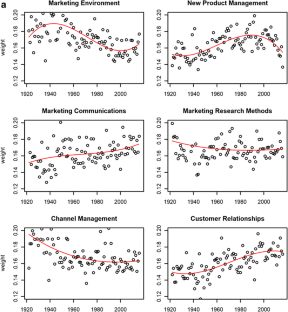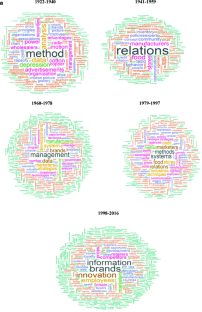 Notes
Details are in Web Appendix B.

A list of the five most representative Management Science articles for each topic is in Web Appendix C.
References
Blei DM, Ng AY, Jordan MI (2003) Latent Dirichlet allocation. J Mach Learn Res 3(Jan):993–1022

Cancino C, Merigó JM, Palacios-Marqués D (2015) A bibliometric analysis of innovation research. CID Working Papers, 2015-01, University of Chile, Chile

CMO Council (2004) Measures and metrics: the marketing performance measurement audit: assessing marketing's value and impact. The CMO Council, San Jose

Dolan RJ (1995) How do you know when the price is right? Harv Bus Rev 73(5):174–181

Hauser J (2017) Phenomena, theory, application, data, and methods all have impact. J Acad Mark Sci 45(1):7–9

Huber J, Kamakura W, Mela CF (2014) A topical history of JMR. J Mark Res 51(1):84–91

Kumar V (2016) My reflections on publishing in Journal of Marketing. J Mark 80(1):1–6

Lilien GL, Roberts JH, Shankar V (2013) Effective marketing science applications: insights from the ISMS-MSI practice prize finalist papers and projects. Mark Sci 32(2):229–245

Mela CF, Roos J, Deng Y (2013) Invited paper—a keyword history of Marketing Science. Mark Sci 32(1):8–18

Palmatier RW (2016) Improving publishing success at JAMS: contribution and positioning. J Acad Mark Sci 44(6):655–659

Rust RT, Ambler T, Carpenter GS, Kumar V, Srivastava RK (2004) Measuring marketing productivity: current knowledge and future directions. J Mark 68:76–89

Tellis GJ (2017) Interesting and impactful research: on phenomenon, theory, and writing. J Acad Mark Sci 45(1):1–6

Wang XS, Bendle NT, Mai F, Cotte J (2015) The Journal of Consumer Research at 40: a historical analysis. J Consum Res 42(1):5–18
Acknowledgments
The authors thank Johannes Boegershausen for his detailed comments on an earlier version of this manuscript.
Ethics declarations
Conflict of Interest
The authors declare that they have no conflict of interest.
Electronic Supplementary Material
About this article
Cite this article
Borah, A., Wang, X.(. & Ryoo, J.H.(. Understanding Influence of Marketing Thought on Practice: an Analysis of Business Journals Using Textual and Latent Dirichlet Allocation (LDA) Analysis. Cust. Need. and Solut. 5, 146–161 (2018). https://doi.org/10.1007/s40547-018-0089-z
Published:

Issue Date:

DOI: https://doi.org/10.1007/s40547-018-0089-z
Keywords
Marketing topics

Practice

Harvard Business Review
Management Science
MIT Sloan Management Review

Topic modeling

Historical analysis

Latent Dirichlet allocation (LDA)