Abstract
The sharing economy, in which ordinary consumers also act as sellers, is attracting much interest from scholars and practitioners. The rapid growth of this sector of the economy and the emergence of several large brands like Uber and Airbnb raise several interesting questions that need to be researched. We therefore review and summarize the extant research on this sector and suggest several additional directions for future research.
Access options
Buy single article
Instant access to the full article PDF.
USD 39.95
Price excludes VAT (USA)
Tax calculation will be finalised during checkout.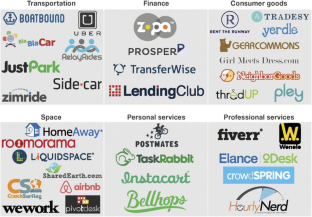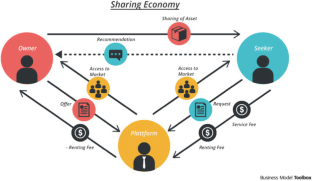 Notes
Some early related work (e.g., Zervas et al. 2014) only examines spatial variations in demand for LPs after the entry of SEPs.
References
Sundararajan, A. (2016). The sharing economy: the end of employment and the rise of crowd-based capitalism, MIT Press

Heller, N., "Is the gig economy working? The New Yorker, May 15, 2017

PwC. (2015). "The sharing economy." PwC Consumer Intelligence Series. https://www.pwc.com/us/en/technology/publications/assets/pwc-consumer-intelligence-series-the-sharing-economy.pdf . Accessed April 12, 2017

Botsman R, Rogers R (2010) What's mine is yours: the rise of collaborative consumption. HarperCollins, New York

Gansky L (2010) The mesh: why the future of business is sharing. Penguin, New York

Walsh, B. (2011). Today's smart choice: don't own. Share. Time international, Atlantic ed., March 28

Friedman, T. (2013). Welcome to the sharing economy. The New York Times, July 25

Ertz, M., Lecompte, A., and Durif, F. (2016). Neutralization in collaborative consumption: an exploration of justifications relating to a controversial service. Managerial Marketing eJournal

Hamari J, Sjoklint M, Ukkonen A (2016) The sharing economy: why people participate in collaborative consumption. J Assoc Information Sci Technol 67(9):2047–2059

Telles R Jr. (2016). Digital matching firms: a new definition in the "sharing economy" space. United States Department of Commerce, August

Rossa, Jennifer, A.R. Moffat (2015). How workers for companies such as Uber and Airbnb differ from the population at large. Bloomberg. Available at https://www.bloomberg.com/news/articles/2015-06-15/these-charts-show-how-the-sharing-economy-is-different. Accessed Apr 12, 2017

Wu C, Wang Y, Zhu T (2016) Mobile hailing technology, worker productivity and digital inequality: a case of the taxi industry. Working paper, The University of British Columbia, Vancouver

Narasimhan C, Papatla P, Ravula P (2016) Preference segmentation induced by tariff schedules and availability in ride-sharing markets. Working paper, University of Wisconsin-Milwaukee, Milwaukee

Cohen, Peter, Robert Hahn, Jonathan Hall, Steven Levitt, and Robert Metcalfe. Using big data to estimate consumer surplus: The case of uber. No. w22627. National Bureau of Economic Research, 2016

Wallsten, S. (2015). The competitive effects of the sharing economy: how is Uber changing taxis. Technology Policy Institute, 22

Fraiberger, S. P., & Sundararajan, A. (2015). Peer-to-peer rental markets in the sharing economy

Horton, J. J., & Zeckhauser, R. J. (2016), Owning, using and renting: some simple economics of the sharing economy (no. w22029), National Bureau of Economic Research

Jiang B, Tian L (2016) Collaborative consumption: strategic and economic implications of product sharing. Manag Sci (forthcoming)

Tian L, Jiang B (2017) Effects of consumer-to-consumer product sharing on distribution channel. Prod Oper Manag (forthcoming)

Guda H, Subramanian U (2017) Strategic surge pricing and forecast communication on on-demand service platforms. Working Paper, UT Dallas

Fradkin, A. (2017). Search, matching, and the role of digital marketplace design in enabling trade: evidence from Airbnb

Ranchordás S (2015) Does sharing mean caring: regulating innovation in the sharing economy. Minn JL Sci & Tech 16:413

Belk R (2009) Sharing. J Consum Res 36:715–734

Belk RW (2013) Extended self in a digital world. J Consum Res 40:477–500

Bardhi F, Eckhardt GM (2012) Access-based consumption: the case of car sharing. J Consum Res 39:881–898

Mohlmann M (2015) Collaborative consumption: determinants of satisfaction and the likelihood of using a sharing economy option again. J Consum Behav 14(3):193–207

Camerer C, Babcock L, Loewenstein G, Thaler R (1997) Labor supply of New York City cabdrivers: one day at a time. Q J Econ 112(2):407–441

Farber HS (2008) Reference-dependent preferences and labor supply: the case of New York City taxi drivers. Am Econ Rev 98(3):1069–1082

Gupta S, Vovsha P, Donnelly R (2008) Air passenger preferences for choice of airport and ground access mode in the New York City metropolitan region. Trans Res Record: J Trans Res Board 2042:3–11

Zervas G, Proserpio D, Byers JW (2017) The rise of the sharing economy: estimating the impact of Airbnb on the hotel industry. J Mark Res 54(5):687–705

Li, Hui, K. Srinivasan (2017), "Time- and location-based seasonality and flexible-capacity firm strategy: Airbnb and hotels." Working paper

Chen, L., A. Mislove, C. Wilson. 2015. Peeking beneath the hood of Uber. Proceedings of the ACM Conference on Internet Measurement Conference 495–508

Schoenmueller V, Fritz K, Bruhn M (2014) Sharing is caring—is this true or what else explains the tremendous growth of the sharing economy? Latin America. Adv Consum Res 3:73–74

Cheshire L, Walters P, Rosenblatt T (2010) The politics of housing consumption: renters as flawed consumers on a master planned estate. Urban Stud 47(12):2597–2614

Nielsen (2014), Available at http://www.nielsen.com/lb/en/press-room/2014/global-consumers-embrace-theshare-economy.html
About this article
Cite this article
Narasimhan, C., Papatla, P., Jiang, B. et al. Sharing Economy: Review of Current Research and Future Directions. Cust. Need. and Solut. 5, 93–106 (2018). https://doi.org/10.1007/s40547-017-0079-6
Published:

Issue Date:

DOI: https://doi.org/10.1007/s40547-017-0079-6
Keywords