An Interdisciplinary Review of Research in Conjoint Analysis: Recent Developments and Directions for Future Research
Abstract
This review article provides reflections on the state of the art of research in conjoint analysis—where we came from, where we are, and some directions as to where we might go. We review key articles, mostly contemporary published since 2000, but some classic, drawn from the major marketing as well as various interdisciplinary academic journals to highlight important areas related to conjoint analysis research and identify more recent developments in this area. We develop an organizing framework that attempts to integrate various threads of research in conjoint methods and models. Our goal is to (a) emphasize the major developments in recent years, (b) evaluate these developments, and (c) to identify several potential directions for future research.
Keywords
Conjoint analysis 
Measurement 
Preference 
Utility functions 
1

Introduction

Conjoint analysis is one of the most celebrated research tools in marketing and consumer research. This methodology which enables understanding consumer preferences1 has been applied to help solve a wide variety of marketing problems including estimating product demand, designing a new product line and calibrating price sensitivity/elasticity. The method involves presenting respondent customers with a carefully designed set of hypothetical product profiles (defined by the specified levels of the relevant attributes), and collecting their preferences in the form of ratings, rankings, or choices for those profiles.

Since the introduction of conjoint analysis in marketing research over four decades ago, a remarkable variety of new models and parameter estimation procedures have been developed. Some of these include the move from nonmetric to metric orientation and orthogonal experimental designs in the 1970s, developments in choice-based and hybrid conjoint including adaptive conjoint model in the 1980s, the growing popularity of hierarchical Bayesian and latent class models in the 1990s, and the adaptability of conjoint models to online choice tasks, incentivized contexts, group dynamics, and social influences in the past decade. Several earlier review articles in marketing and consumer academic research have documented the evolution of conjoint analysis.2 This manuscript provides an organizing framework for this vast literature and reviews key articles, critically discusses several advanced issues and developments, and identifies directions for future research. Cognizant of the fact that conjoint analysis has matured, this review is selective in the choice of articles, some classic but mostly contemporary focusing on the developments during the period post-2000; that have made or have the potential for having maximal impact in the field. Hopefully, this interdisciplinary review will encourage conjoint scholars to evolve beyond existing conjoint models and explore new problems and applications of consumer preference measurement, develop new forms of data collection, devise new estimation procedures, and tap into the dynamic nature of this methodology.
2

An Organizing Framework for Conjoint Analysis

The developments in conjoint research have naturally drawn from a variety of disciplines (notably choice behavior and statistical theory). The conceptual framework shown in Fig. 

1

attempts to integrate various threads of research across five major categories: (

A

)

Behavioral and Theoretical Underpinnings

, (

B

)

Researcher Issues for Research Design

, (

C

)

Respondent Issues for Data Collection

, (

D

)

Researcher Issues for Data Analysis

,

and

(

E

)

Managerial Issues Concerning Implementation

. This framework considers all three relevant stakeholders: the researcher, the respondent, and the manager.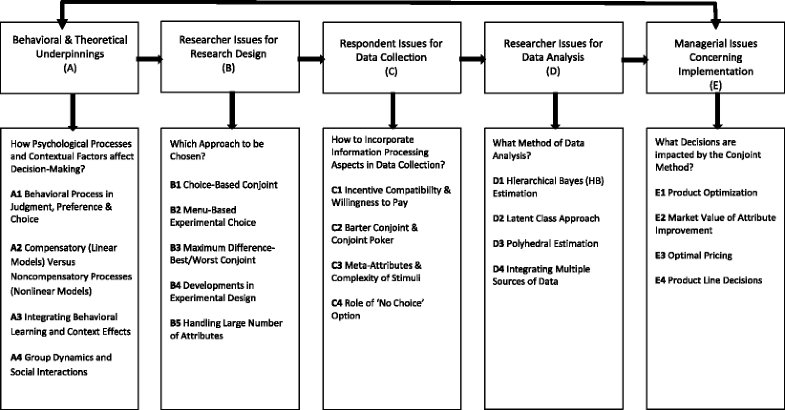 3

(A) Behavioral and Theoretical Underpinnings
4

(B) Researcher Issues for Research Design

Conjoint researchers have long dealt with the problem of large number of attributes and levels with the help of experimental designs. The specific choice will depend on a variety of factors including objectives of the research, cost, time, statistical sophistication, and the need to develop individual-level estimates, etc. We focus on the research designs related to conjoint approaches that are more popular: choice-based conjoint analysis, menu-based experimental choice, and maximum difference best/worst conjoint method. We also briefly discuss some recent developments in experimental design and handling of large number of attributes.
5

(C) Respondent Issues for Data Collection

Over the years, conjoint research has focused either on preference ratings (or rankings) of a number (between a dozen to thirty) of carefully designed product profiles (a la ratings-based methods) or on stated choice for each of several choice sets of product profiles, including a no choice option. When the number of attributes becomes large (i.e., over six), methods such as adaptive methods or partial profile methods have been employed. These approaches have come to a stable situation. Not many research issues seem to exist in this arena. Rather, we will focus on newer methods such as using incentive alignment and willingness to pay, barter conjoint and conjoint poker, meta-attributes and complexity of stimuli, and the role of no-choice option given their recent development and future research potential.
6

(D) Researcher Issues for Data Analysis

Major developments in the estimation procedures relevant for the conjoint researcher include Hierarchical Bayesian, Latent Class, and Polyhedral Estimation approaches. Further, opportunities exist in integrating multiple sources of data to obtain robust conjoint results.
7

(E) Managerial Issues Concerning Implementation

We now discuss selected implementation issues relevant for the manager including product optimization, market value of attribute improvement, optimal pricing, and product line decisions.
8

Conclusion

From the rigorous psychometric tradition from which conjoint analysis has evolved, a plethora of advances have been made. In this manuscript, we have attempted to integrate several substantive issues of interest in conjoint analysis within an organizing framework that impacts major stakeholders (i.e., researcher, respondent, and manager). For each of the five categories in our framework, we summarize recent developments in the field, provide some critical insights, and present suggested directions for future research. We hope that conjoint scholars will gainfully employ this organizing framework as a repository for drawing additional new insights and conducting future research. We believe that research in conjoint continues to be vibrant and the recent advances, developments, and directions discussed in this paper will contribute to the realization of the tremendous potential of conjoint analysis.

In conclusion, our paper makes several contributions to the literature (including the recent book by Rao [139]). First, our review incorporates an organizing framework based on the behavioral and theoretical processes underlying several issues related to the researcher, the respondent, and the manager in conjoint analysis. We have an expanded and provided recent coverage of the behavioral and theoretical underpinnings (see section A) that sets the tone for the rest of the review. Second, our framework allocates adequate attention to critical issues surrounding the three major stakeholders: the researcher, the respondent, and the manager. Third, we cite publications from major marketing and nonmarketing journals across disciplines. Fourth, our paper also sets a comprehensive research agenda going forward, 55 research directions in total, which can be leveraged for future development of conjoint analysis methodology. Finally, we believe that a review paper on conjoint analysis will be able to draw wide readership and citation by scholars in the future, thereby enhancing the impact factor of this journal.
Copyright information
© Springer Science+Business Media New York 2014