Why Choosing Healthy Foods is Hard, and How to Help: Presenting the 4Ps Framework for Behavior Change
Abstract
The pursuit of long-term goals is often thwarted by immediate desires--a pattern particularly common in food choices. Research in economics, psychology, and marketing has identified a rich supply of unrelated small influences or "nudges" that can help make healthy choices easier, aligning behaviors with intentions. We organize these streams of research using a novel taxonomy, the 4Ps Framework for Behavior Change, to integrate nudges within a dual-system model of consumer choice and to provide suggestions for extensions. We conclude with a discussion of some practical challenges facing researchers in this area.
Keywords
Behavioral economics 
Nudges 
Food 
Health 
Dual systems 
1

Introduction

An implicit assumption of most consumer choice research is that people consciously choose the alternative they prefer: choices reveal underlying preferences [59, 70]. It might at first seem obvious that if you buy and consume a bucket of popcorn at the movies, you must have preferred it to no popcorn, and to all other potential alternatives. However, this inference is questionable for three reasons. First, it assumes you made the popcorn buying and eating decisions mindfully, rather than out of habit. Second, it assumes you were aware of and considered all the potential alternatives—including stopping eating—throughout the process. Third, it suggests that if you held conflicting preferences (e.g., future fitness versus current buttery goodness), your "true" preference won out. In this article, we discuss why choices do not necessarily match conscious preferences. Research shows that many behaviors are performed mindlessly [4]—particularly eating [81]—and actions often precede conscious thought [42, 72]. Even when acting consciously, people often fail to consider all potential options. Finally, while it would be impossible to say which preferences are "truer," the future- or present-oriented ones, multiple factors bias choices toward immediate gratification. There are few domains in which potential conflicts between future- and present-oriented preferences are so salient as in choices between healthy and unhealthy foods.

Most people report a desire to eat healthfully [65], yet eating poorly and too much has contributed to an obesity epidemic in the USA. As Ruhm writes, "there is little indication that the large secular increases in body mass index have been accompanied by a corresponding growth in utility-maximizing weight" ([58], p. 781). Supporting his claim that "individuals act as if their eating patterns represent mistakes rather than planned behavior" ([58], p. 781), each year, American consumers spend more than US$50 billion dollars on weight loss attempts [47]—including more than 200,000 bariatric surgeries [24]. Furthermore, obesity has become the leading preventable cause of death. In addition to increasing the personal risks of heart disease, diabetes, and other chronic illnesses [16], obesity is estimated to account for almost 10 % of total annual medical expenditures in the USA [14]. It is therefore in everyone's best interest to help make healthier food choices easier.

In this article, we review research on nudging people toward healthy choices, and offer a framework to support the application and extension of this research. We first describe a dual-system decision making process, with intuitive responses being sometimes overridden by deliberative ones, that helps explain why healthy food choices are difficult to make. Next, we introduce a new framework—the 4Ps Framework for Behavior Change—to propose ways to help make healthy choices easier, integrating research findings from behavioral economics, psychology, and marketing. This framework provides many opportunities for nudging people gently toward healthy choices by changing what choices are offered, how choices are made, how choices are communicated, and how intentions are reinforced. In the final section, we discuss some practical challenges of researching how to nudge people toward healthy choices.
2

System 1 and System 2

Dual-process models classify cognitive processes into two systems—intuition and reason (cf: [12, 71]). The intuitive process, known as System 1, is quick and heuristic-based, while the rational process, known as System 2, is deliberate and rule-based [74]. Choices emerge as an interplay between the two systems. System 1 can be thought of as generating a first impression or gut response, with System 2 sometimes second-guessing that response [35, 73]. While originally the framework was applied to understanding judgments, Dhar and Gorlin [10] extended the dual-system framework to the choice domain: one option in a choice set may elicit a strong System 1 response, while another may require the conscious deliberation of System 2. For example, the immediate urge to grab a doughnut is generated by System 1, whereas contemplating the potential health consequences of eating doughnuts requires engaging System 2.

System 2 does not always monitor the System 1 response carefully for several reasons. First, the two systems often agree. Second, while System 2 is capable of conscious, logical thought, deliberation is effortful, requiring both ability and motivation. Often, ability is limited by multitasking or distractions. Extraneous thoughts compete for attention and siphon away mental processing power, inducing a state called "cognitive load," in which System 2 is less likely to override System 1 responses [67].

In other circumstances, actions are performed "mindlessly," bypassing conscious processing altogether. Although people experience their decisions as willful, researchers find that the choice environment can exert strong unconscious influences. For example, people rarely realize that the amount of food they eat depends on the size of the portion, plate, utensil, or cup—and even the lighting and music (see [81, 82] for reviews of this research). Furthermore, repeated behaviors become habitual, occurring without conscious intent.

We have discovered that the System 1/System 2 framework has important implications in the domain of health choices. To the extent that the intuitive system favors the unhealthy option, decisions become biased toward that option. We discuss next why System 1 tends to favor unhealthy options, and how the food domain offers specific challenges for System 2.
3

Why Choosing Healthy Foods is Hard

Whereas there is nothing inherently unique about choices that impact health, there are several psychological factors that make the choice of a healthy option difficult. These choices tend to force tradeoffs between present and future costs and benefits. In particular, whereas most benefits of unhealthy options are certain and immediate, many potential costs are uncertain and far in the future. The reverse is true for healthy options: most costs are certain and immediate, but many potential benefits are uncertain and far in the future [53, 89]. For example, eating buttery popcorn is pleasurable in the moment, whereas indulging frequently in large buckets of buttery popcorn could lead to weight gain and health problems—but these outcomes are uncertain and far in the future.

First, choosing between a certain and immediate pleasure and an uncertain future cost is intellectually challenging. System 1 is wired to respond to immediate pleasure by producing a feeling of desire. In order to consider discount rates and weigh more abstract future outcomes, the decision maker must engage System 2 and make multiple probabilistic assumptions. That reasoning task is effortful and complex. As a result, System 2 often fails, leaving decisions biased toward the unhealthy options favored by System 1.

Second, even when System 2 is engaged, excessive discounting of future outcomes exacerbates the difficulty of weighing tradeoffs [17]. People tend to be present-biased: they overemphasize immediate benefits and costs and undervalue costs and benefits that are delayed [1, 17, 55, 56]. Again, this bias results in favoring unhealthy options which appeal to System 1.

Third, unhealthy behaviors carry a substantial cost only if they are regularly repeated. Since the long-term cost of any one food decision is negligible, people tend to underestimate the cost of choosing unhealthy foods because they fail to aggregate over consumption episodes, treating each consumption occasion as separate and neglible [38]. Even worse, when people do consider consumption in aggregate, they are motivated to believe they will make healthier choices in the future [37] and therefore feel licensed to make an indulgent choice now [15, 36].

A fourth special challenge of health choices is the requirement for self-control. Even when deliberation has declared the unhealthy choice "wrong," resisting the temptation still requires self-control. Self-control is the capacity to alter behavior in the pursuit of personal long-term goals—and this capacity is limited. Researchers have found that resisting one impulse diminishes the ability to resist the next, a phenomenon known as depletion [5, 61]. Decision makers have particular trouble exerting self-control when they are tired, stressed, sick, under time pressure—or hungry [61, 80]. Thus, self-control is likely to be depleted in the context of health decisions, particularly food choices.

A final challenge is that health choices are often made with little conscious deliberation [94]. People make over 200 food-related decisions per day, yet recall making only fifteen [86]. Many food decisions are habitual: a frequently performed behavior can become encoded as a context-response pattern in memory and can be cued automatically by the context [92]. People are more likely to act habitually when they are depleted, distracted, or under time pressure [93].

Here, we have reviewed some challenges related to making healthy food choices. These decisions involve several important psychological factors: (1) they tend to involve a struggle between a System 1 desire and a System 2 reason to resist it, (2) the costs and benefits of each option are temporally dissociated and future costs are underweighted, (3) they require self-control, and (4) they are often habitual and bypass System 2 processing. We next turn to the 4Ps Framework for Behavior Change to address some of these challenges.
4

The 4Ps Framework for Behavior Change

We introduce the 4Ps Framework for Behavior Change as a broad strategy for nudging behavior toward desirable outcomes in specific situations—such as making healthy food choices. Whereas the rich and growing nudge literature offers a cornucopia of unrelated manipulations for effecting behavioral change, the 4Ps—Possibilities, Process, Persuasion, and Person—bring this research together in a framework to facilitate new ideas for both researchers and policy makers. The nudges fall into four broad categories: what choices are offered (Possibilities), how choices are made (Process), how choices are communicated (Persuasion), and how intentions are reinforced (Person). (See Fig. 

1

for a summary of the framework.) Below, we discuss the 4Ps and present examples of research findings and types of interventions that fall into each.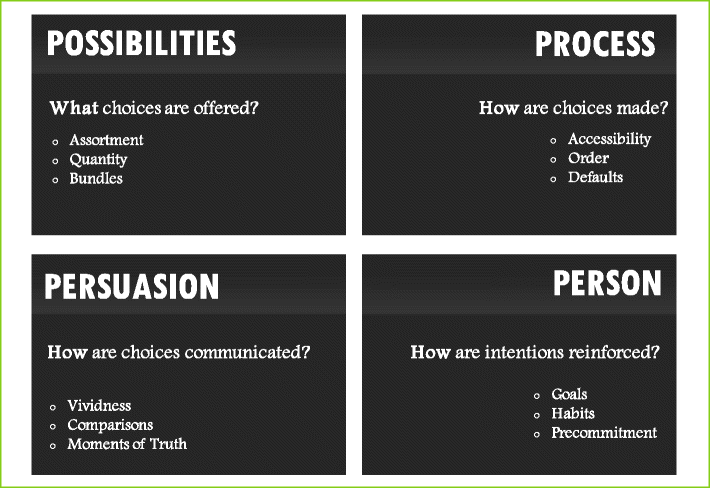 5

Practical Challenges for Behavior Change Research

Conducting behavior change research is extremely important because it has the potential to create real-world positive changes in human health. While some of the nudges we reviewed above may seem insignificant, they can have profound effects when aggregated over time. One estimate shows that obesity in the majority of the population could be addressed if people ate several fewer bites at each meal or took approximately 2,000 extra steps each day [26]. While researchers striving to change behavior are committed to impacting real life outcomes, fulfilling this goal, and documenting success, provides additional challenges beyond the hurdles of the publication process. Whereas publication of research findings requires observed effects to be statistically significant, it does not require them to be of meaningful size or duration, or easily replicable. And researchers in both behavioral economics and health can help each other to address these practical challenges.
6

Conclusion

People's behaviors do not always match their stated preferences, and diverge in predictable ways. For example, although most people report a desire to eat healthfully, their repeated failures to act consistently with this preference have contributed to an obesity epidemic. These failures to eat healthfully are predictable because they spring from multiple ways in which System 2 reasoning is hijacked by the intuitive System 1, leading people to fall prey to temptation or act without thinking. Here, we have provided some psychological explanations for these failures, and we have presented a new framework, the 4Ps Behavior Change Framework, to offer some solutions. The 4Ps Framework organizes research on making the healthy choice the easy choice, through interventions in the domains of Possibilities, Process, Persuasion, and Person. Finally, we have presented some of the practical challenges facing researchers who desire to change eating behaviors for the better, to help people align their actions with their stated healthy preferences.
Copyright information
© Springer Science+Business Media New York 2014