Abstract
Background
Persons with cognitive impairment without dementia are at high risk of adverse health outcomes. Tailored intervention targeting moderate–vigorous physical activity (MVPA) may reduce these risks.
Aims
To identify the prevalence and predictors of physical inactivity among older adults with cognitive impairment, no dementia (CIND); and estimate the proportion of inactive people with CIND who are capable of greater MVPA.
Methods
We studied 1875 community dwelling participants (over age 65) with CIND in the Health and Retirement Study. Physical inactivity was defined as MVPA ≤ 1x/week. Associations of physical inactivity with sociodemographic, health, and physical function were examined using chi-square and modified Poisson regression. We considered physically inactive participants capable of greater MVPA if they reported MVPA at least 1–3x/month, no difficulty walking several blocks, or no difficulty climbing several flights of stairs.
Results
Fifty-six percent of participants with CIND were physically inactive. Variables with the highest age, sex, and race/ethnicity adjusted risk ratio (ARR) for physical inactivity were self-rated health (poor [76.9%]vs. excellent [34.2%]; ARR [95% CI] 2.27 [1.56–3.30]), difficulty walking (across the room [86.5%] vs. none [40.5%]; ARR [95% CI] 2.09 [1.87–2.35]), total assets (lowest quartile [62.6%] vs. highest quartile [43.1%]; ARR [95% CI] 1.54 [1.29–1.83]), and lower education attainment (less than high school [59.6%] vs college graduate [42.8%]; ARR [95% CI] 1.46 [1.17–1.83]). Among physically inactive older adults with CIND, 61% were estimated to be capable of greater MVPA.
Conclusions
Although physical inactivity is prevalent among older adults with CIND, many are capable of greater MVPA. Developing tailored physical activity interventions for this vulnerable population may improve cognitive, health, and quality of life outcomes.
Access options
Buy single article
Instant access to the full article PDF.
USD 39.95
Price includes VAT (USA)
Tax calculation will be finalised during checkout.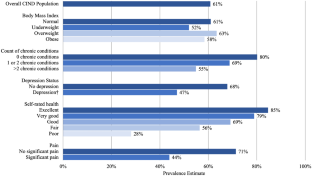 References
1.

Alzheimer's Association (2020) Alzheimer's disease facts and figures. Alzheimers Dement 2020:391

2.

Hu C, Yu D, Sun X et al (2017) The prevalence and progression of mild cognitive impairment among clinic and community populations: a systematic review and meta-analysis. Int Psychogeriatr 29:1595–1608

3.

Winblad B, Palmer K, Kivipelto M et al (2004) Mild cognitive impairment—beyond controversies, towards a consensus: report of the International Working Group on Mild Cognitive Impairment. J Intern Med 256:240–246

4.

Plassman BL, Langa KM, McCammon RJ et al (2011) Incidence of dementia and cognitive impairment, not dementia in the United States. Ann Neurol 70:418–426

5.

Mitchell AJ, Shiri-Feshki M (2009) Rate of progression of mild cognitive impairment to dementia—meta-analysis of 41 robust inception cohort studies. Acta Psychiatr Scand 119:252–265

6.

Zuliani G, Polastri M, Romagnoli T et al (2021) Clinical and demographic parameters predict the progression from mild cognitive impairment to dementia in elderly patients. Aging Clin Exp Res 33:1895–1902

7.

Aliberti MJR, Cenzer IS, Smith AK et al (2019) Assessing Risk for adverse outcomes in older adults: the need to include both physical frailty and cognition. J Am Geriatr Soc 67:477–483

8.

Norton S, Matthews FE, Barnes DE et al (2014) Potential for primary prevention of Alzheimer's disease: an analysis of population-based data. Lancet Neurol 13:788–794

9.

Norton S, Matthews FE, Brayne C (2013) A commentary on studies presenting projections of the future prevalence of dementia. BMC Public Health 13:1–5

10.

Barnes DE, Yaffe K (2011) The projected effect of risk factor reduction on Alzheimer's disease prevalence. Lancet Neurol 10:819–828

11.

Patnode CD, Perdue LA, Rossom RC et al. Screening for cognitive impairment in older adults: an evidence update for the US preventive services task force. Agency Healthc Res Qual US 2020;Report No.: 14–1

12.

Livingston G, Huntley J, Sommerlad A et al (2020) Dementia prevention, intervention, and care: 2020 report of the Lancet Commission. Lancet 396:413–446

13.

Barnes DE, Whitmer RA, Yaffe K (2007) Physical activity and dementia: the need for prevention trials. Exerc Sport Sci Rev 35:24–29

14.

World Health Organization (2020) WHO guidelines on physical activity and sedentary behaviour. WHO, Geneva

15.

US Department of Health and Human Services (2018) Physical Activity Guidelines for Americans, 2nd edn. US Department of Health and Human Services, Washington

16.

Du Y, Liu B, Sun Y et al (2019) Trends in adherence to the physical activity guidelines for Americans for aerobic activity and time spent on sedentary behavior among US adults, 2007–2016. JAMA Netw Open 2:1–11

17.

Rosenberg D, Walker R, Greenwood-Hickman MA et al (2020) Device-assessed physical activity and sedentary behavior in a community-based cohort of older adults. BMC Public Health 20:1256–1256

18.

Zubala A, MacGillivray S, Frost H et al (2017) Promotion of physical activity interventions for community dwelling older adults: a systematic review of reviews. PLoS ONE 12:e0180902

19.

Hobson N, Dupuis SL, Giangregorio LM et al (2020) Perceived facilitators and barriers to exercise among older adults with mild cognitive impairment and early dementia. J Aging Phys Act 28:208–218

20.

Sonnega A, Faul JD, Ofstedal MB et al (2014) Cohort profile: the Health and Retirement Study (HRS). Int J Epidemiol 43:576–585

21.

Crimmins EM, Kim JK, Langa KM et al (2011) Assessment of cognition using surveys and neuropsychological assessment: the Health and Retirement Study and the Aging, Demographics, and Memory Study. J Gerontol B Psychol Sci Soc Sci 66:162–171

22.

Langa KM, Larson EB, Crimmins EM et al (2017) A comparison of the prevalence of dementia in the United States in 2000 and 2012. JAMA Intern Med 177:51–51

23.

Langa KM, Plassman BL, Wallace RB et al (2005) The aging, demographics, and memory study: study design and methods. Neuroepidemiology 25:181–191

24.

Erickson KI, Hillman C, Stillman CM et al (2019) Physical activity, cognition, and brain outcomes: a review of the 2018 physical activity guidelines. Med Sci Sports Exerc 51:1242–1251

25.

Kim YJ, Han KD, Baek MS et al (2020) Association between physical activity and conversion from mild cognitive impairment to dementia. Alzheimers Res Ther 12:1–8

26.

Turvey CL, Wallace RB, Herzog R (1999) A revised CES-D measure of depressive symptoms and a DSM-based measure of major depressive episodes in the elderly. Int Psychogeriatr 11:139–148

27.

Smith AK, Cenzer IS, Knight SJ et al (2010) The epidemiology of pain during the last 2 years of life. Ann Intern Med 153:563–569

28.

Andrews JS, Cenzer IS, Yelin E et al (2013) Pain as a risk factor for disability or death. J Am Geriatr Soc 61:583–589

29.

Law CK, Lam FM, Chung RC et al (2020) Physical exercise attenuates cognitive decline and reduces behavioural problems in people with mild cognitive impairment and dementia: a systematic review. J Physiother 66:9–18

30.

Pedrinolla A, Schena F, Venturelli M (2017) Resilience to Alzheimer's disease: the role of physical activity. Curr Alzheimer Res 14:546–553

31.

Venturelli M, Pedrinolla A, Boscolo Galazzo I et al (2018) Impact of nitric oxide bioavailability on the progressive cerebral and peripheral circulatory impairments during aging and Alzheimer's disease. Front Physiol 9:169

32.

Kivipelto M, Mangialasche F, Snyder HM et al (2020) World-wide FINGERS Network: a global approach to risk reduction and prevention of dementia. Alzheimers Dement 16:1078–1094

33.

Stuckenschneider T, Sanders ML, Devenney KE et al (2021) NeuroExercise: the effect of a 12-month exercise intervention on cognition in mild cognitive impairment—a multicenter randomized controlled trial. Front Aging Neurosci 12:621947

34.

Yaffe K, Barnes DE, Rosenberg D et al (2019) Systematic multi-domain alzheimer's risk reduction trial (SMARRT): study protocol. J Alzheimers Dis 70:S207–S220

35.

Larson EB, Wang L, Bowen JD et al (2006) Exercise is associated with reduced risk for incident dementia among persons 65 years of age and older. Ann Intern Med 144:73–81

36.

Falck RS, Davis JC, Best JR et al (2019) Impact of exercise training on physical and cognitive function among older adults: a systematic review and meta-analysis. Neurobiol Aging 79:119–130

37.

Gillain S, Dramé M, Lekeu F et al (2016) Gait speed or gait variability, which one to use as a marker of risk to develop Alzheimer disease? A pilot study. Aging Clin Exp Res 28:249–255

38.

Pedrinolla A, Venturelli M, Tamburin S et al (2019) Non-Aβ-dependent factors associated with global cognitive and physical function in Alzheimer's disease: a pilot multivariate analysis. J Clin Med 8:224

39.

Lachman ME, Lipsitz L, Lubben J et al (2018) When adults don't exercise: behavioral strategies to increase physical activity in sedentary middle-aged and older adults. Innov Aging 2:1–12
Funding
This study was supported by grants from the National Institutes of Health (P01 AG066605, P30 AG044281). Dr. Miller was also supported by funding from the NIH (5T32 AG000212-27). The sponsor did not have any role in the design, conduct, or reporting of this study.
Ethics declarations
Conflict of interest
KEC reports funding from the NIA. The other authors report no relevant disclosures.
Statement of Human and animal rights
All procedures performed in studies involving human participants were in accordance with the ethical standards of the institutional and/or national  research committee (University of California, San Francisco Institutional Review Board (IRB), IRB number 16-19185) and with the 1964 Helsinki declaration and its later amendments or comparable ethical standards. This article does not contain any studies with animals performed by any of the authors.
Informed consent
Informed consent was provided by participants before entering the HRS.
Additional information
Publisher's Note
Springer Nature remains neutral with regard to jurisdictional claims in published maps and institutional affiliations.
About this article
Cite this article
Miller, M.J., Cenzer, I., Barnes, D.E. et al. Physical inactivity in older adults with cognitive impairment without dementia: room for improvement. Aging Clin Exp Res (2021). https://doi.org/10.1007/s40520-021-01999-5
Received:

Accepted:

Published:
Keywords
Cognitive impairment

Physical activity

Physical function

Disability