Abstract
Objectives
To relate major lifestyle habits with all-cause mortality in an almost extinct male middle-aged population.
Material and methods
A 40–59 aged male population of 1712 subjects was enrolled and examined in 1960 and then followed-up for 60 years. Baseline smoking habits, working physical activity and dietary habits, each subdivided into 3 classes, were related to 60-year mortality, by Kaplan–Meier survival curves, Cox proportional hazards model and to age at death during 60 years by multiple linear regression.
Results
Death rate in 60 years was of 99.7% with only 5 survivors and 2 lost to follow-up after 50 years. Two out of three classes of each behavior were significantly protective versus the third class in all the statistical approaches. Cox hazard ratios (and their 95% confidence limits) of never smokers versus smokers was 0.71 (0.63–0.79); that of vigorous physical activity versus sedentary activity was 0.75 (0.64–0.89); that of Mediterranean diet versus Not Mediterranean diet was 0.74 (0.66–0.84). The gain of age at death for never smokers versus smokers was 3.32 years (2.05–4.54); of vigorous physical activity versus sedentary activity was 3.53 years (1.68–5.37); that of Mediterranean diet versus Not Mediterranean diet was 3.67 years (2.32–5.02). Age at death was more than 10 years longer for men with the 3 best behaviors than for those with the 3 worst behaviors.
Conclusions
Some lifestyle habits are strongly related to lifetime mortality and longevity.
This is a preview of subscription content,
to check access.
Access this article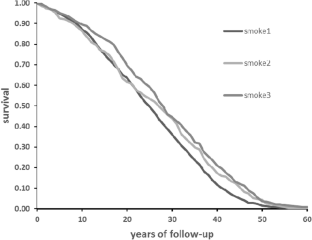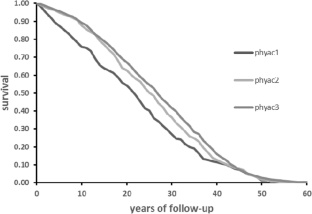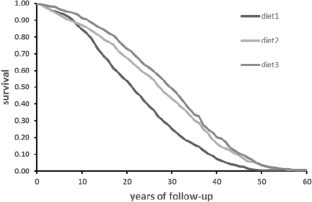 References
Davis MA, Neuhaus JM, Moritz DJ, Lein D, Barclay JD, Murphy SP (1994) Health behaviors and survival among middle-aged and older men and women in the NHANES I Epidemiologic Follow-up Study. Prev Med 23:369–376

Ruigómez A, Alonso J, Antó JM (1995) Relationship of health behaviors to five-year mortality in an elderly cohort. Age Ageing 24:113–119

Knoops KTB, de Groot LCPGM, Kromhout D, Perrin AE, Moreiras-Varela O, Menotti A et al (2004) Mediterranean diet, lifestyle factors, and 10-year mortality in elderly European men and women: the HALE project. JAMA 292:1433–1439

Doll R, Peto R, Boreham J, Sutherland I (2004) Mortality in relation to smoking: 50 years' observations on male British doctors. Br Med J 328:1519–1531

van Dam RM, Li T, Spiegelman D, Franco OH, Hu FB (2008) Combined impact of lifestyle factors on mortality: prospective cohort study in US women. Br Med J 337:a1440

Kvaavik E, Batty GD, Ursin G, Huxley R, Gale CR (2010) Influence of individual and combined health behaviors on total and cause-specific mortality in men and women: the United Kingdom health and lifestyle survey. Arch Intern Med 170:711–718

Nechuta SJ, Shu XO, Li HL, Yang G, Xiang YB, Cai H et al (2010) Combined impact of lifestyle-related factors on total and cause-specific mortality among Chinese women: prospective cohort study. PLoS Med 7:e1000339

Loef M, Walach H (2012) The combined effects of healthy lifestyle behaviors on all cause mortality: a systematic review and meta-analysis. Prev Med 55:163–170

Yun JE, Won S, Kimm H, Jee SH (2012) Effects of a combined lifestyle score on 10-year mortality in Korean men and women: a prospective cohort study. BMC Public Health 20:673

Carlsson AC, Wändell PE, Gigante B, Leander K, Hellenius ML, de Faire U (2013) Seven modifiable lifestyle factors predict reduced risk for ischemic cardiovascular disease and all-cause mortality regardless of body mass index: a cohort study. Int J Cardiol 168:946–952

Behrens G, Fischer B, Kohler S, Park Y, Hollenbeck AR, Leitzmann MF (2013) Healthy lifestyle behaviors and decreased risk of mortality in a large prospective study of U.S. women and men. Eur J Epidemiol 28:361–372

Menotti A, Puddu PE, Lanti M, Maiani G, Catasta G, Fidanza AA (2014) Lifestyle habits and mortality from all and specific causes of death: 40-year follow-up in the Italian rural areas of the Seven Countries Study. J Nutr Health Aging 18:314–321

Reedy J, Krebs-Smith SM, Miller PE, Liese AD, Kahle LL, Park Y et al (2014) Higher diet quality is associated with decreased risk of all-cause, cardiovascular disease, and cancer mortality among older adults. J Nutr 144:881–889

Li K, Hüsing A (2014) Kaaks R (2014) Lifestyle risk factors and residual life expectancy at age 40: a German cohort study. BMC Med 12:59

Prinelli F, Yannakoulia M, Anastasiou CA, Adorni F, Di Santo SG, Musicco M et al (2015) Mediterranean diet and other lifestyle factors in relation to 20-year all-cause mortality: a cohort study in an Italian population. Br J Nutr 113:1001–1011

May AM, Struijk EA, Fransen HP, Onland-Moret NC, de Wit GA, Boer JM et al (2015) The association between single health behaviors and incidence of and premature mortality. BMC Med 13:39

Menotti A, Puddu PE, Maiani G, Catasta G (2016) Cardiovascular and other causes of death as a function of lifestyle in a quasi extinct middle-aged male population. A 50-year follow-up study. Int J Cardiol 201:173–178

Urtamo A, Jyväkorpi SK, Kautiainen H, Pitkälä KH, Strandberg TE (2020) Major cardiovascular disease (CVD) risk factors in midlife and extreme longevity. Aging Clin Exp Res 32:299–304

Menotti A, Puddu V (1979) Ten-year mortality from coronary heart disease among 172,000 men classified by occupational physical activity. Scand J Work Environ Health 5:100–108

Alberti Fidanza A, Seccareccia F, Torsello S, Fidanza F (1988) Diet of two rural population groups of middle-aged men in Italy. Int J Vit Nutr Res 58:442–451

Menotti A, Puddu PE (2018) Comparison of four dietary scores as determinants of coronary heart disease mortality. Sci Rep 8:15001

Zyczkowska J, Klich-Raczka A, Wizner B, Mossakowska M, Wieczorowska-Tobis K, Grodzicki T (2006) The prevalence of cardiovascular risk factors among centenarians is low risk factors in centenarians. Eur J Cardiovasc Prev Rehabil 13:993–995

Tauchi H, Sato T, Watanabe T (eds) (1999) Medical research for the final stages of human aging: Japanese centenarians. Editorial and Publishing Office of Japanese Centernatians. Aichi Medical University, Aichi, Japan, pp 1–200

Galioto A, Dominguez LJ, Pineo A, Ferlisi A, Putignano E, Belvedere M et al (2008) Cardiovascular risk factors in centenarians. Exp Gerontol 43:106–113

Lescai F, Marchegiani F, Franceschi C (2009) PON1 is a longevity gene: results of a meta-analysis. Ageing Res Rev 8:277–284
Funding
Funding
The present investigation received no funding.
Ethics declarations
Conflict of interest
None of the authors report any conflict of interests in relation to this MS and related analyses.
Ethical approval
The initial field examination was held only a few months after the Helsinki Declaration and acceptance from the subjects was implied in participation. All methods were carried out in accordance with relevant guidelines and regulations at the time of the study start, although institutional or licensing committees were not still present in the Country and accordingly were not consulted.
Informed consent
Informed consent was obtained from all subjects during subsequent examinations.
Additional information
Publisher's Note
Springer Nature remains neutral with regard to jurisdictional claims in published maps and institutional affiliations.
About this article
Cite this article
Menotti, A., Puddu, P.E. & Catasta, G. Lifestyle as determinant of all-cause mortality and age at death. A middle-aged male population followed-up 60 years until the survivors were aged 100 years. Aging Clin Exp Res 33, 3091–3098 (2021). https://doi.org/10.1007/s40520-021-01849-4
Received:

Accepted:

Published:

Issue Date:

DOI: https://doi.org/10.1007/s40520-021-01849-4
Keywords