Abstract
Background
Research into care for older patients in the hospital environment has become an increasingly valuable source of information, as it gives feedback on the quality of hospital care provided. The aim of this study is to provide a comprehensive overview of the self-reported needs of older people in hospital care.
Methods
The scoping review was conducted by searching the following databases: Medline, Web of Science, ProQuest Central, Scopus, Cinahl, PsycINFO and Summon.
Results
The search identified articles focusing on older people in hospital care. The majority of these articles address the system and quality of care for seniors at a somewhat general and theoretical level. Met and unmet needs were assessed by a variety of test methods focusing mainly on medical issues (e.g., Mini-Nutritional Assessment, ADLs—activities of daily living, Abbey Pain Scale) and mostly from the perspective of hospital staff, carers and relatives. Only 15 articles used assessments based on information and opinions obtained from the seniors themseAbstract_Paralves (self-reported needs). A thematic analysis revealed seven main themes: conduct and care in emergency departments, dignity, nutritional care, satisfaction of patients' needs, pain, caring with respect, decision-making and spiritual needs.
Conclusion/discussion
The results of this scoping review suggest that more attention should be focused on information acquired from the patients themselves, as it is only the patient, however, old or frail, who can offer an accurate perspective on met or unmet needs and the quality of care provided.
This is a preview of subscription content, log in to check access.
Access options
Buy single article
Instant access to the full article PDF.
US$ 39.95
Tax calculation will be finalised during checkout.
Subscribe to journal
Immediate online access to all issues from 2019. Subscription will auto renew annually.
US$ 99
Tax calculation will be finalised during checkout.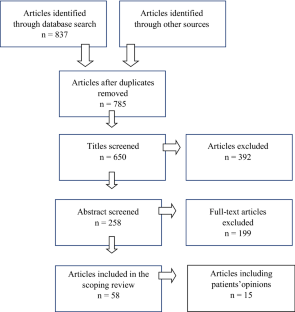 References
1.

Nicholson C, Morrow EM, Hicks A et al (2017) Supportive care for older people with frailty in hospital: an integrative review. Int J Nurs Stud 66:60–71. https://doi.org/10.1016/j.ijnurstu.2016.11.015

2.

Edvardsson D, Nay R (2010) Acute care and older people: challenges and ways forward. Austr J Adv Nurs 27:63–69

3.

Heckman GA, Molnar FJ, Lee L (2013) Geriatric medicine leadership of healthcare transformation: to be or not to be? Can Geriatrics J 16:192–195. https://doi.org/10.5770/cgj.16.89

4.

Ekdahl A, Anderson L, Friedrichsen M (2010) They do what they think is the best for me: frail elderly patients' preference for participation in their care during hospitalization. Patient Educ Counsel 80:233–240. https://doi.org/10.1016/j.pec.2009.10.026

5.

Moher D, Liberati A, Tetzlaff J et al (2009) Preferred reporting items for systematic reviews and meta-analyses: the PRISMA statement. PLoS Med 6:e1000097. https://doi.org/10.1371/journal.pmed.1000097

6.

Shamseer L, Moher D, Clarke M et al (2015) Preferred reporting items for systematic review and meta-analysis protocols PRISMA-P: elaboration and explanation. Syst Rev 349:g7647. https://doi.org/10.1136/bmj.g7647

7.

Kelley ML, Parke B, Jokinen N et al (2011) Senior-friendly emergency department care: an environmental assessment. J Health Serv Res Policy 16:6–12. https://doi.org/10.1258/jhsrp.2010.009132

8.

Tauber-Gilmore M, Addis G, Zahran Z et al (2017) The views of older people and health professionals about dignity in acute hospital care. J Clin Nurs 27:223–234. https://doi.org/10.1111/jocn.13877

9.

Calnan M, Tadd W, Calnan S et al (2013) "I often worry about the older person being in that system": exploring the key influences on the provision of dignified care for older people in acute hospitals. Ageing Soc 33:465–485. https://doi.org/10.1017/s0144686x12000025

10.

Bonetti L, Terzoni S, Lusignani M et al (2017) Prevalence of malnutrition among older people in medical and surgical wards in hospital and quality of nutritional care: a multicenter, cross-sectional study. J Clin Nurs 26:5082–5092. https://doi.org/10.1111/jocn.14051

11.

Kalfoss M (2010) Quality of life among Norwegian older adults: focus group results. Gerontol Nurs 3:100–112. https://doi.org/10.3928/19404921-20091207-99

12.

Lambert S, Cheung WY, Davies S et al (2009) Comparison of two tools developed to assess the needs of older people with complex care needs. J Res Nurs 14:421–436. https://doi.org/10.1177/1744987108096972

13.

Munch L, Tvistholm N, Trosborg I et al (2016) Living with constipation—older people's experiences and strategies with constipation before and during hospitalization. Int J Qual Stud Health Well-Being 11:1–8. https://doi.org/10.3402/qhw.v11.30732

14.

Green B, Raymond G, Peardon J et al (2012) "Not just grapes and flowers": older people's perspectives on the role and importance of hospital visiting. Qual Ageing Older Adults 13:82–88. https://doi.org/10.1108/14717791211231166

15.

McLiesh P, Mungall D, Wiechula R (2009) Are we providing the best possible pain management for our elderly patients in the acute-care setting? Int J Evid Based Healthcare 7:173–180. https://doi.org/10.1111/j.1744-1609.2009.00138.x

16.

Koskenniemi J, Leino-Kilpi H, Suhonen R (2012) Respect in the care of older patients in acute hospitals. Nurs Ethics 20:5–17. https://doi.org/10.1177/0969733012454449

17.

Kluit MJ, Dijkstra GJ, Rooij SE (2018) The decision-making process for unplanned admission to hospital unveiled in hospitalised older adults: a qualitative study. BMC Geriatrics 18:318. https://doi.org/10.1186/s12877-018-1013-y

18.

Meide H, Olthuis G, Leget C (2014) Feeling an outsider left in uncertainty—a phenomenological study on the experiences of older hospital patients. Scand J Caring Sci 29:528–536. https://doi.org/10.1111/scs.12187

19.

Macmillan TH (2016) Hospital discharge: lost opportunities to promote or maintain older people's mental health. Qual Ageing Older Adults 17:189–197. https://doi.org/10.1108/qaoa-06-2015-0029

20.

Hodge DR, Wolosin RJ (2012) Addressing older adults' spiritual needs in health care settings: an analysis of inpatient hospital satisfaction data. J Soc Serv Res 38:187–198. https://doi.org/10.1080/01488376.2011.640242
Funding
This study was supported by the Charles University Grant Agency, project no. 760219.
Ethics declarations
Conflict of interest
On behalf of all of the authors, the corresponding author states that there is no conflict of interest.
Ethical approval
Not conducted, as this is a scoping review.
Informed consent
Not conducted, as this is a scoping review.
Additional information
Publisher's Note
Springer Nature remains neutral with regard to jurisdictional claims in published maps and institutional affiliations.
About this article
Cite this article
Bláhová, H., Bártová, A., Dostálová, V. et al. The needs of older patients in hospital care: a scoping review. Aging Clin Exp Res (2020). https://doi.org/10.1007/s40520-020-01734-6
Received:

Accepted:

Published:
Keywords
Needs

Hospital

Acute care

Senior