Abstract
Background
Centenarians escapers are those who reached 100 years of age without the diagnosis of any of the common age-related diseases and exploring their characteristics will inform about successful ageing. No previous study has examined centenarians free of common chronic diseases amongst New Zealand centenarians.
Methods
Retrospective observational cross-sectional review of a national dataset determining the prevalence of depression, dementia, diabetes and hypertension, smoking, physical activity and social relationships among older adults (aged 60–99 years) and centenarians. Participants were all older New Zealanders living independently in the community who completed the international Residential Assessment Instrument–Home Care (interRAI-HC) assessment during the study's 5-year period (July 2013–June 2018).
Results
The assessments of 292 centenarians (mean age 101.03, SD 1.27 years) and 103,377 elderly (mean age 81.7, SD 5.7 years) were analysed. Compared to the elderly, centenarians were more likely to be female (74.7%, compared with 59.3% elderly, p < 0.001). Centenarians free of common chronic diseases did not differ from other centenarians on any of the analysed variables. Reduction in smoking rates and steady high rates of social engagement were associated with reaching a centenarian status free of common chronic diseases compared with older adults.
Conclusions
Not smoking and being socially engaged throughout older age were associated with being a centenarian free of common chronic diseases. This study adds to our understanding the complexities of attaining exceptional longevity.
Access options
Buy single article
Instant access to the full article PDF.
USD 39.95
Price excludes VAT (USA)
Tax calculation will be finalised during checkout.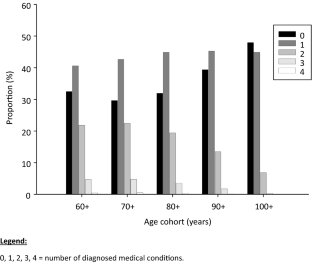 References
Harvey (1668) An extract of the anatomical account, written and left by the famous Dr. Harvey, concerning Thomas Parre, who died in London at the age of 152 years and 9 months. In: Philosophical transactions, vol 3. The Royal Society, London, pp 886–888

Humphry GM (1886) Centenarians: Miss Hastings, who died aged 104. Br Med J 1:1104–1105

Govindaraju D, Atzmon G, Barzilai N (2015) Genetics, lifestyle and longevity: lessons from centenarians. Appl Transl Genom 4:23–32

Rajpathak SN, Liu Y, Ben-David O et al (2011) Lifestyle factors of people with exceptional longevity. J Am Geriatr Soc 59:1509–1512

Borras C, Ingles M, Mas-Bargues C et al (2020) Centenarians: an excellent example of resilience for successful ageing. Mech Ageing Dev 186:111199

Steensma C, Loukine L, Choi BC (2017) Evaluating compression or expansion of morbidity in Canada: trends in life expectancy and health-adjusted life expectancy from 1994 to 2010. Health Promot Chronic Dis Prev Can 37:68–76

Walter S, Beltran-Sanchez H, Regidor E et al (2016) No evidence of morbidity compression in Spain: a time series study based on national hospitalization records. Int J Public Health 61:729–738

Allen NB, Zhao L, Liu L et al (2017) Favorable cardiovascular health, compression of morbidity, and healthcare costs: forty-year follow-up of the CHA study (Chicago Heart Association Detection Project in Industry). Circulation 135:1693–1701

Rodriguez FS, Matschinger H, Angermeyer MC et al (2018) Compression of cognitive morbidity by higher education in individuals aged 75+ living in Germany. Int J Geriatr Psychiatry 33:1389–1396

Engberg H, Oksuzyan A, Jeune B et al (2009) Centenarians–a useful model for healthy aging? A 29-year follow-up of hospitalizations among 40,000 Danes born in 1905. Aging Cell 8:270–276

Andersen-Ranberg K, Schroll M, Jeune B (2001) Healthy centenarians do not exist, but autonomous centenarians do: a population-based study of morbidity among Danish centenarians. J Am Geriatr Soc 49:900–908

Teixeira L, Araujo L, Jopp D et al (2017) Centenarians in Europe. Maturitas 104:90–95

Christensen CH, Rostron B, Cosgrove C et al (2018) Association of cigarette, cigar, and pipe use with mortality risk in the US population. JAMA Intern Med 178:469–476

Cicconetti P, Tafaro L, Tedeschi G et al (2004) Smoking and survival in centenarians. Recenti Prog Med 95:187–189

Venturelli M, Schena F, Scarsini R et al (2013) Limitations to exercise in female centenarians: evidence that muscular efficiency tempers the impact of failing lungs. Age 35:861–870

Randall, Kevin G, Martin P et al (2010) Social resources and longevity: findings from the georgia centenarian study. Gerontology 56:106

Kheirbek RE, Fokar A, Shara N et al (2017) Characteristics and incidence of chronic illness in community-dwelling predominantly male US veteran centenarians. J Am Geriatr Soc 65:2100–2106

Davey A, Lele U, Elias MF et al (2012) Diabetes mellitus in centenarians. J Am Geriatr Soc 60:468–473

Ailshire JA, Beltran-Sanchez H, Crimmins EM (2015) Becoming centenarians: disease and functioning trajectories of older US Adults as they survive to 100. J Gerontol A Biol Sci Med Sci 70:193–201

Arnold J, Dai J, Nahapetyan L et al (2010) Predicting successful aging in a population-based sample of georgia centenarians. Curr Gerontol Geriatr Res. https://doi.org/10.1155/2010/989315

Evert J, Lawler E, Bogan H et al (2003) Morbidity profiles of centenarians: survivors, delayers, and escapers. J Gerontol A Biol Sci Med Sci 58:232–237

Stats New Zealand (2010) National population estimates: December 2010 quarter. https://archive.stats.govt.nz/browse_for_stats/population/estimates_and_projections/NationalPopulationEstimates_HOTPDec10qtr.aspx.

Stats New Zealand (2013) Census quickstats about people aged 65 and over. Statistics New Zealand. https://www.stats.govt.nz.

Hogeveen SE, Chen J, Hirdes JP (2017) Evaluation of data quality of interRAI assessments in home and community care. BMC Med Inform Decis Mak 17:150

Foebel AD, Hirdes JP, Heckman GA et al (2013) Diagnostic data for neurological conditions in interRAI assessments in home care, nursing home and mental health care settings: a validity study. BMC Health Serv Res 13:457

Maney DL (2016) Perils and pitfalls of reporting sex differences. Philos Trans R Soc Lond B Biol Sci 371:20150119

Wilkinson TJ, Sainsbury R (1998) A census-based comparison of centenarians in New Zealand with those in the United States. J Am Geriatr Soc 46:488–491

Richmond RL, Law J, KayLambkin F (2012) Morbidity profiles and lifetime health of Australian centenarians. Australas J Ageing 31:227–232

Brandao D, Ribeiro O, Afonso RM et al (2019) Regional differences in morbidity profiles and health care use in the oldest old: findings from two Centenarian Studies in Portugal. Arch Gerontol Geriatr 82:139–146

Tettamanti M, Marcon G (2018) Cohort profile: 'Centenari a Trieste' (CaT), a study of the health status of centenarians in a small defined area of Italy. BMJ Open 8:e019250

von Berenberg P, Drager D, Zahn T et al (2017) Chronic conditions and use of health care service among German centenarians. Age Ageing 46:939–945

Gellert P, Eggert S, Zwillich C et al (2018) Long-term care status in centenarians and younger cohorts of oldest old in the last 6 years of life: trajectories and potential mechanisms. J Am Med Dir Assoc 19:535–40.e1

Beltran-Sanchez H, Soneji S, Crimmins EM (2015) Past, present, and future of healthy life expectancy. Cold Spring Harb Perspect Med. https://doi.org/10.1101/cshperspect.a025957

Ribeiro O, Teixeira L, Araujo L et al (2016) Health profile of centenarians in Portugal: a census-based approach. Popul Health Metr 14:13

Jopp DS, Park MK, Lehrfeld J et al (2016) Physical, cognitive, social and mental health in near-centenarians and centenarians living in New York City: findings from the Fordham Centenarian Study. BMC Geriatr 16:1

Madrigal-Leer F, Martinez-Montandon A, Solis-Umana M et al (2019) Clinical, functional, mental and social profile of the Nicoya Peninsula centenarians, Costa Rica, 2017. Aging Clin Exp Res 32:313–321

Livingston G, Sommerlad A, Orgeta V et al (2017) Dementia prevention, intervention, and care. Lancet 390:2673–2734

Hamer M, Chida Y (2009) Physical activity and risk of neurodegenerative disease: a systematic review of prospective evidence. Psychol Med 39:3–11

Kuiper JS, Zuidersma M, Oude Voshaar RC et al (2015) Social relationships and risk of dementia: a systematic review and meta-analysis of longitudinal cohort studies. Ageing Res Rev 22:39–57

Mandsager K, Harb S, Cremer P et al (2018) Association of cardiorespiratory fitness with long-term mortality among adults undergoing exercise treadmill testing. JAMA Netw Open 1:e183605

Kingston A, Davies K, Collerton J et al (2014) The contribution of diseases to the male-female disability-survival paradox in the very old: results from the Newcastle 85+ study. PLoS One 9:e88016

Perls TT (2017) Male centenarians: How and why are they different from their female counterparts? J Am Geriatr Soc 65:1904–1906

Leitch S, Glue P, Gray AR et al (2018) Comparison of psychosocial variables associated with loneliness in centenarian vs elderly populations in New Zealand. JAMA Netw Open 1:183880

Douglas E, Rutherford A, Bell D (2018) Pilot study protocol to inform a future longitudinal study of ageing using linked administrative data: Healthy AGeing in Scotland (HAGIS). BMJ Open 8:e018802
Funding
The present study did not receive any funding.
Ethics declarations
Conflict of interest
The author(s) declare that they have no conflict of interest.
Ethical approval
Ethical approval was obtained from the University of Otago Ethics Committee and the Department of Psychological Medicine Ethics Committee.
Statement of human and animal rights
All authors had full access to all the data in the study and take responsibility for the integrity of the data and the accuracy of the data analysis.
Informed content
Participants or their authorised representatives were asked whether they consented for their anonymised information to be used for research purposes at the time of their inter-RAI assessment.
Additional information
Publisher's Note
Springer Nature remains neutral with regard to jurisdictional claims in published maps and institutional affiliations.
About this article
Cite this article
Barak, Y., Leitch, S. & Glue, P. The Great Escape. Centenarians' exceptional health. Aging Clin Exp Res 33, 513–520 (2021). https://doi.org/10.1007/s40520-020-01552-w
Received:

Accepted:

Published:

Issue Date:

DOI: https://doi.org/10.1007/s40520-020-01552-w
Keywords