Abstract
Aim
Suicide trends in older adults were examined in Italy from 1980 to 2015. Age groups considered were 65–74 years, 75–84 and 85 + years.
Methods
Data on suicide deaths were obtained from the Italian Mortality Database (IMDB) collected by the Italian National Institute of Statistics (ISTAT) and processed by the Statistics Unit of the Italian National Institute of Health (Istituto Superiore di Sanità). Joinpoint regression analyses were carried out for age subgroups by sex. In addition, data related to four main macro-areas of Italy were considered: North-West, North-East, Centre, and South with Islands (Sicily and Sardinia).
Results
Starting by 1985, declines were noted in all age groups with more noticeable decreases in older adults aged 75–84 and 85 + years. Female subjects demonstrated more ample falls in rates than male individuals. Declines were detected in all macro-areas of Italy.
Conclusion
Improved health assistance and quality of life of older individuals have probably contributed to the decline of suicide rates of senior citizens, who also showed improved poverty indices in the country, differently from all other age groups.
Access options
Buy single article
Instant access to the full article PDF.
US$ 39.95
Tax calculation will be finalised during checkout.
Subscribe to journal
Immediate online access to all issues from 2019. Subscription will auto renew annually.
US$ 79
Tax calculation will be finalised during checkout.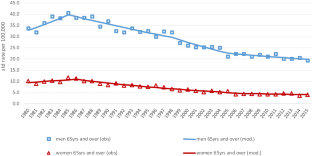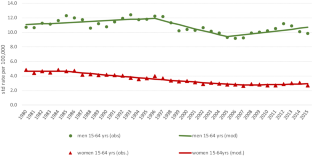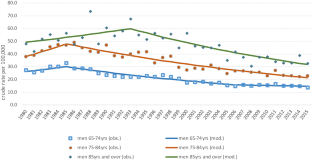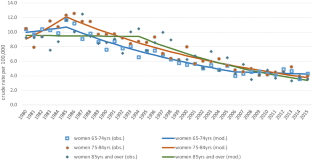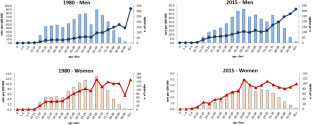 References
1.

Naghavi M, on behalf of the Global Burden of Self-Harm Collaborators (2019) Global, regional, and national burden of suicide mortality 1990 to 2016: systematic analysis for the Global Burden of Disease Study 2016. BMJ 364:194. https://doi.org/10.1136/bmj.l94

2.

WHO (2014) Preventing suicide: a global imperative. World Health Organization, Geneva

3.

Iemmi V, Bantjes J, Coast E et al (2016) Suicide and poverty in low-income and middle-income countries: a systematic review. Lancet Psychiatry 3:774–783

4.

Khazaei S, Armanmehrb V, Nematollahic S et al (2017) Suicide rate in relation to the Human Development Index and other health-related factors: a global ecological study from 91 countries. J Epidemiol Glob Health 7:131–134

5.

Yip PSF (2008) Suicide in Asia: causes and prevention. Hong Kong University Press, Hong Kong

6.

Wang CW, Chan CLW, Yip PSF (2014) Suicide rates in China from 2002 to 2011: an update. Soc Psychiatry Psychiatr Epidemiol 49:929–941. https://doi.org/10.1007/s00127-013-0789-5

7.

Von Herbay A (2014) Otto von Bismarck is not the origin of old age at 65. Gerontologist 54:5. https://doi.org/10.1093/geront/gnt111

8.

Koo YW, Kõlves K, De Leo D (2017) Suicide in older adults: differences between the young-old, middle-old, and oldest-old. Int Psychogeriatr 29:1297–1306. https://doi.org/10.1017/s1041610217000618

9.

Marchionni N (2018) Interviewed in 'Rivoluzione età, si diventa anziani a 75 anni'. [Age revolution, one becomes an elderly person at 75 years]. Il Messaggero, Rome, 30 November

10.

Shah A, Zarate-Escudero S, Bhat R et al (2014) Suicide in centenarians: the international landscape. Int Psychogeriatr 26:1–6

11.

Canetto SS (1995) Elderly women and suicidal behavior. In: Canetto SS, Lester D (eds) Women and suicidal behaviour. Springer Publishing Company, New York

12.

De Leo D, Kõlves K (2017) Suicide at very advanced age-the extremes of the gender paradox. Crisis 38:363–366

13.

De Leo D (2015) Can we rely on suicide mortality data? Crisis 36:1–3. https://doi.org/10.1027/0227-5910/a000315

14.

Williams RF, Doessel DP, Sveticic J et al (2010) Accuracy of official suicide mortality data in Queensland. Aust N Z J Psychiatry 44:815–822

15.

Abercrombie GC (2006) Suicide in the elderly master thesis. Washington State University, Washington DC

16.

DeLeo D, Arnautovska U (2016) Prevention and treatment of suicidality in older adults. In: O'Connor R, Pirkis J (eds) International handbook of suicide prevention Research, policy and practice. Wiley Blackwell, Chichester, pp 323–345

17.

Walter SJ, Bugeja L, Spittal MJ et al (2012) Factors predicting coroners' decisions to hold discretionary inquests. Can Med Assoc J 185:522–528

18.

Sassoon D (1997) Contemporary Italy: economy, society, and politics since 1945. Longman, New York

19.

Buch CM, Monti P (2010) Openness and income disparities: does trade explain the 'mezzogiorno effect'? Rev World Econ 145:667–688. https://doi.org/10.1007/s10290-009-0038-x

20.

De Leo D, Conforti D, Carollo G (1997) A century of suicide in Italy: a comparison between the old and the young. Suicide Life Threat Behav 27:239–249

21.

Minelli G, Manno V, D'Ottavi SM et al (2010) La mortalità in Italia nell'anno. [Mortality in Italy in 2006]. Appendice B [Appendix B]. Rapporti ISTISAN.;26 Istituto Superiore di Sanità

22.

Mattei G, Pistoresi B, De Vogli R (2019) Impact of the economic crises on suicide in Italy: the moderating role of active labor market programs. Soc Psychiatry Psychiatr Epidemiol 54:201–208. https://doi.org/10.1007/s00127-018-1625-8

23.

Pompili M, Vichi M, Innamorati M et al (2014) Suicide in Italy during a time of economic recession: some recent data related to age and gender based on a nationwide register study. Health Soc Care Community 22:361–367. https://doi.org/10.1111/hsc.12086

24.

De Falco R (2018) Death by a million cuts: what future for the right to health in Italy?. Center for Economic and Social Rights, New York. http://www.cesr.org/death-million-cuts-what-future-right-health-italy

25.

De Leo D, Dello Buono M, Dwyer J (2002) Suicide among the elderly: the long-term impact of a telephone support and assessment intervention in northern Italy. Br J Psychiatry 181:226–229
Funding
No specific fund was requested (or obtained) for this study.
Ethics declarations
Conflict of interest
Authors do not declare any conflict of interest.
Ethical approval
This study was based on examination of official data only. This article does not contain any studies with human participants or animals performed by any of the authors.
Informed consent
No informed consent is required.
Additional information
Publisher's Note
Springer Nature remains neutral with regard to jurisdictional claims in published maps and institutional affiliations.
About this article
Cite this article
De Leo, D., Vichi, M., Kolves, K. et al. Late life suicide in Italy, 1980–2015. Aging Clin Exp Res 32, 465–474 (2020). https://doi.org/10.1007/s40520-019-01431-z
Received:

Accepted:

Published:

Issue Date:
Keywords
Old age

Suicide rates

Italy

Macro-areas

Sex differences

Poverty indices

Threshold for seniority