Abstract
Background
Polypharmacy has been associated with worse cognitive performance, but its impact on mild cognitive impairment (MCI) progression to dementia has not been explored.
Aims
The aims of the study were to investigate the association between multidrug regimens and MCI progression, and the possible mediation of drug–drug interactions and drugs' anticholinergic effect in such association.
Methods
This work included 342 older adults with MCI, who were involved in an Italian multicenter population-based cohort study. Information on drugs taken was derived from general practitioners' records and data on drug–drug interactions and anticholinergic burden [evaluated through the Anticholinergic Cognitive Burden and the Anticholinergic Risk Scale (ARS)] were extracted. Multinomial logistic regressions assessed the associations between mild polypharmacy (≥ 3 drugs/day), drug–drug interactions, and anticholinergic burden with MCI changes after 1-year follow-up. Mediation analysis evaluated potential mediators of that relationship.
Results
Approximately, 50% of participants took ≥ 3 drugs/day. During the follow-up, 4.1% of MCI patients progressed to dementia. The odds of developing dementia was sixfold higher in those who took ≥ 3drugs/day (OR = 6.04, 95% CI 1.19–30.74), eightfold higher in those with ≥ 1 drug–drug interaction/s (OR = 8.45, 95% CI 1.70–41.91), and fivefold higher in those with ARS ≥ 1 (OR = 5.10, 95% CI 1.04–24.93). Drug–drug interactions mediated 70.4% of the association between medication number and MCI progression to dementia (p = 0.07).
Discussion
Our study suggests that even mild polypharmacy may increase the risk of MCI progression to dementia, probably due to the presence of drug–drug interactions, which often occur in multidrug regimens.
Conclusions
Older people require careful management of pharmacological treatments, with special attention to drug–drug interactions and drug-related anticholinergic effects.
Access options
Buy single article
Instant access to the full article PDF.
USD 39.95
Price includes VAT (USA)
Tax calculation will be finalised during checkout.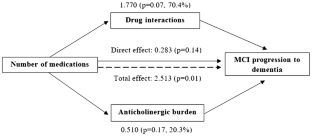 References
1.

Winblad B, Palmer K, Kivipelto M et al (2004) Mild cognitive impairment—beyond controversies, towards a consensus: report of the international working group on mild cognitive impairment. J Intern Med 256:240–246. https://doi.org/10.1111/j.1365-2796.2004.01380.x

2.

Canevelli M, Grande G, Lacorte E et al (2016) Spontaneous reversion of mild cognitive impairment to normal cognition: a systematic review of literature and meta-analysis. J Am Med Dir Assoc 17:943–948. https://doi.org/10.1016/j.jamda.2016.06.020

3.

Rankin A, Cadogan CA, Patterson SM et al (2018) Interventions to improve the appropriate use of polypharmacy for older people. Cochrane Database Syst Rev. https://doi.org/10.1002/14651858.CD008165.pub4

4.

Fabbri E, An Y, Zoli M et al (2015) Aging and the burden of multimorbidity: associations with inflammatory and anabolic hormonal biomarkers. J Gerontol Ser A 70:63–70. https://doi.org/10.1093/gerona/glu127

5.

Melis RJF, Marengoni A, Rizzuto D et al (2013) The influence of multimorbidity on clinical progression of Dementia in a population-based cohort. PLoS One 8:e84014. https://doi.org/10.1371/journal.pone.0084014

6.

Larson EB, Kukull WA, Buchner D et al (1987) Adverse drug reactions associated with global cognitive impairment in elderly persons. Ann Intern Med 107:169–173

7.

Johnell K, Klarin I (2007) The relationship between number of drugs and potential drug–drug interactions in the elderly. Drug Saf 30:911–918. https://doi.org/10.2165/00002018-200730100-00009

8.

Boustani M, Campbell N, Munger S et al (2008) Impact of anticholinergics on the aging brain: a review and practical application. Aging Health 4:311–320. https://doi.org/10.2217/1745509X.4.3.311

9.

Fox C, Richardson K, Maidment ID et al (2011) Anticholinergic medication use and cognitive impairment in the older population: the medical research council cognitive function and ageing study. J Am Geriatr Soc 59:1477–1483. https://doi.org/10.1111/j.1532-5415.2011.03491.x

10.

Jyrkkä J, Enlund H, Lavikainen P et al (2011) Association of polypharmacy with nutritional status, functional ability and cognitive capacity over a three-year period in an elderly population. Pharmacoepidemiol Drug Saf 20:514–522. https://doi.org/10.1002/pds.2116

11.

Park H-Y, Park J-W, Song HJ et al (2017) The association between polypharmacy and dementia: a nested case-control study based on a 12-year longitudinal cohort database in South Korea. PLoS One 12:e0169463. https://doi.org/10.1371/journal.pone.0169463

12.

Lai S-W, Lin C-H, Liao K-F et al (2012) Association between polypharmacy and dementia in older people: a population-based case-control study in Taiwan. Geriatr Gerontol Int 12:491–498. https://doi.org/10.1111/j.1447-0594.2011.00800.x

13.

Oyarzun-Gonzalez XA, Taylor KC, Myers SR et al (2015) Cognitive decline and polypharmacy in an elderly population. J Am Geriatr Soc 63:397–399. https://doi.org/10.1111/jgs.13283

14.

Cheng C-M, Chang W-H, Chiu Y-C et al (2018) Association of polypharmacy with mild cognitive impairment and cognitive ability: a nationwide survey in Taiwan. J Clin Psychiatry. https://doi.org/10.4088/JCP.17m12043

15.

Limongi F, Siviero P, Noale M et al (2017) Prevalence and conversion to dementia of mild cognitive impairment in an elderly Italian population. Aging Clin Exp Res 29:361–370. https://doi.org/10.1007/s40520-017-0748-1

16.

Katz S, Downs TD, Cash HR et al (1970) Progress in development of the index of ADL. Gerontologist 10:20–30

17.

Lawton MP, Brody EM (1969) Assessment of older people: self-maintaining and instrumental activities of daily living. Gerontologist 9:179–186

18.

Dlugaj M, Weimar C, Wege N et al (2010) Prevalence of mild cognitive impairment and its subtypes in the heinz nixdorf recall study cohort. Dement Geriatr Cogn Disord 30:362–373. https://doi.org/10.1159/000320988

19.

American Psychiatric Association (1994) Diagnostic and statistical manual of mental disorders (DSM-IV), 4th edn. American Psychiatric Association, Washington, DC

20.

Alic A, Pranjic N, Ramic E (2011) Polypharmacy and decreased cognitive abilities in elderly patients. Med Arh 65:102–105

21.

Nobili A, Pasina L, Tettamanti M et al (2009) Potentially severe drug interactions in elderly outpatients: results of an observational study of an administrative prescription database. J Clin Pharm Ther 34:377–386. https://doi.org/10.1111/j.1365-2710.2009.01021.x

22.

Rudolph JL, Salow MJ, Angelini MC et al (2008) The anticholinergic risk scale and anticholinergic adverse effects in older persons. Arch Intern Med 168:508. https://doi.org/10.1001/archinternmed.2007.106

23.

Brombo G, Bianchi L, Maietti E et al (2018) Association of anticholinergic drug burden with cognitive and functional decline over time in older inpatients: results from the CRIME Project. Drugs Aging 35:917–924. https://doi.org/10.1007/s40266-018-0584-9

24.

Pasina L, Djade CD, Lucca U et al (2013) Association of anticholinergic burden with cognitive and functional status in a cohort of hospitalized elderly: comparison of the anticholinergic cognitive burden scale and anticholinergic risk scale. Drugs Aging 30:103–112. https://doi.org/10.1007/s40266-012-0044-x

25.

Masnoon N, Shakib S, Kalisch-Ellett L et al (2017) What is polypharmacy? A systematic review of definitions. BMC Geriatr 17:230. https://doi.org/10.1186/s12877-017-0621-2

26.

Kostev K, Jacob L (2018) Multimorbidity and polypharmacy among elderly people followed in general practices in Germany. Eur J Intern Med 55:66–68. https://doi.org/10.1016/j.ejim.2018.07.014

27.

Hohl CM, Dankoff J, Colacone A et al (2001) Polypharmacy, adverse drug-related events, and potential adverse drug interactions in elderly patients presenting to an emergency department. Ann Emerg Med 38:666–671. https://doi.org/10.1067/mem.2001.119456

28.

Hanlon JT, Lindblad CI, Hajjar ER et al (2003) Update on drug-related problems in the elderly. Am J Geriatr Pharmacother 1:38–43

29.

Becker ML, Kallewaard M, Caspers PW et al (2007) Hospitalisations and emergency department visits due to drug–drug interactions: a literature review. Pharmacoepidemiol Drug Saf 16:641–651. https://doi.org/10.1002/pds.1351

30.

Tangiisuran B, Wright J, Van der Cammen T et al (2009) Adverse drug reactions in elderly: challenges in identification and improving preventative strategies. Age Ageing 38:358–359. https://doi.org/10.1093/ageing/afp050

31.

Pasqualetti G, Tognini S, Calsolaro V et al (2015) Potential drug-drug interactions in Alzheimer patients with behavioral symptoms. Clin Interv Aging 10:1457–1466. https://doi.org/10.2147/CIA.S87466

32.

Carrière I, Fourrier-Reglat A, Dartigues J-F et al (2009) Drugs with anticholinergic properties, cognitive decline, and dementia in an elderly general population: the 3-city study. Arch Intern Med 169:1317–1324. https://doi.org/10.1001/archinternmed.2009.229

33.

Gray SL, Anderson ML, Dublin S et al (2015) Cumulative use of strong anticholinergics and incident Dementia. JAMA Intern Med 175:401. https://doi.org/10.1001/jamainternmed.2014.7663

34.

Perry EK, Kilford L, Lees AJ et al (2003) Increased Alzheimer pathology in Parkinson's disease related to antimuscarinic drugs. Ann Neurol 54:235–238. https://doi.org/10.1002/ana.10639

35.

Bottiggi KA, Salazar JC, Yu L et al (2006) Long-term cognitive impact of anticholinergic medications in older adults. Am J Geriatr Psychiatry 14:980–984. https://doi.org/10.1097/01.JGP.0000224619.87681.71
Acknowledgements
We would like to thank the Scientific Coordinators of the Dementia Registry Study Group: Dr. Carla Grasselli, Dr. Renzo Rozzini, Dr. Salvatore Bonaiuto, Dr. Domenico Cucinotta. We thank Linda Inverso Moretti for her contribution in manuscript editing.
Funding
This work was supported by a Special Program of the Ministry of Health (Special program ex art. 12, comma 2, lett B D.Lvo n. 502/92), and by the National Research Council of Italy (CNR), Research Project "Aging: molecular and technological innovations for improving the health of the elderly population (Prot. MIUR 2867 25.11.2011)
Ethics declarations
Conflict of interest
All authors declare that they have no conflict of interest.
Statement of human and animal rights
The study was approved by the ethics committees of the local health units of the participating centers and complies with the ethical standards of the 1964 Declaration of Helsinki and its later amendments or comparable ethical standards.
Informed consent
All participants gave their written informed consent to take part of the study.
Additional information
Publisher's Note
Springer Nature remains neutral with regard to jurisdictional claims in published maps and institutional affiliations.
Electronic supplementary material
Below is the link to the electronic supplementary material.
About this article
Cite this article
Trevisan, C., Limongi, F., Siviero, P. et al. Mild polypharmacy and MCI progression in older adults: the mediation effect of drug–drug interactions. Aging Clin Exp Res 33, 49–56 (2021). https://doi.org/10.1007/s40520-019-01420-2
Received:

Accepted:

Published:

Issue Date:
Keywords
Polypharmacy

Drug interactions

Anticholinergic cognitive burden

Mild cognitive impairment

Dementia