Abstract
Background
Delirium is a serious complication, which occurs frequently in older patients with pre-existing cognitive impairment. There is a need for a simple tool to assess chronic cognitive impairment and the associated risk of delirium during hospitalization.
Aims
To assess the usefulness of the short IQCODE questionnaire in predicting delirium during hospitalization in older patients in a geriatric ward.
Methods
A prognostic study in the Geriatric Department at Aarhus University Hospital, Aarhus Denmark. Consecutive patients were enrolled during March to December, 2017. After consent of the patient, the staff interviewed the relatives by phone using the short IQCODE questionnaire. Delirium was assessed morning and evening until discharge by the Confusion Assessment Method. The ability of short IQCODE to predict delirium was examined.
Results
Three hundred and fifty-three patients were eligible, and 306 completed the IQCODE. Delirium occurred among 19% of the patients during hospitalization. The IQCODE score was associated with the risk of delirium with a receiver operating characteristic (ROC) area of 0.72. A cut-point of 3.3 could separate the patients in a larger group with a risk of approximately 26% to develop delirium and a smaller group having a risk of approximately 6%.
Conclusion
The IQCODE is a useful tool to predict delirium among older inpatients, but it may not stand alone. It can be a useful supplement to other clinical information and observations in detecting patients needing dementia-friendly treatment and care.
Access options
Buy single article
Instant access to the full article PDF.
US$ 39.95
Tax calculation will be finalised during checkout.
Subscribe to journal
Immediate online access to all issues from 2019. Subscription will auto renew annually.
US$ 79
Tax calculation will be finalised during checkout.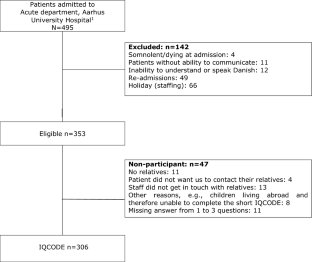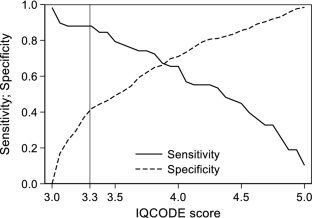 References
1.

Inouye SK, Westendorp RG, Saczynski JS (2014) Delirium in elderly people. Lancet 383:911–922

2.

Rudolph JL, Marcantonio ER (2011) Review articles: postoperative delirium: acute change with long-term implications. Anesth Analg 112:1202–1211

3.

Olofsson B, Lundström M, Borssén B et al (2005) Delirium is associated with poor rehabilitation outcome in elderly patients treated for femoral neck fractures. Scand J Caring Sci 19:119–127

4.

Caplan GA, Coconis J, Board N et al (2006) Does home treatment affect delirium? A randomised controlled trial of rehabilitation of elderly and care at home or usual treatment (The REACH-OUT trial). Age Ageing 35:53

5.

Lee K, Ha Y, Lee Y et al (2011) Frequency, risk factors, and prognosis of prolonged delirium in elderly patients after hip fracture surgery. Clin Orthop Relat Res 469:2612–2620

6.

Brown CA, Boling J, Manson M et al (2012) Relation between prefracture characteristics and perioperative complications in the elderly adult patient with hip fracture. South Med J 105:306–310

7.

Witlox J, Eurelings LS, de Jonghe JF et al (2010) Delirium in elderly patients and the risk of postdischarge mortality, institutionalization, and dementia: a meta-analysis. JAMA 304:443–451

8.

Dasgupta M, Brymer C (2014) Prognosis of delirium in hospitalized elderly: worse than we thought. Int J Geriatr Psychiatry 29:497–505

9.

Aliberti S, Bellelli G, Belotti M et al (2015) Delirium symptoms during hospitalization predict long-term mortality in patients with severe pneumonia. Aging Clin Exp Res 27:523–531

10.

Miu DK, Chan CW, Kok C (2016) Delirium among elderly patients admitted to a post-acute care facility and 3-months outcome. Geriatr Gerontol Int 16:586–592

11.

Blandfort S, Gregersen M, Rahbek K et al (2019) Single-bed rooms in a geriatric ward prevent delirium in older patients. Aging Clin Exp Res. https://doi.org/10.1007/s40520-019-01173-y

12.

Kirkevold M, Brodtkorb K, Ranhoff AH (2015) Delirium. In: Ranhoff AH (ed) Geriatrisk Sykepleie, 2nd edn. Gyldendal Norsk Forlag, Oslo, pp 452–463

13.

Danish Health Authority (2016) National clinical guideline for the prevention and treatment of organic delirium. Sundhedsstyrelsen, Copenhagen, 1.0

14.

Ahmed S, Leurent B, Sampson EL (2014) Risk factors for incident delirium among older people in acute hospital medical units: a systematic review and meta-analysis. Age Ageing 43:326–333

15.

Flachs E, Eriksen L, Koch M et al (2015) The burden of disease in Denmark—diseases. The University of Southern Denmark, Odense, pp 177–194

16.

Danish Health Authority (2013) National clinical guideline for the examination and treatment of dementia. Sundhedsstyrelsen, Copenhagen

17.

Danish Health Authority (2008) Examination and treatment of dementia - a medical technology assessment, 1.0

18.

Jorm AF (1994) A short form of the Informant Questionnaire on Cognitive Decline in the Elderly (IQCODE): development and cross-validation. Psychol Med 24:145–153

19.

Jorm AF (2004) The Informant Questionnaire on cognitive decline in the elderly (IQCODE): a review. Int Psychogeriatr 16:275–293

20.

Harrison JK, Fearon P, Noel-Storr AH, McShane R, Stott DJ, Quinn TJ (2015) Informant questionnaire on cognitive decline in the elderly (IQCODE) for the diagnosis of dementia within a secondary care setting. Cochrane Database Syst Rev. https://doi.org/10.1002/14651858.CD010772.pub2

21.

Harrison JK, Garrido AG, Rhynas SJ et al (2017) New institutionalisation following acute hospital admission: a retrospective cohort study. Age Ageing 1:238–244

22.

Priner M, Jourdain M, Bouche G et al (2008) Usefulness of the short IQCODE for predicting postoperative delirium in elderly patients undergoing hip and knee replacement surgery. Gerontology 54:116–119

23.

The Australian National University, Canberra. Informant questionnaire on cognitive decline in the elderly. https://rsph.anu.edu.au/research/tools-resources/informant-questionnaire-cognitive-decline-elderly. Accessed 01 Oct 2019

24.

Danish Multidisciplinary Cancer Group for Palliative Efforts (2013) Clinical guideline on delirium. http://www.dmcgpal.dk/661/godkendteretningslinjer. Accessed 13 Aug 2018

25.

Inouye SK, van Dyck CH, Alessi CA et al (1990) Clarifying confusion: the confusion assessment method. A new method for detection of delirium. Ann Intern Med 113:941–948

26.

National Institute for Health and Care Excellence (2010) NICE clinical guideline. Delirium: diagnosis, prevention and management. http://nice.org.uk/guidance/cg103. Accessed 04 Dec 2014

27.

Shah S, Vanclay F, Cooper B (1989) Improving the sensitivity of the Barthel Index for stroke rehabilitation. J Clin Epidemiol 42:703–709

28.

Charlson ME, Pompei P, Ales KL et al (1987) A new method of classifying prognostic comorbidity in longitudinal studies: development and validation. J Chronic Dis 40:373–383

29.

Bone RC, Balk RA, Cerra FB et al (1992) Definitions for sepsis and organ failure and guidelines for the use of innovative therapies in sepsis. The ACCP/SCCM Consensus Conference Committee. American College of Chest Physicians/Society of Critical Care Medicine. Chest 101:1644–1655

30.

Harris PA, Taylor R, Thielke R et al (2009) Research electronic data capture (REDCap)—a metadata-driven methodology and workflow process for providing translational research informatics support. J Biomed Inform 42:377–381

31.

Siddiqi N, Harrison JK, Clegg A et al (2016) Interventions for preventing delirium in hospitalised non-ICU patients. Cochrane Database Syst Rev 11:3

32.

Soiza RL, Myint PK (2019) The Scottish Intercollegiate Guidelines Network (SIGN) 157: guidelines on risk reduction and management of delirium. Medicina (Kaunas) 15:55

33.

Juliebø V, Bjøro K, Krogseth M et al (2009) Risk factors for preoperative and postoperative delirium in elderly patients with hip fracture. J Am Geriatr Soc 08:1354–1361

34.

Inouye SK, Charpentier PA (1996) Precipitating factors for delirium in hospitalized elderly persons. Predictive model and interrelationship with baseline vulnerability. JAMA 275:852–857

35.

Carrasco MP, Villarroel L, Andrade M et al (2014) Development and validation of a delirium predictive score in older people. Age Ageing 43:346–351

36.

Fassassi S, Bianchi Y, Stiefel F et al (2009) Assessment of the capacity to consent to treatment in patients admitted to acute medical wards. BMC Med Ethics 2:15

37.

Jackson TA, MacLullich AM, Gladman JR et al (2016) Diagnostic test accuracy of informant-based tools to diagnose dementia in older hospital patients with delirium: a prospective cohort study. Age Ageing 45:505–511
Ethics declarations
Conflict of interest
The cost of data collection, analysis, and preparation of the manuscript was covered by the Department of Geriatrics, Aarhus University Hospital. The authors declare no conflicts of interest.
Research involving human participants
It was a quality development project with no intervention, the study was exempted from notification to the Central Denmark Region Ethical Committee (Inquiry number 200/2017). The study protocol was approved by the Danish Data Protection Agency, case no. 1-16-02-254-16. The study was registered at ClinicalTrials.gov (Identifier NCT03175276).
Informed consent
Not needed according to Ethical Committee.
Additional information
Publisher's Note
Springer Nature remains neutral with regard to jurisdictional claims in published maps and institutional affiliations.
About this article
Cite this article
Blandfort, S., Gregersen, M., Rahbek, K. et al. The short IQCODE as a predictor for delirium in hospitalized geriatric patients. Aging Clin Exp Res 32, 1969–1976 (2020). https://doi.org/10.1007/s40520-019-01412-2
Received:

Accepted:

Published:

Issue Date:
Keywords
IQCODE

Delirium predictor

Older patient

Geriatrics