Abstract
Background
Postoperative cognitive dysfunction (POCD) is a common complication after orthopedic surgery, which is not conducive to the prognosis of the elderly.
Aims
We performed this study to investigate the effects of oxycodone applied for patient-controlled intravenous analgesia (PCIA) on postoperative cognitive function in elderly patients after total hip arthroplasty (THA).
Methods
Ninety-nine participants were enrolled and allocated into two groups: oxycodone group (group O) and sufentanil group (group S). The primary outcome was the incidence of POCD, diagnosed according to the changes in the Mini-mental status examination (MMSE) and Montreal Cognitive Assessment (MoCA) scores. The secondary outcomes included the plasma levels of S-100B protein and neuron-specific enolase (NSE), the amount of postoperative analgesic consumption and the incidence of adverse reactions.
Results
The incidence of POCD was significantly lower in patients receiving oxycodone up to the 3rd postoperative day (POD, 1st POD 27.3% vs. 51.1%, P = 0.021; 3rd POD 20.5% vs. 40.0%, P = 0.045), as compared to patients receiving sufentanil. The MMSE and MoCA scores of both groups decreased to varying degrees. However, compared with group S, the MMSE scores at 1st POD, 3rd POD, 5th POD and 7st POD in group O were higher than that in group S, while MoCA scores at 1st POD, 3rd POD and 5th POD in group O were higher. Compared with group S, the plasma levels of S-100B protein in group O at 4 h, 8 h, 12 h post-surgery were lower. While the plasma levels of NSE in group O at 4 h, 8 h, 12 h, 24 h post-surgery were lower. Number of PCIA boluses and consumption of analgesic drug during the first two POD were similar between two groups. However, postoperative incidence of nausea, vomiting and pruritus was significantly lower in patients receiving oxycodone.
Conclusion
Oxycodone applied for PCIA in elderly patients after THA could reduce the incidence of POCD, improve postoperative cognitive function and decrease the adverse reactions.
Access options
Buy single article
Instant access to the full article PDF.
US$ 39.95
Tax calculation will be finalised during checkout.
Subscribe to journal
Immediate online access to all issues from 2019. Subscription will auto renew annually.
US$ 79
Tax calculation will be finalised during checkout.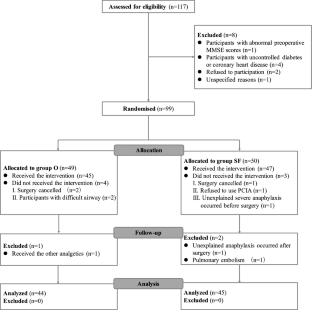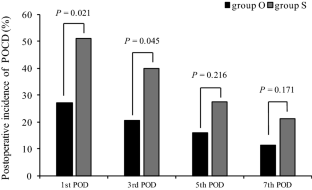 References
1.

Newman MF, Grocott HP, Mathew JP, Neurologic Outcome Research Group, and the Cardiothoracic Anesthesia Research Endeavors (CARE) Investigators of the Duke Heart Center et al (2001) Report of the substudy assessing the impact of neurocognitive function on quality of life 5 years after cardiac surgery. Stroke 32:2874–2881

2.

Phillips-Bute B, Mathew JP, Blumenthal JA et al (2006) Association of neurocognitive function and quality of life 1 year after coronary artery bypass graft (CABG) surgery. Psychosom Med 68:369–375

3.

Steinmetz J, Christensen KB, Lund T et al (2009) Long-term consequences of postoperative cognitive dysfunction. Anesthesiology 110:548–555

4.

Monk TG, Weldon BC, Garvan CW et al (2008) Predictors of cognitive dysfunction after major noncardiac surgery. Anesthesiology 108:18–30

5.

Fong HK, Sands LP, Leung JM (2006) The role of postoperative analgesia in delirium and cognitive decline in elderly patients: a systematic review. Anesth Analg 102:1255–1266

6.

Nelson PT, Alafuzoff I, Bigio EH et al (2012) Correlation of Alzheimer disease neuropathologic changes with cognitive status: a review of the literature. J Neuropathol Exp Neurol 71:362–381

7.

Carro E, Trejo JL, Spuch C et al (2006) Blockade of the insulin-like growth factor I receptor in the choroid plexus originates Alzheimer's like neuropathology in rodents: new cues into the human disease? Neurobiol Aging 27:1618–1631

8.

Silbert BS, Scott DA, Evered LA et al (2006) A comparison of the effect of high- and low-dose fentanyl on the incidence of postoperative cognitive dysfunction after coronary artery bypass surgery in the elderly. Anesthesiology 104:1137–1145

9.

Scott JC, Cooke JE, Stanski DR (1991) Electroencephalographic quantitation of opioid effect: comparative pharmacodynamics of fentanyl and sufentanil. Anesthesiology 74:34–42

10.

Gadsden J, Hart S, Santos AC (2005) Post-cesarean delivery analgesia. Anesth Analg 101:S62–S69

11.

Narita M, Nakamura A, Ozaki M et al (2008) Comparative pharmacological profiles of morphine and oxycodone under a neuropathic pain-like state in mice: evidence for less sensitivity to morphine. Neuropsychopharmacology 33:1097–1112

12.

Kalso E (2007) How different is oxycodone from morphine? Pain 132:227–228

13.

Pasternak GW (2005) Molecular biology of opioid analgesia. J Pain Symptom Manag 29:S2–S9

14.

Rui L, Xu J (2018) Efects of postoperative analgesia with oxycodone on postoperative cognitive dysfunction in aged patients undergoing laparascopic cholecystectomy. J Clin Anesthesiol 34:432–435 (Chinese)

15.

Li X, Zhang Z, Wang Y et al (2018) Protective effects of oxycodone preconditioning on cerebral injury in cardiac valve replacement patients with cardiopulmonary bypass. Med J Wuhan Univ 39:143–146 (Chinese)

16.

Rudolph JL, Schreiber KA, Culley DJ et al (2010) Measurement of post-operative cognitive dysfunction after cardiac surgery: a systematic review. Acta Anaesthesiol Scand 54:663–677

17.

Nasreddine ZS, Phillips NA, Bédirian V et al (2005) The Montreal cognitive assessment, MoCA: a brief screening tool for mild cognitive impairment. J Am Geriatr Soc 53:695–699

18.

Canet J, Raeder J, Rasmussen LS et al (2003) Cognitive dysfunction after minor surgery in the elderly. Acta Anaesthesiol Scand 47:1204–1210

19.

Marquer C, Devauges V, Cossec JC et al (2011) Local cholesterol increase triggers amyloid precursor protein-bace1 clustering in lipid rafts and rapid endocytosis. FASEB J 25:1295–1305

20.

Rundshagen I (2014) Postoperative cognitive dysfunction. Dtsch Arztebl Int 111:119–125

21.

Kim NS, Lee JS, Park SY et al (2017) Oxycodone versus fentanyl for intravenous patient-controlled analgesia after laparoscopic supracervical hysterectomy: a prospective, randomized, double-blind study. Medicine (Baltimore) 96:e6286

22.

Han L, Su Y, Xiong H et al (2018) Oxycodone versus sufentanil in adult patient-controlled intravenous analgesia after abdominal surgery: a prospective, randomized, double-blinded, multiple-center clinical trial. Medicine (Baltimore) 97:e11552

23.

Petrò E, Ruffini E, Cappuccio M et al (2016) Low-dose oral prolonged-release oxycodone/naloxone for chronic pain in elderly patients with cognitive impairment: an efficacy-tolerability pilot study. Neuropsychiatr Dis Treat 12:559–569

24.

Nie JJ, Sun S, Huang SQ (2017) Effect of oxycodone patient-controlled intravenous analgesia after cesarean section: a randomized controlled study. J Pain Res 10:2649–2655

25.

Haeseler G, Schaefers D, Prison N et al (2017) Combatting pain after orthopedic/trauma surgery- perioperative oral extended-release tapentadol vs. extended-release oxycodone/naloxone. BMC Anesthesiol 17:91

26.

Oppermann J, Bredow J, Spies CK et al (2016) Effect of prolonged-released oxycodone/naloxone in postoperative pain management after total knee replacement: a nonrandomized prospective trial. J Clin Anesth 33:491–497

27.

Selnes OA, Gottesman RF, Grega MA et al (2012) Cognitive and neurological outcomes after coronary-artery bypass surgery. N Engl J Med 366:250–257

28.

Silva FP, Schmidt AP, Valentin LS et al (2016) S100B protein and neuron-specific enolase as predictors of cognitive dysfunction after coronary artery bypass graft surgery: a prospective observational study. Eur J Anaesthesiol 33:681–689

29.

Oh SH, Lee JG, Na SJ et al (2003) Prediction of early clinical severity and extent of neuronal damage in anterior-circulation infarction using the initial serum neuron-specific enolase level. Arch Neurol 60:37–41

30.

Liu X, Yu Y, Zhu S (2018) Inflam matory markers in postoperative delirium (POD) and cognitive dysfunction (POCD): a meta-analysis of observational studies. PLoS One 13:e0195659

31.

Lim YJ, Zheng S, Zuo Z et al (2004) Morphine preconditions Purkinje cells against cell death under in vitro simulated ischemia-reperfusion conditions. Anesthesiology 100:562–568

32.

Stefano GB, Mantione KJ, Capellan L et al (2015) Morphine stimulates nitric oxide release in human mitochondria. J Bioenerg Biomembr 47:409–417

33.

Quan Z, Luo C, Chi P et al (2018) Analgesic effects of oxycodone relative to those of sufentanil, in the presence of midazolam, during endoscopic injection sclerotherapy for patients with cirrhosis and esophageal varices. Anesth Analg 127:382–386
Acknowledgements
The authors would like to thank the study investigators, study center staff, and all trial participants and their families.
Funding
The study was financially supported by grants from the Tangshan Science and Technology Innovation Team Project (18130220A).
Ethics declarations
Conflict of interest
The authors declare that they have no conflicts of interest.
Ethical approval
The study was approved by the Ethical Committee of Human Research of our hospital (No: RMYY-YWLL-2018-15). The trial was also registered prior the participant enrollment at www.chictr.org.cn (identifier: ChiCTR1800017768).
Research involving human participants
All procedures performed in studies involving human participants were in accordance with the ethical standards of the institutional and/or national committee and with the 1964 Helsinki Declaration and its later amendments or comparable ethical standards.
Informed consent
Informed consent was obtained from all individual participants included in this study.
Additional information
Publisher's Note
Springer Nature remains neutral with regard to jurisdictional claims in published maps and institutional affiliations.
About this article
Cite this article
Gan, J., Tu, Q., Miao, S. et al. Effects of oxycodone applied for patient-controlled analgesia on postoperative cognitive function in elderly patients undergoing total hip arthroplasty: a randomized controlled clinical trial. Aging Clin Exp Res 32, 329–337 (2020). https://doi.org/10.1007/s40520-019-01202-w
Received:

Accepted:

Published:

Issue Date:
Keywords
Oxycodone

Sufentanil

Patient-controlled intravenous analgesia

Elderly

Total hip arthroplasty

Postoperative cognitive dysfunction