Abstract
Background
Mitochondrial DNA (mtDNA) mutations are considered as a possible primary cause of age-associated neurodegenerative disorders like Parkinson's disease (PD).
Aims
To analyze, along the whole mtDNA sequence of PD patients, the presence of non-reference alleles compared to reference alleles, as defined in the revised Cambridge Reference Sequence (rCRS).
Methods
mtDNA was extracted from whole blood of PD and control groups, and was sequenced using a chip-based resequencing system.
Results
58 nucleotide positions (np) exhibited a different allelic distribution in the two groups; in 81% of them the non-reference alleles were over-represented in PD patients, similar to findings reported in patients with Alzheimer's disease, albeit in reduced proportion. Closer analysis of the 58 np in PD group showed that they were characterized by low-level heteroplasmy, and that the nucleotide substitutions determined an amino acid change in 84% of cases.
Conclusions
These results suggest that mtDNA allelic changes are increased in PD and that age-related neurodegenerative diseases could share a common mechanism involving mtDNA.
This is a preview of subscription content, log in to check access.
Access options
Buy single article
Instant access to the full article PDF.
US$ 39.95
Price includes VAT for USA
Subscribe to journal
Immediate online access to all issues from 2019. Subscription will auto renew annually.
US$ 99
This is the net price. Taxes to be calculated in checkout.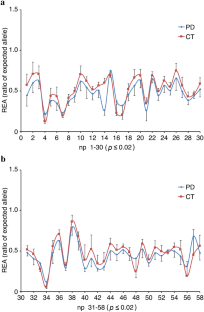 References
1.

Schapira AH, Cooper JM, Dexter D et al (1990) Mitochondrial complex I deficiency in Parkinson's disease. J Neurochem 54:823–827

2.

Devi L, Raghavendran V, Prabhu BM et al (2008) Mitochondrial import and accumulation of alpha-synuclein impair complex I in human dopaminergic neuronal cultures and Parkinson disease brain. J Biol Chem 283:9089–9100

3.

Guardia-Laguarta C, Area-Gomez E, Rüb C et al (2014) α-Synuclein is localized to mitochondria-associated ER membranes. J Neurosci 34:249–259

4.

Hsieh CH, Shaltouki A, Gonzalez AE et al (2016) Functional impairment in miro degradation and mitophagy is a shared feature in familial and sporadic Parkinson's disease. Cell Stem Cell 19:709–724

5.

Esteves AR, Domingues AF, Ferreira IL et al (2008) Mitochondrial function in Parkinson's disease cybrids containing an nt2 neuron-like nuclear background. Mitochondrion 8:219–228

6.

Hua F, Zhang X, Hou B et al (2017) Relationship between mitochondrial DNA A10398G polymorphism and Parkinson's disease: a meta-analysis. Oncotarget 8:78023–78030

7.

Coxhead J, Kurzawa-Akanbi M, Hussain R et al (2016) Somatic mtDNA variation is an important component of Parkinson's disease. Neurobiol Aging 38:217.e1–217.e6

8.

Smigrodzki R, Parks J, Parker WD (2004) High frequency of mitochondrial complex I mutations in Parkinson's disease and aging. Neurobiol Aging 25:1273–1281

9.

Khusnutdinova E, Gilyazova I, Ruiz-Pesini E et al (2008) A mitochondrial etiology of neurodegenerative diseases: evidence from Parkinson's disease. Ann N Y Acad Sci 1147:1–20

10.

Lin MT, Cantuti-Castelvetri I, Zheng K et al (2012) Somatic mitochondrial DNA mutations in early Parkinson and incidental Lewy body disease. Ann Neurol 71:850–854

11.

Hoekstra JG, Hipp MJ, Montine TJ et al (2016) Mitochondrial DNA mutations increase in early stage Alzheimer disease and are inconsistent with oxidative damage. Ann Neurol 80:301–306

12.

Casoli T, Spazzafumo L, Di Stefano G et al (2015) Role of diffuse low-level heteroplasmy of mitochondrial DNA in Alzheimer's disease neurodegeneration. Front Aging Neurosci 7:142

13.

Bustacchini S, Abbatecola AM, Bonfigli AR et al (2015) Report-Age study group. The Report-AGE project: a permanent epidemiological observatory to identify clinical and biological markers of health outcomes in elderly hospitalized patients in Italy. Aging Clin Exp Res 27:893–901

14.

Postuma RB, Berg D, Stern M et al (2015) MDS clinical diagnostic criteria for Parkinson's disease. Mov Disord 30:1591–1601

15.

Hu J, Zou F, Wright FA (2005) Practical FDR-based sample size calculations in microarray experiments. Bioinformatics 21:3264–3272

16.

Carpenter GI, Hastie CL, Morris JN et al (2006) Measuring change in activities of daily living in nursing home residents with moderate to severe cognitive impairment. BMC Geriatr 3:7

17.

Coon KD, Valla J, Szelinger S et al (2006) Quantitation of heteroplasmy of mtDNA sequence variants identified in a population of AD patients and controls by array-based resequencing. Mitochondrion 6:194–210

18.

Hochberg Y, Benjamini Y (1990) More powerful procedures for multiple significance testing. Stat Med 9:811–818

19.

Edgar R, Domrachev M, Lash AE (2002) Gene expression omnibus: NCBI gene expression and hybridization array data repository. Nucleic Acids Res 30:207–210

20.

Pyle A, Anugrha H, Kurzawa-Akanbi M et al (2016) Reduced mitochondrial DNA copy number is a biomarker of Parkinson's disease. Neurobiol Aging 38:216.e7–216.e10

21.

Shoffner JM, Brown MD, Torroni A et al (1993) Mitochondrial DNA variants observed in Alzheimer disease and Parkinson disease patients. Genomics 17:171–184

22.

Coskun P, Wyrembak J, Schriner SE et al (2012) A mitochondrial etiology of Alzheimer and Parkinson disease. Biochim Biophys Acta 1820:553–564
Acknowledgments
We would like to thank all people who contributed to Report-AGE database management. In addition we wish to acknowledge the help of Belinda Giorgetti and Moreno Solazzi in laboratory procedures. This work was supported by the "Current Research" fund of the Italian Ministry of Health to IRCCS INRCA.
Ethics declarations
Conflict of interest
The authors declare that they have no conflict of interest.
Ethical approval
All procedures performed in studies involving human participants were in accordance with the ethical standards of the IRCCS INRCA Ethical Committee and with the 1964 Helsinki declaration and its later amendments or comparable ethical standards.
Informed consent
Informed consent was obtained from all individual participants included in the study.
Additional information
Publisher's Note
Springer Nature remains neutral with regard to jurisdictional claims in published maps and institutional affiliations.
Electronic supplementary material
Below is the link to the electronic supplementary material.
About this article
Cite this article
Casoli, T., Lisa, R., Fabbietti, P. et al. Analysis of mitochondrial DNA allelic changes in Parkinson's disease: a preliminary study. Aging Clin Exp Res 32, 345–349 (2020). https://doi.org/10.1007/s40520-019-01197-4
Received:

Accepted:

Published:

Issue Date:
Keywords
Parkinson's disease

mtDNA

MitoChip

Resequencing

Neurodegeneration