Abstract
Background
Our previous study has shown that vestibular rehabilitation (VR) is an effective technique to reduce falls in elderly patients. It would be interesting to establish patients' clinical characteristics in which vestibular rehabilitation is expected to be more effective.
Aims
Evaluate factors that could modify rehabilitation outcomes in elderly patients with previous falls.
Methods
Fifty-seven patients randomized to one of the intervention group (computerized dynamic posturography—CDP—training, optokinetic stimulus or exercise at home) and with previous falls were analyzed. Patients were assessed with objective outcome measures (sensorial organization test and limits of stability—LOS—of CDP, modified timed up and go test—TUG—and number of falls) and with subjective outcome measures (dizziness handicap inventory and Short falls efficacy scale-international—Short FES-I) during a 12-month follow-up period.
Results
In the logistic regression model, a worse score in the maximum excursion (MXM), and a shorter time in the TUG significantly associated with a reduction > 50% of falls. Also, association with a higher score in the Short FES-I was close to a statistical significance. There was no statistical significance association with other covariables.
Discussion
In patients with reduced limits of stability, VR seems to be more effective and they should be encouraged to perform it. But on the other hand, patients with longer time in the TUG show worse outcomes and may benefit more with gait training.
Conclusions
VR in elderly people with previous falls is effective regardless of their age and gender.
This is a preview of subscription content, log in to check access.
Access options
Buy single article
Instant access to the full article PDF.
US$ 39.95
Price includes VAT for USA
Subscribe to journal
Immediate online access to all issues from 2019. Subscription will auto renew annually.
US$ 99
This is the net price. Taxes to be calculated in checkout.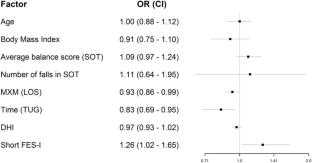 References
1.

Anson E, Jeka J (2016) Perspectives on aging vestibular function Front Neurol 6:269

2.

Gadkaree SK, Sun DQ, Li C et al (2016) Does sensory function decline independently or concomitantly with age? Data from the Baltimore longitudinal study of aging. J Aging Res 2016:1865038

3.

Swift CG, Iliffe S (2014) Assesment and prevention of falls in older people—concise guidance. Clin Med (Lond) 14:658–662

4.

Ungar A, Rafanelli M, Iacomelli I et al (2013) Fall prevention in the elderly. Clin Cases Miner Bone Metab 10:91–95

5.

Tricco AC, Thomas SM, Veroniki AA et al (2017) Comparisons of interventions for preventing falls in older adults: a systematic review and meta-analysis. JAMA 318:1687–1699

6.

Sherrington C, Fairhall NJ, Wallbank GK et al (2019) Exercise for preventing falls in older people living in the community. Cochrane Database Syst Rev 1:CD012424

7.

Avin KG, Hanke TA, Kirk-Sanchez N et al (2015) Management of falls in community-dwelling older adults: clinical guidance statement from the Academy of Geriatric Physical Therapy of the American Physical Therapy Association. Phys Ther 95:815–834

8.

Geraghty AWA, Essery R, Kirby S et al (2017) Internet-based vestibular rehabilitation for older adults with chronic dizziness: a randomized controlled trial in primary care. Ann Family Med 15:209–216

9.

Rossi-Izquierdo M, Gayoso-Diz P, Santos-Pérez S et al (2018) Vestibular rehabilitation in elderly patients with postural instability: reducing the number of falls—a randomized clinical trial. Aging Clin Exp Res 30:1353–1361

10.

Soto-Varela A, Gayoso-Diz P, Rossi-Izquierdo M et al (2015) Reduction of falls in older people by improving balance with vestibular rehabilitation (ReFOVeRe study): design and methods. Aging Clin Exp Res 27:841–848

11.

Folstein MF, Folstein SE, McHugh PR (1975) ''Mini-mental state': a practical method for grading the cognitive state of patients for the clinician. J Psychiatr Res 12:189–198

12.

Pérez N, Garmendia I, Martín E, García Tapia R (2000) Adaptación cultural de dos cuestionarios de medida de la salud en pacientes con vértigo. Acta Otorrinolaringol Esp 51:572–580

13.

Kempen GI, Yardley L, van Haastregt JC et al (2008) The Short FES-I: a shortened version of the falls efficacy scale-international to assess fear of falling. Age Ageing 37:45–50

14.

Lomas-Vega R, Hita-Contreras F, Mendoza N et al (2012) Cross-cultural adaptation and validation of the Falls Efficacy Scale International in Spanish postmenopausal women. Menopause 19:904–908

15.

Nashner LM (2011) Computerized dynamic posturography. In: Goebel JA (ed) Practical management of the dizzy patient. Lippincott Williams & Wilkins, Philadelphia, pp 143–170

16.

Rossi M, Soto A, Santos S et al (2009) A prospective study of alteration of balance among patients with Parkinson's disease: protocol of the postural evaluation. Eur Neurol 61:171–176

17.

Cawthorne T (1944) The physiological basis for head exercises. J Chartered Soc Physiother 30:106

18.

Cooksey FS (1946) Rehabilitation in vestibular injuries. Proc R Soc Med 39:273

19.

Girardi M, Konrad HR, Amin M et al (2001) Predicting fall risks in an elderly population: computer dynamic posturography versus electronystagmography test results. Laryngoscope 111:1528–1532

20.

Rossi-Izquierdo M, Basta D, Rubio-Rodríguez JP et al (2014) Is posturography able to identify fallers in patients with Parkinson´s disease? Gait Posture 40:53–57

21.

Barry E, Galvin R, Keogh C et al (2014) Is the timed up and go test a useful predictor of risk of falls in community dwelling older adults: a systematic review and meta-analysis. BMC Geriatr 14:14

22.

Park SH (2018) Tools for assessing fall risk in the elderly: a systematic review and meta-analysis. Aging Clin Exp Res 30:1–16

23.

Hall CD, Herdman SJ, Whitney SL et al (2016) Vestibular rehabilitation for peripheral vestibular hypofunction: an evidence-based clinical practice guideline: from the american physical therapy association neurology section. J Neurol Phys Ther 40:124–155

24.

Herdman SJ, Hall CD, Delaune W (2012) Variables associated with outcome in patients with unilateral vestibular hypofunction. Neurorehabil Neural Repair 26:151–162

25.

Kao CL, Chen LK, Chern CM et al (2010) Rehabilitation outcome in home-based versus supervised exercise programs for chronically dizzy patients. Arch Gerontol Geriatr 51:264–267
Acknowledgements
We would like to thank Andrés Blanco Hortas (Fundación Instituto de Investigación Sanitaria de Santiago de Compostela) for his statistical expertise.
Funding
This study was funded by the project PI11/01328, integrated into the State Plan for R + D + I 2008–2011 and funded by the ISCIII–Subdirección General de Evaluación y Fomento de la Investigación and the European Regional Development Fund: "Reduction of falls in the elderly by improving balance through vestibular rehabilitation".
Ethics declarations
Conflict of interest
The authors report no conflicts of interest.
Research involving human participants and/or animals
The study was performed according to the protocol approved by the Independent Ethics Committee of Galicia (Protocol 2010/139).
Informed consent
Signed informed consent was obtained from all the participants.
Financial disclosure
No commercial party having a direct financial interest in the results of the research supporting this article has or will confer a benefit on the authors or on any organization with which the authors are associated.
Additional information
Publisher's Note
Springer Nature remains neutral with regard to jurisdictional claims in published maps and institutional affiliations.
About this article
Cite this article
Rossi-Izquierdo, M., Gayoso-Diz, P., Santos-Pérez, S. et al. Prognostic factors that modify outcomes of vestibular rehabilitation in elderly patients with falls. Aging Clin Exp Res 32, 223–228 (2020). https://doi.org/10.1007/s40520-019-01185-8
Received:

Accepted:

Published:

Issue Date:
Keywords
Vestibular rehabilitation

Outcomes

Prognostic factor

Falls

Elderly