Abstract
Aims
Patients undergoing coronary artery bypass grafting (CABG) surgery may experience neurological impairment. We examined whether intraoperative regional cerebral oxygen saturation (rSO2) and neurological dysfunction prior to surgery, measured by robotic technology, are important predictors of post-operative performance following CABG surgery.
Methods
Adult patients undergoing CABG surgery were recruited for this single-center prospective observational study. Intraoperative rSO2 was captured using the FORESIGHT cerebral oximeter. Neurological assessment was performed pre-operatively and 3 months following surgery using robotic technology and a standardized pen-and-paper assessment. Linear regression models were generated to determine the predictive ability of both intraoperative rSO2 and pre-operative performance on post-operative neurological outcome.
Results
Forty patients had complete data available for analysis. Quantified pre-operative performance accounted for a significantly larger amount of variance in post-operative outcome compared to intraoperative rSO2. In particular, pre-operative scoring on a cognitive visuospatial task accounted for 82.2% of variance in post-operative performance (b = 0.937, t(37) = 12.98, p = 1.28e−5).
Discussion
Our results suggest that pre-operative performance is a stronger indicator of post-operative neurological outcome than intraoperative rSO2, and should be included as an important variable when elucidating the relationship between cerebral oxygen levels and post-operative neurological impairment. Rigorous neurological assessment prior to surgery can provide valuable information about each individual patient's path to recovery.
Conclusion
Using robotic technology, quantified neurological impairment prior to CABG surgery may better predict post-operative neurological outcomes, compared to intraoperative rSO2 values.
This is a preview of subscription content, log in to check access.
Access options
Buy single article
Instant access to the full article PDF.
US$ 39.95
Price includes VAT for USA
Subscribe to journal
Immediate online access to all issues from 2019. Subscription will auto renew annually.
US$ 99
This is the net price. Taxes to be calculated in checkout.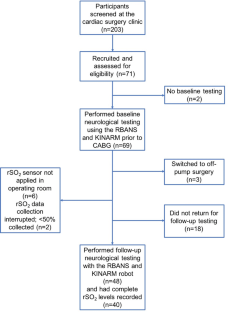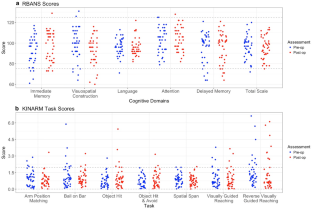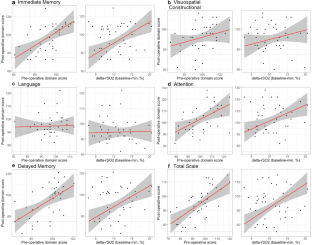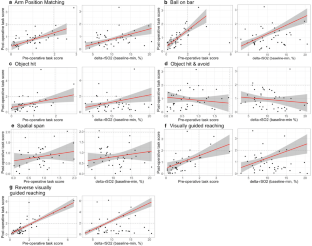 References
1.

Newman MF, Mathew JP, Grocott HP et al (2006) Central nervous system injury associated with cardiac surgery. Lancet 368:694–703

2.

Pérez-Belmonte LM, San Román-Terán CM, Jiménez-Navarro M et al (2015) Assessment of long-term cognitive impairment after off-pump coronary-artery bypass grafting and related risk factors. J Am Med Dir Assoc [Internet] 16:263.e9–263.e11

3.

Mahanna EP, Blumenthal JA, White WD et al (1996) Defining neuropsychological dysfunction after coronary artery bypass grafting. Ann Thorac Surg 61:1342–1347

4.

Rudolph JL, Schreiber KA, Culley DJ et al (2010) Measurement of post-operative cognitive dysfunction after cardiac surgery: a systematic review. Acta Anaesthesiol Scand 54:663–677

5.

Lingehall HC, Smulter NS, Lindahl E et al (2017) Preoperative cognitive performance and postoperative delirium are independently associated with future dementia in older people who have undergone cardiac surgery. Crit Care Med 45:1295–1303

6.

Bakker RC, Osse RJ, Tulen JHM et al (2012) Preoperative and operative predictors of delirium after cardiac surgery in elderly patients. Eur J Cardio-thoracic Surg 41:544–549

7.

Silbert BS, Scott DA, Evered LA et al (2007) Preexisting cognitive impairment in patients scheduled for elective coronary artery bypass graft surgery. Anesth Analg 104:1023–1028

8.

Yao F-SF, Tseng C-CA, Ho C-YA et al (2004) Cerebral oxygen desaturation is associated with early postoperative neuropsychological dysfunction in patients undergoing cardiac surgery. J Cardiothorac Vasc Anesth 18:552–558

9.

De Tournay-Jette E, Dupuis G, Bherer L et al (2011) The relationship between cerebral oxygen saturation changes and postoperative cognitive dysfunction in elderly patients after coronary artery bypass graft surgery. J Cardiothorac Vasc Anesth 25:95–104

10.

Murkin JM, Adams SJ, Novick RJ et al (2007) Monitoring brain oxygen saturation during coronary bypass surgery: a randomized, prospective study. Anesth Analg 104:51–58

11.

Slater JP, Guarino T, Stack J et al (2009) Cerebral oxygen desaturation predicts cognitive decline and longer hospital stay after cardiac surgery. Ann Thorac Surg 87:36–45

12.

Yu Y, Zhang K, Zhang L et al (2018) Cerebral near-infrared spectroscopy (NIRS) for perioperative monitoring of brain oxygenation in children and adults (review). Cochrane Database Syst Rev 1:CD010947

13.

Otaka E, Otaka Y, Kasuga S et al (2015) Clinical usefulness and validity of robotic measures of reaching movement in hemiparetic stroke patients. J Neuroeng Rehabil 12:66. https://doi.org/10.1186/s12984-015-0059-8

14.

Coderre AM, Zeid AA, Dukelow SP et al (2010) Assessment of upper-limb sensorimotor function of subacute stroke patients using visually guided reaching. Neurorehabil Neural Repair 24:528–541

15.

Debert CT, Herter TM, Scott SH et al (2012) Robotic assessment of sensorimotor deficits after traumatic brain injury. JNPT 36:58–67

16.

Simmatis L, Krett J, Scott SH et al (2017) Robotic exoskeleton assessment of transient ischemic attack. PLoS One 12:1–13

17.

Semrau JS, Scott SH, Hamilton AG et al (2018) The relationship between cerebral oxygen saturation and quantitative metrics of neurological function after coronary bypass surgery; a feasibility study. J Cardiovasc Surg (Torino) 59:716–728

18.

Marin T, Moore J (2011) Understanding near-infrared spectroscopy. Adv Neonatal Care 11:382–388

19.

van Dijk D, Jansen EWL, Hijman R et al (2002) Cognitive outcome after off-pump and on-pump coronary artery bypass graft surgery. JAMA 287:1405–1412

20.

Cormack F, Shipolini A, Awad WI et al (2012) A meta-analysis of cognitive outcome following coronary artery bypass graft surgery. Neurosci Biobehav Rev 36:2118–2129

21.

Randolph C, Tierney MC, Mohr E et al (2010) The repeatable battery for the assessment of neuropsychological status (RBANS): preliminary clinical validity. J Clin Exp Neuropsychol 20:310–319

22.

R Core Team (2016) R: a language and environment for statistical computing. Vienna, Austria: R foundation for statistical computing

23.

Zheng F, Sheinberg R, Yee MS et al (2013) Cerebral near-infrared spectroscopy (NIRS) monitoring and neurologic outcomes in adult cardiac surgery patients: a systematic review. Anesth Analg 116:663–676

24.

Dukelow SP, Herter TM, Moore KD et al (2010) Quantitative assessment of limb position sense following stroke. Neurorehabil Neural Repair 24:178–187

25.

Lowrey CR, Jackson CP, Bagg SD et al (2014) A novel robotic task for assessing impairments in bimanual coordination post-stroke. Int J Phys Med Rehabil S3:002

26.

Tyryshkin K, Coderre AM, Glasgow JI et al (2014) A robotic object hitting task to quantify sensorimotor impairments in participants with stroke. J Neuroeng Rehabil 11:47

27.

Millar K, Asbury AJ, Murray GD (2001) Pre-existing cognitive impairment as a factor influencing outcome after cardiac surgery. Br J Anaesth 86:63–67

28.

Monk TG, Price CC (2011) Postoperative cognitive disorders. Curr Opin Crit Care 17:376–381

29.

Andréll P, Jensen C, Norrsell H et al (2005) White matter disease in magnetic resonance imaging predicts cerebral complications after coronary artery bypass grafting. Ann Thorac Surg 79:74–80

30.

Ralph B, Mangusan F, Hooper V et al (2015) Outcomes associated with postoperative delirium after cardiac surgery. Am J Crit Care 24:156–163
Funding
This work was supported by the Southeastern Ontario Academic Medical Organization (SEAMO) Innovation Fund.
Ethics declarations
Conflicts of interest
JSS, AGH, TS, DP, DP, GB have nothing to disclose. SHS is the inventor of the KINARM robot and co-founder of BKIN Technologies. JGB receives a stipend from the Trillium of Life Network for his role as a hospital donation physician.
Ethical approval
All procedures performed in studies involving human participants were in accordance with the ethical standards of the institutional and/or national research committee and with the 1964 Helsinki declaration and its later amendments or comparable ethical standards.
Human and animal rights
The study was approved by the Queen's University and Affiliated Hospital's Health Sciences Research Ethics Board.
Informed consent
All participants provided informed consent prior to participation in this study.
Additional information
Publisher's Note
Springer Nature remains neutral with regard to jurisdictional claims in published maps and institutional affiliations.
Electronic supplementary material
Below is the link to the electronic supplementary material.
About this article
Cite this article
Semrau, J.S., Scott, S.H., Hamilton, A.G. et al. Quantified pre-operative neurological dysfunction predicts outcome after coronary artery bypass surgery. Aging Clin Exp Res 32, 289–297 (2020). https://doi.org/10.1007/s40520-019-01184-9
Received:

Accepted:

Published:

Issue Date:
Keywords
Post-operative cognitive dysfunction

Coronary artery bypass surgery

Neurological assessment

Robotic technology

Cerebral oximetry