Abstract
Background
The association between uric acid (UA) and coronary artery disease (CAD) was controversial. It was still unclear how the UA level changes with age and gender.
Aims
To confirm the relationship between the change of UA with age and gender and CAD, especially in elderly people.
Methods
8285 individuals were investigated. The changes of UA and hyperuricemia in female and male with age were analyzed. The associations of UA, and hyperuricemia with CAD in different age and sex were assessed.
Results
Individuals were stratified into four groups according to their age: ≤ 39 years; 40–59 years; 60–79 years, and ≥ 80 years. The level of UA and the proportion of hyperuricemia increased significantly with age in female (P < 0.001), but showed a downward trend in male (P < 0.001). After adjusting for confounding factors, hyperuricemia remained an independent risk factor for the incident of CAD in all women (P = 0.029). In ≥ 80 year groups of female, UA and hyperuricemia became independent risk factors for the incident of CAD in the univariate and multivariate logistic regression analyses (all P ≤ 0.001).
Discussion
The level of UA showed significantly different changes with age in different gender. The relationship between UA and CAD showed differences in different age and sex.
Conclusions
There were significant correlations between UA, hyperuricemia, and CAD only in female, particularly in the ≥ 80 year elderly women, but not in men.
This is a preview of subscription content, log in to check access.
Access options
Buy single article
Instant access to the full article PDF.
US$ 39.95
Price includes VAT for USA
Subscribe to journal
Immediate online access to all issues from 2019. Subscription will auto renew annually.
US$ 99
This is the net price. Taxes to be calculated in checkout.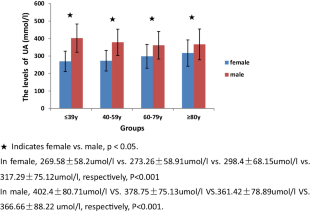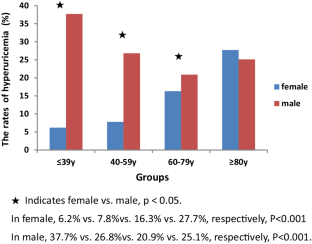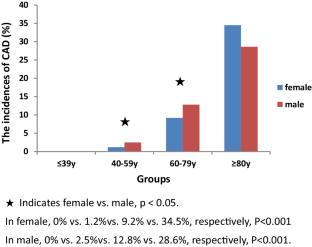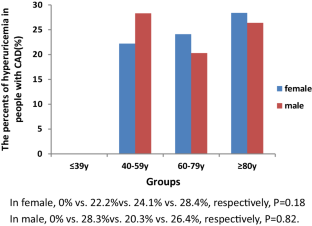 Data Availability
The data sets generated during the current study are not publicly available due. There are two major reasons: the first is that our study contains individual person's data; the second is our data sets include many studies, and some of these studies are being carried on, so our data are not public, but are available partially from the corresponding author on reasonable request.
Abbreviations
UA:

Uric acid

CAD:

Coronary artery disease

BMI:

Body mass index

TG:

Triglyceride

TC:

Total cholesterol

HDL-C:

High-density lipoprotein cholesterol

LDL-C:

Low-density lipoprotein cholesterol

FPG:

Fasting plasma glucose

SBP:

Systolic blood pressure

DBP:

Diastolic blood pressure

ACEI/ARB:

Angiotensin-converting enzyme inhibitor/angiotensin receptor blocker

CCB:

Calcium channel blocker

HR:

Hazard ratio

CI:

Confidence interval
References
1.

He Y, Jiang B, Wang J et al (2006) Prevalence of the metabolic syndrome and its relation to cardiovascular disease in an elderly Chinese population. J Am Coll Cardiol 47:1588–1594. https://doi.org/10.1016/j.jacc.2005.11.074

2.

Yang Z, Wang X, Wen J et al (2011) Prevalence of non-alcoholic fatty liver disease and its relation to hypoadiponectinaemia in the middle-aged and elderly Chinese population. Arch Med Sci 7:665–672. https://doi.org/10.5114/aoms.2011.24137

3.

Berry CE, Hare JM (2004) Xanthine oxidoreductase and cardiovascular disease: molecular mechanisms and pathophysiological implications. J Physiol 555:589–606. https://doi.org/10.1113/jphysiol.2003.055913

4.

Liu L, Lou S, Xu K et al (2013) Relationship between lifestyle choices and hyperuricemia in Chinese men and women. Clin Rheumatol 32:233–239. https://doi.org/10.1007/s10067-012-2108-z

5.

Galassi FM, Borghi C (2015) A brief history of uric acid: from gout to cardiovascular risk factor. Eur J Intern Med 26:373. https://doi.org/10.1016/j.ejim.2015.04.005

6.

Chen JH, Chuang SY, Chen HJ et al (2009) Serum uric acid level as an independent risk factor for all-cause, cardiovascular, and ischemic stroke mortality: a Chinese cohort study. Arthritis Rheumatol 61:225–232. https://doi.org/10.1002/art.24164

7.

Feig DI, Kang DH, Johnson RJ (2008) Uric acid and cardiovascular risk. N Engl J Med 359:1811–1821. https://doi.org/10.1056/NEJMra0800885

8.

Kim SY, Guevara JP, Kim KM et al (2010) Hyperuricemia and coronary heart disease: a systematic review and meta-analysis. Arthritis Care Res (Hoboken) 62:170–180. https://doi.org/10.1002/acr.20065

9.

Sakata K, Hashimoto T, Ueshima H et al (2001) Absence of an association between serum uric acid and mortality from cardiovascular disease: NIPPON DATA 80, 1980–1994. National Integrated Projects for Prospective Observation of Non-communicable diseases and its trend in the aged. Eur J Epidemiol 17:461–468

10.

Wheeler JG, Juzwishin KD, Eiriksdottir G et al (2005) Serum uric acid and coronary heart disease in 9458 incident cases and 155,084 controls: prospective study and meta-analysis. PLoS Med 2:e76. https://doi.org/10.1371/journal.pmed.0020076

11.

Minino AM, Heron MP, Murphy SL et al (2007) Deaths: final data for 2004. Natl Vital Stat Rep 55:1–119

12.

Musacchio E, Perissinotto E, Sartori L et al (2017) Hyperuricemia, cardiovascular profile, and comorbidity in older men and women: the Pro.V.A. Study. Rejuvenation Res 20:42–49. https://doi.org/10.1089/rej.2016.1834

13.

Zhu Y, Pandya BJ, Choi HK (2011) Prevalence of gout and hyperuricemia in the US general population: The National Health and Nutrition Examination Survey 2007–2008. Arthritis Rheumat 63:3136–3141. https://doi.org/10.1002/art.30520

14.

Huang G, Xu JB, Zhang TJ et al (2017) Hyperuricemia is associated with cardiovascular diseases clustering among very elderly women—a community based study in Chengdu, China. Sci Rep 7:996. https://doi.org/10.1038/s41598-017-01042-6

15.

Lai SW, Tan CK, Ng KC (2001) Epidemiology of hyperuricemia in the elderly. Yale J Biol Med 74:151–157

16.

Wallace IR, McKinley MC, Bell PM et al (2013) Sex hormone binding globulin and insulin resistance. Clin Endocrinol (Oxf) 78:321–329. https://doi.org/10.1111/cen.12086

17.

Fang J, Alderman MH (2000) Serum uric acid and cardiovascular mortality the NHANES I epidemiologic follow-up study, 1971–1992. National Health and Nutrition Examination Survey. JAMA 283:2404–2410

18.

Perlstein TS, Gumieniak O, Williams GH et al (2006) Uric acid and the development of hypertension: the normative aging study. Hypertension 48:1031–1036. https://doi.org/10.1161/01.HYP.0000248752.08807.4c

19.

Dehghan A, Van Hoek M, Sijbrands EJ et al (2008) High serum uric acid as a novel risk factor for type 2 diabetes. Diabetes Care 31:361–362. https://doi.org/10.2337/dc07-1276

20.

Rathmann W, Funkhouser E, Dyer AR et al (1998) Relations of hyperuricemia with the various components of the insulin resistance syndrome in young black and white adults: the CARDIA study. Coronary Artery Risk Development in Young Adults. Ann Epidemiol 8:250–261

21.

Neogi T (2008) Asymptomatic hyperuricemia: perhaps not so benign? J Rheumatol 35:734–737

22.

Braga F, Pasqualetti S, Ferraro S et al (2016) Hyperuricemia as risk factor for coronary heart disease incidence and mortality in the general population: a systematic review and meta-analysis. Clin Chem Lab Med 54:7–15. https://doi.org/10.1515/cclm-2015-0523

23.

Lv S, Liu W, Zhou Y et al (2018) Hyperuricemia and smoking in young adults suspected of coronary artery disease ≤ 35 years of age: a hospital-based observational study. BMC Cardiovasc Disord 18:178. https://doi.org/10.1186/s12872-018-0910-5

24.

Yang WX, Yang Z, Wu YJ et al (2014) Factors associated with coronary artery disease in young population (age ≤ 40): analysis with 217 cases. Chin Med Sci J 29:38–42

25.

Qin L, Yang Z, Gu H et al (2014) Association between serum uric acid levels and cardiovascular disease in middle-aged and elderly Chinese individuals. BMC Cardiovasc Disord 14:26. https://doi.org/10.1186/1471-2261-14-26

26.

Wu J, Lei G, Wang X et al (2017) Asymptomatic hyperuricemia and coronary artery disease in elderly patients without comorbidities. Oncotarget 8:80688–80699. https://doi.org/10.18632/oncotarget.21079

27.

Sun Y, Yu X, Zhi Y et al (2014) A cross-sectional analysis of the relationship between uric acid and coronary atherosclerosis in patients with suspected coronary artery disease in China. BMC Cardiovasc Disord 14:101. https://doi.org/10.1186/1471-2261-14-101

28.

Barbieri L, Verdoia M, Schaffer A et al (2015) Impact of sex on uric acid levels and its relationship with the extent of coronary artery disease: a single-centre study. Atherosclerosis 241:241–248. https://doi.org/10.1016/j.atherosclerosis.2015.03.030
Ethics declarations
Conflict of interest
The authors declare that they have no conflict of interest.
Ethical approval
All procedures performed in studies involving human participants were in accordance with the ethical standards of the institutional and/or national research committee and with the 1964 Helsinki declaration and its later amendments or comparable ethical standards.
Informed consent
Informed consent was obtained from all individual participants included in the study.
Additional information
Publisher's Note
Springer Nature remains neutral with regard to jurisdictional claims in published maps and institutional affiliations.
About this article
Cite this article
Sun, Y., Zhang, H., Tian, W. et al. Association between serum uric acid levels and coronary artery disease in different age and gender: a cross-sectional study. Aging Clin Exp Res 31, 1783–1790 (2019). https://doi.org/10.1007/s40520-019-01137-2
Received:

Accepted:

Published:

Issue Date:
Keywords
Uric acid (UA)

Coronary artery disease (CAD)

Age

Gender

Elderly