Abstract
Aging is accompanied by several changes which may affect swallowing function. The beginning of these changes, termed presbyphagia, still captures a preserved swallowing function, although burdened by the consequences of the physiological aging process. Several stressors (including diseases and medications) can easily trigger the disruption of this (increasingly weak) equilibrium and lead to overt dysphagia. It is noteworthy that the swallowing dysfunction may be aggravated by the sarcopenic process, characterizing the so-called "sarcopenic dysphagia", potentially responsible for several health-related negative outcomes. The assessment and management of sarcopenic dysphagia largely rely on the evaluation and integrated treatment of both constituting conditions (i.e., sarcopenia and dysphagia). The management of dysphagia requires a multidimensional approach and can be designed as either compensatory (aimed at producing immediate benefit for the patient through postural adjustments, swallowing maneuvers, and diet modifications) or rehabilitative. Interestingly, some evidence suggests that resistance training traditionally applied to tackle the lower extremity in sarcopenia may be simultaneously beneficial for sarcopenic dysphagia. If these preliminary results (discussed in the present review article) will be confirmed, the systemic beneficial effects of physical exercise will be indirectly demonstrated. This will also support the need of promoting healthy lifestyle in all sarcopenic individuals (thus potentially at risk of dysphagia).
Access options
Buy single article
Instant access to the full article PDF.
US$ 39.95
Tax calculation will be finalised during checkout.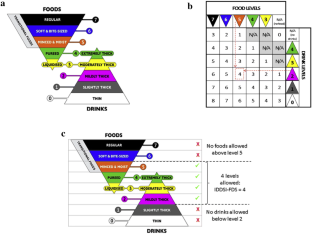 References
1.

Dziewas R, Beck AM, Clave P et al (2017) Recognizing the importance of dysphagia: stumbling blocks and stepping stones in the twenty-first century. Dysphagia 32:78–82

2.

de Lima Alvarenga EH, Dall'Oglio GP, Murano EZ et al (2018) Continuum theory: presbyphagia to dysphagia? Functional assessment of swallowing in the elderly. Eur Arch Otorhinolaryngol 275:443–449

3.

Humbert IA, Robbins J (2008) Dysphagia in the elderly. Phys Med Rehabil Clin N Am 19:853–866 (ix–x)

4.

Ney DM, Weiss JM, Kind AJH et al (2009) Senescent swallowing: impact, strategies, and interventions. Nutr Clin Pract 24:395–413

5.

Wirth R, Dziewas R, Beck AM et al (2016) Oropharyngeal dysphagia in older persons—from pathophysiology to adequate intervention: a review and summary of an international expert meeting. Clin Interv Aging 11:189–208

6.

Ginocchio D, Borghi E, Schindler A (2009) Dysphagia assessment in the elderly. Nutr Ther Metab 27:9–15

7.

Serra-Prat M, Palomera M, Gomez C et al (2012) Oropharyngeal dysphagia as a risk factor for malnutrition and lower respiratory tract infection in independently living older persons: a population-based prospective study. Age Ageing 41:376–381

8.

Cruz-Jentoft AJ, Baeyens JP, Bauer JM et al (2010) Sarcopenia: European consensus on definition and diagnosis: report of the European Working Group on Sarcopenia in Older People. Age Ageing 39:412–423

9.

Cesari M, Pedone C, Chiurco D et al (2012) Physical performance, sarcopenia and respiratory function in older patients with chronic obstructive pulmonary disease. Age Ageing 41:237–241

10.

Wakabayashi H, Sakuma K (2014) Rehabilitation nutrition for sarcopenia with disability: a combination of both rehabilitation and nutrition care management. J Cachexia Sarcopenia Muscle 5:269–277

11.

Wakabayashi H (2014) Presbyphagia and sarcopenic dysphagia: association between aging, sarcopenia, and deglutition disorders. J Frailty Aging 3:97–103

12.

Mori T, Fujishima I, Wakabayashi H et al (2017) Development, reliability, and validity of a diagnostic algorithm for sarcopenic dysphagia. In: JCSM clinical reports [Internet], vol 2(2). https://jcsm-clinical-reports.info/index.php/jcsm-cr/article/view/17. Accessed 5 Nov 2018

13.

Maeda K, Akagi J (2016) Sarcopenia is an independent risk factor of dysphagia in hospitalized older people. Geriatr Gerontol Int 16:515–521

14.

Cruz-Jentoft AJ, Landi F, Schneider SM et al (2014) Prevalence of and interventions for sarcopenia in ageing adults: a systematic review. Report of the International Sarcopenia Initiative (EWGSOP and IWGS). Age Ageing 43:748–759

15.

Buckinx F, Reginster J-Y, Brunois T et al (2017) Prevalence of sarcopenia in a population of nursing home residents according to their frailty status: results of the SENIOR cohort. J Musculoskelet Neuronal Interact 17:209–217

16.

Cabre M, Serra-Prat M, Palomera E et al (2010) Prevalence and prognostic implications of dysphagia in elderly patients with pneumonia. Age Ageing 39:39–45

17.

Belafsky PC, Mouadeb DA, Rees CJ et al (2008) Validity and reliability of the Eating Assessment Tool (EAT-10). Ann Otol Rhinol Laryngol 117:919–924

18.

Martino R, Silver F, Teasell R et al (2009) The Toronto Bedside Swallowing Screening Test (TOR-BSST): development and validation of a dysphagia screening tool for patients with stroke. Stroke 40:555–561

19.

Trapl M, Enderle P, Nowotny M et al (2007) Dysphagia bedside screening for acute-stroke patients: the Gugging Swallowing Screen. Stroke 38:2948–2952

20.

Clavé P, Arreola V, Romea M (2008) Accuracy of the volume-viscosity swallow test for clinical screening of oropharyngeal dysphagia and aspiration. Clin Nutr 27:806–815

21.

Di Pede C, Mantovani ME, Del Felice A et al (2016) Dysphagia in the elderly: focus on rehabilitation strategies. Aging Clin Exp Res 28:607–617

22.

Beaudart C, McCloskey E, Bruyère O et al (2016) Sarcopenia in daily practice: assessment and management. In: BMC Geriatr [Internet]. https://www.ncbi.nlm.nih.gov/pmc/articles/PMC5052976/. Accessed 5 Nov 2018

23.

Studenski SA, Peters KW, Alley DE et al (2014) The FNIH sarcopenia project: rationale, study description, conference recommendations, and final estimates. J Gerontol A Biol Sci Med Sci 69:547–558

24.

Maeda K, Akagi J (2015) Decreased tongue pressure is associated with sarcopenia and sarcopenic dysphagia in the elderly. Dysphagia 30:80–87

25.

Morley JE (2008) Sarcopenia: diagnosis and treatment. J Nutr Health Aging 12:452–456

26.

Anker SD, Morley JE, von Haehling S (2016) Welcome to the ICD-10 code for sarcopenia. J Cachexia Sarcopenia Muscle 7:512–514

27.

Baijens LW, Clavé P, Cras P et al (2016) European Society for Swallowing Disorders—European Union Geriatric Medicine Society white paper: oropharyngeal dysphagia as a geriatric syndrome. Clin Interv Aging 11:1403–1428

28.

Sura L, Madhavan A, Carnaby G et al (2012) Dysphagia in the elderly: management and nutritional considerations. Clin Interv Aging 7:287–298

29.

National Dysphagia Diet Task Force, American Dietetic Association (2002) National dysphagia diet: standardization for optimal care. American Dietetic Association, Chicago

30.

Texture-modified foods (2007) and thickened fluids as used for individuals with dysphagia: Australian standardised labels and definitions. Nutr Diet 64:S53–S76

31.

Cichero JAY, Lam P, Steele CM et al (2017) Development of international terminology and definitions for texture-modified foods and thickened fluids used in dysphagia management: the IDDSI framework. Dysphagia 32:293–314

32.

Steele CM, Namasivayam-MacDonald AM, Guida BT et al (2018) Creation and initial validation of the international dysphagia diet standardisation initiative functional diet scale. Arch Phys Med Rehabil 99:934–944

33.

Burkhead LM, Sapienza CM, Rosenbek JC (2007) Strength-training exercise in dysphagia rehabilitation: principles, procedures, and directions for future research. Dysphagia 22:251–265

34.

Mero AA, Hulmi JJ, Salmijärvi H et al (2013) Resistance training induced increase in muscle fiber size in young and older men. Eur J Appl Physiol 113:641–650

35.

Peterson MD, Rhea MR, Sen A et al (2010) Resistance exercise for muscular strength in older adults: a meta-analysis. Ageing Res Rev 9:226–237
Ethics declarations
Conflict of interest
On behalf of all authors, the corresponding author states that there is no conflict of interest.
Statement of human and animal rights
The present article does not contain data involving humans or animals.
Informed consent
For this type of study, formal consent is not required.
Additional information
Publisher's Note
Springer Nature remains neutral with regard to jurisdictional claims in published maps and institutional affiliations.
About this article
Cite this article
Azzolino, D., Damanti, S., Bertagnoli, L. et al. Sarcopenia and swallowing disorders in older people. Aging Clin Exp Res 31, 799–805 (2019). https://doi.org/10.1007/s40520-019-01128-3
Received:

Accepted:

Published:

Issue Date:
Keywords
Sarcopenia

Presbyphagia

Dysphagia

Sarcopenic dysphagia

Swallowing