Abstract
Background
Elderly people are at risk for vitamin B12 deficiency.
Aims
We studied the ability of vitamin B12-enriched toothpaste vs. placebo to increase vitamin B12 status in elderly subjects.
Methods
We conducted a randomized double-blind placebo-controlled intervention in 103 elderly subjects. Serum concentrations of vitamin B12, holotranscobalamin (holoTC), methylmalonic acid (MMA), and plasma total homocysteine (tHcy) were measured at baseline and after 3 months.
Results
92 subjects met the inclusion criteria, completed the 3 months study, and were included in the data analysis. After the intervention, concentrations of vitamin B12 were higher [mean (SD) = 368 (123) vs. 295 (123) pmol/L; p = 0.005] and holoTC tended to be higher [112 (48) vs. 91 (68) pmol/L; p = 0.088] in the vitamin B12 group compared with the placebo group. The changes of serum vitamin B12 [54 (74) vs. 3 (60) pmol/L, p < 0.001], holoTC [21 (34) vs. 2 (32) pmol/L, p = 0.007], and tHcy [− 0.9 (2.3) vs. 0.3 (1.9) µmol/L, p = 0.010] were significantly different between the intervention groups. Mean percentage increase of serum vitamin B12 (+ 23% corresponds to + 54 pmol/L) in the vitamin B12 toothpaste group suggests that the intervention had provided an additional daily intake of approximately + 7 µg oral B12. Common diseases and drugs did not predict the change of blood markers in the vitamin group. No side effects were observed.
Conclusions
The toothpaste enriched with 100 µg cyanocobalamin/g has increased vitamin B12 status and can thus be used for preventing vitamin B12 depletion in elderly people. The trial was registered at ClinicalTrials.gov: NCT02679833.
This is a preview of subscription content, log in to check access.
Access options
Buy single article
Instant access to the full article PDF.
US$ 39.95
Price includes VAT for USA
Subscribe to journal
Immediate online access to all issues from 2019. Subscription will auto renew annually.
US$ 99
This is the net price. Taxes to be calculated in checkout.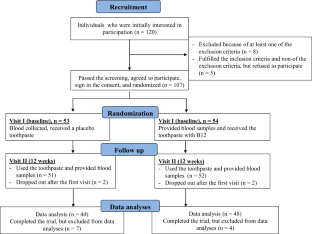 Abbreviations
holoTC:

Holotranscobalamin

MMA:

Methylmalonic acid

tHcy:

Total homocysteine
References
1.

Hooshmand B, Mangialasche F, Kalpouzos G et al (2016) Association of vitamin B12, folate, and sulfur amino acids with brain magnetic resonance imaging measures in older adults: a longitudinal population-based study. JAMA Psychiatry 73:606–613

2.

Brito A, Verdugo R, Hertrampf E et al (2016) Vitamin B-12 treatment of asymptomatic, deficient, elderly Chileans improves conductivity in myelinated peripheral nerves, but high serum folate impairs vitamin B-12 status response assessed by the combined indicator of vitamin B-12 status. Am J Clin Nutr 103:250–257

3.

Carmel R (1997) Cobalamin, the stomach, and aging. Am J Clin Nutr 66:750–759

4.

Carmel R (1995) Malabsorption of food-cobalamin. In: Wickramasinghe SN (ed) Baillière's clinical haematology. Megaloblastic anaemia, vol 8. Baillière Tindall, London, pp 639–655

5.

Blacher J, Czernichow S, Raphael M et al (2007) Very low oral doses of vitamin B-12 increase serum concentrations in elderly subjects with food-bound vitamin B-12 malabsorption. J Nutr 137:373–378

6.

Bor MV, Lydeking-Olsen E, Moller J et al (2006) A daily intake of approximately 6 microg vitamin B-12 appears to saturate all the vitamin B-12-related variables in Danish postmenopausal women. Am J Clin Nutr 83:52–58

7.

Dhonukshe-Rutten RA, van de Groot ZM, Eussen LC et al (2005) Effect of supplementation with cobalamin carried either by a milk product or a capsule in mildly cobalamin-deficient elderly Dutch persons. Am J Clin Nutr 82:568–574

8.

Rozgony NR, Fang C, Kuczmarski MF, Bob H (2010) Vitamin B(12) deficiency is linked with long-term use of proton pump inhibitors in institutionalized older adults: could a cyanocobalamin nasal spray be beneficial? J Nutr Elder 29:87–99

9.

Slot WB, Merkus FW, van Deventer SJ et al (1997) Normalization of plasma vitamin B12 concentration by intranasal hydroxocobalamin in vitamin B12-deficient patients. Gastroenterology 113:430–433

10.

Siebert AK, Obeid R, Weder S et al (2017) Vitamin B-12-fortified toothpaste improves vitamin status in vegans: a 12-wk randomized placebo-controlled study. Am J Clin Nutr 105:618–625

11.

Nexo E, Hansen MR, Konradsen L (1988) Human salivary epidermal growth factor, haptocorrin and amylase before and after prolonged exercise. Scand J Clin Lab Invest 48:269–273

12.

Nexo E, Hansen M, Poulsen SS et al (1985) Characterization and immunohistochemical localization of rat salivary cobalamin-binding protein and comparison with human salivary haptocorrin. Biochim Biophys Acta 838:264–269

13.

Brady J, Wilson L, McGregor L et al (2008) Active B12: a rapid, automated assay for holotranscobalamin on the Abbott AxSYM analyzer. Clin Chem 54:567–573

14.

Fedosov SN, Brito A, Miller JW et al (2015) Combined indicator of vitamin B12 status: modification for missing biomarkers and folate status and recommendations for revised cut-points. Clin Chem Lab Med 53:1225

15.

Nexo E, Hvas AM, Bleie O et al (2002) Holo-transcobalamin is an early marker of changes in cobalamin homeostasis. A randomized placebo-controlled study. Clin Chem 48:1768–1771

16.

Bor MV, Cetin M, Aytac S et al (2005) Nonradioactive vitamin B12 absorption test evaluated in controls and in patients with inherited malabsorption of vitamin B12. Clin Chem 51:2151–2155

17.

Hardlei TF, Morkbak AL, Bor MV et al (2010) Assessment of vitamin B(12) absorption based on the accumulation of orally administered cyanocobalamin on transcobalamin. Clin Chem 56:432–436

18.

Bhat DS, Thuse NV, Lubree HG et al (2009) Increases in plasma holotranscobalamin can be used to assess vitamin B-12 absorption in individuals with low plasma vitamin B-12. J Nutr 139:2119–2123

19.

Midttun O, Townsend MK, Nygard O et al (2014) Most blood biomarkers related to vitamin status, one-carbon metabolism, and the kynurenine pathway show adequate preanalytical stability and within-person reproducibility to allow assessment of exposure or nutritional status in healthy women and cardiovascular patients. J Nutr 144:784–790

20.

Kirsch SH, Herrmann W, Eckert R et al (2013) Factors affecting the distribution of folate forms in the serum of elderly German adults. Eur J Nutr 52:497–504

21.

Bland JM, Altman DG (2015) Best (but oft forgotten) practices: testing for treatment effects in randomized trials by separate analyses of changes from baseline in each group is a misleading approach. Am J Clin Nutr 102:991–994

22.

Bor MV, von Castel-Roberts KM, Kauwell GP et al (2010) Daily intake of 4 to 7 microg dietary vitamin B-12 is associated with steady concentrations of vitamin B-12-related biomarkers in a healthy young population. Am J Clin Nutr 91:571–577

23.

Hill MH, Flatley JE, Barker ME et al (2013) A vitamin B-12 supplement of 500 µg/d for eight weeks does not normalize urinary methylmalonic acid or other biomarkers of vitamin B-12 status in elderly people with moderately poor vitamin B-12 status. J Nutr 143:142–147

24.

MacFarlane AJ, Shi Y, Greene-Finestone LS (2014) High-dose compared with low-dose vitamin B-12 supplement use is not associated with higher vitamin B-12 status in children, adolescents, and older adults. J Nutr 144:915–920

25.

Dullemeijer C, Souverein OW, Doets EL et al (2013) Systematic review with dose–response meta-analyses between vitamin B-12 intake and European Micronutrient Recommendations Aligned's prioritized biomarkers of vitamin B-12 including randomized controlled trials and observational studies in adults and elderly persons. Am J Clin Nutr 97:390–402

26.

Eussen SJ, de Groot LC, Clarke R et al (2005) Oral cyanocobalamin supplementation in older people with vitamin B12 deficiency: a dose-finding trial. Arch Intern Med 165:1167–1172

27.

Mensink GB, Fletcher R, Gurinovic M et al (2013) Mapping low intake of micronutrients across Europe. Br J Nutr 110:755–773

28.

Berlin H, Berlin R, Brante G (1968) Oral treatment of pernicious anemia with high doses of vitamin B12 without intrinsic factor. Acta Med Scand 184:247–258

29.

Greibe E, Mahalle N, Bhide V et al (2017) Increase in circulating holotranscobalamin after oral administration of cyanocobalamin or hydroxocobalamin in healthy adults with low and normal cobalamin status. Eur J Nutr. https://doi.org/10.1007/s00394-017-1553-5
Funding
The study was partly funded by Logocos Naturkosmetik AG (Salzhemmendorf, Germany). The funder had no role in planning the study, data acquisition, analyses or interpretation, and writing or approval of the article.
Ethics declarations
Conflict of interest
The authors have no conflicts of interest to declare.
Ethical approval
The study was conducted in accordance with the ethical principles stated in the Declaration of Helsinki. The study protocol was reviewed and approved by the Ethics Committee of the Saarland Region (Approval Number: 244/14).
Statement of human and animal rights
All procedures were approved by the review board of the Saarland Medical Committee.
Informed consent
All participants provided written informed consent to the study.
Additional information
Publisher's Note
Springer Nature remains neutral with regard to jurisdictional claims in published maps and institutional affiliations.
Electronic supplementary material
Below is the link to the electronic supplementary material.
About this article
Cite this article
Zant, A., Awwad, H.M., Geisel, J. et al. Vitamin B12-fortified toothpaste improves vitamin status in elderly people: a randomized, double-blind, placebo-controlled study. Aging Clin Exp Res 31, 1817–1825 (2019). https://doi.org/10.1007/s40520-019-01125-6
Received:

Accepted:

Published:

Issue Date:
Keywords
Vitamin B12 deficiency

Elderly

Holotranscobalamin

Supplementation